The Big Picture Archive
Last Update: 07-Sep-18 14:47 ET
Looking a Gift Horse in the Mouth
The August employment report showed the strongest year-over-year increase in average hourly earnings since May 2009. To be exact, average hourly earnings increased 2.9%. That is good news. Why, then, did the stock market act as if it wasn't?
Rate-Hike Angst
On the day the report came out the market had a lot to process just like any other day.
Aside from the employment data, market participants were also contending with heightened trade uncertainty. That uncertainty was wrapped up in the following:
An indication from President Trump that tariffs on another $267 billion of Chinese imports are ready to go if/when China retaliates to a tariff the U.S. might impose on $200 billion worth of Chinese goods, which many think will come to fruition soon.
The U.S. and Canada still haven't ironed out their differences over a new NAFTA agreement.
Bilateral trade talks with Japan are now reportedly underway, with the aim of reducing the U.S. trade deficit with Japan.
These trade matters are not to be dismissed, even though it seems at times as if the stock market doesn't believe anything truly bad will come of them.
Nevertheless, the simmering trade angst ran headlong into burgeoning rate-hike angst that was clear to see following the August employment report.
Deep in Thought
The front of the Treasury yield curve was the most revealing source of the rate-hike angst. The 2-yr note yield, which is most sensitive to changes in the fed funds rate, spiked seven basis points to 2.70%, hitting its highest level since July 2008 -- or just months before the Lehman Bros. bankruptcy.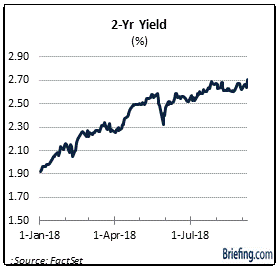 Notably, the losses at the front end persisted even after the stock market sold off on the tough tariff talk with respect to China.
In other words, there was no flight to safety, which made it evident that the Treasury market at least was focused on the implications of the uptick in average hourly earnings.
What are the implications? It may be too early to call them implications. Rather, the trading action may be best understood in terms of what market participants were allowing themselves to think about the uptick in average hourly earnings:
It will be good for consumer spending, which should be good for economic growth and invite higher inflation
It should be good for consumer spending, but higher wages could negatively impact corporate earnings
It will keep the Federal Reserve on course to raise the fed funds rate later this month and most likely in December, too
If average hourly earnings keep rising and the Federal Reserve keeps raising the fed funds rate, risk-free rates are going to keep going up, which will create some added competition for stocks
There is always the chance that market participants were getting ahead of themselves with their thinking. After all, real average hourly earnings are still flat and it is possible that subsequent revisions show average hourly earnings growth in August was not as robust as first reported.
The latter points notwithstanding, average hourly earnings are trending in the right direction, albeit deliberately, and anecdotal reports suggest there is a good chance they will keep trending higher as more and more employers are mentioning the difficulty they are having finding qualified workers.
What It All Means
A pickup in average hourly earnings is a good problem to have for an economy. For a stock market, though, it can be a bad problem if it feeds into a path of more aggressive interest rate hikes by a central bank than had been previously assumed.
This is the gist of why the stock market didn't take off on the pleasing wage growth data.
It was looking a gift horse in the mouth and seeing the potential for higher interest rates to produce some cavities.
Granted the knee-jerk response could be putting the cart before the gift horse, but if there is one thing that scares this bull market, it is the specter of the Federal Reserve killing it with rate hikes it sees coming -- and perhaps even some it doesn't.