The Big Picture Archive
Last Update: 02-May-19 15:55 ET
Fed Chair Powell serves policy dessert without the sprinkles
The press conference held by Federal Reserve Chairman Jerome Powell to discuss the FOMC's view of the world was interesting -- but not as interesting as the market's reaction to it.
There was a lot said, which was good. You want to know what the world's most influential central bank -- and banker -- is thinking. The thing is, the market acted as if it heard Jerome Powell say something that was surprising.
He didn't.
The market threw its own surprise party and then had a little fit when Mr. Powell brought vanilla ice cream for dessert like he did in January and March.
Hearing Part of the Story
What Mr. Powell said, and what the market heard, were not one in the same thing.
He said the FOMC is strongly committed to its symmetric 2% inflation objective and that it suspects the recent deceleration in inflation is due to "transitory factors." Accordingly, the FOMC is maintaining its baseline view that inflation will return to 2%.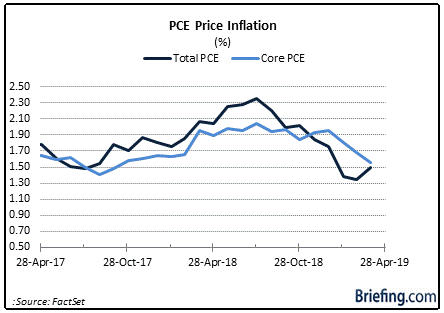 What the market heard in that view is that it shouldn't expect a rate cut anytime soon from the Federal Reserve. What it didn't hear -- or got too riled up to hear -- is that it shouldn't expect a rate hike anytime soon either.
Fed Chair Powell said in unmistakable terms that the FOMC doesn't see a strong case for moving rates in either direction. In other words, it is going to maintain the target range for the fed funds rate at 2.25% to 2.50% until it is convinced the data are telling it to do otherwise.
That was the message on January 4 when Mr. Powell made his famous pivot to a dovish-minded stance; that was the message in the January 30 policy directive; and it was the message in the March 20 policy directive.
The understanding that the Fed was going to stand down and do nothing wasn't the policy visage that launched a thousand ships, but it sure was the policy visage that launched approximately 3,000 Dow points, 400 S&P 500 points, and 1,400 Nasdaq Composite points since January 4.
Wishful Thinking
Why the market would be disappointed by the same policy view that took it to a record high begs explanation.
The conventional wisdom is that it was disappointed to learn that it might not get the rate cut before the end of the year that has been getting priced into the fed funds futures market.
Maybe that pricing, though, was just wishful thinking for a market that has feasted on low interest rates and is hoping for dessert in the form of another rate cut. The understanding that real GDP was up 3.2% on an annualized basis in the first quarter, and that cyclical sectors have soared on the belief economic activity is going to accelerate in the second half of the year, makes it seem as much.
Anyhow, we're not so sure the market was truly disappointed by what it thought it heard Mr. Powell say. If anything, it was reminded that it had probably gotten ahead of itself in thinking there would be a rate cut soon -- or one at all this year -- and used Mr. Powell's message as an excuse to do some overdue selling in an overbought market.
That was true for the Treasury market, too. The 2-yr note yield, which is more sensitive to moves in the fed funds rate, stood at 2.92% on November 12. At its low on Wednesday, or just before Fed Chair Powell began his press conference, it scraped 2.20%.
What It All Means
The stock market and Treasury market might not march to the same economic beat, but they were certainly marching to the same drumbeat of thinking the Fed isn't going to raise the fed funds rate anytime soon while making an allowance that the next move would be lower.
What neither market heard as Fed Chair Powell was speaking is that the next move could indeed be lower. The Fed chair acknowledged that a policy response could be warranted if core inflation runs persistently below 2%. He didn't rule it out.
The Fed isn't ruling anything out and will continue to be patient as it assesses incoming data. That rote message was in the May 1 policy directive, and it could very well be part of the June policy directive.
What the stock market might come around to appreciate again is that real interest rates are still low and are supportive for risk assets like stocks. That appreciation might come after a period of backtracking, but to be sure, Fed Chair Powell didn't backtrack on the Fed's policy message.
A rate cut was never promised on January 4, January 30, or March 20, so Mr. Powell didn't take anything away from the market other than its own wishful thinking.
On the contrary, he gave the market the same gift of taking a neutral position. The market, though, seems to have looked that gift horse in the mouth and had a little fit, much like an ungrateful child who gets vanilla ice cream for dessert and then complains because there are no sprinkles on it.