Economic
Last Update: 14-Jul-15 08:57 ET
Retail Sales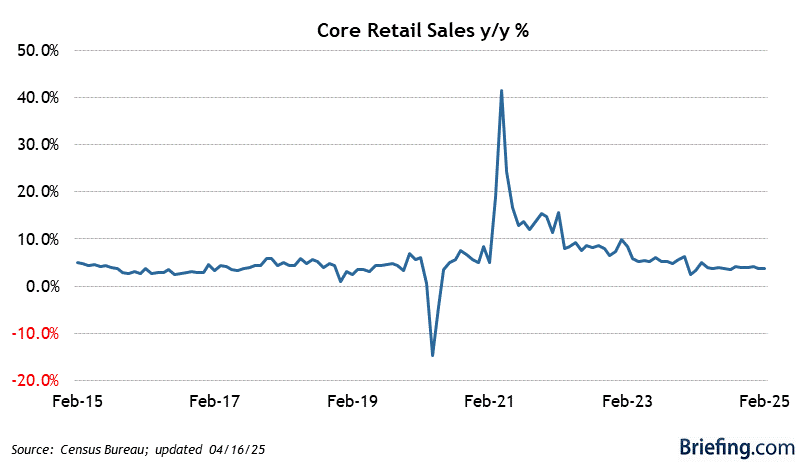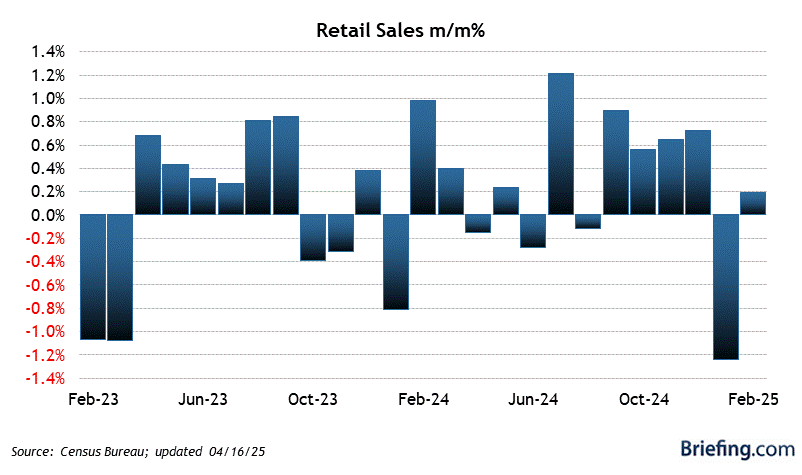 Highlights
Retail sales declined 0.3% in June after increasing a downwardly revised 1.0% (from 1.2%) in May. The Briefing.com Consensus expected retail sales to increase 0.3%.
Excluding motor vehicles, retail sales declined 0.1% in June after increasing a downwardly revised 0.8% (from 1.0%) in May. The consensus expected these sales to increase 0.5%.
Key Factors
The motor vehicle manufacturers reported that unit sales declined to 17.2 mln SAAR in June from 17.8 mln SAAR in May. As expected, that translated into a sizable 1.1% decline in sales at motor vehicles and parts dealers.
The strong retail sales gains from May came from a combination of accelerated income growth and a reduction in the personal savings rate.
The June employment report was weak. Nonfarm payroll growth was modest, but wages and hours worked were flat. That left aggregate income levels up only 0.2%.
That gain should have been enough to keep sales, excluding autos, in positive territory, assuming consumers were willing to keep their personal savings rate at May's reduced levels.
Unfortunately, that didn't happen. Consumers cut back on spending in June, which likely boosted their savings rate back toward April levels.
The details of the report were extremely weak.
Core sales, which exclude the motor vehicle dealers, gasoline stations, and building material and supply stores, declined 0.1% in June after increasing 0.6% in May. These sales closely follow the goods component in GDP, and imply weaker-than-anticipated second quarter consumption growth.
Sales declined at restaurants (-0.2%), grocery stores (-0.2%), nonstore retailers (-0.4%), department stores (-0.6%), clothing stores (-1.5%), and furniture stores (-1.6%).
The one bright spot was electronics and appliance stores, where sales increased 1.0% in June after increasing 0.2% in May.
Big Picture
The May decline in the personal savings rate looks more like a one time event than a change in trends.
| Category | JUN | MAY | APR | MAR | FEB |
| --- | --- | --- | --- | --- | --- |
| Retail Sales | -0.3% | 1.0% | 0.0% | 1.5% | -0.5% |
| Excluding Autos | -0.1% | 0.8% | -0.1% | 1.0% | -0.1% |
| Durable goods | | | | | |
| Building Materials | -1.3% | -0.4% | -1.8% | 2.8% | -2.0% |
| Autos/parts | -1.1% | 1.8% | 0.6% | 3.5% | -2.2% |
| Furniture | -1.6% | 1.4% | 0.7% | 2.4% | -1.4% |
| Nondurable goods | | | | | |
| General Merchandise | 0.7% | 1.4% | -0.6% | 1.4% | -2.4% |
| Food | 0.0% | 0.5% | -0.3% | 0.7% | 0.0% |
| Gasoline stations | 0.8% | 3.7% | -0.9% | 1.1% | 2.5% |
| Clothing | -1.5% | 1.4% | 0.2% | 1.1% | 0.3% |
| e*retailing/non-store | -0.4% | 0.3% | -0.1% | 0.6% | 1.8% |