Economic
Last Update: 18-Apr-19 09:37 ET
Retail Sales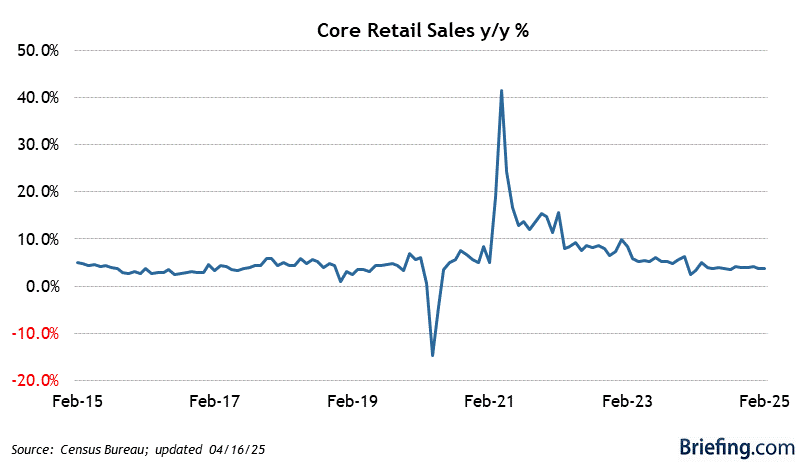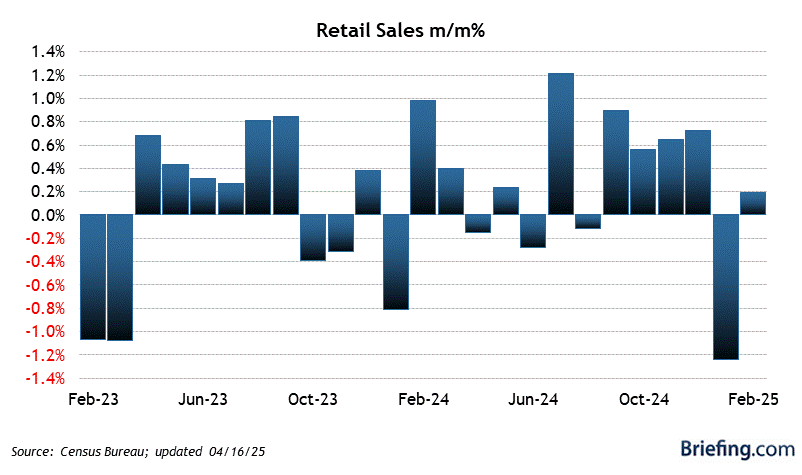 Highlights
Total retail sales in March increased 1.6% (Briefing.com consensus +0.9%) after an unrevised 0.2% decline in February.
Excluding autos, they were up 1.2% (Briefing.com consensus +0.7%) following an upwardly revised 0.2% decline (from -0.4%) in February.
Key Factors
Core retail sales, which exclude auto, gasoline station, building equipment, and food services sales, increased 1.0%.
Motor vehicle and parts sales surged 3.1% after declining 0.1% in February.
Gasoline station sales increased 3.5% for the second straight month.
Building material and garden equipment supplies dealers sales jumped 0.3% after declining 4.4% in February.
Nonstore retailer sales increased 1.2% for the second straight month.
Food services and drinking places sales rose 0.8% on top of a 0.3% increase in February.
Big Picture
The key takeaway from the report is that the sales strength was broad-based with nice gains seen across discretionary spending categories. This data will compute well in the calculation of the goods component for personal consumption expenditures in the Q1 GDP report.
| Category | MAR | FEB | JAN | DEC | NOV |
| --- | --- | --- | --- | --- | --- |
| Retail Sales | 1.6% | -0.2% | 0.8% | -1.6% | 0.0% |
| Excluding Autos | 1.2% | -0.2% | 1.4% | -2.1% | -0.1% |
| Durable goods | | | | | |
| Building Materials | 0.3% | -4.4% | 4.5% | -0.1% | -0.9% |
| Autos/parts | 3.1% | -0.1% | -1.8% | 0.4% | 0.3% |
| Furniture | 1.7% | 0.8% | 0.4% | -1.3% | -0.8% |
| Nondurable goods | | | | | |
| General Merchandise | 0.7% | -0.3% | 0.5% | -1.7% | 0.5% |
| Food | 1.0% | -1.9% | 1.2% | -0.2% | 0.1% |
| Gasoline stations | 3.5% | 3.5% | -1.7% | -5.9% | -4.2% |
| Clothing | 2.0% | -1.8% | -0.9% | -1.3% | 0.2% |
| e*retailing/non-store | 1.2% | 1.2% | 5.0% | -4.5% | 2.5% |