Economic
Last Update: 23-Nov-15 17:58 ET
Retail Sales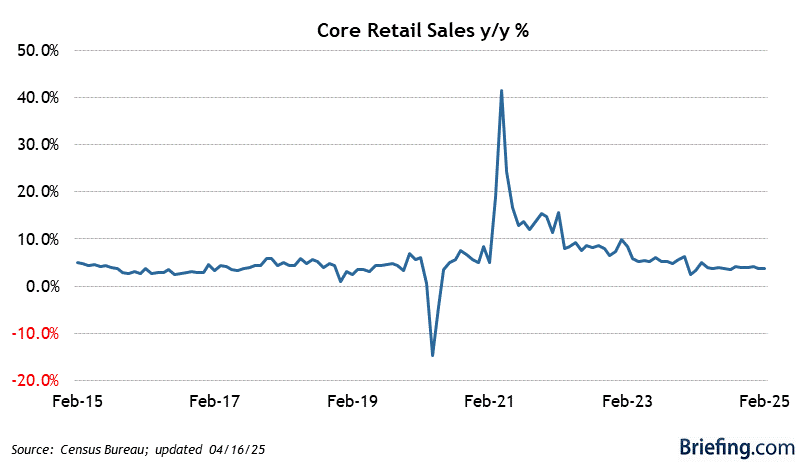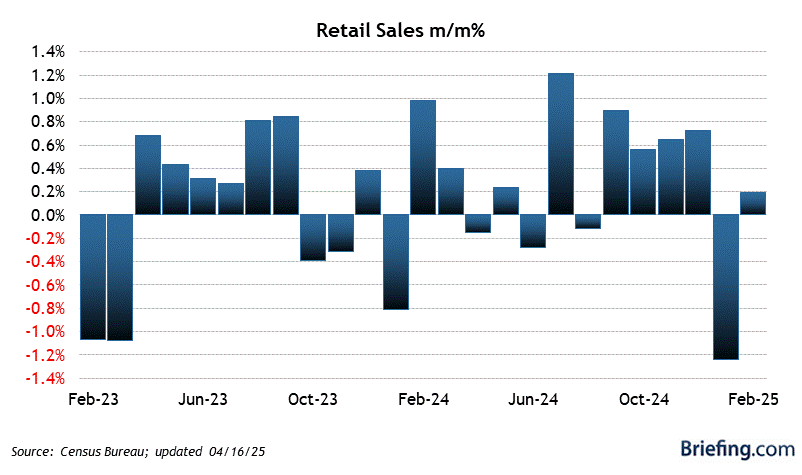 Highlights
Retail sales were up a weaker than expected 0.1% (Briefing.com consensus 0.3%), while sales, excluding autos, were up a weaker than expected 0.2% (Briefing.com consensus 0.4%). Results for September were revised lower with total sales unchanged (from 0.1%) and sales excluding autos revised to -0.4% (from -0.3%).
Key Factors
Strength in October was concentrated in the miscellaneous store retailers (+1.8%), nonstore retailers (+1.4%), building equipment and supplies (+0.9%), health and personal care stores (+0.7%), food service and drinking places (+0.5%), furniture and home furnishings stores (+0.4%), and sporting goods, hobby, and music stores (+0.4%).
Gasoline station sales declined 0.9%, auto and parts sales fell 0.5%, electronics and appliance store sales were down 0.4%, and food and beverage store sales were down 0.3%
Clothing and clothing accessories sales were flat after declining 0.1% in August.
Core retail sales, which exclude auto, gasoline station, and building material and supplies sales, were up 0.3% in October after being flat in September. Core retail sales factor into the goods component for personal consumption expenditures in the GDP report, so there is a little bit of good news here.
Big Picture
The increase in retail sales trailed the robust 0.6% increase in aggregate earnings seen in the October employment report, suggesting consumers continue to show a propensity to save money and/or pay down debt versus spending it more liberally on goods.
| Category | OCT | SEP | AUG | JUL | JUN |
| --- | --- | --- | --- | --- | --- |
| Retail Sales | 0.1% | 0.0% | 0.0% | 0.8% | 0.0% |
| Excluding Autos | 0.2% | -0.4% | -0.1% | 0.6% | 0.4% |
| Durable goods | | | | | |
| Building Materials | 0.9% | -0.3% | -1.1% | 3.7% | -0.2% |
| Autos/parts | -0.5% | 1.7% | 0.3% | 1.5% | -1.6% |
| Furniture | 0.4% | 0.6% | -0.1% | 0.9% | -1.0% |
| Nondurable goods | | | | | |
| General Merchandise | -0.4% | -0.1% | 0.4% | 0.2% | 0.7% |
| Food | -0.3% | -0.1% | 0.4% | 0.0% | 0.1% |
| Gasoline stations | -0.9% | -4.0% | -2.2% | -1.0% | 1.2% |
| Clothing | 0.0% | -0.1% | -0.1% | 0.3% | -0.9% |
| e*retailing/non-store | 1.4% | 0.3% | 0.0% | 1.5% | 0.3% |