Economic
Last Update: 03-Jun-19 10:43 ET
ISM Manufacturing Index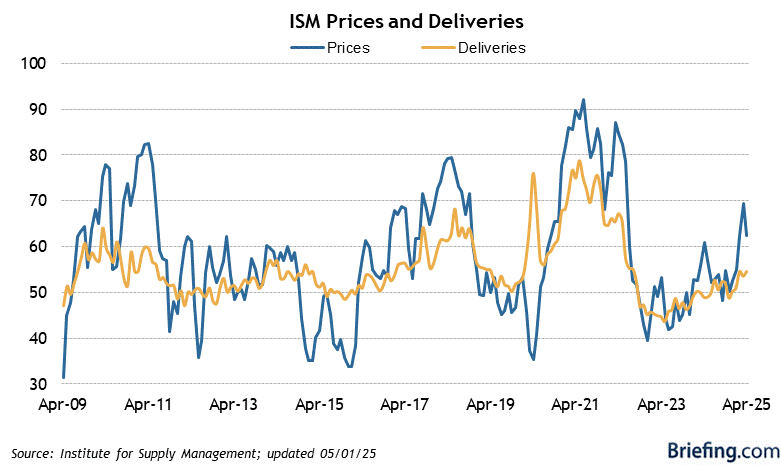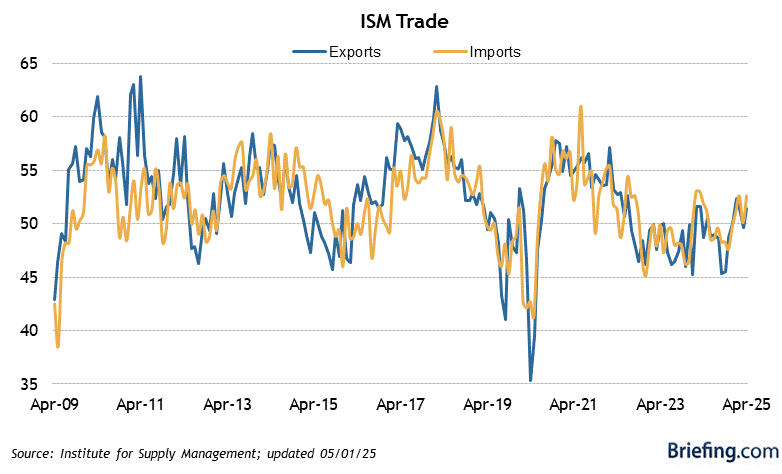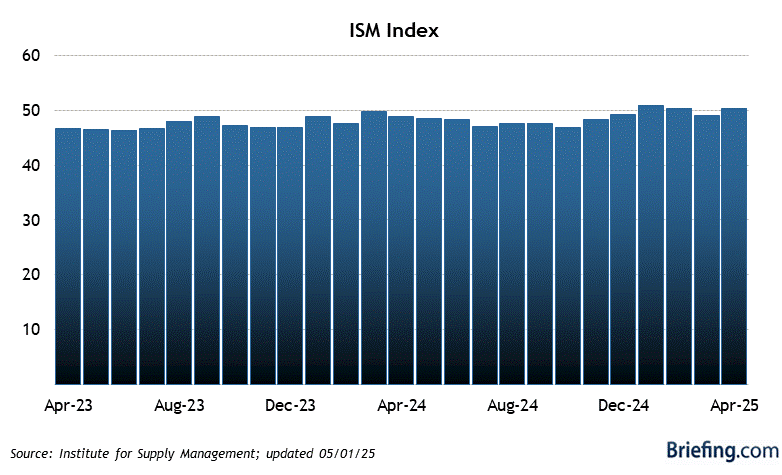 Highlights
The ISM Manufacturing Index for May checked in at 52.1% (Briefing.com consensus 52.6%), down from 52.8% in April.
The May reading is the lowest since October 2016.
Key Factors
The New Orders Index rose to 52.7% from 51.7%.
The Production Index fell to 51.3% from 52.3%.
The Employment Index jumped to 53.7% from 52.4%.
The Backlog of Orders Index dropped to 47.2% from 53.9%, marking its lowest reading since October 2016 and indicating production exceeded new order intake rates.
The New Export Orders Index increased to 51.0% from 49.5%.
Big Picture
The key takeaway from the report is that it reflects a deceleration in national manufacturing activity that will contribute to the burgeoning growth concerns for the U.S. economy.
According to the ISM, the past relationship between the PMI and the overall economy indicates the PMI for May corresponds to a 2.7% increase in real GDP on an annualized basis.
| Category | MAY | APR | MAR | FEB | JAN |
| --- | --- | --- | --- | --- | --- |
| Total Index | 52.1 | 52.8 | 55.3 | 54.2 | 56.6 |
| Orders | 52.7 | 51.7 | 57.4 | 55.5 | 58.2 |
| Production | 51.3 | 52.3 | 55.8 | 54.8 | 60.5 |
| Employment | 53.7 | 52.4 | 57.5 | 52.3 | 55.5 |
| Deliveries | 52.0 | 54.6 | 54.2 | 54.9 | 56.2 |
| Inventories | 50.9 | 52.9 | 51.8 | 53.4 | 52.8 |
| Export Orders | 51.0 | 49.5 | 51.7 | 52.8 | 51.8 |
| Prices paid (not seas adj) | 53.2 | 50.0 | 54.3 | 49.4 | 49.6 |