Economic
Last Update: 18-Jun-20 10:28 ET
Leading Indicators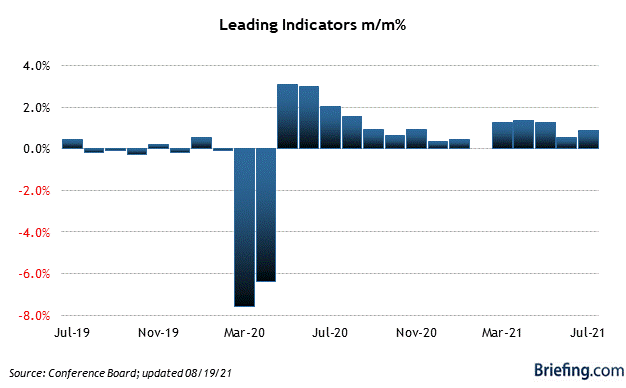 Highlights
The Conference Board's Leading Economic Index (LEI) increased 2.8% in May (Briefing.com consensus 2.5%) following a downwardly revised 6.1% decline (from -4.4%) in April. It was the first increase in the LEI since January.
Key Factors
The relative improvement in initial claims accounted for about two-thirds of the increase in May.
Other improvements in building permits and stock prices also helped push the index higher.
The Coincident Economic Index increased 1.1% in May after declining 10.4% in April.
The Lagging Economic Index declined 1.9% after increasing 1.7% in April.
Big Picture
The key takeaway from the report is that it is reflective of an uptick in activity as some state economies started to reopen in May, yet the uptick is relative to a very depressed base in March and April.
| Category | MAY | APR | MAR | FEB | JAN |
| --- | --- | --- | --- | --- | --- |
| Total Index | 2.8% | -6.1% | -7.5% | -0.2% | 0.5% |
| Manufacturing Workweek | 0.65% | -1.96% | 0.20% | 0.20% | -0.07% |
| Initial Claims | 1.90% | -1.44% | -5.53% | -0.06% | 0.24% |
| Cons. Gds Orders | 0.06% | -1.31% | -0.43% | -0.07% | -0.03% |
| ISM New Orders | -0.48% | -0.58% | -0.27% | -0.12% | -0.07% |
| Nondef. Cap Gds Orders, exc. Aircraft | 0.14% | -0.25% | -0.07% | -0.02% | 0.03% |
| Building Permits | 0.39% | -0.70% | -0.17% | -0.19% | 0.15% |
| Stock Prices | 0.22% | 0.16% | -0.83% | 0.00% | 0.12% |
| Leading Credit Index | -0.08% | -0.11% | -0.15% | 0.08% | 0.08% |
| Interest Rate Spread | 0.07% | 0.07% | 0.03% | -0.01% | 0.02% |
| Consumer Expectations | -0.09% | -0.12% | -0.10% | 0.13% | 0.08% |