Economic
Last Update: 21-Mar-19 10:32 ET
Leading Indicators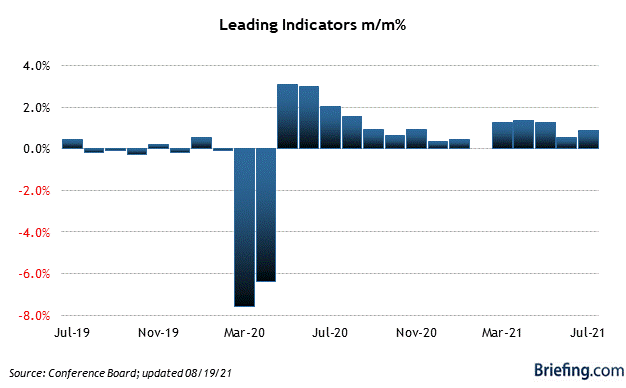 Highlights
The Conference Board's Leading Economic Index increased 0.2% in February, as expected, following an unchanged reading for January.
This is the first increase in the index since September 2018, and it was supported by gains in all the financial components and consumer expectations for business conditions..
Key Factors
In the six-month period ending February 2019, the leading economic index was up 0.5%, which is much slower than the growth of 2.5% over the previous six months.
Stock prices were the biggest contributor to the leading economic index in February, adding 0.22 percentage points.
The average workweek for production workers was the biggest drag, subtracting 0.13 percentage points.
The Coincident Economic index increased 0.2% after increasing 0.1% in January.
The Lagging Economic Index was unchanged after increasing 0.6% in January.
Big Picture
The key takeaway from the report is that the strengths among the leading indicators have become much less widespread, with only six of the ten components making positive contributions.
| Category | FEB | JAN | DEC | NOV | OCT |
| --- | --- | --- | --- | --- | --- |
| Total Index | 0.2% | 0.0% | -0.1% | 0.0% | -0.1% |
| Manufacturing Workweek | -0.13% | 0.00% | 0.00% | -0.07% | 0.00% |
| Initial Claims | -0.02% | -0.09% | 0.13% | -0.21% | -0.11% |
| Cons. Gds Orders | 0.01% | -0.02% | 0.07% | 0.02% | -0.19% |
| ISM New Orders | 0.00% | 0.05% | -0.09% | 0.13% | 0.04% |
| Nondef. Cap Gds Orders, exc. Aircraft | 0.02% | 0.01% | -0.05% | -0.05% | 0.02% |
| Building Permits | 0.00% | -0.2% | 0.01% | 0.13% | -0.01% |
| Stock Prices | 0.22% | 0.06% | -0.23% | -0.09% | -0.16% |
| Leading Credit Index | 0.08% | 0.06% | 0.02% | 0.07% | 0.07% |
| Interest Rate Spread | 0.03% | 0.04% | 0.06% | 0.10% | 0.11% |
| Consumer Expectations | -0.06% | -0.07% | 0.05% | 0.10% | 0.15% |