Economic
Last Update: 16-Apr-19 09:50 ET
Industrial Production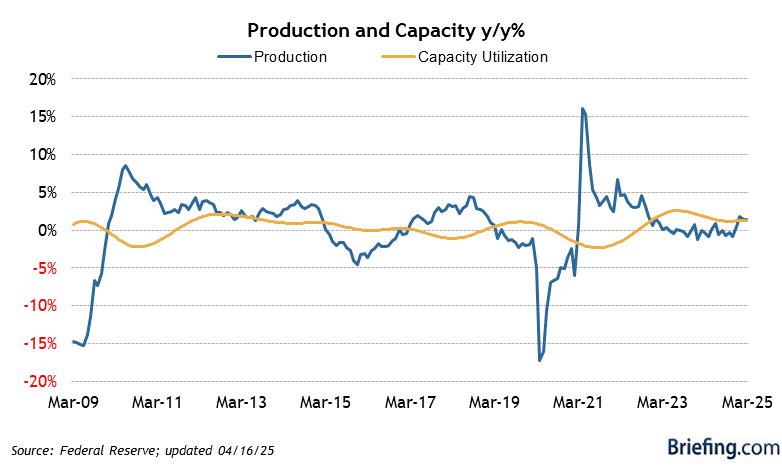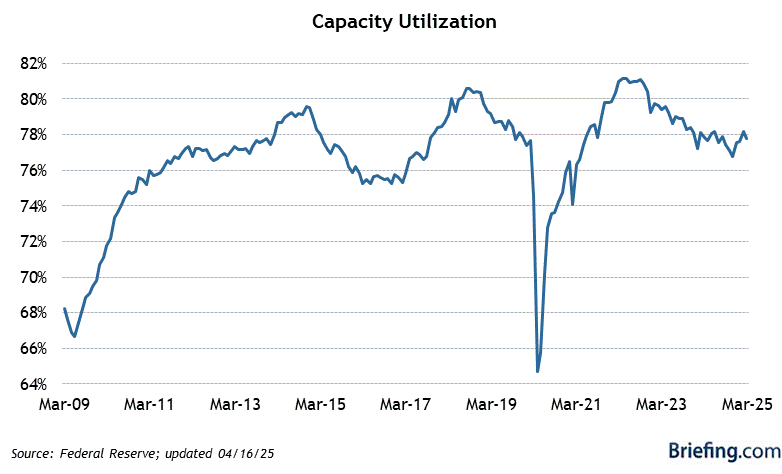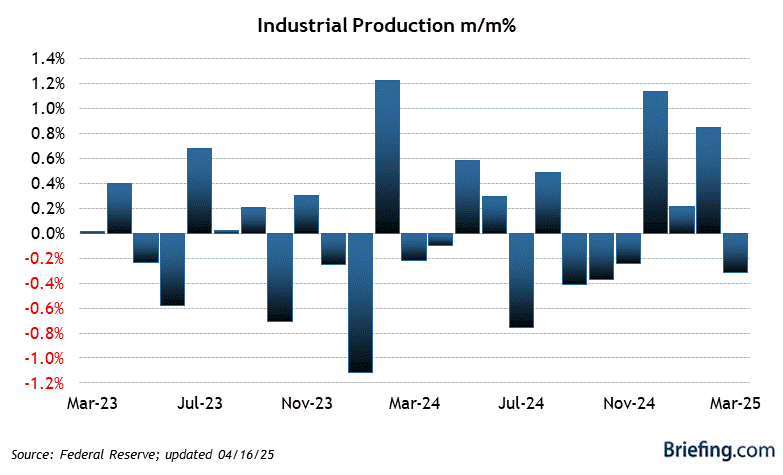 Highlights
Industrial Production decreased 0.1% in March (Briefing.com consensus 0.2%) after an unrevised 0.1% increase in February.
The capacity utilization rate decreased to 78.8% (Briefing.com consensus 79.0%) from an upwardly revised 79.0% (from 78.2%) in February.
Key Factors
Durable goods manufacturing decreased 0.1%, with motor and vehicle parts manufacturing decreasing 2.5%, wood products manufacturing falling 2.2%, and furniture and related products manufacturing decreasing 0.7%. On the upside, manufacturing of primary metals increased 1.2% and manufacturing of computer and electronic products grew 1.1%.
The output of utilities increased 0.2% after jumping 3.7% in February.
Mining output decreased 0.8% after a revised unchanged reading (from +0.3%) in February.
On a yr/yr basis, total industrial production was up 2.8%. The capacity utilization rate is 1.0 percentage point below its long-run (1972-2018) average.
Big Picture
The key takeaway from the report is that it showed continued weakness in manufacturing output, which was unchanged after a revised 0.3% decrease (from -0.4%) in February. On a yr/yr basis, manufacturing output was down 1.1% in the first quarter.
| Category | MAR | FEB | JAN | DEC | NOV |
| --- | --- | --- | --- | --- | --- |
| Industrial Production | | | | | |
| Total Index | -0.1% | 0.1% | -0.3% | 0.0% | 0.6% |
| Manufacturing | 0.0% | -0.3% | -0.5% | 0.6% | 0.2% |
| Utilities | 0.2% | 3.7% | 0.6% | -6.7% | 2.7% |
| Mining | -0.8% | 0.0% | -0.2% | 2.1% | 0.8% |
| Capacity Utilization | | | | | |
| Total Industry | 78.8% | 79.0% | 79.1% | 79.5% | 79.6% |
| Manufacturing | 76.4% | 76.5% | 76.8% | 77.3% | 76.9% |