Economic
Last Update: 28-Mar-19 09:08 ET
GDP-Adv.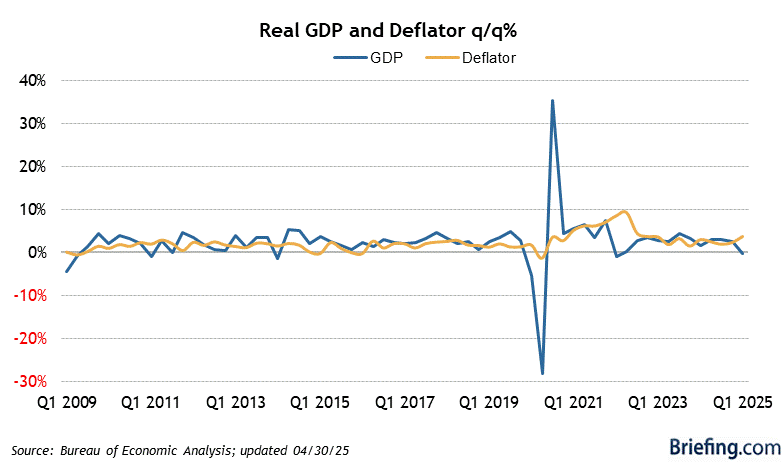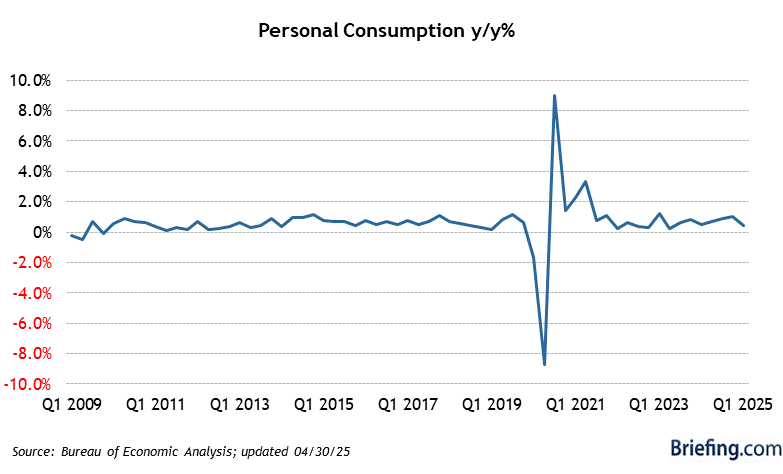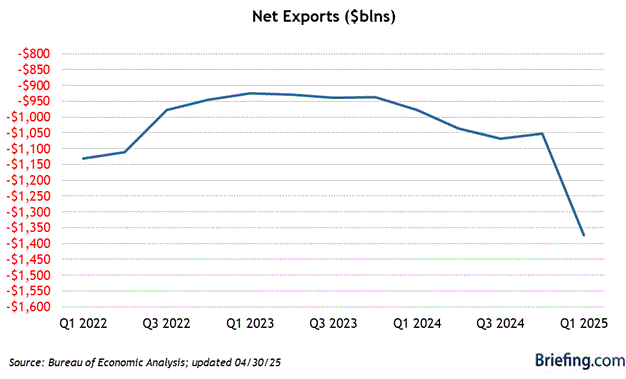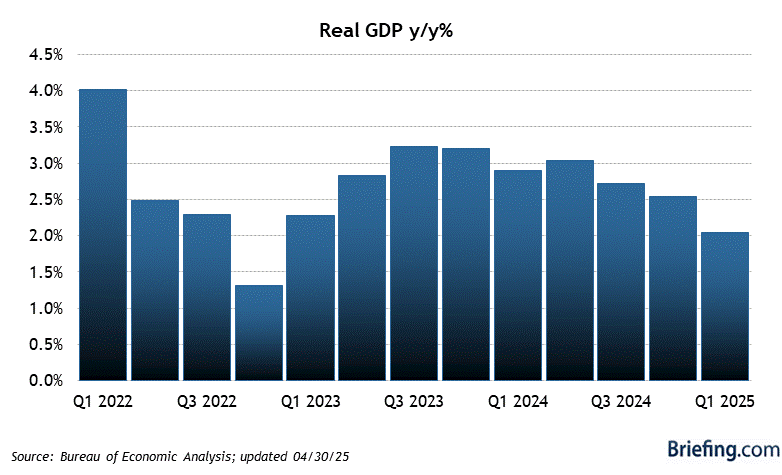 Highlights
The third estimate for Q4 GDP showed a downward revision to 2.2% from 2.6% (Briefing.com consensus 2.5%) and a downward revision to the GDP Price Deflator to 1.7% from 1.8% (Briefing.com consensus 1.8%).
Key Factors
Personal consumption expenditure growth was revised down to 2.5% from 2.8% and export growth was revised up to 1.8% from 1.6%.
Import growth was revised down to 2.0% from 2.7%.
The change in private inventories was revised down to $96.8 bln from $97.1 bln.
Real final sales of domestic product, which exclude the change in inventories, were revised down to 2.1% from 2.5%.
Big Picture
The key takeaway from the report is that even with the downward revision, real GDP increased 3.0% from the fourth quarter of 2017 to the fourth quarter of 2018, down slightly from the previous estimate of 3.1%. Measured from the 2017 annual level to the 2018 annual level, real GDP increased 2.9%.
| Category | Q4 | Q3 | Q2 | Q1 | Q4 |
| --- | --- | --- | --- | --- | --- |
| GDP | 2.2% | 3.4% | 4.2% | 2.2% | 2.3% |
| Inventories (change) | $96.8B | $89.8B | -$36.8B | $30.3B | $16.1B |
| Final Sales | 2.1% | 1.0% | 5.4% | 1.9% | 3.2% |
| PCE | 2.5% | 3.5% | 3.8% | 0.5% | 3.9% |
| Nonresidential Inv. | 5.4% | 2.5% | 8.7% | 11.5% | 4.8% |
| Structures | -3.9% | -3.4% | 14.5% | 13.9% | 1.3% |
| Equipment | 6.6% | 3.4% | 4.6% | 8.5% | 9.9% |
| Intellectual Property | 10.7% | 5.6% | 10.5% | 14.1% | 0.7% |
| Residential Inv. | -4.7% | -3.6% | -1.3% | -3.4% | 11.1% |
| Net Exports | -$955.7B | -$949.7B | -$841.0B | -$902.4B | -$899.2B |
| Export | 1.8% | -4.9% | 9.3% | 3.6% | 6.6% |
| Imports | 2.0% | 9.3% | -0.6% | 3.0% | 11.8% |
| Government | -0.4% | 2.6% | 2.5% | 1.5% | 2.4% |
| GDP Price Index | 1.7% | 1.8% | 3.0% | 2.0% | 2.5% |