Economic
Last Update: 27-Jun-19 09:33 ET
GDP-Adv.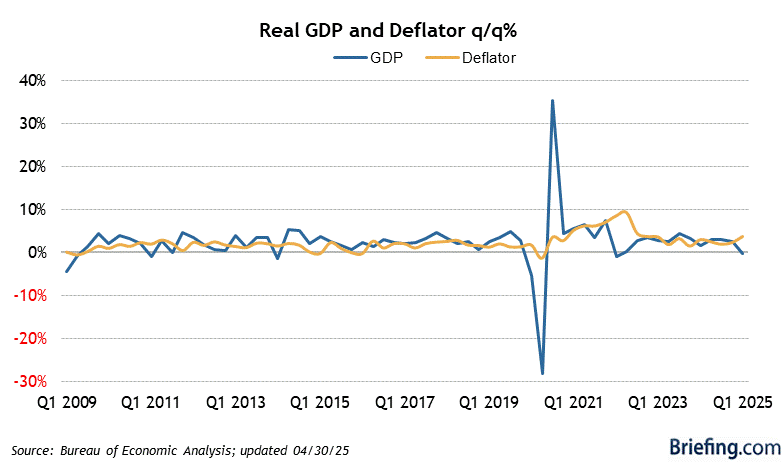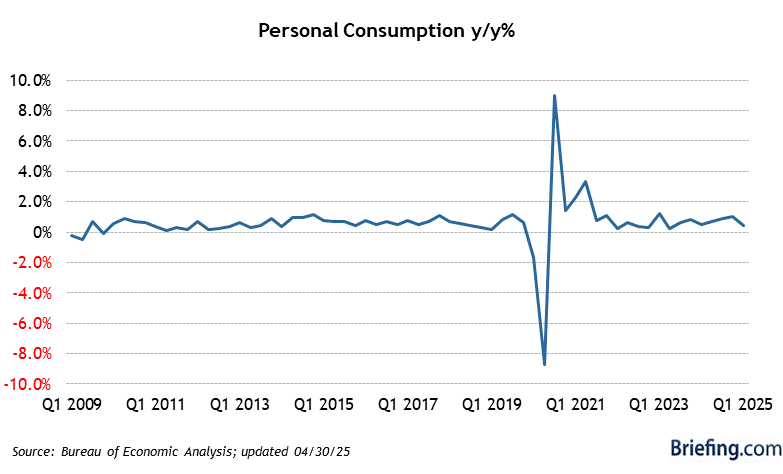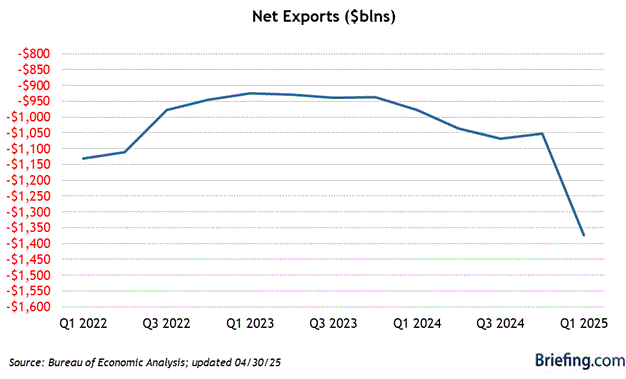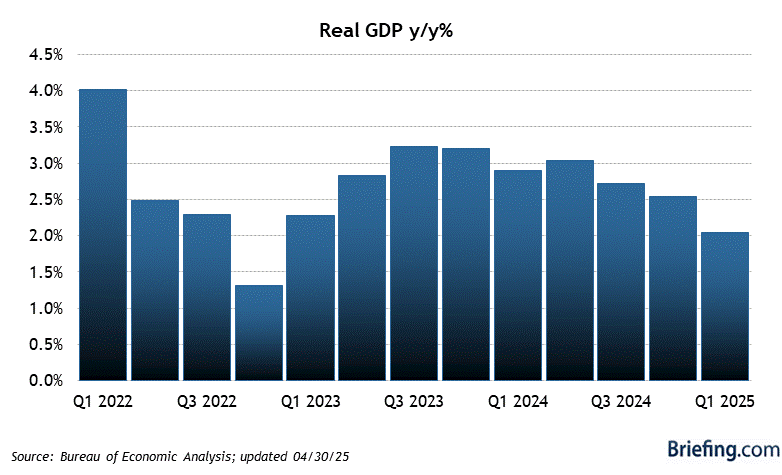 Highlights
The third estimate for Q1 GDP was left unchanged at 3.1%, as expected, although the contribution to that estimate was altered.
The GDP Price Deflator was up 0.9% (Briefing.com consensus 0.8%) after it was indicated to be up 0.8% in the second estimate.
Key Factors
The downward revision to personal spending was offset by upward revisions to nonresidential fixed investment, exports, state and local government spending, and residential fixed investment.
Real final sales, which exclude the change in private inventories, were revised up to 2.6% from 2.5%.
In the first quarter of 2018, real GDP increased at a seasonally adjusted annual rate of 2.2%.
Big Picture
The key takeaway from the report was the recognition that personal spending growth was revised down to 0.9% from 1.3% in the second estimate.
| Category | Q1 | Q4 | Q3 | Q2 | Q1 |
| --- | --- | --- | --- | --- | --- |
| GDP | 3.1% | 2.2% | 3.4% | 4.2% | 2.2% |
| Inventories (change) | $122.8B | $96.8B | $89.8B | -$36.8B | $30.3B |
| Final Sales | 2.6% | 2.1% | 1.0% | 5.4% | 1.9% |
| PCE | 0.9% | 2.5% | 3.5% | 3.8% | 0.5% |
| Nonresidential Inv. | 4.4% | 5.4% | 2.5% | 8.7% | 11.5% |
| Structures | 4.3% | -3.9% | -3.4% | 14.5% | 13.9% |
| Equipment | -1.0% | 6.6% | 3.4% | 4.6% | 8.5% |
| Intellectual Property | 12.0% | 10.7% | 5.6% | 10.5% | 14.1% |
| Residential Inv. | -2.0% | -4.7% | -3.6% | -1.3% | -3.4% |
| Net Exports | -$905.0B | -$955.7B | -$949.7B | -$841.0B | -$902.4B |
| Export | 5.4% | 1.8% | -4.9% | 9.3% | 3.6% |
| Imports | -1.9% | 2.0% | 9.3% | -0.6% | 3.0% |
| Government | 2.8% | -0.4% | 2.6% | 2.5% | 1.5% |
| GDP Price Index | 0.9% | 1.7% | 1.8% | 3.0% | 2.0% |