Economic
Last Update: 05-Apr-19 09:27 ET
Nonfarm Payrolls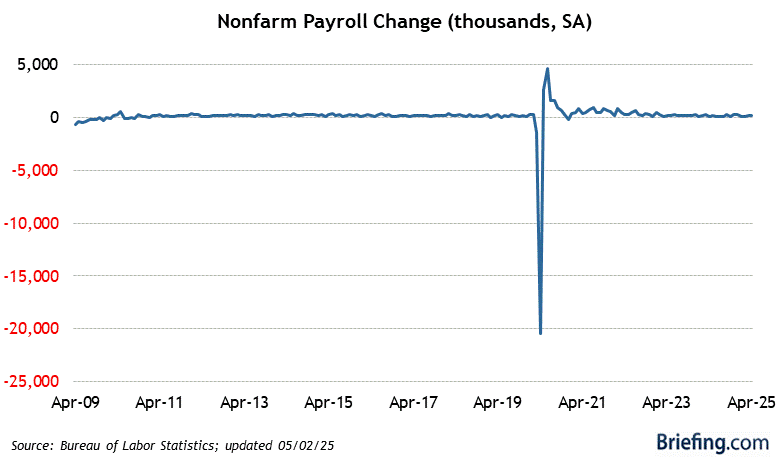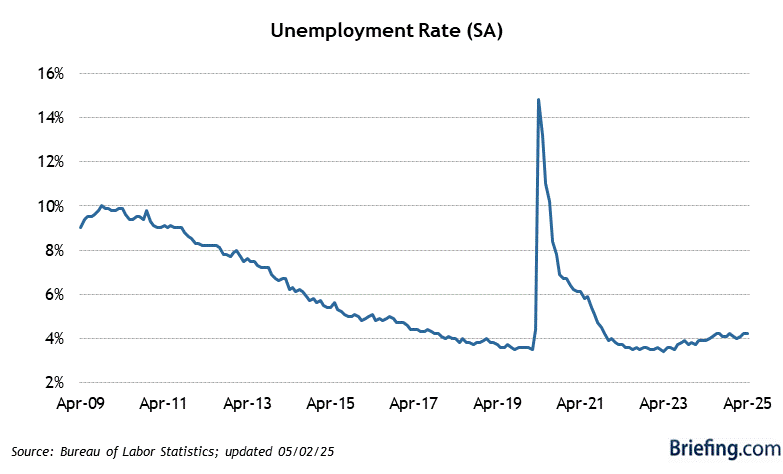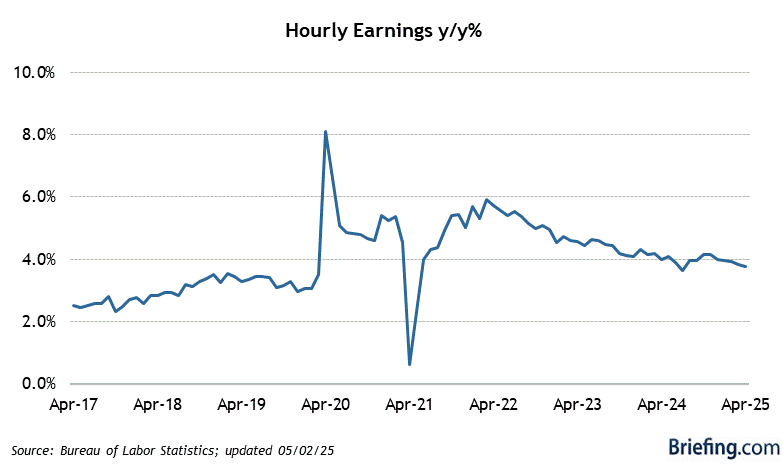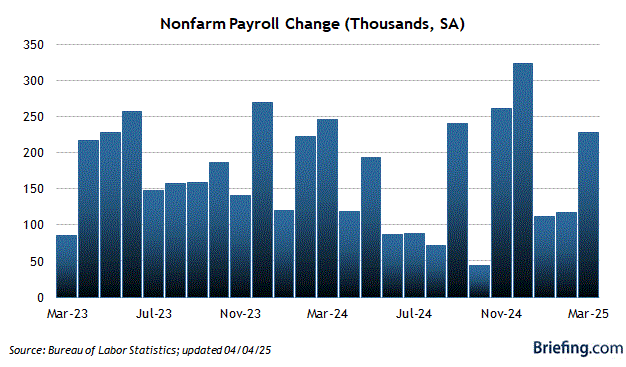 Highlights
The March employment report accomplished three important things: (1) the yr/yr moderation in wage growth will keep the Fed sidelined (2) it exposed February's weak payrolls data to be an aberration and (3) it helped quiet recession concerns.
Key Factors
March nonfarm payrolls increased by 196,000 (Briefing.com consensus 170,000). Over the past three months, job gains have averaged 180,000 per month. February nonfarm payrolls revised to 33,000 from 20,000. January nonfarm payrolls revised to 312,000 from 311,000.
March private sector payrolls increased by 182,000 (Briefing.com consensus 160,000). February private sector payrolls revised to 28,000 from 25,000. January private sector payrolls revised to 297,000 from 308,000.
March unemployment rate was 3.8% (Briefing.com consensus 3.8%), unchanged from 3.8% in February. Persons unemployed for 27 weeks or more accounted for 21.1% of the unemployed versus 20.4% in February. The U6 unemployment rate, which accounts for unemployed and underemployed workers, was unchanged at 7.3%.
March average hourly earnings were up 0.1% (Briefing.com consensus +0.2%), after increasing 0.4% in February. Over the last 12 months, average hourly earnings have risen 3.2%, versus 3.4% for the 12 months ending in February.
The average workweek in March was 34.5 hours (Briefing.com consensus 34.5), versus 34.4 hours in February. Manufacturing workweek was unchanged at 40.7 hours. Factory overtime decreased by 0.1 hour to 3.4 hours.
The labor force participation rate was 63.0% in March versus 63.2% in February.
Big Picture
The key takeaway from the March Employment Situation Report is that it had that Goldilocks hue again of solid job growth and no inflation worries.
| Category | MAR | FEB | JAN | DEC | NOV |
| --- | --- | --- | --- | --- | --- |
| Establishment Survey | | | | | |
| Nonfarm Payrolls | 196K | 33K | 312K | 227K | 196K |
| Goods-Producing | 12K | -28K | 80K | 40K | 29K |
| Construction | 16K | -25K | 56K | 16K | 5K |
| Manufacturing | -6K | 1K | 17K | 20K | 27K |
| Service-Providing | 170K | 56K | 217K | 184K | 171K |
| Retail Trade | -12K | -20K | 9K | -6K | 33K |
| Financial | 11K | 6K | 6K | 1K | 3K |
| Business | 37K | 54K | 5K | 37K | 34K |
| Temporary help | -5K | 3K | -26K | 14K | 1K |
| Education/Health | 70K | 13K | 68K | 67K | 29K |
| Leisure/Hospitality | 33K | -1K | 93K | 65K | 39K |
| Government | 14K | 5K | 15K | 3K | -4K |
| Average Workweek | 34.5 | 34.4 | 34.5 | 34.5 | 34.4 |
| Production Workweek | 33.7 | 33.6 | 33.8 | 33.7 | 33.7 |
| Factory Overtime | 4.3 | 4.4 | 4.5 | 4.5 | 4.5 |
| Aggregate Hours Index | 0.5% | -0.3% | 0.2% | 0.5% | -0.2% |
| Avg Hourly Earnings | 0.1% | 0.4% | 0.1% | 0.4% | 0.3% |
| Household Survey | | | | | |
| Household Survey | | | | | |
| Civilian Unemp. Rate | 3.8% | 3.8% | 4.0% | 3.9% | 3.7% |
| Civilian Labor Force | -224K | -45K | -11K | 419K | 127K |
| Civilian Employed | -201K | 255K | -251K | 142K | 221K |
| Civilian Unemployed | -24K | -300K | 241K | 276K | -94K |