Economic
Last Update: 12-Jun-19 09:15 ET
CPI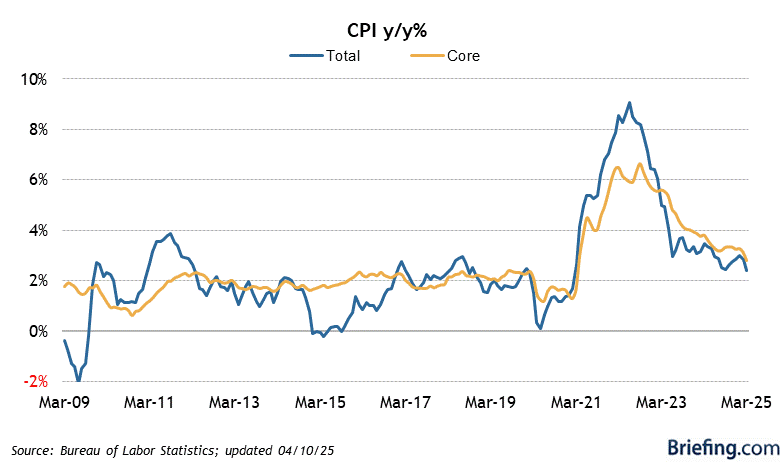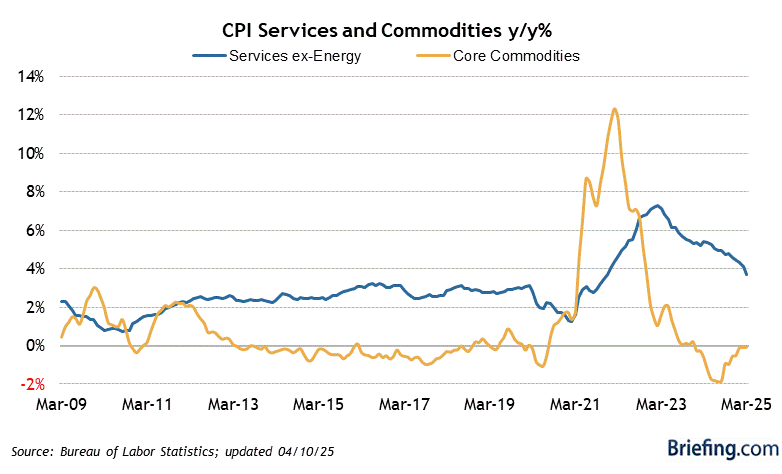 Highlights
Total CPI increased 0.1%, as expected, and so did core CPI, which excludes food and energy prices (Briefing.com consensus +0.2%).
The monthly changes left the yr/yr readings at 1.8% and 2.0%, respectively, versus 2.0% and 2.1% for the 12 months ending in April.
Key Factors
The food index increased 0.3% in May while the energy index declined 0.6%.
Core CPI rose 0.1% for the fourth consecutive month, bolstered by a 0.2% increase in the shelter index that was offset in part by a 1.4% decline in the index for used cars and trucks.
The 12-month change in core CPI has remained between 1.6% and 2.4% since June 2011.
Big Picture
The key takeaway from the report is that consumer inflation pressures remain muted, which in turn is going to reinforce the market's inflated expectations for the Fed to cut the target range for the fed funds rate sooner rather than later.
| Category | MAY | APR | MAR | FEB | JAN |
| --- | --- | --- | --- | --- | --- |
| All Items | 0.1% | 0.3% | 0.4% | 0.2% | 0.0% |
| Food and Beverages | 0.3% | -0.1% | 0.2% | 0.4% | 0.2% |
| Housing | 0.1% | 0.3% | 0.3% | 0.2% | 0.2% |
| Equivalent Rent | 0.3% | 0.3% | 0.3% | 0.3% | 0.3% |
| Apparel | 0.0% | -0.8% | -1.9% | 0.3% | 1.1% |
| Transportation | -0.3% | 1.2% | 1.5% | 0.1% | -1.3% |
| Vehicles | -0.5% | -0.4% | 0.0% | -0.6% | 0.1% |
| Motor Fuel | -0.5% | 5.7% | 6.5% | 1.5% | -5.5% |
| Medical Care | 0.3% | 0.3% | 0.3% | -0.2% | 0.2% |
| Educ and Commun | 0.1% | 0.1% | 0.1% | 0.2% | 0.2% |
| Special Indices | | | | | |
| Core | 0.1% | 0.1% | 0.1% | 0.1% | 0.2% |
| Energy | -0.6% | 2.9% | 3.5% | 0.4% | -3.1% |
| Services | 0.1% | 0.3% | 0.3% | 0.1% | 0.2% |