Story Stocks® Archive
Last Update: 02-Nov-18 11:28 ET
Looking Ahead - November 5, 2018 - ISM Non-Manufacturing Index (ECONX)
There's always a lot of attention on the manufacturing side of the economy, yet it is the services side of the economy that matters most for the overall economy. On Monday, market participants will learn how the services sector is doing with the release of the ISM Non-Manufacturing PMI for October.
ISM Non-Manufacturing PMI for October (Monday, November 5, at 10:00 a.m. ET)
Why it's important

The non-manufacturing sector accounts for a much bigger slice of the US economic pie (manufacturing accounts for ~12% of GDP) and is viewed as an anchor of sorts for the US economy.
This report offers some telltale insight into trends for employment and pricing in non-manufacturing industries, which have wider meaning for the labor market and inflation outlooks.
Participants will be anxious to see if this report follows form with the ISM Manufacturing Index for October, which showed a deceleration in activity versus September.

Note: The September reading for the Non-Manufacturing Index was the highest since the inception of the composite index in 2008. It would not be surprising to see some deceleration in the October period.

Trends in this report have the ability to influence the market's thinking about the future direction of the economy and the Fed's glide path toward policy rate normalization.



A closer look

The ISM Non-Manufacturing PMI for September checked in at 61.6%, up from 58.5% in August

The dividing line between expansion and contraction for the ISM Non-Manufacturing PMI is 50.0%.

September marked the 104th straight month the index has been above 50.0%.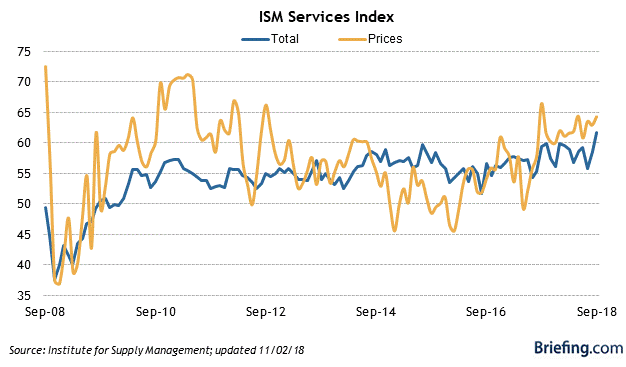 What's in play?



US Treasuries and related ETFs

20+ Year Treasury Bond ETF (TLT)
UltraShort Barclays 20+ Year Treasury (TBT)
1-3 Year Treasury Bond ETF (SHY)
iShares 7-10 Year Treasury Bond ETF (IEF)
iShares US Treasury Bond ETF (GOVT)



Index ETFs

SPDR S&P 500 ETF (SPY)
Invesco QQQ ETF (QQQ)
iShares Russell 2000 (IWM)
SPDR Dow Jones Industrial Average ETF (DIA)



Currencies
Fed funds futures