Story Stocks® Archive
Last Update: 15-Nov-18 12:00 ET
Looking Ahead - November 16, 2018 - ECB President Draghi Speech (EZU)
Many central bank officials give speeches, yet none ever resonate as much as a speech from the head of a major central bank. On Friday, one of the world's most influential central bankers, ECB President Mario Draghi, will be giving a speech that could potentially move markets.
ECB President Draghi Keynote Speech to Frankfurt European Banking Congress (Friday, November 16, 3:30 a.m. ET)
Why it's important

Italy's budget standoff with the EU is raising concerns about potential contagion risk for the European banks in the event Italy's growth doesn't live up to expectations and it runs into difficulty repaying its debt. This speech presumably gives Mr. Draghi a platform to address such concerns.
With incoming data showing a loss of growth momentum in the eurozone, market participants will be listening to hear if Mr. Draghi provides any monetary policy hints in relation to the ECB's growth outlook.
Brexit uncertainty continues to hang over Europe. Market participants will be interested to know how the ECB might be accounting for that uncertainty in its formulation of monetary policy.
Mr. Draghi leads one of the world's most influential central banks and his views have the ability to move global capital markets.



A closer look

Interest rates on the main refinancing operations, marginal lending facility, and deposit facility stand at 0.00%, 0.25%, and -0.40%, respectively.
The ECB is guided by a single mandate of keeping the inflation rate below, but close to, 2.0%.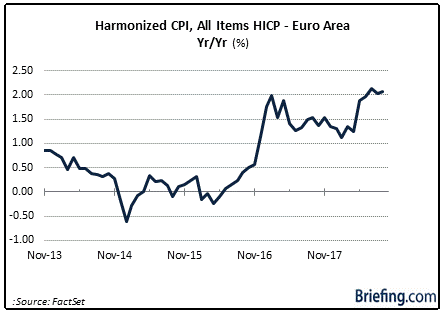 What's in play?



Regional ETFs

Vanguard FTSE Europe (VGK)
iShares Europe (IEV)
iShares MSCI Eurozone (EZU)
SPDR Euro STOXX 50 ETF (FEZ)
Wisdom Tree Europe Hedged Equity ETF (HEDJ)
iShares MSCI Germany (EWG)
iShares MSCI France (EWQ)
iShares MSCI Spain Capped (EWP)
iShares MSCI Italy Capped (EWI)



Currencies

EUR/USD
EUR/CHF
EUR/JPY
GBP/USD
USD/CHF



Sovereign bonds


S&P futures


Index ETFs

SPDR S&P 500 ETF (SPY)
PowerShares QQQ ETF (QQQ)
iShares Russell 2000 (IWM)
SPDR Dow Jones Industrial Average ETF (DIA)