Story Stocks® Archive
Last Update: 13-Mar-19 11:50 ET
Looking Ahead - March 14, 2019 - Key Economic Data out of China (FXI)
Global markets always want to know what is going on with China's economy. On Thursday, there will be an updated sense of economic matters there following China's release of some key economic data.
Industrial Production, Fixed Asset Investment, and Retail Sales Reports for January from China (Wednesday, March 13, 10:00 p.m. ET)
Why it's important

The data will influence expectations regarding corporate profits, potential fiscal stimulus, and the monetary policy approach by the People's Bank of China.
Better than expected data could attract foreign capital to China while weaker than expected data could divert foreign capital from China.
Economic trends in China have an influential impact on commodity price movement, particularly copper prices, as China is the world's largest consumer of copper.
Market participants have a hyper focus on economic activity in China given efforts there to rein in speculative behavior, President Trump's efforts to curb China's trade surplus with the U.S., and the general slowdown that has been unfolding in China's economy.
Weak data could weaken the yuan, which has proven to be a disruptive force for global capital markets due to the specter of capital flight and the potential for competitive currency devaluations.
A closer look

Industrial production was up 5.7% year-over-year in December after increasing 5.4% in November.
Fixed asset investment was up 5.9% year-over-year in December after increasing 5.9% in November.
Retail Sales were up 8.2% year-over-year in December after increasing 8.1% in November.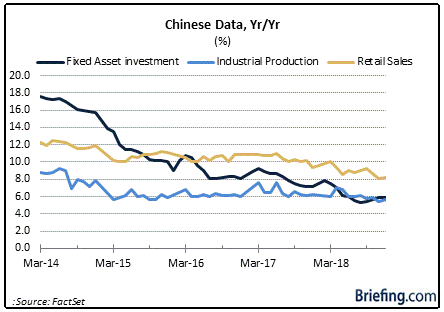 What's in play?



China ETFs

iShares China Large-Cap ETF (FXI)
ProShares UltraShort FTSE China 50 (FXP)
db X-trackers harvest CSI 300 China A-Shares Fund (ASHR)
iShares MSCI China ETF (MCHI)
SPDR S&P China ETF (GXC)
China Small Cap ETF (HAO)
Market Vectors China ETF (PEK)



Regional ETFs

iShares MSCI Emerging Markets (EEM)
SPDR S&P Emerging Asia Pacific ETF (GMF)
iShares MSCI Japan (EWJ)
iShares MSCI South Korea Capped ETF (EWY)
iShares MSCI Singapore (EWS)
iShares MSCI Australia ETF (EWA)
iShares MSCI Taiwan ETF (EWT)



Currencies
Commodities


Treasuries (TBT, TLT, SHY, SCHO)


S&P futures