Story Stocks® Archive
Last Update: 31-Dec-18 12:08 ET
Looking Ahead - January 2, 2019 - Eurozone Final Manufacturing PMI (EZU)
Global equity markets will be closed for New Year's Day on Tuesday, but Wednesday's session will still feature some data related to the old year, considering that the final December Manufacturing PMI for the eurozone will be released in the early morning.
Eurozone Final Manufacturing PMI for December (Wednesday, January 2, 4:00 a.m. ET)
Why it's important

Growth momentum in the eurozone has been flagging since the start of the year, though the pace of the decline in the eurozone Manufacturing PMI has slowed.
Manufacturing activity will be looked at as a gauge to determine whether business activity is being restricted by tariffs on steel and aluminum imports to the U.S. and by a general sense of uncertainty pertaining to trade friction.
The ECB will be watching incoming data to help determine its course of policy action.
A pickup in manufacturing activity could give way to thoughts that the ECB will be inclined to distance itself from its ultra-accommodative monetary policy. That mentality could foster strength in the euro and a backup in sovereign bond yields that creates some volatility for interest-rate differential trades.

A closer look

The preliminary reading for the eurozone Manufacturing PMI in December slipped to 51.4 from 51.8, hitting its lowest level since early 2016.
France, Germany, the United Kingdom, Italy, and Spain will also be reporting final Manufacturing PMI readings for December on Wednesday.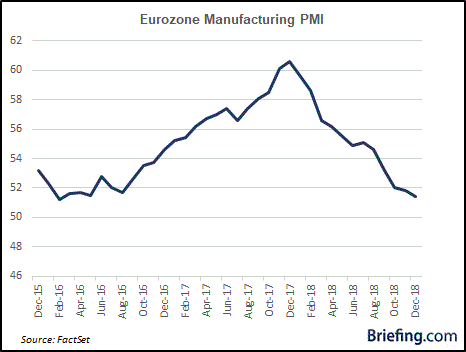 Regional ETFs

Vanguard FTSE Europe (VGK)
iShares Europe (IEV)
iShares MSCI Eurozone (EZU)
SPDR Euro STOXX 50 ETF (FEZ)
Wisdom Tree Europe Hedged Equity ETF (HEDJ)
iShares MSCI Germany (EWG)
iShares MSCI France (EWQ)
iShares MSCI Spain Capped (EWP)
iShares MSCI Italy Capped (EWI)
Currencies

EUR/USD
EUR/CHF
EUR/JPY
GBP/USD
USD/CHF
Index ETFs

SPDR S&P 500 ETF (SPY)
Invesco QQQ ETF (QQQ)
iShares Russell 2000 (IWM)
SPDR Dow Jones Industrial Average ETF (DIA)