April Retail Sales
Updated 25-May-11 21:12 ET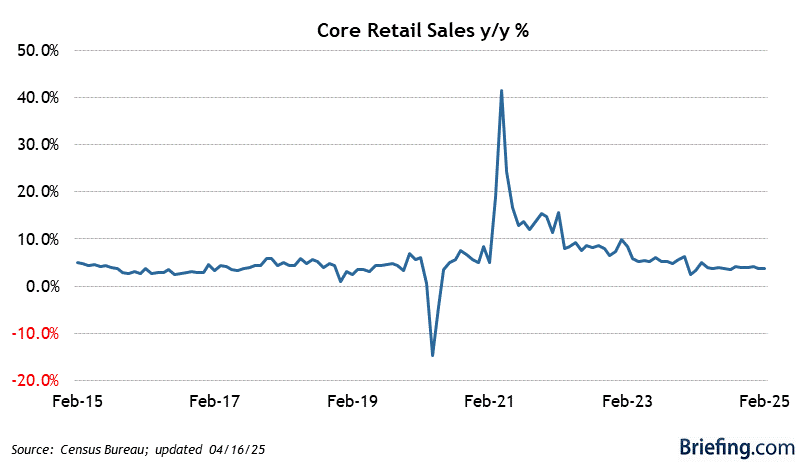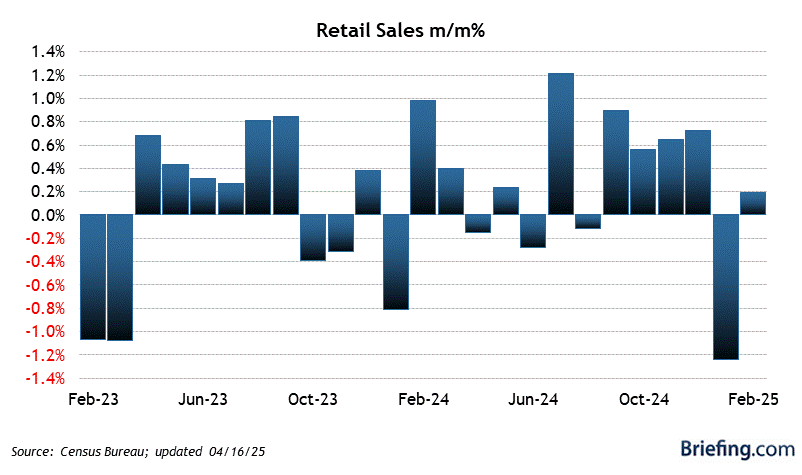 Highlights
Retail sales increased 0.5% in April after increasing an upwardly revised 0.9% (from 0.4%) in March. The Briefing.com consensus expected retail sales to increase 0.6%.
Excluding motor vehicle sales, retail sales increased 0.6% and beat consensus expectations of 0.5% growth.
Core sales -- which exclude the highly volatile auto dealers, building materials and supply dealers, and gasoline stations -- increased 0.2%. This was the lowest increase in core sales since they fell 0.1% in December 2010.
Key Factors
As expected, motor vehicle sales growth was minimal. Sales increased only 0.2% in April after falling 0.7% in March.
The effects of rising oil and food prices on discretionary spending became apparent in April. The overall growth in sales was due to these price increases and not from an increase in the quantity of goods demanded.
Sales at gasoline stations and grocery stores increased 2.7% and 1.5% in April, respectively. These were the top two performing retail sectors during the month.
In all, the sales report was disappointing for businesses outside of the food and gas sectors.
Big Picture
| Category | APR | MAR | FEB | JAN | DEC |
| --- | --- | --- | --- | --- | --- |
| Retail Sales | 0.5% | 0.9% | 1.3% | 0.8% | 0.6% |
| Excluding Autos | 0.6% | 1.2% | 1.2% | 0.7% | 0.3% |
| Durable goods | | | | | |
| Building Materials | 0.1% | 2.5% | -1.0% | -1.6% | 2.0% |
| Autos/parts | 0.2% | -0.7% | 1.7% | 1.2% | 2.3% |
| Furniture | -1.1% | 2.4% | 0.9% | -0.9% | -0.3% |
| Nondurable goods | | | | | |
| General Merchandise | 0.1% | 0.4% | 1.1% | 0.2% | -1.0% |
| Food | 1.2% | 0.2% | 0.8% | 1.7% | -0.7% |
| Gasoline stations | 2.7% | 4.1% | 2.8% | 1.7% | 1.8% |
| Clothing | 0.3% | 1.0% | 1.9% | 0.8% | -1.8% |
| e*retailing/non-store | 1.0% | 0.6% | 0.3% | 1.5% | 2.6% |