April PPI
Updated 25-May-11 21:12 ET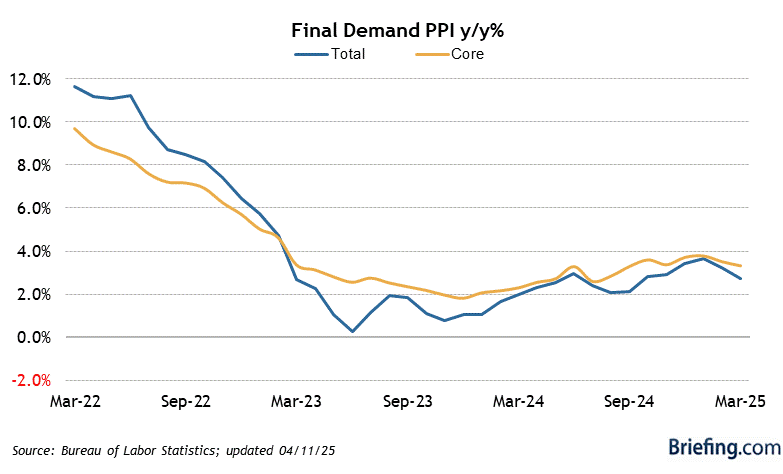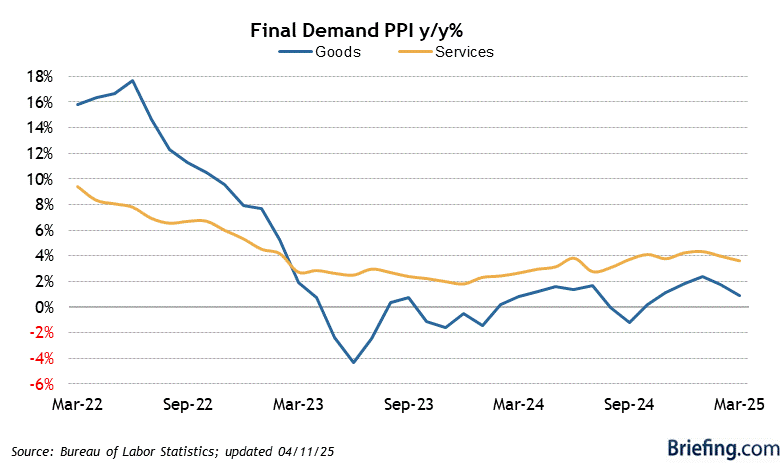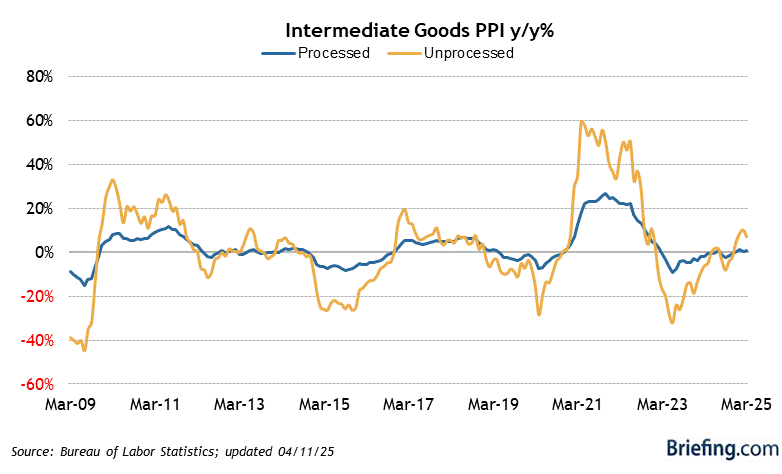 Highlights
The PPI increased 0.8% in April after increasing 0.7% in March. The Briefing.com consensus expected PPI to increase at a more moderate 0.5%.
Excluding food and energy, core prices remained elevated. Core prices increased 0.3% for the second consecutive month and were slightly stronger than the consensus estimate of 0.2% growth.
Key Factors
Food and energy price growth remained high. After falling 0.2% in March, food prices increase 0.3% in April. Energy price growth eased slightly in April, increasing 2.5% after rising 2.6% in March. However, the growth in energy prices still accounted for about 75% of the increase in headline producer prices during the month.
However, a significant portion of the increase in core prices was due to a 1.2% increase in civilian aircraft prices and a 0.6% increase in light truck prices. Price growth in these sectors tends to be volatile and not indicative of long lasting trends.  As a result, we expect the prices to ease next month and return to more normal levels. This should put downward pressure on core price growth in May.
Big Picture
Commodity prices have strengthened over the last few months as global economies have entered an accelerating recovery period. U.S. producers are going to bare most of the brunt of the price increases as the consumers ability to take-on higher prices remains constrained by weak income growth.
| Category | APR | MAR | FEB | JAN | DEC |
| --- | --- | --- | --- | --- | --- |
| Finished Goods | 0.8% | 0.7% | 1.6% | 0.8% | 0.9% |
| Core | 0.3% | 0.3% | 0.2% | 0.5% | 0.2% |
| Capital Equipment | 0.3% | 0.3% | 0.1% | 0.3% | 0.1% |
| Consumer Foods | 0.3% | -0.2% | 3.9% | 0.3% | 0.8% |
| Energy | 2.5% | 2.6% | 3.3% | 1.8% | 2.8% |
| Intermediate Materials | 1.3% | 1.5% | 2.0% | 1.1% | 0.9% |
| Core | 1.1% | 0.9% | 1.1% | 1.0% | 0.4% |
| Crude Materials | 4.0% | -0.5% | 3.4% | 3.3% | 6.5% |
| Core | 2.6% | -2.4% | 2.3% | 4.0% | 3.5% |