May Philadelphia Fed
Updated 25-May-11 21:12 ET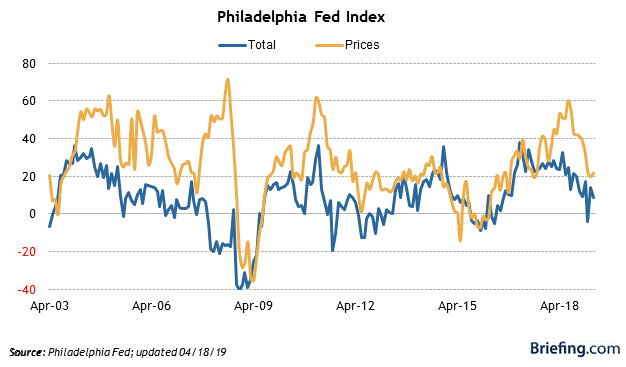 Highlights
After running at multi-decade highs for most of Q1 2011, manufacturing activities in the Philadelphia region slowed markedly in May. The Philadelphia Fed's Business Outlook declined from 18.5 in April to 3.9.
The Briefing.com consensus expected the index to drop to 18.0.
Key Factors
All of the sub-indices, which the exception of the number of employees index, declined from April levels. Furthermore, three of those indices -- unfilled orders, delivery times, and inventories  -- reentered a contraction phase.
The new orders and shipments indices remained in positive territory, but decelerated sharply from their April levels. The new orders index fell from 18.8 to 5.4 while the shipments index declined from 29.1 to 6.5.
With the contraction in unfilled orders, shipments will have a hard time expanding unless new orders growth returns.
There is no indication that the sharp deceleration in manufacturing activities in May is the start of an new trend. Barring any external shock,  we do not believe the manufacturing sector will enter a contraction phase anytime soon.
Big Picture
Raw data available at: http://www.phil.frb.org
| Category | MAY | APR | MAR | FEB | JAN |
| --- | --- | --- | --- | --- | --- |
| Total Index | 3.9 | 18.5 | 43.4% | 35.9% | 19.3% |
| 6-month Outlook | 16.6 | 33.6 | 63.0% | 46.8% | 49.8% |