April Industrial Production
Updated 25-May-11 21:11 ET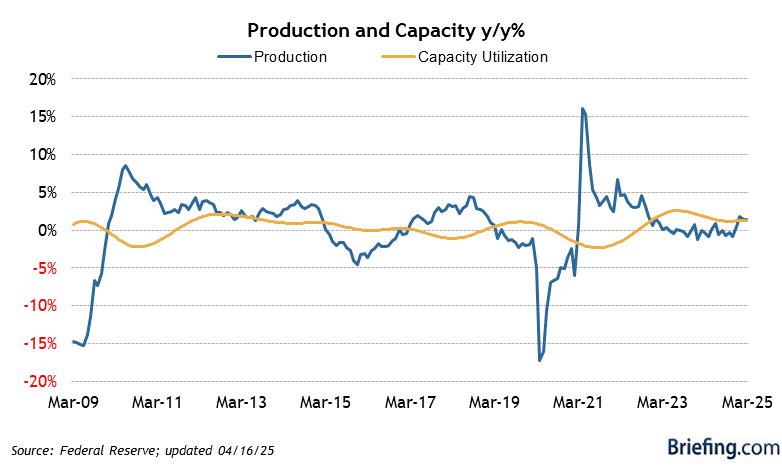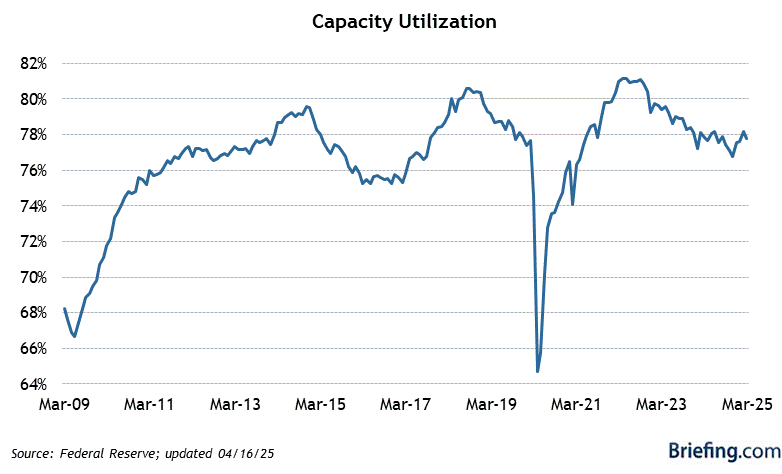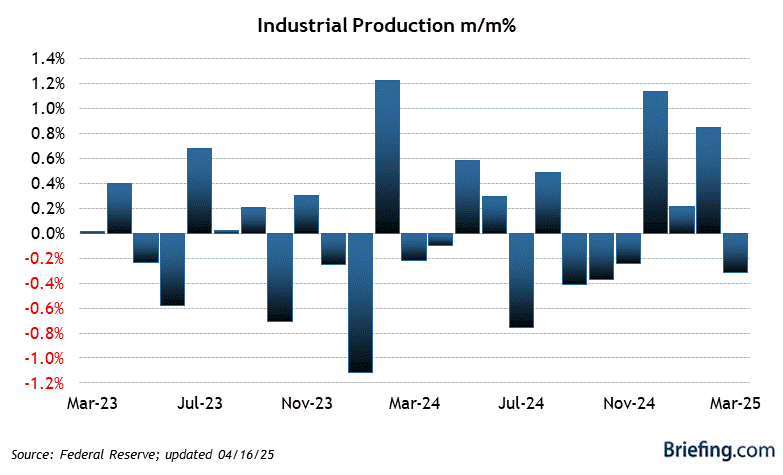 Highlights
Industrial production was flat after increasing 0.7% in March. The Briefing.com consensus expected industrial production to increase 0.5%.  A slowdown in motor vehicle manufacturing due to parts shortages in Japan has been blamed for the lack of industrial production growth in April.

Capacity utilization rates fell from a negatively revised 77.0% (from 77.4%) in March to 76.9% in April. The Briefing.com consensus expected the rate of capacity utilization to increase to 77.7%.
Key Factors
Motor vehicle production declined 8.9% in April as assemblies dropped from 8.98 mln SAAR in March to 7.86 mln SAAR in April. This is the lowest number of assemblies since December 2010.
The weakness in the motor vehicle sector drove manufacturing production down 0.4% in April, its first contraction in nine months. This is not a concerning event. We expect Japanese automakers to replenish their supply chains within a few months and production growth should return to more normal levels quickly.
Further, the drop in manufacturing activities was contained in the motor vehicle sector. Excluding motor vehicle production, manufacturing production increased 0.2%, which was in-line with the latest ISM report and related regional manufacturing surveys.
Mining production increased 0.8% in April, down from 1.4% in March. Utilities production jumped 1.7%, its strongest increase since December 2010.
Like the headline industrial production level, capacity utilization rates should return to the March level once the Japanese motor vehicle supply problems are alleviated.
Big Picture
The industrial production data have sprung back since the start of the economic recovery and look to be on stable footing. However, the recession resulted in a such a severe downturn in manufacturing and production that the industry will need many more months if not years of continued accelerated growth before reaching more normal levels.
| Category | APR | MAR | FEB | JAN | DEC |
| --- | --- | --- | --- | --- | --- |
| Industrial Production | | | | | |
| Total Index | 0.0% | 0.7% | -0.3% | 0.1% | 1.3% |
| Manufacturing | -0.4% | 0.6% | 0.2% | 0.6% | 1.1% |
| Utilities | 1.7% | 0.7% | -2.3% | -1.7% | 4.5% |
| Mining | 0.8% | 1.4% | -0.9% | -1.2% | 0.2% |
| Capacity Utilization | | | | | |
| Total Industry | 76.9% | 77.0% | 76.5% | 76.8% | 76.8% |
| Manufacturing | 74.4% | 74.8% | 74.4% | 74.3% | 73.9% |