March Personal Income and Spending
Updated 25-May-11 21:12 ET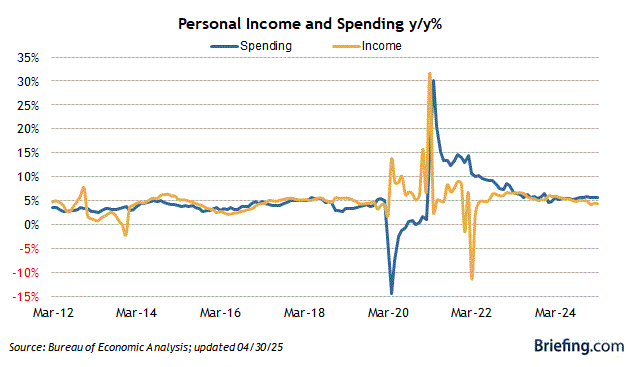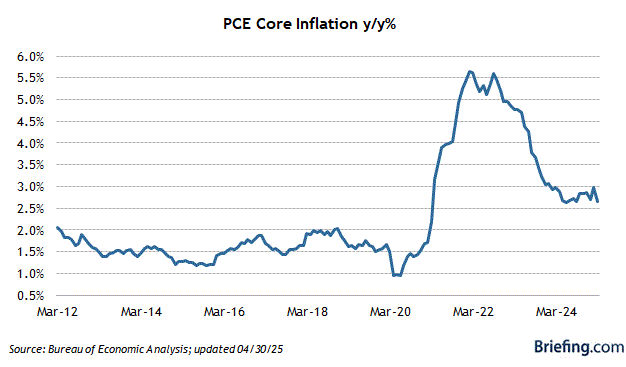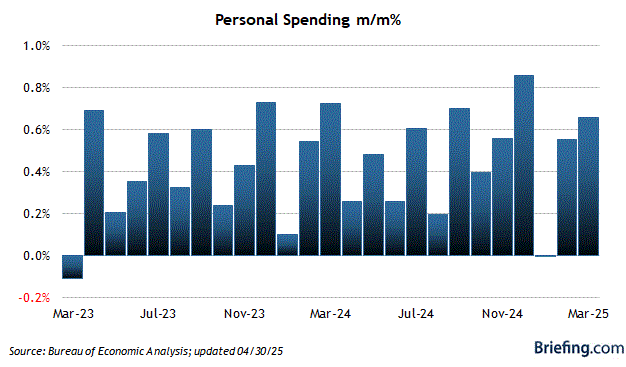 Highlights
The data in the personal income and spending report for March were incorporated in the first quarter GDP report.
 
After increasing 0.4% in February, personal income increased 0.5% in March. The Briefing.com consensus expected income growth of 0.4%.
 
Personal spending increased 0.5% in March after increasing an upwardly revised 0.9% (from 0.5%) in February. The consensus expected spending to increase 0.5%.
Key Factors
Absent any revisions for January and February, simple calculations from the GDP release suggested that income increased 0.7% and spending rose 1.6% in March. However, the combined January and February income and spending levels were revised up only 0.1% and 0.3%, respectively. As a result, the March income and spending levels were weaker than the back-of-the envelope calculations from the GDP report suggested.
 
Core PCE prices increased 0.1% in March, exactly what the consensus expected. Over the last 12 months, core prices have only increased 0.9% and remain well below the Fed target level of 1.5% - 2.0%. There is no indication that inflation pressures will force the Fed to start a tightening cycle anytime soon.
Big Picture
A temporary spike in inflation has mitigated much of the increase in spending. Inflation is expected to stabilize and consumption growth will return.
| Category | MAR | FEB | JAN | DEC | NOV |
| --- | --- | --- | --- | --- | --- |
| Personal Income | | | | | |
| Total Income | 0.5% | 0.4% | 1.2% | 0.5% | 0.3% |
| Wage and Salary | 0.3% | 0.4% | 0.4% | 0.3% | 0.0% |
| Disposable Income | 0.6% | 0.4% | 0.8% | 0.5% | 0.3% |
| Savings Rate | 5.5% | 5.5% | 5.9% | 5.6% | 5.5% |
| Personal Consumption | | | | | |
| Total (Nominal) | 0.6% | 0.9% | 0.5% | 0.4% | 0.3% |
| Total (Real, Chain $) | 0.2% | 0.5% | 0.1% | 0.1% | 0.3% |
| Core PCE Deflator | | | | | |
| Month/Month | 0.1% | 0.2% | 0.2% | 0.0% | 0.1% |
| Year/Year | 0.9% | 0.9% | 0.8% | 0.7% | 0.8% |