Initial Claims for the Week Ended May 21
Updated 26-May-11 09:11 ET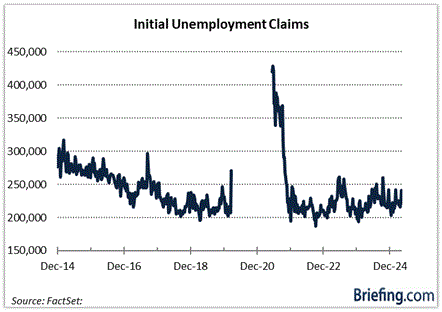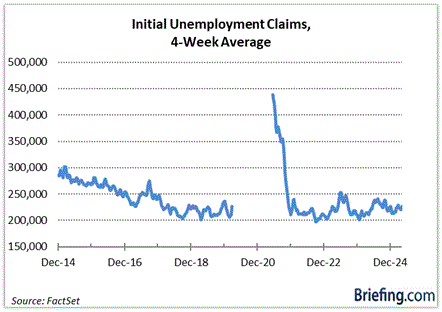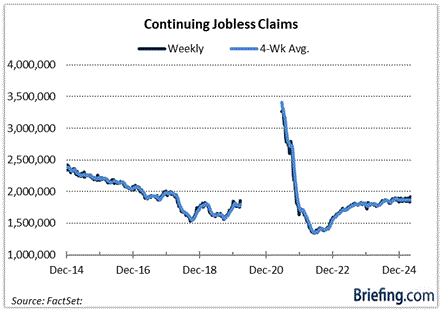 Highlights
After declining for two consecutive weeks, the initial claims level unexpectedly reversed directions.
The initial claims level increased from 414,000 for the week ending May 14 to 424,000 for the week ending May 21.
The Briefing.com consensus expected the initial claims level to decline to 400,000.
Key Factors
End-of-quarter volatility and poor seasonal adjustments were to blame for the four-week increase in the initial claims level from 385,000 for the week ending April 2 to its April 30 peak of 478,000.
The DOL has stated that there were no unusual factors in the initial claims report since the May 7 data. We expected claims to fall back to 380,000 within three weeks of the end of the seasonal adjustment problems.
If claims remain elevated next week, which would be the fourth week without seasonal adjustment problems, it may suggest that the labor market recovery is weakening.  If this is the case, payroll growth in excess of 100,000 cannot be guaranteed and the unemployment rate may creep higher.
The continuing claims level declined from 3.736 mln for the week ending May 7 to 3.690 mln for the week ending May 14. The Briefing.com consensus expected continuing claims to fall to 3.700 mln.
Big Picture
Things can obviously be a lot better still in the labor market, but the drift lower in initial claims is helping to improve attitudes about job security that are important as a spending catalyst (not as important as income gains, but important nonetheless).
| Category | May 14 | May 7 | Apr 30 | Apr 23 | Apr 16 |
| --- | --- | --- | --- | --- | --- |
| Initial Claims | 409K | 438K | 478K | 431K | 404K |
| 4-Wk Moving Avg | 439K | 438K | 432K | 409K | 399K |
| Continued Benefits | | 3711K | 3792K | 3751K | 3659K |
| 4-Wk Moving Avg | | 3728K | 3728K | 3705K | 3702K |