Economic
Last Update: 21-May-15 17:41 ET
Wholesale Inventories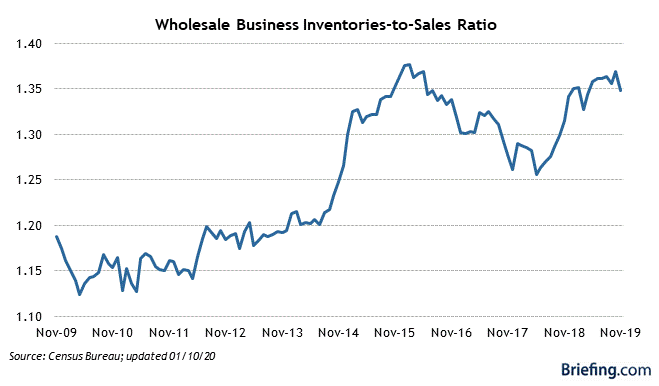 Highlights
Wholesale inventories increased 0.1% in March after increasing a downwardly revised 0.2% (from 0.3%) in February. The Briefing.com Consensus expected wholesale inventories to increase 0.3%.
Key Factors
The BEA assumed that wholesale inventories increased 0.6% in the advance Q1 2015 GDP report. The downside miss in March combined with the revisions to February will result in a downward revision to first quarter GDP when the second estimate is released at the end of the month.
Durable goods inventories increased 0.5% in March after increasing 0.4% in February. Increases in professional equipment (0.9%), hardware (1.0%), and electrical (1.4%) inventories more than offset declines in lumber (-0.8%) and metals (-0.3%).
Nondurable goods inventories declined 0.4% in March after declining 0.1% in February. Despite higher petroleum prices, petroleum inventories declined 4.3% in March.
Wholesale sales declined 0.2% in March after declining 0.6% in February. Much of the decline was the result of a 7.0% decline in farm products and a 5.1% decline in petroleum sales.
The inventory-to-sales ratio remained at 1.30 in March.
Big Picture
Wholesale inventories are just one component of total business inventories. Manufacturing and retail inventories make up the rest of total business inventories. The market ignores this release and doesn't pay much attention to the full business inventory release that comes a few days later. Improved inventory management in recent years has reduced the economic swings associated with inventories and has helped produce a long-term downtrend in the inventory-to-sales ratio.
| Category | MAR | FEB | JAN | DEC | NOV |
| --- | --- | --- | --- | --- | --- |
| Inventories | 0.1% | 0.2% | 0.4% | 0.0% | 0.8% |
| Sales | -0.2% | -0.6% | -3.6% | -0.9% | -0.4% |
| Inventory/Sales | 1.30 | 1.30 | 1.29 | 1.22 | 1.21 |