Economic
Last Update: 23-Nov-15 17:58 ET
Wholesale Inventories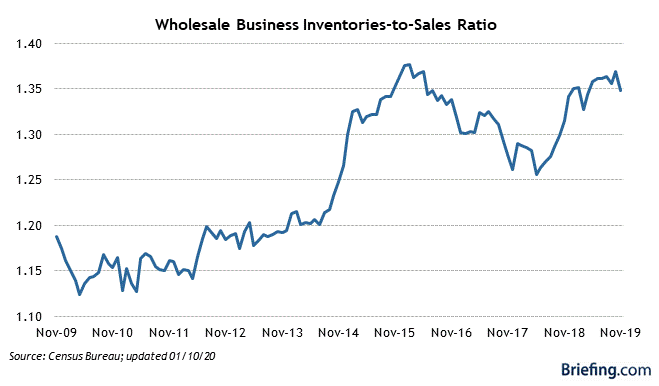 Highlights
Wholesale inventories increased 0.5% in September on top of an upwardly revised 0.3% increase (from 0.1%) for August. The Briefing.com consensus expected wholesale inventories to increase only 0.1% in September.
Key Factors
Inventories of durable goods were down 0.4% month-over-month, led by a 2.2% decline in metals inventories and a 1.7% decline in computer equipment inventories.
Inventories of nondurable goods were up 1.9%, bolstered by a 4.4% jump in drug inventories and a 6.7% increase in farm product inventories.
Wholesale sales increased 0.5% after declining 0.9% in August. Durable wholesale sales were up 0.7%, helped by a 2.3% jump in wholesale auto sales. Nondurable wholesale sales rose 0.3%, aided by a 2.3% increase in wholesale apparel sales.
The inventory-to-sales ratio held steady versus the prior month at 1.31, but is up from 1.20 in the same period a year ago.
Big Picture
Wholesale inventories are just one component of total business inventories. Manufacturing and retail inventories make up the rest of total business inventories. The market doesn't typically pay much attention to this release since the full business inventories release comes a few days later.
| Category | SEP | AUG | JUL | JUN | MAY |
| --- | --- | --- | --- | --- | --- |
| Inventories | 0.5% | 0.3% | -0.3% | 0.7% | 0.6% |
| Sales | 0.5% | -0.9% | -0.3% | 0.4% | 0.2% |
| Inventory/Sales | 1.31 | 1.31 | 1.30 | 1.30 | 1.29 |