Economic
Last Update: 28-Aug-15 18:15 ET
Wholesale Inventories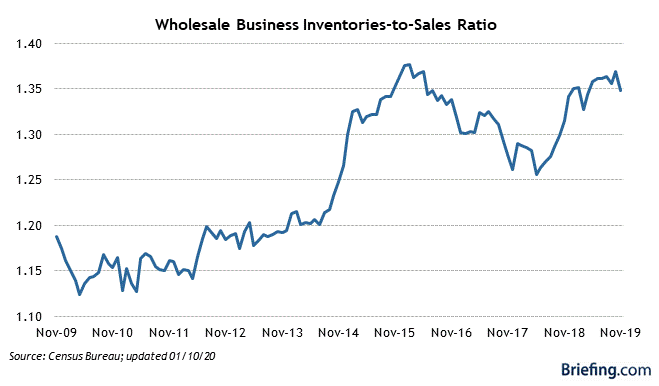 Highlights
Wholesale inventories increased 0.9% in June after a downwardly revised 0.6% increase (from 0.8%) in May. The Briefing.com Consensus expected wholesale inventories to increase 0.3%.
Key Factors
The BEA assumed that wholesale inventories increased 0.7% in the advance estimate of second quarter GDP. After combining the stronger-than-expected June gain with the downward revision to May inventories, wholesale inventories still came out ahead of what the BEA expected. That should lead to a positive revision to second quarter GDP growth.
Wholesale durable goods inventories increased 0.1% in June after a 0.5% increase in May. Gains in automotive (2.0%) offset declines in machinery (-0.5%).
Led by a 15.5% increase in farm product inventories and a 3.6% increase in petroleum inventories, nondurable goods inventories rose 2.3% in June after a 1.0% increase in May.
Wholesale sales increased 0.1% in June after a 0.2% increase in May. Durable sales declined 1.1% in June, which came mostly as a result of a 2.8% decline in automotive sales. Nondurable sales increased 1.2% on strong demand for farm products (3.6%) and petroleum (3.7%).
The inventory-to-sales ratio increased to 1.30 in June from 1.29 in May.
Big Picture
Wholesale inventories are just one component of total business inventories. Manufacturing and retail inventories make up the rest of total business inventories. The market ignores this release and doesn't pay much attention to the full business inventory release that comes a few days later. Improved inventory management in recent years has reduced the economic swings associated with inventories and has helped produce a long-term downtrend in the inventory-to-sales ratio.
| Category | JUN | MAY | APR | MAR | FEB |
| --- | --- | --- | --- | --- | --- |
| Inventories | 0.9% | 0.6% | 0.4% | 0.2% | 0.2% |
| Sales | 0.1% | 0.2% | 1.7% | -0.3% | -0.6% |
| Inventory/Sales | 1.30 | 1.29 | 1.29 | 1.30 | 1.30 |