Economic
Last Update: 26-Feb-19 12:00 ET
Wholesale Inventories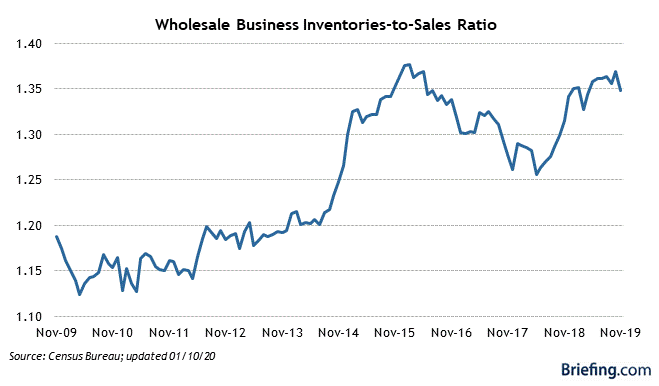 Highlights
Wholesale inventories increased 1.1% in December (Briefing.com consensus 0.4%) on top of an upwardly revised 0.4% increase (from 0.3%) in November.
Wholesale sales were down 1.0% following a downwardly revised 1.2% decrease (from -0.6%) in November.
Key Factors
On a year-over-year basis, total sales were up 1.0% while total inventories were up 7.3%.
Durable inventories increased 1.5% in December with all categories showing growth. Automotive inventories were up 0.9%.
Nondurable inventories increased 0.3% in December. Apparel inventories paced the increase with growth of 3.8%. Petroleum inventories decreased 4.8%.
The inventory-to-sales ratio increased to 1.33 from 1.29 in November and 1.25 one year ago.
Big Picture
The key takeaway from the report is that inventory growth was well above sales growth, which indicates that prices will remain under pressure.
| Category | DEC | NOV | OCT | SEP | AUG |
| --- | --- | --- | --- | --- | --- |
| Inventories | 1.1% | 0.4% | 0.9% | 0.7% | 0.9% |
| Sales | -1.0% | -1.2% | -0.6% | 0.1% | 0.7% |
| Inventory/Sales | 1.33 | 1.29 | 1.28 | 1.27 | 1.26 |