Economic
Last Update: 11-Jul-18 10:24 ET
Wholesale Inventories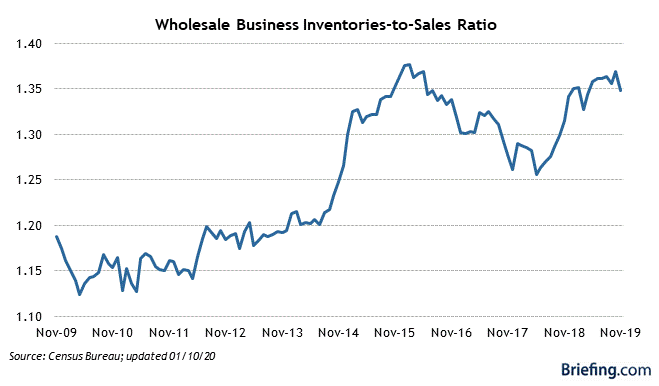 Highlights
Wholesale inventories increased 0.6% in May (Briefing.com consensus +0.5%) on top of an unrevised 0.1% increase in April.
Wholesale sales surged 2.5% in May -- the largest monthly increase since March 2011 -- after increasing an upwardly revised 1.4% (from 0.8%) in April.
Key Factors
On a year-over-year basis, total inventories were up 5.9% while total sales were up 11.8%.
Durable inventories increased 0.5% in May. Gains were recorded across all categories, with the exception of automotive (-1.2%).
Nondurable inventories were up 0.7% in May, driven by a 2.1% increase in drugs inventories.
The inventory-to-sales ratio fell to 1.24 in May from 1.27 in April and 1.31 a year ago.
Big Picture
The key takeaway from the report is that sales growth outpaced inventories growth, which is a positive dynamic that can eventually help wholesalers regain pricing power if it persists.
| Category | MAY | APR | MAR | FEB | JAN |
| --- | --- | --- | --- | --- | --- |
| Inventories | 0.6% | 0.1% | 0.2% | 0.8% | 0.8% |
| Sales | 2.5% | 1.4% | 0.4% | 0.9% | -1.3% |
| Inventory/Sales | 1.24 | 1.27 | 1.29 | 1.29 | 1.29 |