Economic
Last Update: 11-Sep-18 10:23 ET
Wholesale Inventories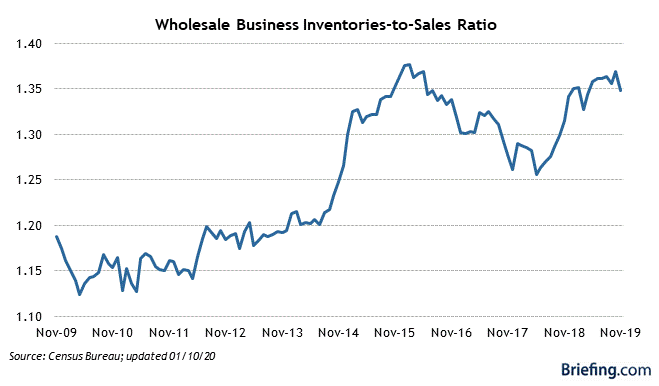 Highlights
Wholesale inventories increased 0.6% in July (Briefing.com consensus 0.7%) on top of an unrevised 0.1% increase in June.
Wholesale sales were unchanged following a downwardly revised 0.2% decline (from -0.1%) in June.
Key Factors
On a year-over-year basis, total inventories were up 5.0% while total sales were up 9.8%.
Durable inventories increased 0.8% in July, led by gains in all categories with the exception of automotive inventories (-1.1%) and miscellaneous durable inventories (-0.9%).
Nondurable inventories were up 0.3% in July, bolstered by a 0.5% increase in drugs inventories. Petroleum inventories declined 1.7% while grocery inventories dropped 0.7%.
The inventory-to-sales ratio increased to 1.26 in July from 1.25 in June, but was down from 1.32 in the same period a year ago.
Big Picture
The key takeaway from the report is that the pace of sales growth year-over-year continues to exceed the pace of inventories growth, which is a positive dynamic that can eventually help wholesalers regain pricing power if it persists.
| Category | JUL | JUN | MAY | APR | MAR |
| --- | --- | --- | --- | --- | --- |
| Inventories | 0.6% | 0.1% | 0.3% | 0.1% | 0.2% |
| Sales | 0.0% | -0.2% | 2.1% | 1.4% | 0.4% |
| Inventory/Sales | 1.26 | 1.25 | 1.25 | 1.27 | 1.29 |