Economic
Last Update: 09-Apr-15 10:15 ET
Wholesale Inventories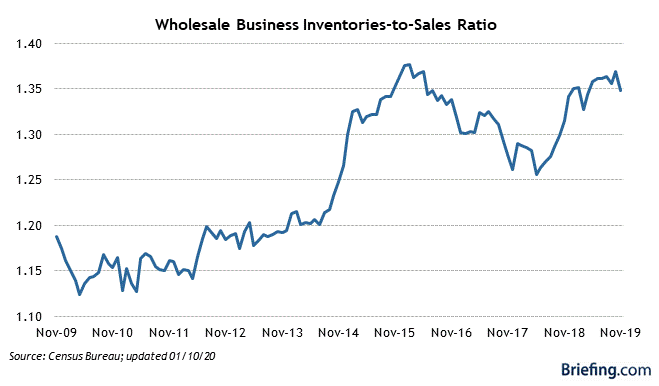 Highlights
Wholesale inventories increased 0.3% in February after increasing an upwardly revised 0.4% (from 0.3%) in January. The Briefing.com Consensus expected wholesale inventories to increase 0.2%.
Key Factors
Wholesale durable goods inventories increased 0.3% in February, down from a 0.7% increase in January. Automotive inventories, up 2.4%, offset declines in most other sectors.
Wholesale nondurable goods inventories increased 0.2% in February after being flat in January. Higher prices of oil helped push up petroleum inventories by 2.4% in February.
Wholesale sales declined 0.2% in February after declining 3.6% in January. Sales would have been much worse if not for the aforementioned increase in petroleum prices, which helped boost petroleum sales by 5.5%.
The inventory-to-sales ratio remained at 1.29.
Big Picture
Wholesale inventories are just one component of total business inventories. Manufacturing and retail inventories make up the rest of total business inventories. The market ignores this release and doesn't pay much attention to the full business inventory release that comes a few days later. Improved inventory management in recent years has reduced the economic swings associated with inventories and has helped produce a long-term downtrend in the inventory-to-sales ratio.
| Category | FEB | JAN | DEC | NOV | OCT |
| --- | --- | --- | --- | --- | --- |
| Inventories | 0.3% | 0.4% | 0.0% | 0.8% | 0.6% |
| Sales | -0.2% | -3.6% | -0.9% | -0.4% | 0.0% |
| Inventory/Sales | 1.29 | 1.29 | 1.22 | 1.21 | 1.20 |