Economic
Last Update: 06-Mar-19 09:19 ET
Trade Balance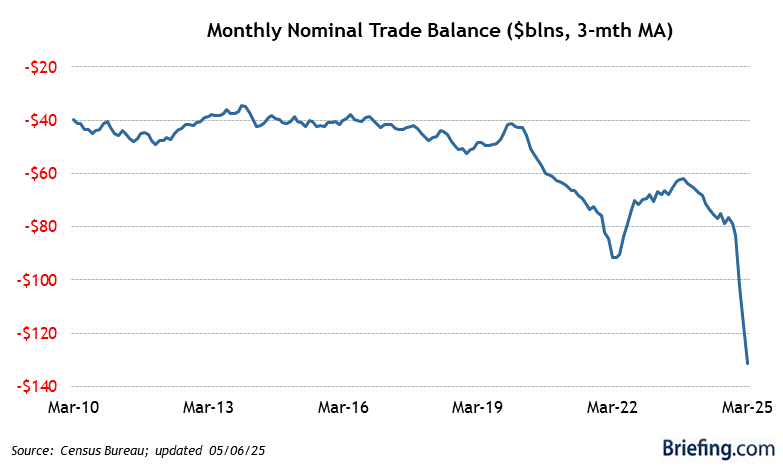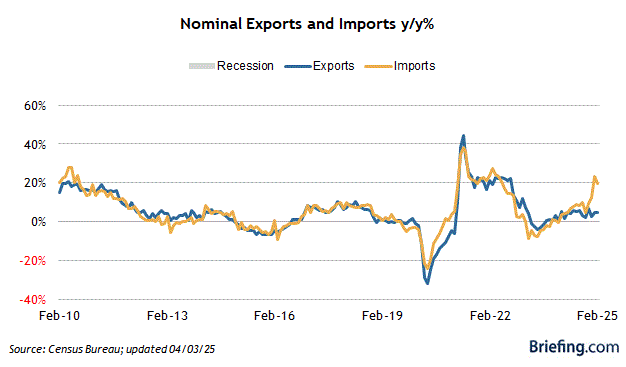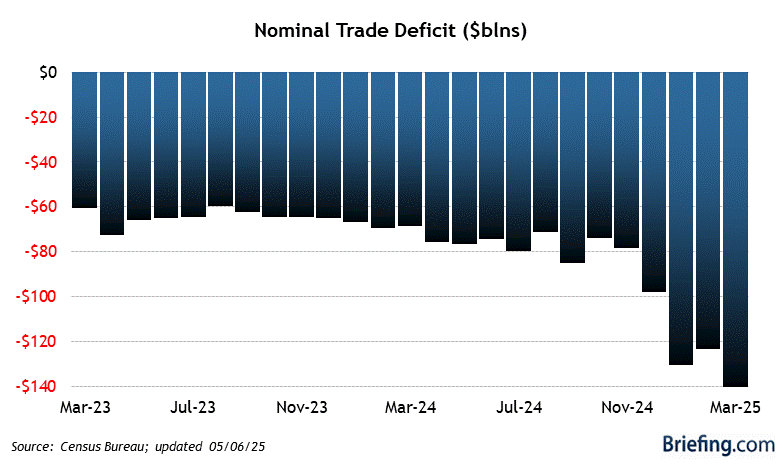 Highlights
For December, the trade deficit widened to $59.8 billion (Briefing.com consensus -$57.8 billion) from a downwardly revised $50.3 billion (from -$49.3 billion) in November.
The December deficit is the widest since October 2008 when the world was in the throes of the worst financial crisis since the Great Depression.
Key Factors
The widening deficit was a byproduct of exports being $3.9 billion less than November exports and imports being $5.5 billion more than November imports.
Exports of industrial supplies and materials decreased $2.1 billion. Capital goods exports decreased $1.7 billion.
Imports of capital goods were up $2.7 billion while imports of consumer goods jumped by $2.4 billion.
The real trade deficit surged to $91.6 billion in December from $81.6 billion in November. That left the fourth quarter average of -$87.4 billion 1.2% above the third quarter average of -$86.4 billion.
The goods deficit with China increased $3.2 billion in December to $38.7 billion; meanwhile, for all of 2018, the goods deficit with China increased $43.6 billion to $419.2 billion.
Overall, the U.S. goods and services deficit was $621.0 billion in 2018, up $68.8 billion from $552.3 billion in 2017.
Big Picture
The key takeaway from the report is that it will fuel the Trump Administration's fire to correct the trade imbalance with assertive policy actions.
| Category | DEC | NOV | OCT | SEP | AUG |
| --- | --- | --- | --- | --- | --- |
| Trade Deficit | -$59.8B | -$50.3B | -$56.3B | -$55.4B | -$54.5B |
| Exports | $205.1B | $209.1B | $210.4B | $210.6B | $207.5B |
| Imports | $264.9B | $259.4B | $266.7B | $266.0B | $262.0B |