Economic
Last Update: 04-Sep-19 09:21 ET
Trade Balance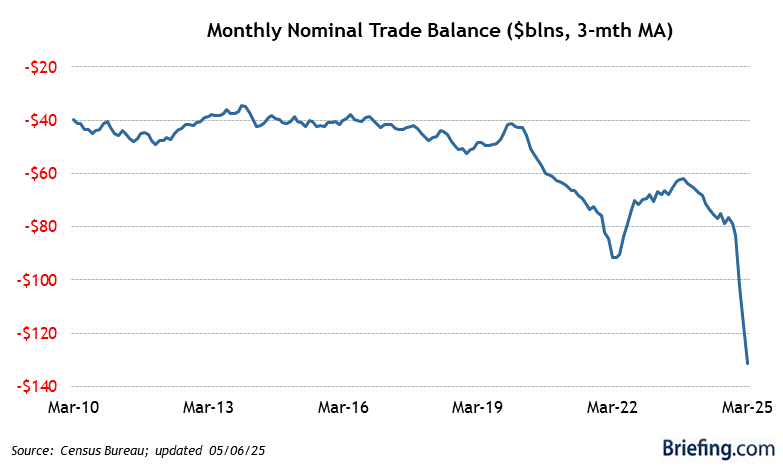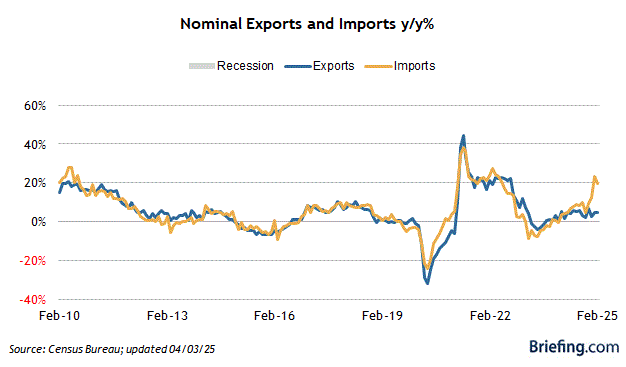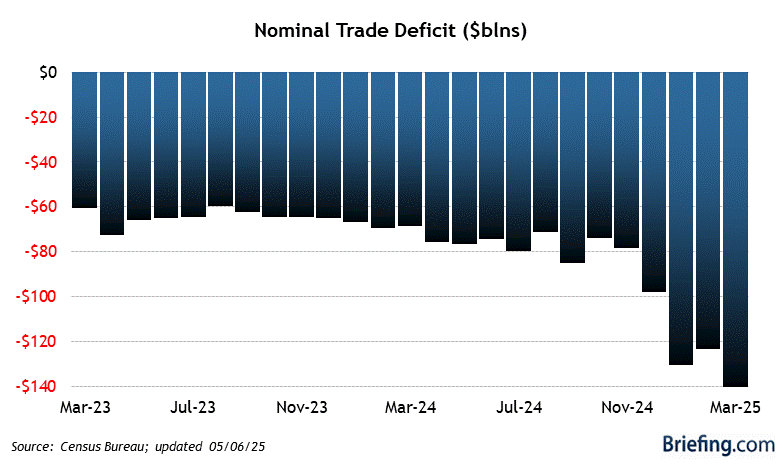 Highlights
The trade deficit narrowed in July to -$54.1 billion (Briefing.com consensus -$53.2 billion) from a downwardly revised $55.5 billion (from -$55.2 billion) in June.
Key Factors
July exports were $207.4 billion, $1.2 billion more than June exports. July imports were $261.4 billion, $0.4 billion less than June imports.
Consumer goods exports increased by $1.5 billion, the vast majority of which ($1.2 billion) were exports of pharmaceutical preparations. Capital goods exports increased by $0.8 billion.
Imports of capital goods decreased by $1.5 billion, driven by a $1.4 billion decrease in imports of computers.
The real trade deficit narrowed to -$85.5 billion in July. That is 0.8% above the second quarter average, which is a negative input for Q3 GDP forecasts.
The goods deficit with China decreased by $0.5 billion in July to $29.6 billion.
Big Picture
The key takeaway from the report is that the goods and services deficit on a year-to-date basis still increased by $28.2 billion, or 8.2%, from the same period in 2018, indicating that the tariff actions have yet to have their intended effect of reducing the overall trade deficit.
| Category | JUL | JUN | MAY | APR | MAR |
| --- | --- | --- | --- | --- | --- |
| Trade Deficit | -$54.0B | -$55.5B | -$55.8B | -$52.0B | -$52.6B |
| Exports | $207.4B | $206.2B | $210.3B | $205.8B | $210.9B |
| Imports | $261.4B | $261.8B | $266.2B | $257.7B | $263.5B |