Economic
Last Update: 02-Nov-18 09:39 ET
Trade Balance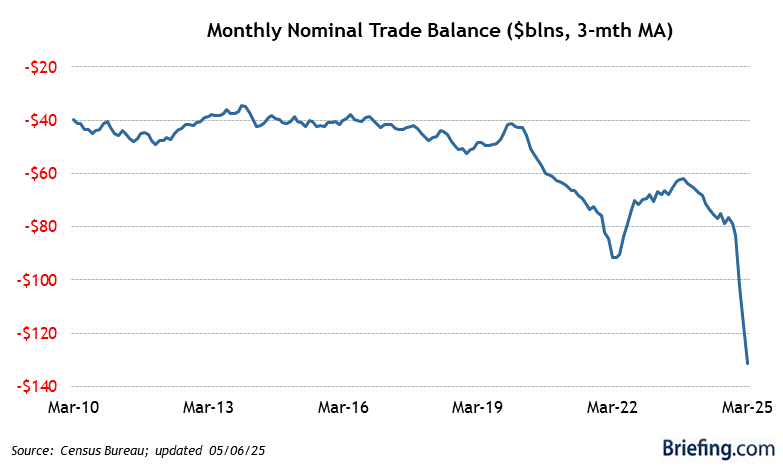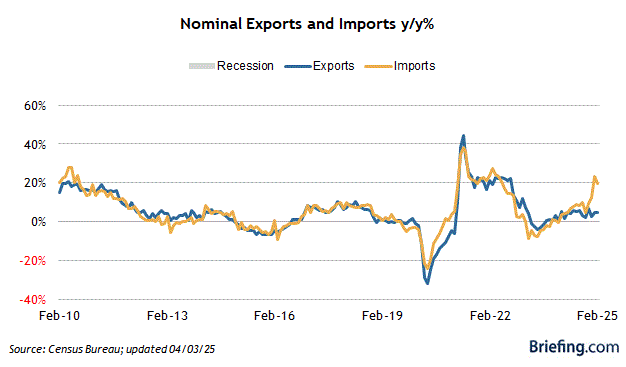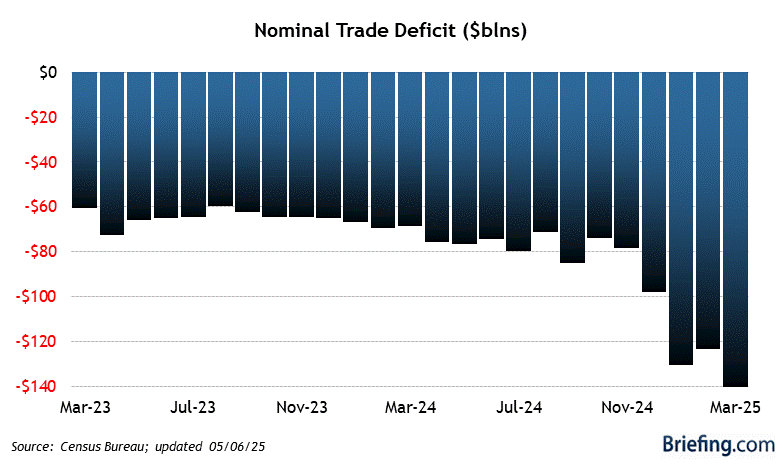 Highlights
The Trade Balance Report for September showed a widening in the trade deficit to $54.0 billion (Briefing.com consensus -$53.4B) from a downwardly revised $53.3 billion (from -$53.2 billion) in August.
Key Factors
That September deficit stemmed from exports being $3.1 billion more than August exports and imports being $3.8 billion more than August imports.
Exports of industrial supplies and materials increased $2.8 billion and capital good exports jumped $1.1 billion. Those increases were offset by a $1.0 billion decrease in exports of foods, feeds, and beverages, the bulk of which was led by soybeans (-$0.7 billion).
Imports of capital goods increased $2.4 billion and imports of consumer goods increased $2.0 billion. Those increases were offset by a $0.6 billion decrease in imports o automotive vehicles, parts, and engines.
The deficit with China increased by $3.0 billion to $37.4 billion in September.
The real trade deficit was $87.0 billion. That left the third quarter average at -$85.29 billion, 10.2% more than the second quarter average, which speaks to the negative contribution net exports had (-1.78 percentage points) on Q3 real GDP.
Big Picture
The key takeaway from the report is the same as last month in that it has yet to confirm the tariff actions are succeeding in cutting the trade deficit with China specifically and in general.
| Category | SEP | AUG | JUL | JUN | MAY |
| --- | --- | --- | --- | --- | --- |
| Trade Deficit | -$54.0B | -$53.3B | -$50.0B | -$45.7B | -$42.6B |
| Exports | $212.6B | $209.4B | $211.1B | $213.2B | $214.7B |
| Imports | $266.6B | $262.8B | $261.1B | $258.9B | $257.2B |