Economic
Last Update: 05-Sep-18 09:17 ET
Trade Balance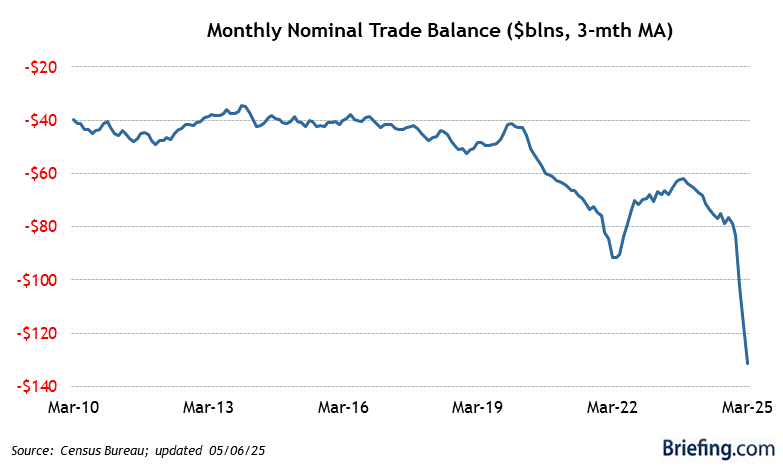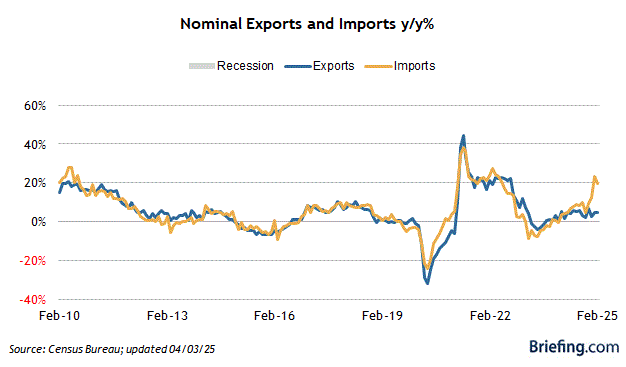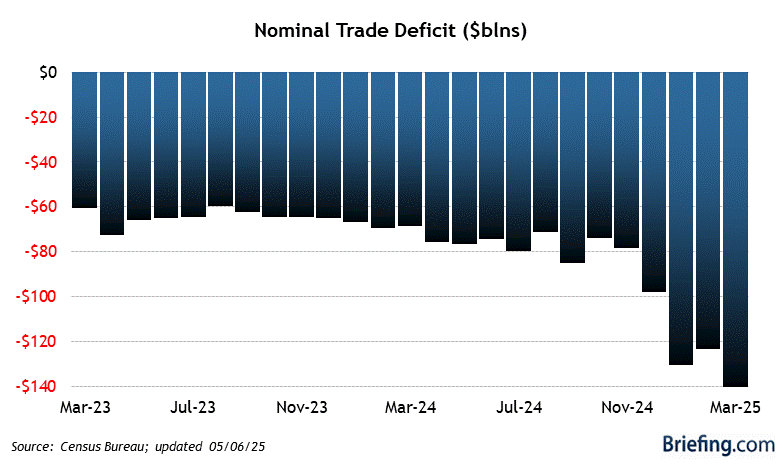 Highlights
The trade deficit widened to $50.1 billion in July (Briefing.com consensus -$50.6 billion) from an upwardly revised $45.7 billion (from -$46.3 billion) in June. That was the largest monthly increase in the deficit reportedly since 2015.
Key Factors
July exports of $211.1 billion were $2.1 billion less than June exports. July imports of $261.2 billion were $2.2 billion more than June imports.
Exports of goods decreased $2.3 billion, led by a 0.9% decrease in capital goods and a $0.9 billion decrease in foods, feeds, and beverages, the bulk of which was due to a $0.7 billion drop in exports of soybeans.
Imports of goods jumped $1.9 billion, paced by a $0.7 billion increase in capital goods, a $0.7 billion increase in other goods, and a $0.5 billion jump in industrial supplies and materials.
The real trade deficit of $82.46 billion was 6.4% higher than the second quarter average.
The deficit with the European Union rose $1.7 billion to $14.5 billion in July.
The deficit with China increased $1.7 billion to $34.1 billion in July.
Big Picture
The key takeaway from the report is twofold: (1) the widening deficit will create a drag on Q3 GDP growth and (2) the July report is going to fan the Trump Administration's flames about trade matters as it showed an increase in the deficit with both the European Union and China.
| Category | JUL | JUN | MAY | APR | MAR |
| --- | --- | --- | --- | --- | --- |
| Trade Deficit | -$50.1B | -$45.7B | -$42.6B | -$45.5B | -$46.7B |
| Exports | $211.1B | $213.2B | $214.7B | $210.5B | $210.0B |
| Imports | $261.2B | $258.9B | $257.2B | $256.0B | $256.7B |