Economic
Last Update: 05-May-20 09:36 ET
Trade Balance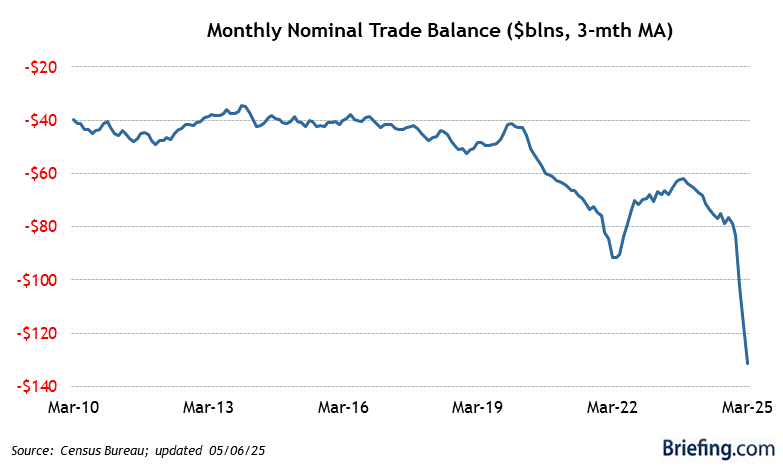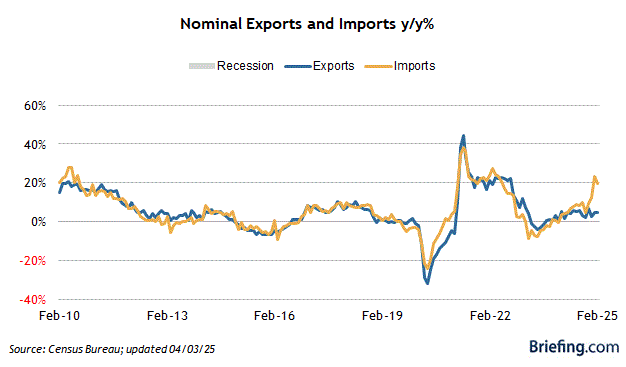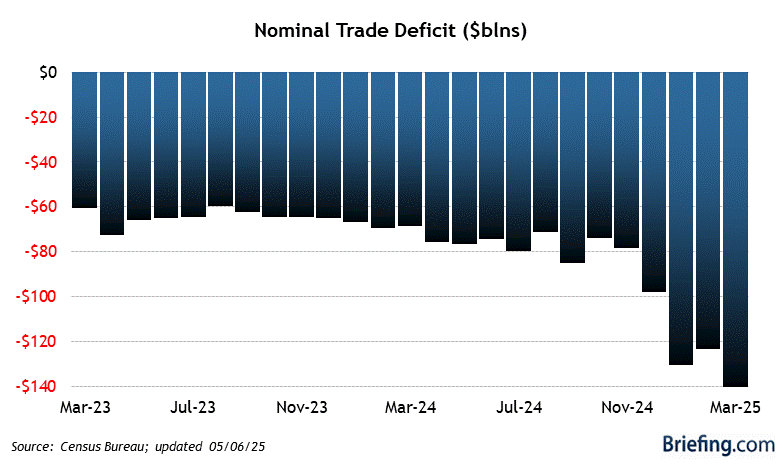 Highlights
The Trade Balance report for March showed a widening in the deficit to $44.4 billion (Briefing.com consensus -$44.2 billion) from an upwardly revised $39.8 billion (from -$39.9 billion) for February.
Exports were down $20.0 billion from February while imports were down $15.4 billion.
Key Factors
Exports of goods decreased by $9.2 billion, paced by a $2.9 billion decline in industrial supplies and materials, a $2.5 billion decline in automotive vehicles, parts, and engines, and a $2.0 billion drop in capital goods.
Imports of goods fell by $4.7 billion, led by a $4.0 billion decline in consumer goods that included a $2.5 billion decline in cell phones and other household goods.
The deficit with China decreased by $4.2 billion to $15.5 billion.
The real trade deficit widened to $75.3 billion from $68.8 billion. That left the Q1 average at -$73.97 billion, which was 5.9% less than the Q4 average.
Big Picture
The widening in the deficit was the result of exports declining more than imports, yet the key takeaway is that the large declines in both reflect weak trade activity in the wake of COVID-19 shutdown issues that only got worse in April.
| Category | MAR | FEB | JAN | DEC | NOV |
| --- | --- | --- | --- | --- | --- |
| Trade Deficit | -$44.4B | -$39.8B | -$45.5B | -$48.6B | -$43.8B |
| Exports | $187.7B | $207.7B | $208.3B | $209.5B | $207.7B |
| Imports | $232.1B | $247.5B | $253.8B | $258.1B | $251.5B |