Economic
Last Update: 17-Jan-20 18:51 ET
Retail Sales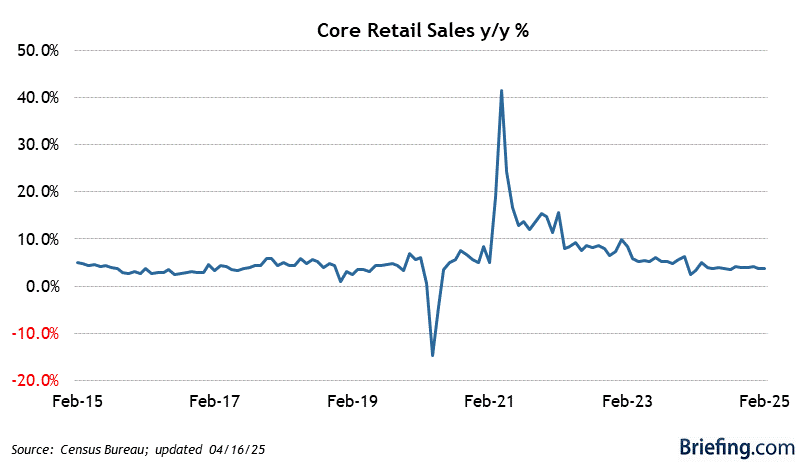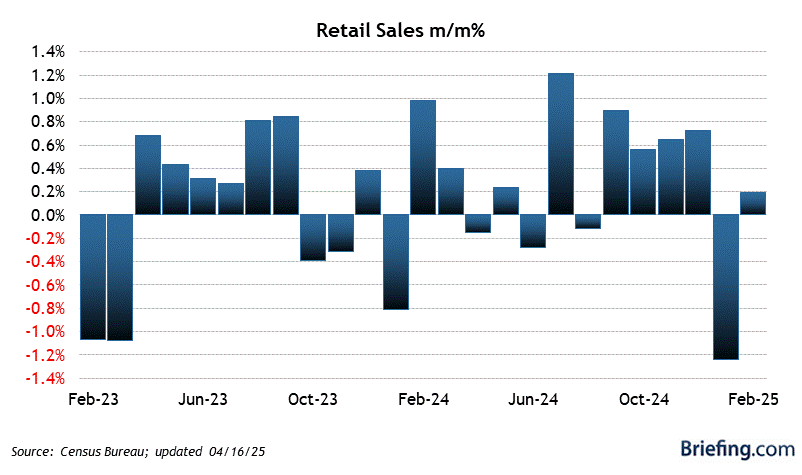 Highlights
Retail sales increased 0.3% m/m in December following an upwardly revised 0.3% increase (from 0.2%) in November.
Retail sales, excluding autos, jumped 0.7% (Briefing.com consensus +0.5%) after a downwardly revised unchanged reading (from 0.1%) in November.
Key Factors
Gasoline station sales increased 2.8%.
Building material and equipment and supplies dealers sales increased 1.4%.
Clothing and clothing accessories stores sales jumped 1.6%.
Electronics and appliance store sales increased 0.6%.
Nonstore retailer sales were up 0.2%, as were food services and drinking places sales.
Big Picture
The key takeaway from the report is that the December sales increases were broad based, with the exception of motor vehicles and parts dealers (-1.3%) and department stores (-0.8%), breathing life into the notion that the consumer remains a driving force of growth for the U.S. economy.
| Category | DEC | NOV | OCT | SEP | AUG |
| --- | --- | --- | --- | --- | --- |
| Retail Sales | 0.3% | 0.3% | 0.3% | -0.4% | 0.6% |
| Excluding Autos | 0.7% | 0.0% | 0.2% | -0.2% | 0.2% |
| Durable goods | | | | | |
| Building Materials | 1.4% | 0.1% | 0.0% | -1.7% | 2.3% |
| Autos/parts | -1.3% | 1.5% | 1.1% | -1.1% | 2.0% |
| Furniture | 0.1% | 0.3% | -0.7% | 1.1% | 0.1% |
| Nondurable goods | | | | | |
| General Merchandise | 0.6% | 0.1% | 0.4% | -0.9% | -0.2% |
| Food | 0.4% | 0.4% | 0.1% | -0.8% | 0.0% |
| Gasoline stations | 2.8% | 1.0% | 2.0% | -0.1% | -1.2% |
| Clothing | 1.6% | -0.5% | -0.2% | 0.1% | -1.2% |
| e*retailing/non-store | 0.2% | 0.0% | -0.7% | -0.1% | 1.4% |