Economic
Last Update: 21-May-19 13:10 ET
Retail Sales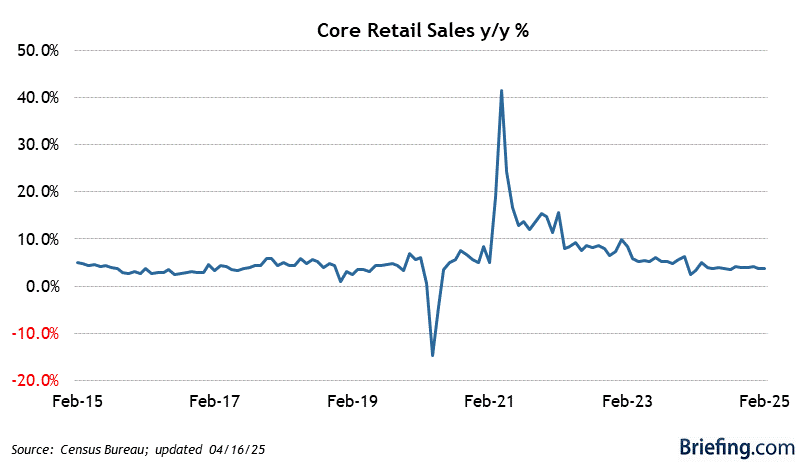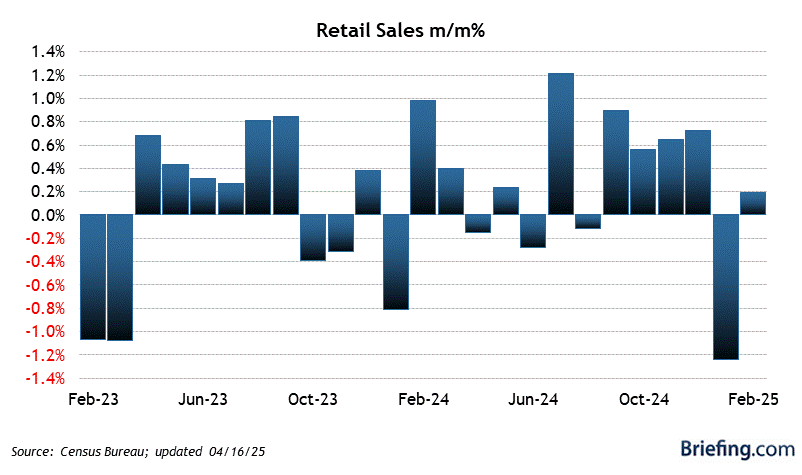 Highlights
Total retail sales declined 0.2% (Briefing.com consensus +0.2%) after increasing an upwardly revised 1.7% (from 1.6%) in March.
Excluding autos, retail sales rose just 0.1% in April (Briefing.com consensus +0.6) following an upwardly revised 1.3% increase (from 1.2%) in March.
Key Factors
Core retail sales, which exclude auto, gasoline station, building materials, and food services and drinking place sales, were little changed, which will be a weak input for calculating the goods component of personal consumption expenditures for Q2 GDP.
Motor vehicle and parts dealers sales declined 1.1% after increasing 3.2% in March.
Gasoline station sales rose 1.8% after increasing 3.3% in March.
Building material and garden equipment and supplies dealers sales declined 1.9%, hurt most likely by bad weather, after increasing 0.8% in March.
Nonstore retailer sales declined 0.2% after increasing 1.0% in March, demonstrating that the soft spending on discretionary goods in April wasn't just a weather issue.
Big Picture
The key takeaway from the report is that consumers curtailed discretionary spending on goods in April in a way that will temper the outlook for Q2 GDP growth.
| Category | APR | MAR | FEB | JAN | DEC |
| --- | --- | --- | --- | --- | --- |
| Retail Sales | -0.2% | 1.7% | -0.3% | 0.8% | -1.6% |
| Excluding Autos | 0.1% | 1.3% | -0.3% | 1.4% | -2.1% |
| Durable goods | | | | | |
| Building Materials | -1.9% | 0.8% | -5.1% | 4.5% | -0.1% |
| Autos/parts | -1.1% | 3.2% | -0.2% | -1.8% | 0.4% |
| Furniture | 0.0% | 1.0% | 0.1% | 0.4% | -1.3% |
| Nondurable goods | | | | | |
| General Merchandise | 0.2% | 0.7% | -0.3% | 0.5% | -1.7% |
| Food | 0.2% | 1.5% | -1.9% | 1.2% | -0.2% |
| Gasoline stations | 1.8% | 3.3% | 3.6% | -1.7% | -5.9% |
| Clothing | -0.2% | 2.1% | -1.4% | -0.9% | -1.3% |
| e*retailing/non-store | -0.2% | 1.0% | 1.1% | 5.0% | -4.5% |