Economic
Last Update: 14-Feb-19 09:48 ET
Retail Sales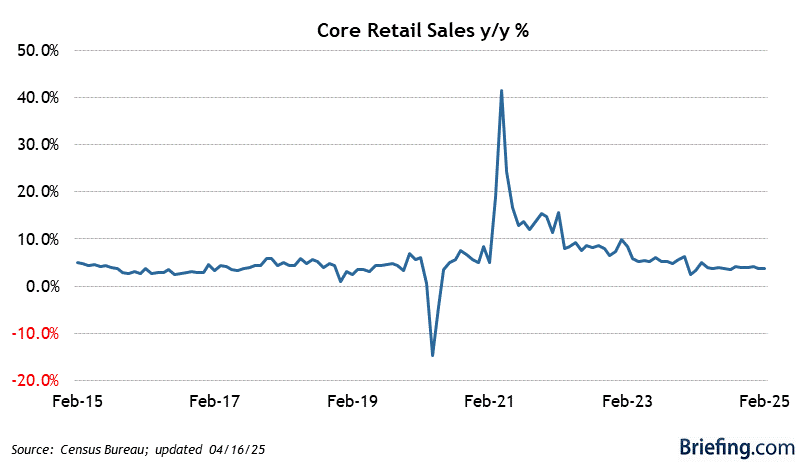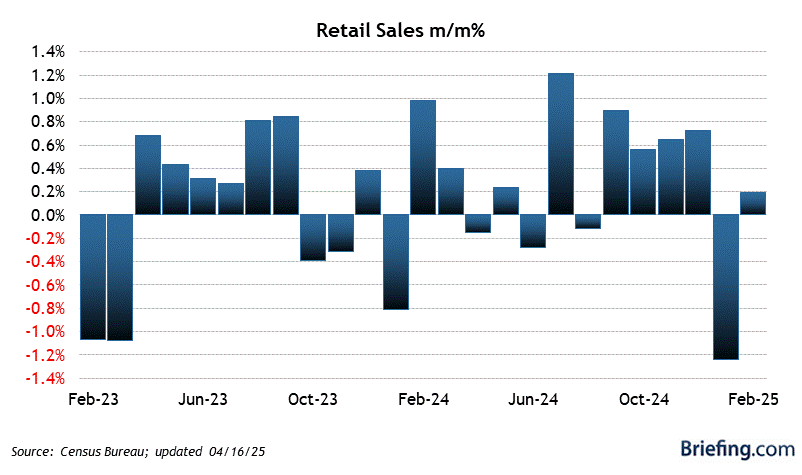 Highlights
Retail sales declined 1.2% (Briefing.com consensus +0.2%) on the heels of a downwardly revised 0.1% increase (from +0.2%) in November. That is the largest monthly decline since September 2009.
Excluding autos, retail sales fell 1.8% after a downwardly revised unchanged reading (from +0.2%) for November.
Key Factors
Core retail sales, which are used in the computation of the goods component for personal consumption expenditures in the GDP report, declined 1.7%.
The lone pockets of strength in December were motor vehicle and parts dealers (+1.0%) and building material and garden equipment and supplies dealers (+0.3%).
Big Picture
The key takeaway from this disappointing report is that the weakness wasn't isolated to gasoline station sales (-5.1%). It was pretty broad-based across discretionary spending categories like furniture and home furnishings (-1.3%), electronics and appliance stores (-0.1%), clothing and accessories (-0.7%), miscellaneous store retailers (-4.1%), nonstore retailers (-3.9%), and restaurants (-0.7%).
Whether the plummeting stock market in December had anything to do with the disappointing December report remains to be seen. If it did, then one might expect to see a nice rebound in January considering the stock market rallied in January. For now, though, it is a data point to reinforce the idea that everything isn't peachy-keen with the U.S. economy, as the rally in stock prices might lead one to think.
| Category | DEC | NOV | OCT | SEP | AUG |
| --- | --- | --- | --- | --- | --- |
| Retail Sales | -1.2% | 0.1% | 1.0% | -0.2% | -0.1% |
| Excluding Autos | -1.8% | 0.0% | 0.8% | -0.3% | 0.1% |
| Durable goods | | | | | |
| Building Materials | 0.3% | -1.5% | 1.3% | 0.2% | 0.8% |
| Autos/parts | 1.0% | 0.7% | 1.6% | 0.0% | -0.7% |
| Furniture | -1.3% | 0.5% | -0.9% | 0.5% | -1.1% |
| Nondurable goods | | | | | |
| General Merchandise | -0.9% | 0.4% | 0.8% | -0.5% | 0.0% |
| Food | -0.4% | 0.1% | 0.4% | 0.2% | -0.2% |
| Gasoline stations | -5.1% | -4.4% | 4.2% | -1.3% | 1.6% |
| Clothing | -0.7% | 0.4% | 1.1% | 0.7% | -3.0% |
| e*retailing/non-store | -3.9% | 2.8% | -0.4% | 1.1% | 0.7% |