Economic
Last Update: 15-May-18 09:19 ET
Retail Sales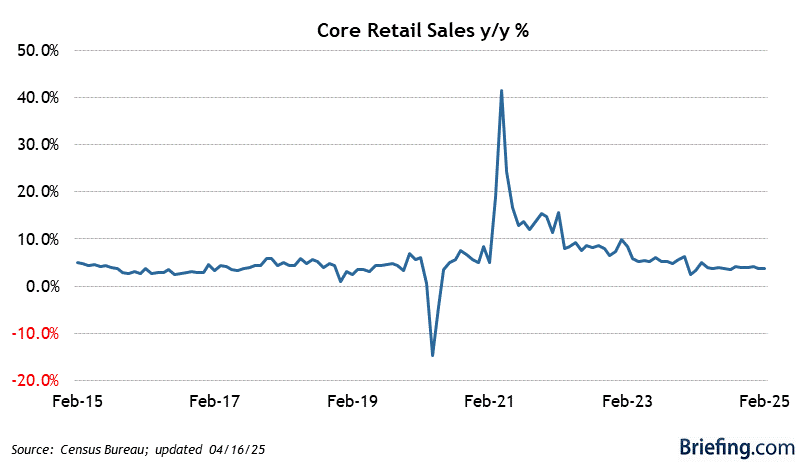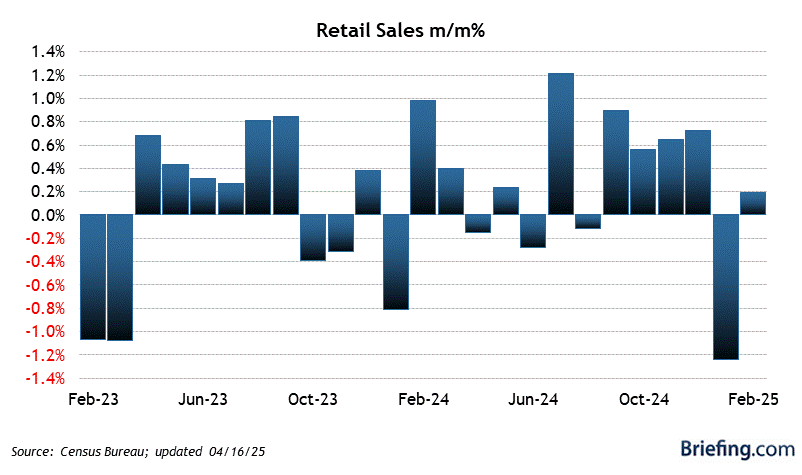 Highlights
Retail sales increased 0.3% in April, as expected, on top of an upwardly revised 0.8% increase (from 0.6%) in March.
Excluding autos, retail sales rose 0.3% (Briefing.com consensus +0.5%) on top of an upwardly revised 0.4% increase (from 0.2%) in March.
Key Factors
While there was a headline miss for the ex-auto number, that disappointment should be mitigated by the upward revision for March.
Motor vehicle sales increased 0.1% after increasing 2.1% in March
Gasoline station sales jumped 0.8% after increasing 0.3% in March
On a year-over-year basis, retail sales increased 4.7%. Excluding autos, they were up 4.8%.
Big Picture
The key takeaway from the report is that consumer spending on goods was decent in April. Core retail sales, which exclude auto, gas station, building materials, and food and drinking services sales, jumped 0.4%.
| Category | APR | MAR | FEB | JAN | DEC |
| --- | --- | --- | --- | --- | --- |
| Retail Sales | 0.3% | 0.8% | 0.0% | -0.2% | -0.1% |
| Excluding Autos | 0.3% | 0.4% | 0.4% | 0.1% | 0.0% |
| Durable goods | | | | | |
| Building Materials | 0.4% | -1.0% | 1.5% | -1.8% | 1.0% |
| Autos/parts | 0.1% | 2.1% | -1.2% | -0.9% | -0.2% |
| Furniture | 0.8% | 1.4% | 0.4% | -0.3% | -1.2% |
| Nondurable goods | | | | | |
| General Merchandise | 0.3% | 0.4% | -0.4% | 0.2% | -0.3% |
| Food | 0.4% | 0.2% | 0.3% | -0.1% | 0.3% |
| Gasoline stations | 0.8% | 0.3% | 0.5% | 2.0% | 0.1% |
| Clothing | 1.4% | -0.2% | 0.5% | 1.0% | -1.1% |
| e*retailing/non-store | 0.6% | 0.9% | 1.0% | -0.9% | 0.5% |