Economic
Last Update: 14-Mar-18 09:26 ET
Retail Sales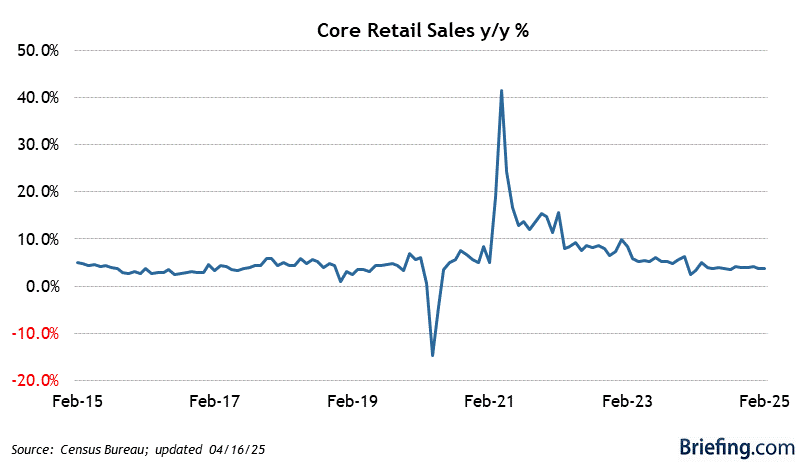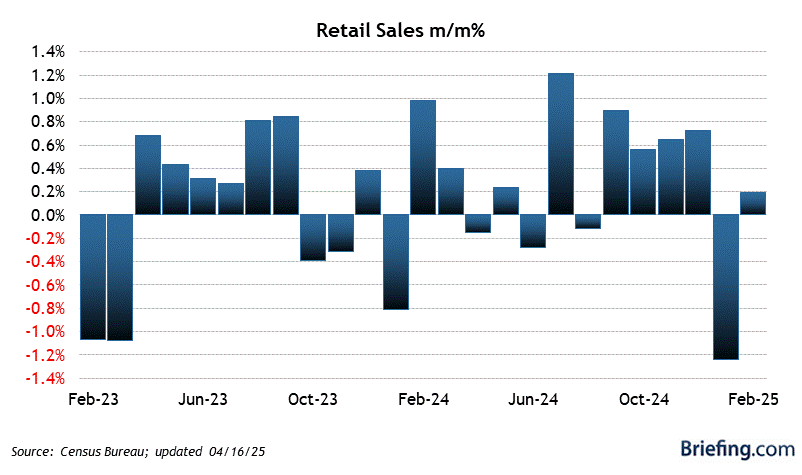 Highlights
Retail sales declined 0.1% in February (Briefing.com consensus +0.3%) on the heels of an upwardly revised 0.1% decline (from -0.3%) in January.
Excluding autos, retail sales rose 0.2% (Briefing.com consensus +0.4%) following an upwardly revised 0.1% increase (from 0.0%) in January.
Key Factors
A 0.9% decline in motor vehicle sales weighed on overall retail sales along with a 1.2% decline in gasoline station sales and a 0.4% decline in general merchandise store sales.
Building material sales jumped 1.9%. Nonstore retailer sales increased 1.0%. The biggest jump in sales, though, was the 2.2% increase logged by sporting goods, hobby, book and music stores.
Core retail sales, which exclude auto, gasoline station, building materials, and food services and drinking places sales, were up a modest 0.1%. This component factors into the computation of the goods component for personal consumption expenditures, so it should help keep Q1 GDP growth estimates in check.
Big Picture
The key takeaway from the report for market participants is that it is another data point that should forestall any leaning by the Federal Reserve toward a fourth rate hike this year.
| Category | FEB | JAN | DEC | NOV | OCT |
| --- | --- | --- | --- | --- | --- |
| Retail Sales | -0.1% | -0.1% | -0.1% | 0.8% | 0.7% |
| Excluding Autos | 0.2% | 0.1% | 0.0% | 1.2% | 0.5% |
| Durable goods | | | | | |
| Building Materials | 1.9% | -1.7% | 1.0% | 0.0% | -0.3% |
| Autos/parts | -0.9% | -0.9% | -0.2% | -1.0% | 1.4% |
| Furniture | -0.8% | -0.3% | -1.2% | 0.5% | 2.0% |
| Nondurable goods | | | | | |
| General Merchandise | -0.4% | 0.4% | -0.3% | 0.5% | 0.2% |
| Food | -0.1% | -0.2% | 0.3% | 0.3% | 0.7% |
| Gasoline stations | -1.2% | 1.9% | 0.1% | 3.4% | 0.2% |
| Clothing | 0.4% | 0.9% | -1.1% | 0.6% | 0.9% |
| e*retailing/non-store | 1.0% | -0.9% | 0.5% | 3.9% | 0.1% |