Economic
Last Update: 16-Oct-20 09:20 ET
Retail Sales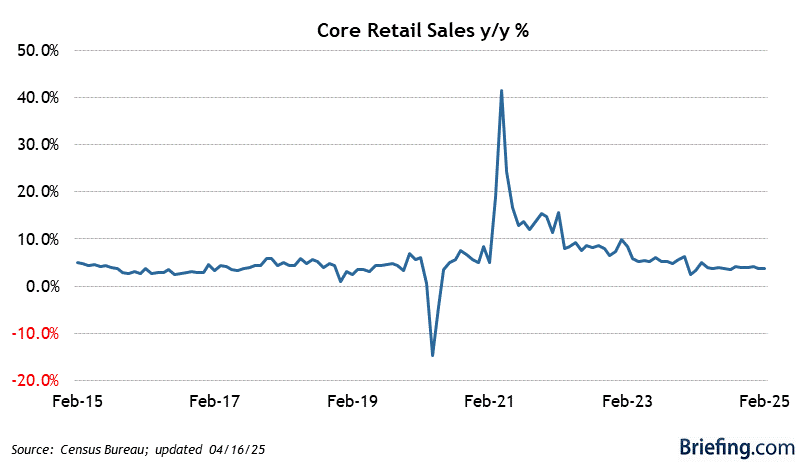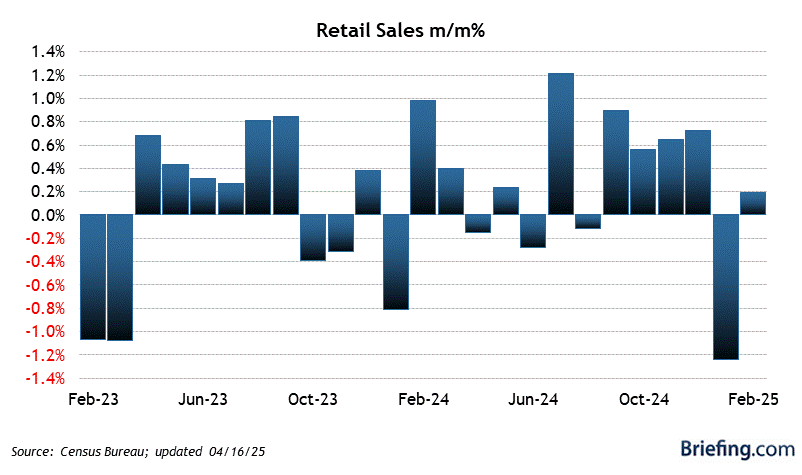 Highlights
Total retail sales increased 1.9% m/m in September (Briefing.com consensus +0.6%). Excluding autos, retail sales were up 1.5% m/m (Briefing.com consensus +0.3%).
On a yr/yr basis, total retail sales were up 5.4%. Excluding autos, they were up 4.0%.
Key Factors
Motor vehicle and parts dealers sales increased 3.6%.
Gasoline station sales rose 1.5%.
Clothing and clothing accessories stores sales surged 11.0%.
Food services and drinking places sales jumped 2.1%.
General merchandise store sales increased 1.8%, aided by a 9.7% increase in department store sales.
Electronics and appliance store sales declined 1.6% after a 0.4% increase in August. This was the only retail category to see a sales decline in September.
Big Picture
The key takeaway from the report is that the sales gains were broad based and driven by increases in discretionary categories, which will validate expectations for a huge rebound in GDP growth in the third quarter.
| Category | SEP | AUG | JUL | JUN | MAY |
| --- | --- | --- | --- | --- | --- |
| Retail Sales | 1.9% | 0.6% | 1.1% | 8.6% | 18.3% |
| Excluding Autos | 1.5% | 0.5% | 1.6% | 8.4% | 12.3% |
| Durable goods | | | | | |
| Building Materials | 0.6% | 2.4% | -1.9% | 1.1% | 12.8% |
| Autos/parts | 3.6% | 0.7% | -0.6% | 9.0% | 48.3% |
| Furniture | 0.5% | 2.1% | 2.1% | 39.0% | 77.1% |
| Nondurable goods | | | | | |
| General Merchandise | 1.8% | -0.4% | 0.0% | 3.0% | 6.0% |
| Food | 0.0% | -1.4% | 0.3% | -1.6% | 2.2% |
| Gasoline stations | 1.5% | 0.9% | 4.5% | 15.0% | 12.0% |
| Clothing | 11.0% | 1.4% | 2.7% | 99.7% | 180.1% |
| e*retailing/non-store | 0.5% | 0.2% | 0.4% | -2.8% | 7.7% |