Economic
Last Update: 15-Aug-18 10:00 ET
Retail Sales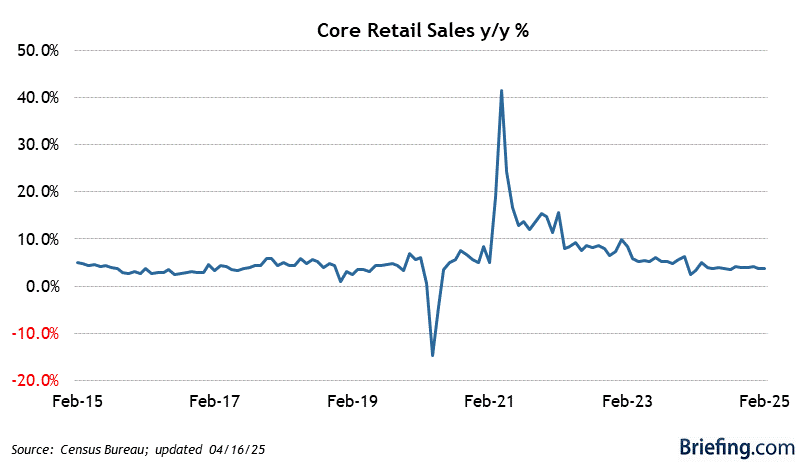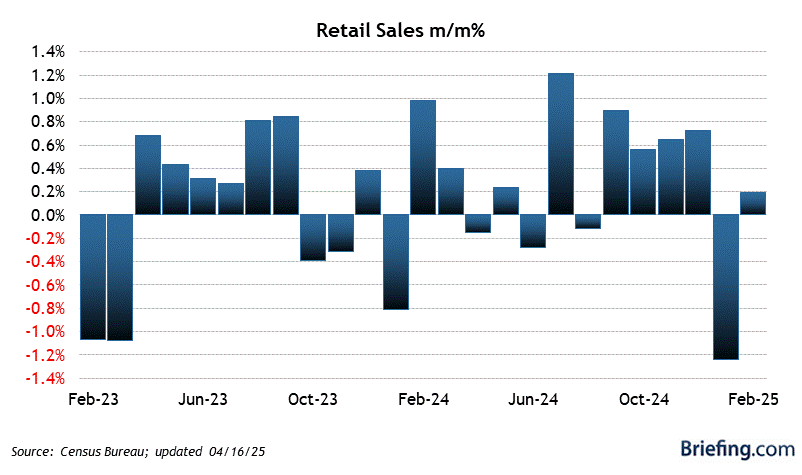 Highlights
Retail sales increased 0.5% in July (Briefing.com consensus +0.1%) following a downwardly revised 0.2% increase (from +0.5%) in June.
Excluding autos, retail sales rose 0.6% (Briefing.com consensus +0.3%) after increasing a downwardly revised 0.2% (from 0.4%) in June.
Key Factors
Motor vehicle and parts dealers sales were up 0.2% after increasing 0.1% in June.
Gasoline station sales rose 0.8% on the heels of a 0.3% increase in June.
Clothing and clothing accessories stores sales surged 1.3%, rebounding from a 1.6% decline in June.
Nonstore retailer sales were up 0.8% after increasing 0.7% in June.
Food services and drinking places sales jumped 1.3% after increasing 1.6% in June.
The weakest category in July was sporting goods, hobby, musical instrument, and book store sales, which dropped 1.7% after declining 2.1% in June.
Big Picture
The key takeaway from the report is that the downward revisions to June mitigated the July headline surprise. That point notwithstanding, core retail sales, which exclude autos, gasoline station, building materials, and food services sales, were up 0.5%, which is a positive input for Q3 GDP forecasts.
| Category | JUL | JUN | MAY | APR | MAR |
| --- | --- | --- | --- | --- | --- |
| Retail Sales | 0.5% | 0.2% | 1.2% | 0.3% | 0.7% |
| Excluding Autos | 0.6% | 0.2% | 1.4% | 0.4% | 0.4% |
| Durable goods | | | | | |
| Building Materials | 0.0% | 0.1% | 2.1% | -0.6% | -1.2% |
| Autos/parts | 0.2% | 0.1% | 0.6% | 0.2% | 1.9% |
| Furniture | -0.5% | 0.3% | -1.8% | 2.7% | 0.7% |
| Nondurable goods | | | | | |
| General Merchandise | 0.7% | -0.7% | 1.4% | -0.5% | 0.4% |
| Food | 0.6% | 0.0% | 0.1% | 0.4% | 0.4% |
| Gasoline stations | 0.8% | 0.3% | 2.9% | 0.4% | 0.0% |
| Clothing | 1.3% | -1.6% | 2.9% | 1.5% | 0.1% |
| e*retailing/non-store | 0.8% | 0.7% | 0.3% | 1.2% | 0.9% |