Economic
Last Update: 15-Oct-18 09:21 ET
Retail Sales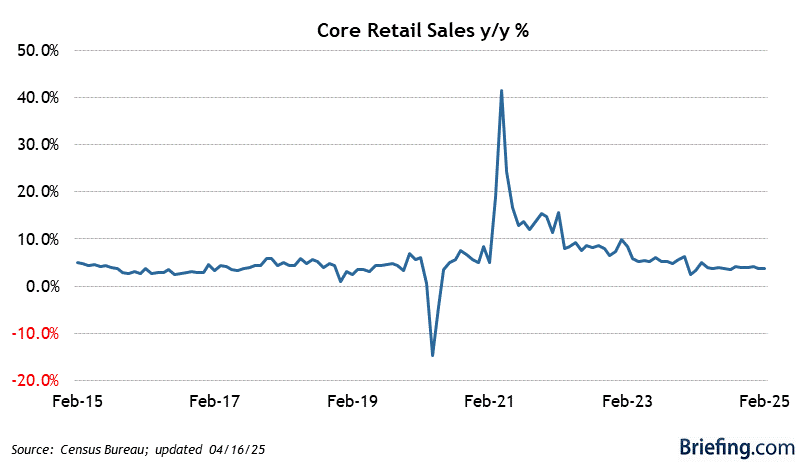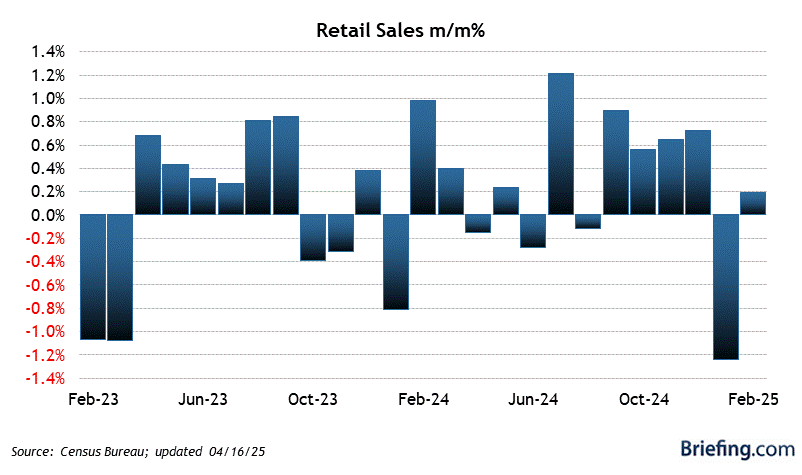 Highlights
Retail sales were up just 0.1% in September (Briefing.com consensus +0.6%) after increasing 0.1% in August.
Excluding autos, sales declined 0.1% (Briefing.com consensus +0.4%).
Key Factors
The weak spots for retail sales in September were food services and drinking places (-1.8%), gasoline stations (-0.8%), department stores (-0.8%), health and personal care stores (-0.3%), and grocery stores (-0.1%).
There was strength in nonstore retailers (+1.1%), furniture and home furnishing stores (+1.1%), electronics and appliance stores (+0.9%), and motor vehicle and parts dealers (+0.8%).
Big Picture
The key takeaway from the report is that core retail sales, which factor into GDP growth models, were up a solid 0.5%. Hence, the headline numbers were disappointing, yet this report will still factor favorably for Q3 real GDP growth prospects.
| Category | SEP | AUG | JUL | JUN | MAY |
| --- | --- | --- | --- | --- | --- |
| Retail Sales | 0.1% | 0.1% | 0.6% | 0.2% | 1.2% |
| Excluding Autos | -0.1% | 0.2% | 0.8% | 0.3% | 1.4% |
| Durable goods | | | | | |
| Building Materials | 0.1% | 0.8% | 0.3% | 0.0% | 2.1% |
| Autos/parts | 0.8% | -0.5% | 0.0% | -0.1% | 0.6% |
| Furniture | 1.1% | -0.8% | 0.5% | 0.3% | -1.8% |
| Nondurable goods | | | | | |
| General Merchandise | 0.3% | 0.1% | 1.1% | -0.2% | 1.4% |
| Food | 0.2% | -0.3% | 0.7% | -0.1% | 0.1% |
| Gasoline stations | -0.8% | 1.1% | 0.4% | 0.6% | 2.9% |
| Clothing | 0.5% | -2.8% | 1.6% | -1.0% | 2.9% |
| e*retailing/non-store | 1.1% | 0.5% | 1.6% | 0.9% | 0.3% |