Economic
Last Update: 15-May-20 09:27 ET
Retail Sales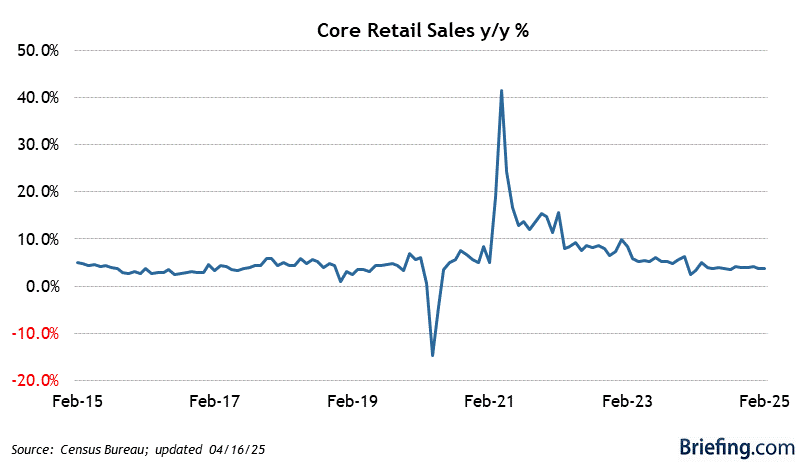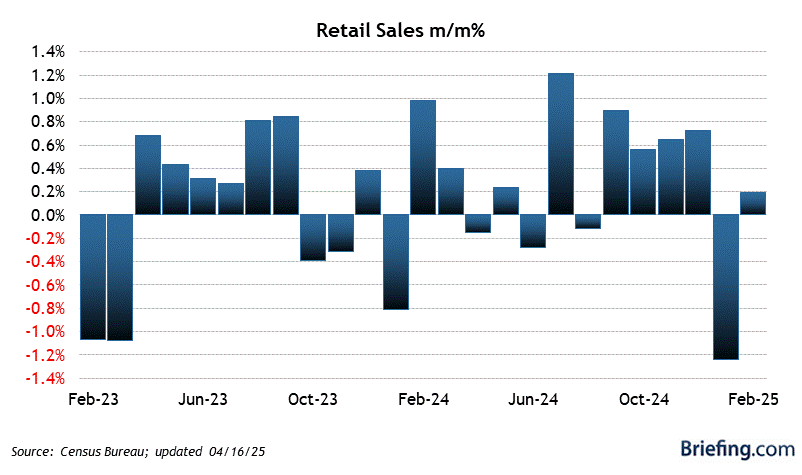 Highlights
Total retail sales declined a record 16.4% m/m (Briefing.com consensus -11.9%) while retail sales, excluding autos, declined 17.2% m/m (Briefing.com consensus -8.2%).
The sales downturn was extreme with double-digit declines in most categories.
Key Factors
Clothing and accessories sales plummeted 78.8%.
Electronics and appliance store sales fell 60.6%.
Furniture and home furnishing store sales dropped 58.7%.
Food services and drinking places sales declined 29.5%.
Motor vehicle and parts dealer sales were down 12.4%.
The one area of strength was nonstore retailers, which increased 8.4% m/m with the surge in online ordering.
Big Picture
The key takeaway from the report is that the broad-based weakness is a representation of the adverse spending shock that resulted from shutdown measures, announced pay cuts, and the massive jump in unemployment.
| Category | APR | MAR | FEB | JAN | DEC |
| --- | --- | --- | --- | --- | --- |
| Retail Sales | -16.4% | -8.3% | -0.4% | 0.8% | 0.1% |
| Excluding Autos | -17.2% | -4.0% | -0.5% | 0.8% | 0.5% |
| Durable goods | | | | | |
| Building Materials | -3.5% | -0.5% | -1.8% | 3.4% | 1.5% |
| Autos/parts | -12.4% | -25.7% | -0.4% | 0.8% | -1.6% |
| Furniture | -58.7% | -21.1% | -0.1% | 4.0% | -1.9% |
| Nondurable goods | | | | | |
| General Merchandise | -20.8% | 7.1% | -0.1% | 0.5% | 0.1% |
| Food | -13.1% | 26.9% | -0.1% | -0.2% | 0.3% |
| Gasoline stations | -28.8% | -16.5% | -2.9% | -0.6% | 1.2% |
| Clothing | -78.8% | -49.4% | -1.6% | -0.6% | 2.8% |
| e*retailing/non-store | 8.4% | 4.9% | 1.2% | 0.9% | -0.3% |