Economic
Last Update: 06-Jun-18 09:44 ET
Productivity-Prel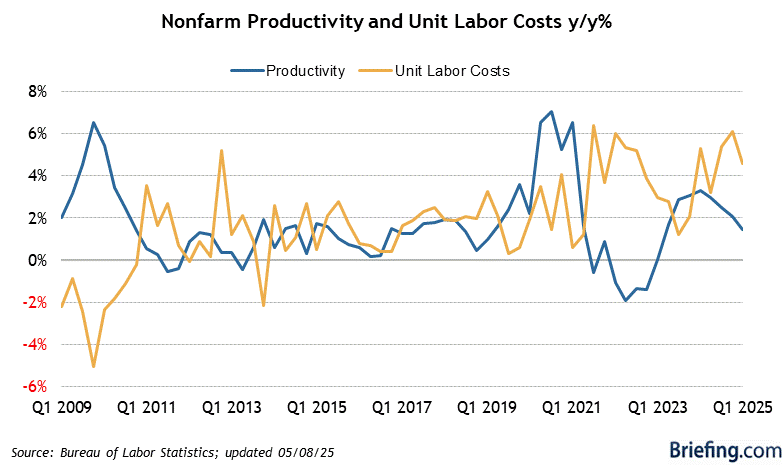 Highlights
First quarter productivity was revised down to 0.4% (Briefing.com consensus 0.6%) from 0.7%. Unit labor costs, meanwhile, were revised up to 2.9% (Briefing.com consensus 2.8%) from 2.7%.
Key Factors
Output increased 2.7% and hours worked increased 2.3%
From the first quarter of 2017 to the first quarter of 2018, productivity increased 1.3%
The 2.9% unit labor cost increase reflected a 3.3% increase in hourly compensation and a 0.4% increase in productivity
Unit labor costs increased 1.3% over the last four quarters
Big Picture
The key takeaway from the report is that productivity continues to run at relatively weak levels, which will stand in the way of GDP growth maintaining an accelerated growth rate above 3.0%.
| Category | Q1 | Q4 | Q3 | Q2 | Q1 |
| --- | --- | --- | --- | --- | --- |
| Nonfarm Business Sector | | | | | |
| Productivity Q/Q | 0.4% | 0.3% | 2.6% | 1.7% | 0.2% |
| Unit Labor Costs Q/Q | 2.9% | 2.5% | 1.0% | -1.2% | 4.8% |
| Productivity Y/Y | 1.3% | 1.2% | 1.4% | 1.4% | 1.2% |
| Unit Labor Costs Y/Y | 1.3% | 1.8% | -0.4% | -0.6% | 0.7% |