Economic
Last Update: 06-Sep-18 09:20 ET
Productivity-Prel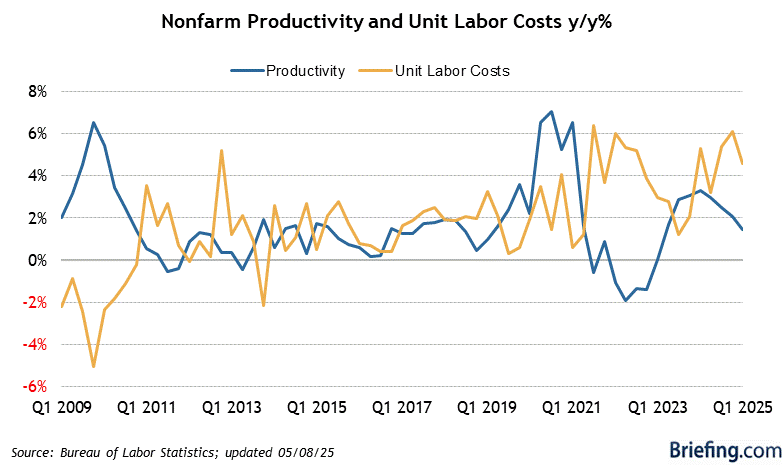 Highlights
The revised reading for second quarter (Q2) productivity was unchanged at 2.9%, as expected, which was the strongest increase since the first quarter of 2015.
Q2 unit labor costs decreased 1.0% (Briefing.com consensus -0.9%), versus a previously reported 0.9% decrease, reflecting a 1.9% increase in hourly compensation and a 2.9% increase in productivity.
Key Factors
The uptick in Q2 productivity was the result of output increasing 5.0% and hours worked increasing 2.0%.
From the second quarter of 2017 to the second quarter of 2018, productivity increased a modest 1.3%.
Manufacturing sector labor productivity increased 1.5% (up from advance estimate of 0.9%) in the second quarter while unit labor costs declined 0.2% (down from advance estimate of 0.6% increase).
Big Picture
The key takeaway from the revised report is the same as the advance estimate: labor costs look to be in check, which will facilitate a gradual tightening path for the Federal Reserve.
| Category | Q2 | Q1 | Q4 | Q3 | Q2 |
| --- | --- | --- | --- | --- | --- |
| Nonfarm Business Sector | | | | | |
| Productivity Q/Q | 2.9% | 0.3% | -0.3% | 2.3% | 1.6% |
| Unit Labor Costs Q/Q | -1.0% | 3.4% | 2.3% | 2.8% | -0.3% |
| Productivity Y/Y | 1.3% | 1.0% | 1.0% | 1.4% | 1.2% |
| Unit Labor Costs Y/Y | 1.9% | 2.0% | 2.2% | 2.5% | 2.0% |