Economic
Last Update: 04-Jun-20 10:09 ET
Productivity-Prel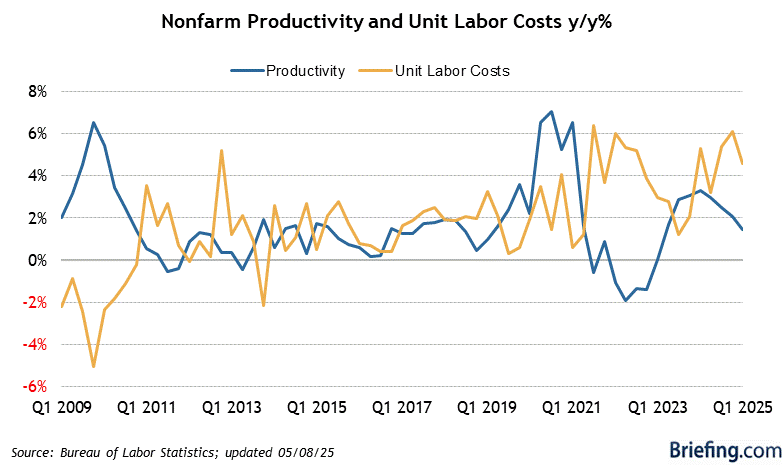 Highlights
A revision reported by the BLS indicated nonfarm business sector labor productivity decreased 0.9% (Briefing.com consensus -2.6%) in the first quarter versus an originally reported decrease of 2.5%.
Unit labor costs, meanwhile, increased 5.1% versus an originally reported 4.8% increase.
Key Factors
The change in productivity was the byproduct of output decreasing 6.5% and hours worked decreasing 5.6%. That was the largest drop in output since Q1 2009.
The change in unit labor costs was a byproduct of hourly compensation increasing 4.2% and productivity decreasing 0.9%.
From Q1 2019 to Q1 2020, productivity increased 0.7%, reflecting no change in output and a 0.7% decrease in hours worked.
Big Picture
The key takeaway from the report is that productivity was better than expected in the first quarter, but it was still weak all the same.
| Category | Q1 | Q4 | Q3 | Q2 | Q1 |
| --- | --- | --- | --- | --- | --- |
| Nonfarm Business Sector | | | | | |
| Productivity Q/Q | -0.9% | 1.2% | -0.3% | 2.7% | 3.9% |
| Unit Labor Costs Q/Q | 5.1% | 2.2% | 0.2% | 0.1% | 5.7% |
| Productivity Y/Y | 0.7% | 1.8% | 1.7% | 2.2% | 2.0% |
| Unit Labor Costs Y/Y | 1.9% | 2.0% | 1.6% | 2.0% | 1.6% |