Economic
Last Update: 07-Mar-18 09:40 ET
Productivity-Prel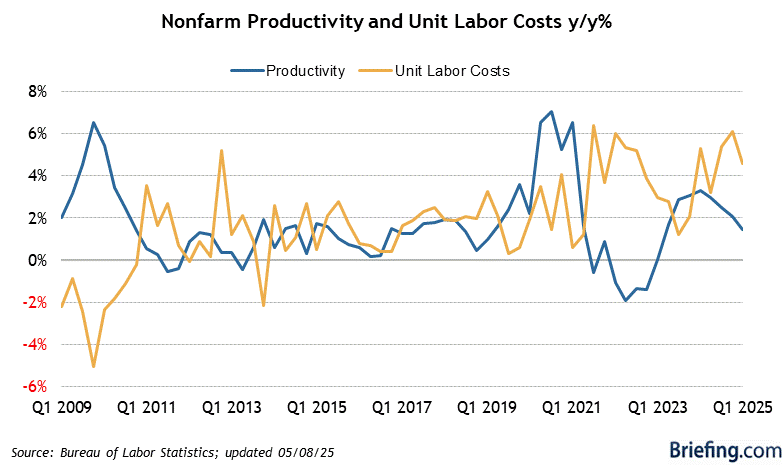 Highlights
Fourth quarter productivity was revised to 0.0% (from -0.1%), which was very close to expectations.
Unit labor costs were revised up to 2.5% (from 2.0%), which was above the Briefing.com consensus estimate of 2.1%.
Key Factors
Despite the revision, fourth quarter productivity was the weakest since the first quarter of 2016.
Output increased 3.2% in the fourth quarter and hours worked increased 3.3%
From the fourth quarter of 2016 to the fourth quarter of 2017, productivity increased 1.1%. Annual average productivity increased 1.2% from 2016 to 2017.
The average annual rate of productivity growth from 2007 to 2017 is 1.2%, which is below the long-term rate from 1947 to 2017 of 2.1%.
Big Picture
The key takeaway from this report is that it will feed into the market's burgeoning concerns about rising inflation as unit labor costs are rising in the face of weak productivity growth.
| Category | Q4 | Q3 | Q2 | Q1 | Q4 |
| --- | --- | --- | --- | --- | --- |
| Nonfarm Business Sector | | | | | |
| Productivity Q/Q | 0.0% | 2.6% | 1.7% | 0.2% | 1.1% |
| Unit Labor Costs Q/Q | 2.5% | 1.0% | -1.2% | 4.8% | -5.7% |
| Productivity Y/Y | 1.1% | 1.4% | 1.3% | 1.1% | 0.8% |
| Unit Labor Costs Y/Y | 1.7% | -0.4% | -0.6% | 0.7% | -1.2% |