Economic
Last Update: 26-Jan-18 17:43 ET
New Home Sales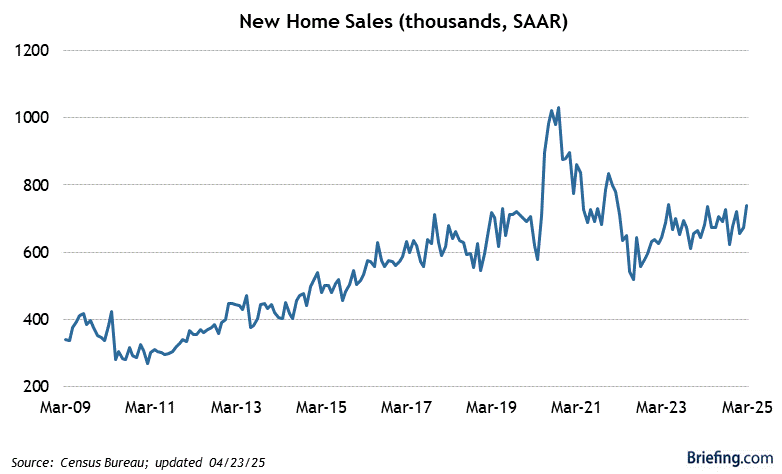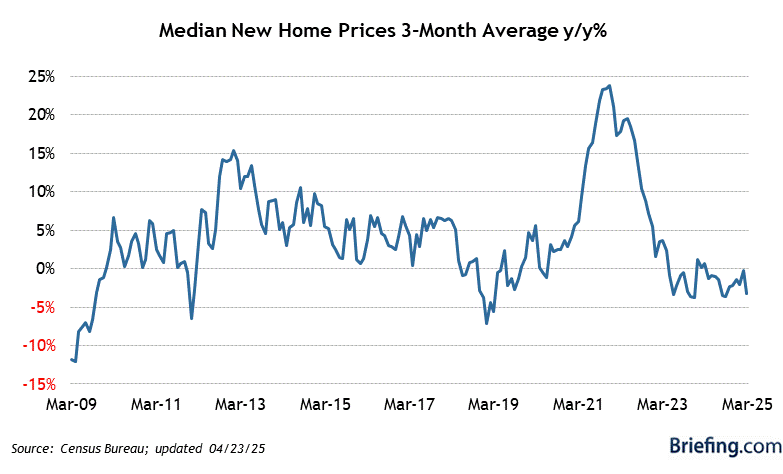 Highlights
New home sales declined 9.3% in December to a seasonally adjusted annual rate of 625,000 (Briefing.com consensus 679,000). That was disappointing, but it was even more so considering November saw a big downward revision to 689,000 from 733,000.
Key Factors
Sales growth by region: Northeast (-2.4%); Midwest (-10.0%); South (-9.8%); and West (-9.5%)
The median sales price increased 2.6% year-over-year to $335,400. The average sales price increased 4.3% to $398,900.
Based on the current sales pace, the inventory of new homes for sale increased to a 5.7-months' supply versus 4.9 months in November and 5.6 months in the year-ago period
Homes priced at $399,999, or less, accounted for 64% of new homes sold in December versus 71% in November
Big Picture
The key takeaway from the report is that new home sales were still up 14.1% year-over-year in December, underscoring the improved demand; however, with mortgage rates moving up and the mortgage interest deduction cap kicking in for mortgages over $750,000, the monthly decline is apt to trigger some investor concerns about 2018 earnings prospects for homebuilders.
| Category | DEC | NOV | OCT | SEP | AUG |
| --- | --- | --- | --- | --- | --- |
| Total Sales | 625K | 689K | 599K | 639K | 559K |
| Inventory (months) | 5.7 | 4.9 | 5.7 | 5.3 | 6.0 |
| Median Price Y/Y | 2.6% | 6.3% | 5.3% | 5.3% | 5.1% |