Economic
Last Update: 06-Jul-20 10:31 ET
ISM Non-Manufacturing Index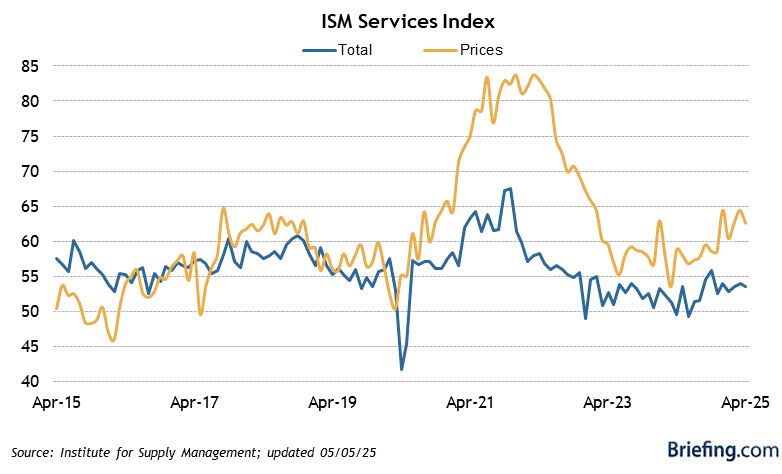 Highlights
The ISM Non-Manufacturing Index for June increased to 57.1% (Briefing.com consensus 49.0%) from 45.4% in May.
A reading above 50.0% connotes an expansion in activity. June represented the first month of expanding activity since March.
Key Factors
June marked the largest month-over-month improvement in the non-manufacturing index since its debut in 1997.
The New Orders Index surged to 61.6% from 41.9%.
The Employment Index rose to 43.1% from 31.8%.
The Prices Index increased to 62.4% from 55.6%.
The Backlog of Orders Index jumped to 51.9% from 46.4%.
The New Export Orders Index improved to 58.9% from 41.5%.
Big Picture
Survey responses reflect changes, if any, in the current month compared to the previous month. The key takeaway, then, is that the June report can't be taken at face value as a "strong" report so much as it can be taken as a report showing stronger activity relative to the depressed activity in May.
| Category | JUN | MAY | APR | MAR | FEB |
| --- | --- | --- | --- | --- | --- |
| Non-Manufacturing ISM index | 57.1 | 45.4 | 41.8 | 52.5 | 57.3 |
| Business Activity | 66.0 | 41.0 | 26.0 | 48.0 | 57.8 |
| New Orders | 61.6 | 41.9 | 32.9 | 52.9 | 63.1 |
| Employment | 43.1 | 31.8 | 30.0 | 47.0 | 55.6 |
| Deliveries (nsa) | 57.5 | 67.0 | 78.3 | 62.1 | 52.4 |
| Inventories (nsa) | 60.7 | 48.0 | 46.9 | 41.5 | 53.9 |
| Exports (nsa) | 58.9 | 41.5 | 36.3 | 45.9 | 55.6 |
| Imports (nsa) | 52.9 | 43.7 | 49.3 | 40.2 | 52.6 |
| Prices Paid | 62.4 | 55.6 | 55.1 | 50.0 | 50.8 |