Economic
Last Update: 03-Oct-18 12:26 ET
ISM Non-Manufacturing Index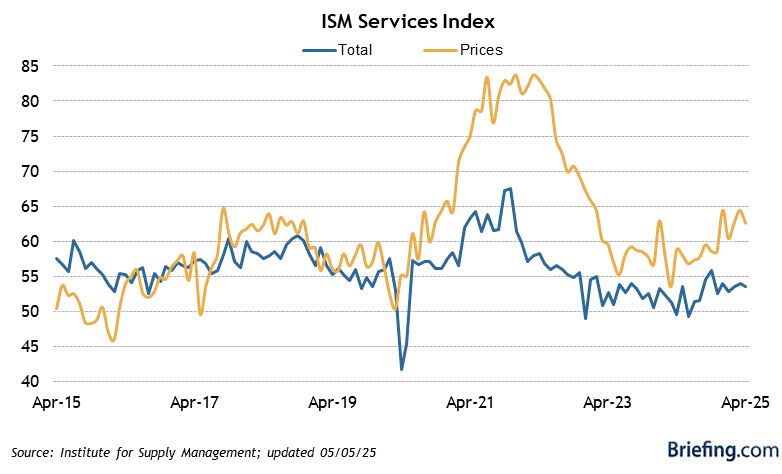 Highlights
The ISM Non-Manufacturing Index checked in at 61.6% for September (Briefing.com consensus 58.2%), up from 58.5% in August. According to the Institute for Supply Management, that is the highest reading for the Non-Manufacturing Index since the inception of the composite index in 2008.
The dividing line between expansion and contraction is 50.0%.
Key Factors
The New Orders Index increased to 61.6% from 60.4%.
The Employment Index jumped to 62.4% from 56.7%, which is the highest reading since the inception of the Employment Index in 1997.
The Prices Index rose to 64.2% from 62.8%.
Big Picture
The key takeaway from the report is that it clearly indicates business activity is strong for the service-providing sector of the economy, which accounts for a much larger slice of economic activity than the manufacturing sector does.
According to ISM, the past relationship between the Non-Manufacturing Index and the overall economy indicates that the September reading corresponds to a 4.6% increase in real GDP on an annualized basis.
| Category | AUG | JUL | JUN | MAY | APR |
| --- | --- | --- | --- | --- | --- |
| Non-Manufacturing ISM index | 58.5 | 55.7 | 59.1 | 58.6 | 56.8 |
| Business Activity | 60.7 | 56.5 | 63.9 | 61.3 | 59.1 |
| New Orders | 60.4 | 57.0 | 63.2 | 60.5 | 60.0 |
| Employment | 56.7 | 56.1 | 53.6 | 54.1 | 53.6 |
| Deliveries (nsa) | 56.0 | 53.0 | 55.5 | 58.5 | 54.5 |
| Inventories (nsa) | 53.5 | 53.5 | 53.5 | 57.5 | 57.0 |
| Exports (nsa) | 60.5 | 58.0 | 60.5 | 57.5 | 61.5 |
| Imports (nsa) | 52.0 | 52.5 | 51.5 | 54.0 | 54.5 |
| Prices Paid | 62.8 | 63.4 | 60.7 | 64.3 | 61.8 |