Economic
Last Update: 01-Feb-19 11:12 ET
ISM Manufacturing Index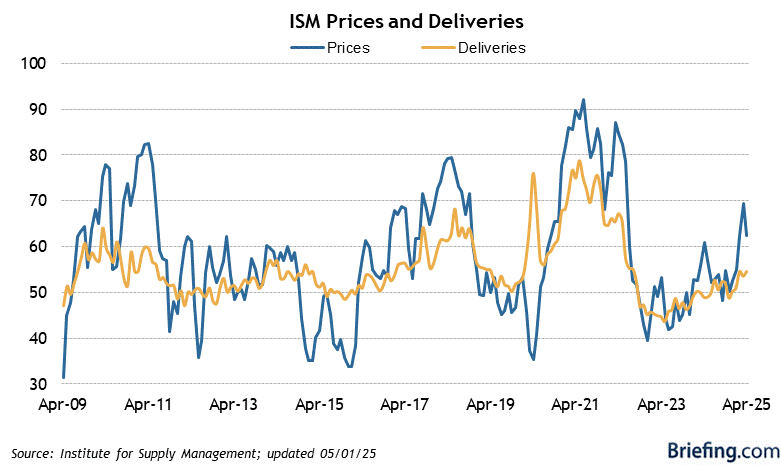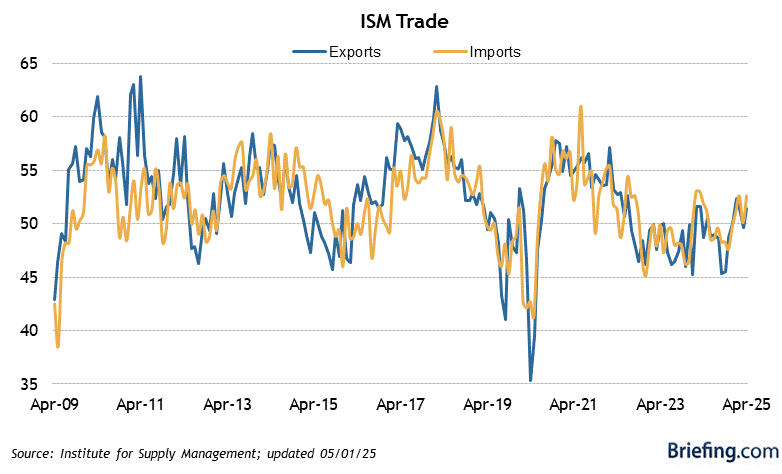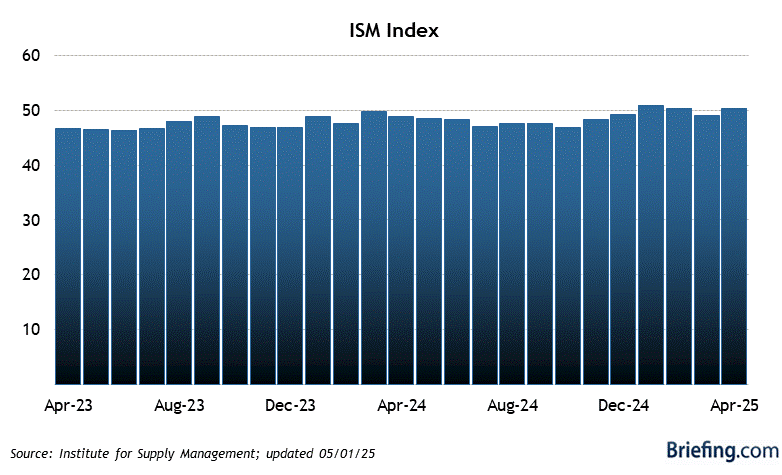 Highlights
The ISM Manufacturing Index for January increased to 56.6% (Briefing.com consensus 53.6%) from a revised 54.3% (from 54.1%) in December.
Key Factors
The New Orders Index increased to 58.2% from 51.3%
The Prices Index decreased to 49.6% from 54.9%
The Production Index increased to 60.5% from 54.1%
The Employment Index decreased to 55.5% from 56.0%
Big Picture
The key takeaway from the report is that the January increase was driven by solid growth in New Orders and Production, which suggests the U.S. manufacturing sector is holding up well despite concerns about the pace of global growth.
According to the ISM, the past relationship between the PMI and overall economy indicates the January reading corresponds to a 4.0% increase in real GDP on an annualized basis.
| Category | JAN | DEC | NOV | OCT | SEP |
| --- | --- | --- | --- | --- | --- |
| Total Index | 56.6 | 54.3 | 58.8 | 57.5 | 59.8 |
| Orders | 58.2 | 51.3 | 61.8 | 58.0 | 61.8 |
| Production | 60.5 | 54.1 | 59.9 | 59.3 | 63.9 |
| Employment | 55.5 | 56.0 | 57.7 | 56.5 | 58.8 |
| Deliveries | 56.2 | 59.0 | 61.5 | 63.2 | 61.1 |
| Inventories | 52.8 | 51.2 | 52.9 | 50.7 | 53.3 |
| Export Orders | 51.8 | 52.8 | 52.2 | 52.2 | 56.0 |
| Prices paid (not seas adj) | 49.6 | 54.9 | 60.7 | 71.6 | 66.9 |