Economic
Last Update: 01-Jun-18 10:41 ET
ISM Index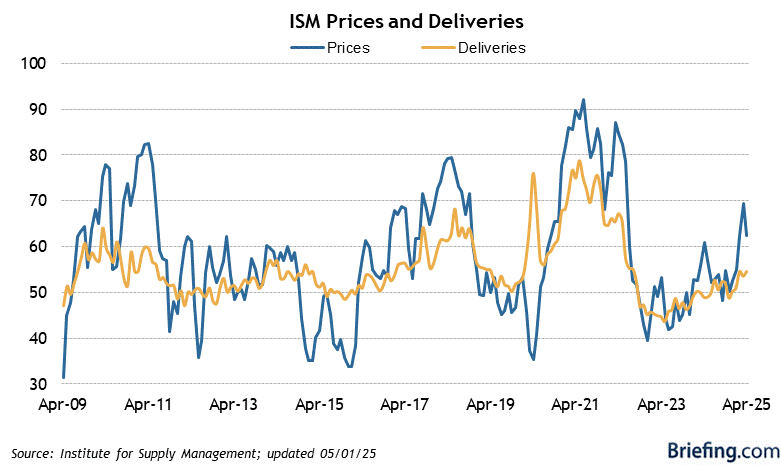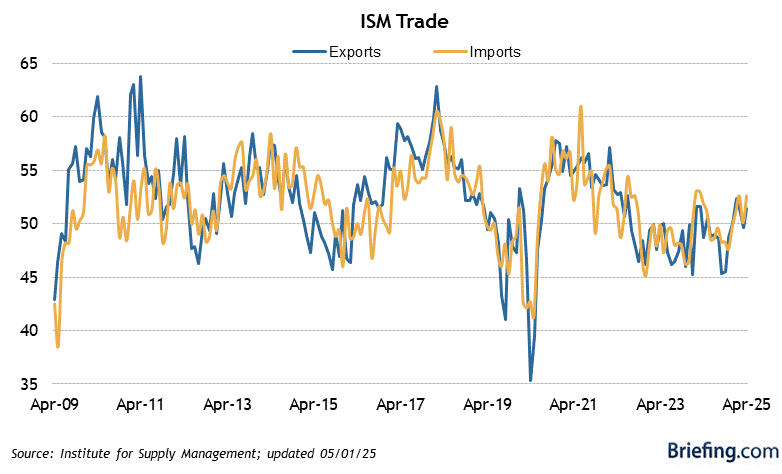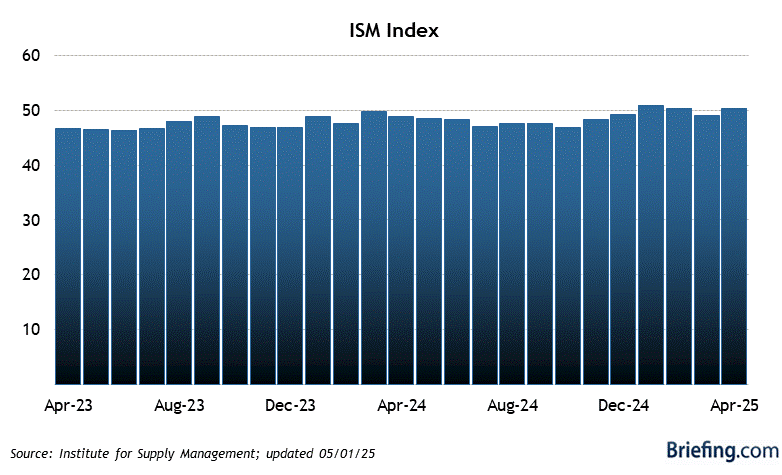 Highlights
The ISM Manufacturing Index increased to 58.7 (Briefing.com consensus 58.0) from 57.3 in April.
The dividing line between expansion and contraction is 50.0; May marked the 21st consecutive month the index has been above 50.0.
Key Factors
The New Orders Index jumped to 63.7 from 61.2
The Production Index increased to 61.5 from 57.2
The Backlog of Orders Index rose to 63.5 from 62.0 and sits at its highest level since April 2004
The Prices Index increased to 79.5 from 79.3 and sits at its highest level since April 2011
The New Export Orders Index slowed to 55.6 from 57.7
Big Picture
The key takeaway from the report is the summary that respondents are experiencing price pressures and that those price pressures are causing price-increase discussions as they prepare for the second half of the year.
According to the ISM, the past relationship between the index and the overall economy indicates the PMI for May corresponds to a 4.8% increase in real GDP on an annualized basis.
| Category | MAY | APR | MAR | FEB | JAN |
| --- | --- | --- | --- | --- | --- |
| Total Index | 58.7 | 57.3 | 59.3 | 60.8 | 59.1 |
| Orders | 63.7 | 61.2 | 61.9 | 64.2 | 65.4 |
| Production | 61.5 | 57.2 | 61.0 | 62.0 | 64.5 |
| Employment | 56.3 | 54.2 | 57.3 | 59.7 | 54.2 |
| Deliveries | 62.0 | 61.1 | 60.6 | 61.1 | 59.1 |
| Inventories | 50.2 | 52.9 | 55.5 | 56.7 | 52.3 |
| Export Orders | 55.6 | 57.7 | 58.7 | 62.8 | 59.8 |
| Prices paid (not seas adj) | 79.5 | 79.3 | 78.1 | 74.2 | 72.7 |