Economic
Last Update: 03-Feb-20 10:34 ET
ISM Manufacturing Index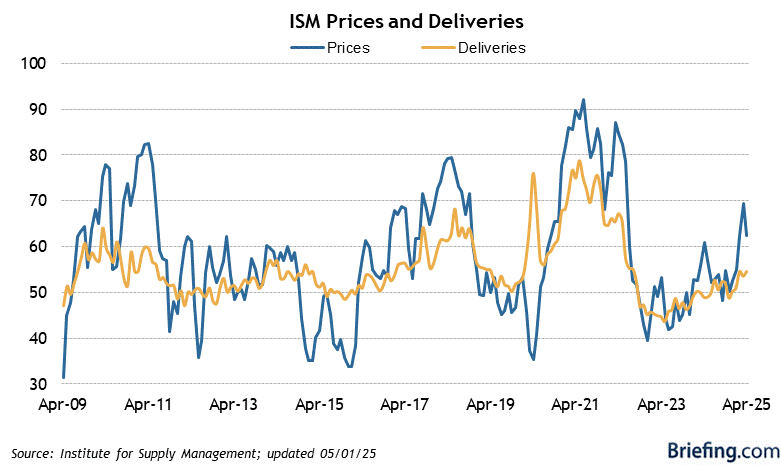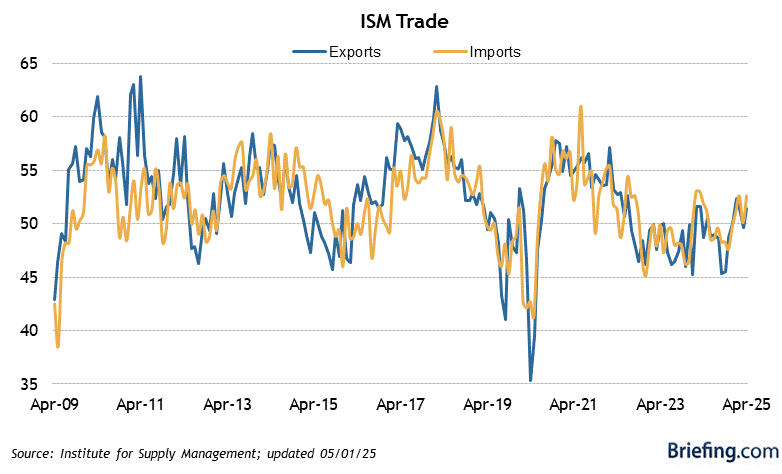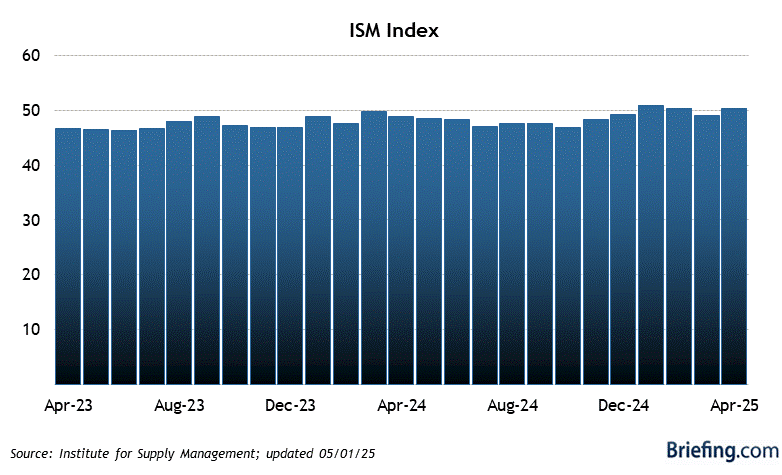 Highlights
The ISM Manufacturing Index for January jumped to 50.9% (Briefing.com consensus 48.1%) from an upwardly revised 47.8% (from 47.2%) in December.
January marked the first reading above 50% in six months.
Key Factors
The New Orders Index rose to 52.0% from 47.6%.
The Production Index increased to 54.3% from 44.8%.
The Backlog of Orders Index jumped to 45.7% from 43.3%.
The Employment Index edged up to 46.6% from 45.2%.
The New Export Orders Index inflated to 53.3% from 47.3%.
Big Picture
The key takeaway from the report is that the manufacturing sector went back into an expansion mode in January, aided by a jump in new orders, production, and new export orders.
According to the ISM, the past relationship between the PMI and the overall economy indicates that the January reading corresponds to a 2.4% increase in real GDP on an annualized basis.
| Category | JAN | DEC | NOV | OCT | SEP |
| --- | --- | --- | --- | --- | --- |
| Total Index | 50.9 | 47.8 | 48.1 | 48.5 | 47.8 |
| Orders | 52.0 | 47.6 | 46.8 | 48.9 | 47.3 |
| Production | 54.3 | 44.8 | 48.0 | 46.3 | 47.3 |
| Employment | 46.6 | 45.2 | 46.8 | 47.9 | 46.3 |
| Deliveries | 52.9 | 54.6 | 52.0 | 49.5 | 51.1 |
| Inventories | 48.8 | 49.2 | 47.2 | 49.4 | 46.9 |
| Export Orders | 53.3 | 47.3 | 47.9 | 50.4 | 41.0 |
| Prices paid (not seas adj) | 53.3 | 51.7 | 46.7 | 45.5 | 49.7 |