Economic
Last Update: 01-Mar-18 10:45 ET
ISM Index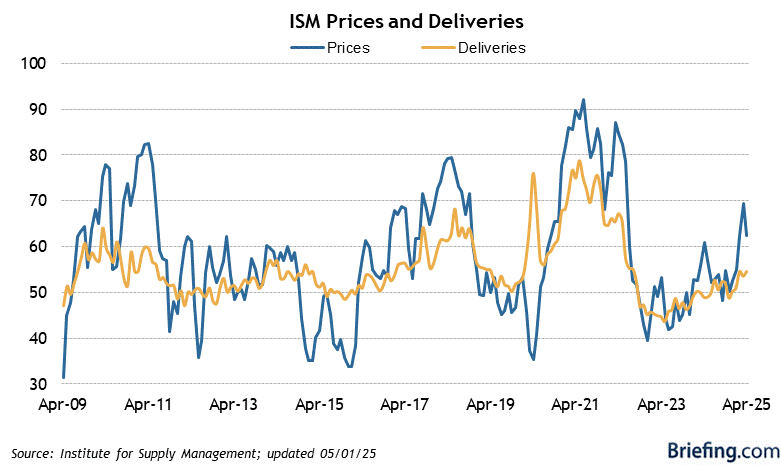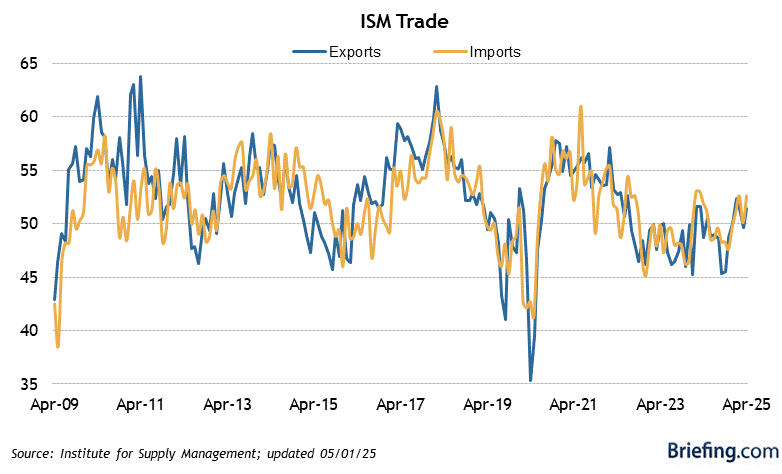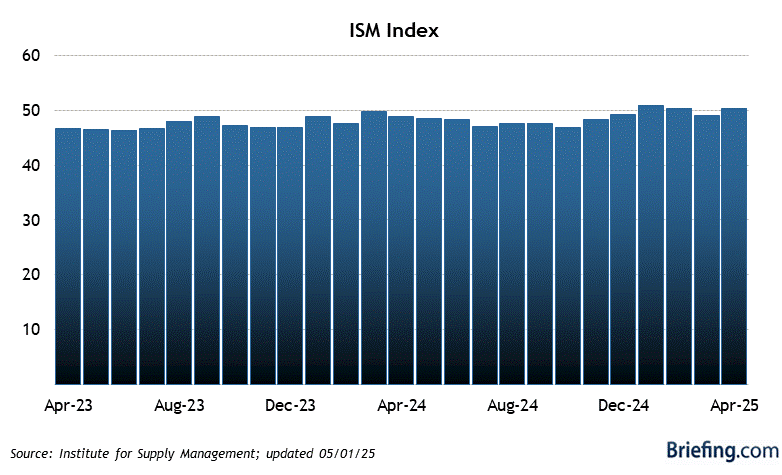 Highlights
The ISM Manufacturing Index for February increased to 60.8 (Briefing.com consensus 58.4) from 59.1 in January. The dividing line between expansion and contraction is 50.0, so it is evident that manufacturing activity on a national level is running strong.
According to the ISM, the past relationship between the PMI and the overall economy indicates the average PMI for February corresponds to a 5.4% increase in real GDP on an annualized basis.
Key Factors
The New Orders Index slipped from 65.4 to 64.2
The Production Index dipped from 64.5 to 62.0
The Employment Index rose from 54.2 to 59.7
The Prices Index jumped from 72.7 to 74.2
Big Picture
The key takeaway from the report, though, is that the Prices Index hit its highest level since May 2011. That will feed into fears about manufacturers passing through higher input costs to their customers, which will buttress inflation expectations.
| Category | FEB | JAN | DEC | NOV | OCT |
| --- | --- | --- | --- | --- | --- |
| Total Index | 60.8 | 59.1 | 59.3 | 58.2 | 58.5 |
| Orders | 64.2 | 65.4 | 67.4 | 63.9 | 63.5 |
| Production | 62.0 | 64.5 | 65.2 | 64.3 | 61.0 |
| Employment | 59.7 | 54.2 | 58.1 | 59.2 | 59.8 |
| Deliveries | 61.1 | 59.1 | 57.2 | 56.5 | 61.4 |
| Inventories | 56.7 | 52.3 | 48.5 | 47.1 | 48.1 |
| Export Orders | 62.8 | 59.8 | 57.6 | 56.3 | 55.1 |
| Prices paid (not seas adj) | 74.2 | 72.7 | 68.3 | 64.8 | 68.1 |