Economic
Last Update: 01-Aug-18 10:42 ET
ISM Index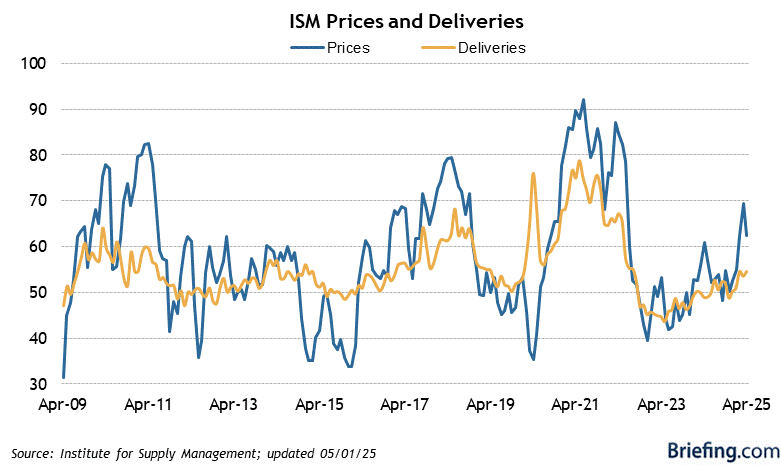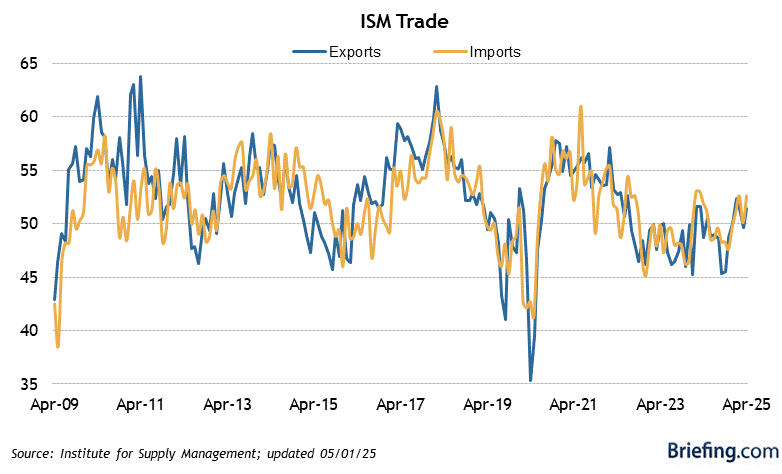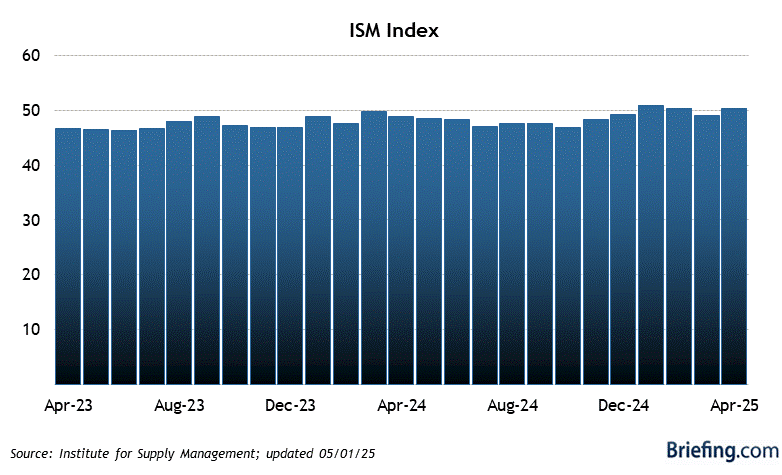 Highlights
The ISM Manufacturing Index dipped to 58.1% in July (Briefing.com consensus 59.4%) from 60.2% in June.
The dividing line between expansion and contraction is 50.0%, so it is clear that national manufacturing activity is still running at a healthy clip.
Key Factors
The New Orders Index fell to 60.2% from 63.5%
The Production Index dropped to 58.5% from 62.3%
The Employment Index edged up to 56.5% from 56.0%
The New Export Orders Index eased to 55.3% from 56.3%
The Backlog of Orders Index decreased to 54.7% from 60.1%
The Prices Index moved down to 73.2% from 76.8%
Big Picture
The key takeaway from the report is that manufacturing demand is strong, evidenced by the 15th straight month the New Orders Index has been 60% or higher.
According to the ISM, the past relationship between the PMI and the overall economy indicates that the PMI for July corresponds to a 4.6% increase in real GDP on an annualized basis.
| Category | JUL | JUN | MAY | APR | MAR |
| --- | --- | --- | --- | --- | --- |
| Total Index | 58.1 | 60.2 | 58.7 | 57.3 | 59.3 |
| Orders | 60.2 | 63.5 | 63.7 | 61.2 | 61.9 |
| Production | 58.5 | 62.3 | 61.5 | 57.2 | 61.0 |
| Employment | 56.5 | 56.0 | 56.3 | 54.2 | 57.3 |
| Deliveries | 62.1 | 68.2 | 62.0 | 61.1 | 60.6 |
| Inventories | 53.3 | 50.8 | 50.2 | 52.9 | 55.5 |
| Export Orders | 55.3 | 56.3 | 55.6 | 57.7 | 58.7 |
| Prices paid (not seas adj) | 73.2 | 76.8 | 79.5 | 79.3 | 78.1 |