Economic
Last Update: 03-Sep-19 10:53 ET
ISM Manufacturing Index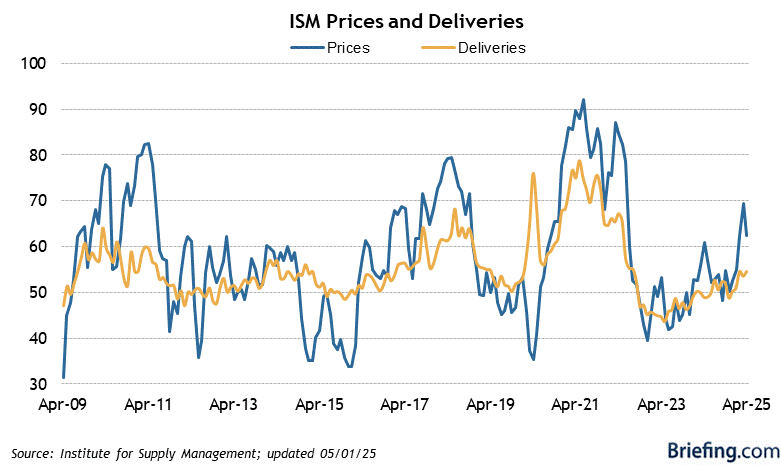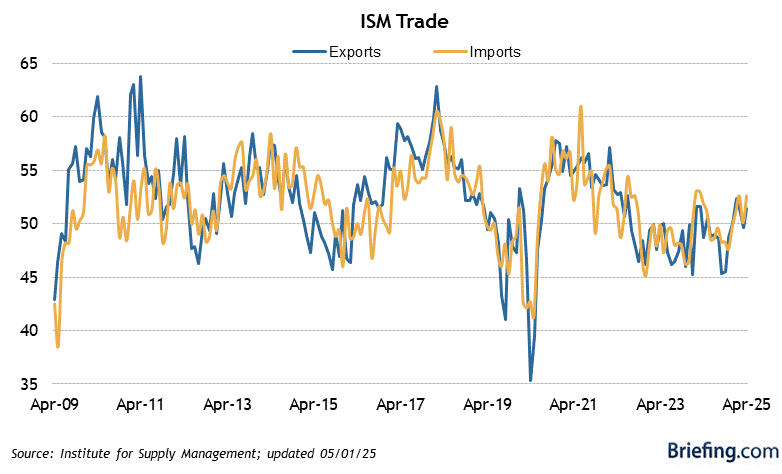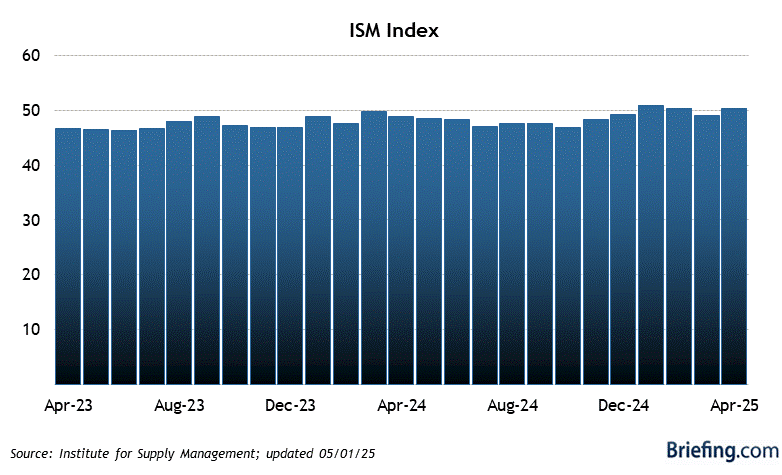 Highlights
The ISM Manufacturing Index for August registered 49.1% (Briefing.com consensus 51.3%) following a 51.2% reading for July. The dividing line between expansion and contraction is 50.0%.
The reading for August is the first sub-50% reading in three years and the lowest since January 2016.
Key Factors
All index components, with the exception of supplier deliveries (51.4%), saw sub-50% readings for August.
The New Orders Index dropped to 47.2% from 50.8%.
The Employment Index fell to 47.4% from 51.7%.
The New Export Orders Index decreased to 43.3% from 48.1%, which is the lowest reading since April 2009.
Big Picture
The key takeaway from the report is that it will foment economic slowdown concerns, as well as worries about the deleterious impact of tariff actions on business investment.
According to ISM, the past relationship between the PMI and the overall economy indicates the PMI for August corresponds to a 1.8% increase in real GDP on an annualized basis.
| Category | AUG | JUL | JUN | MAY | APR |
| --- | --- | --- | --- | --- | --- |
| Total Index | 49.1 | 51.2 | 51.7 | 52.1 | 52.8 |
| Orders | 47.2 | 50.8 | 50.0 | 52.7 | 51.7 |
| Production | 49.5 | 50.8 | 54.1 | 51.3 | 52.3 |
| Employment | 47.4 | 51.7 | 54.5 | 53.7 | 52.4 |
| Deliveries | 51.4 | 53.3 | 50.7 | 52.0 | 54.6 |
| Inventories | 49.9 | 49.5 | 49.1 | 50.9 | 52.9 |
| Export Orders | 43.3 | 48.1 | 50.5 | 51.0 | 49.5 |
| Prices paid (not seas adj) | 46.0 | 45.1 | 47.9 | 53.2 | 50.0 |