Economic
Last Update: 01-May-19 10:29 ET
ISM Manufacturing Index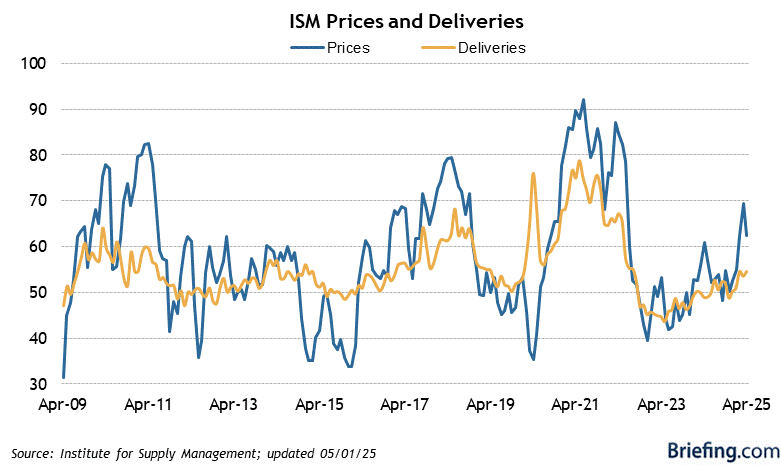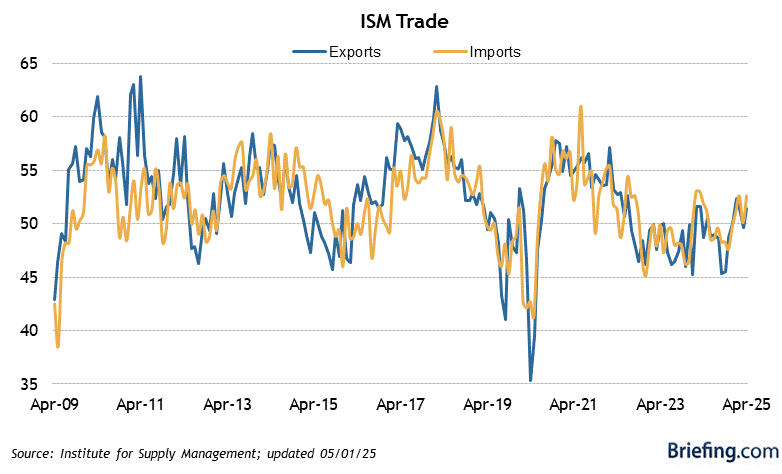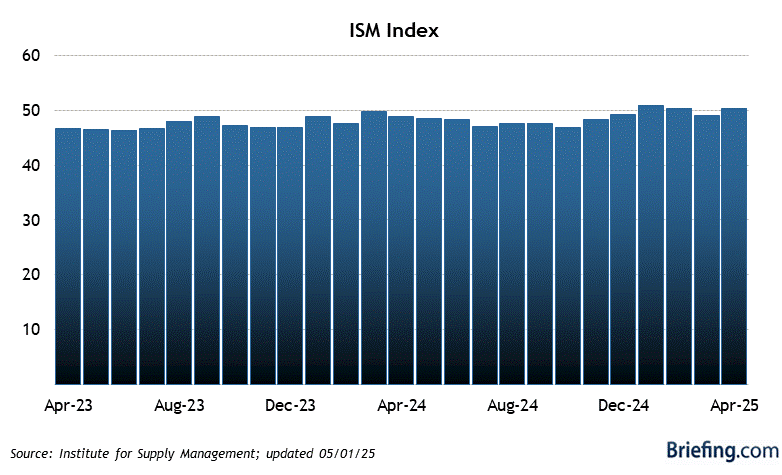 Highlights
The ISM Manufacturing Index for April fell to 52.8% (Briefing.com consensus 55.0%) from 55.3% in March. The April reading is the lowest since October 2016.
The dividing line between expansion and contraction is 50.0%.
Key Factors
The New Orders Index dropped to 51.7% from 57.4%, which is the lowest level of expansion since December 2018.
The Production Index fell to 52.3% from 55.8%.
The Employment Index decreased to 52.4% from 57.5%.
The New Export Orders Index fell to 49.5% from 51.7% -- the first contraction since February 2016.
The Prices Index registered 50.0% versus 54.3% in March.
Big Picture
The key takeaway from the report is that it shows there was a notable deceleration in manufacturing activity to begin the second quarter, which is a data point that will contribute to the Fed's patient mindset.
According to the ISM, the past relationship between the PMI and the overall economy indicates the April reading corresponds to a 2.9% increase in real GDP on an annualized basis.
| Category | APR | MAR | FEB | JAN | DEC |
| --- | --- | --- | --- | --- | --- |
| Total Index | 52.8 | 55.3 | 54.2 | 56.6 | 54.3 |
| Orders | 51.7 | 57.4 | 55.5 | 58.2 | 51.3 |
| Production | 52.3 | 55.8 | 54.8 | 60.5 | 54.1 |
| Employment | 52.4 | 57.5 | 52.3 | 55.5 | 56.0 |
| Deliveries | 54.6 | 54.2 | 54.9 | 56.2 | 59.0 |
| Inventories | 52.9 | 51.8 | 53.4 | 52.8 | 51.2 |
| Export Orders | 49.5 | 51.7 | 52.8 | 51.8 | 52.8 |
| Prices paid (not seas adj) | 50.0 | 54.3 | 49.4 | 49.6 | 54.9 |