Economic
Last Update: 18-Jul-19 10:47 ET
Leading Indicators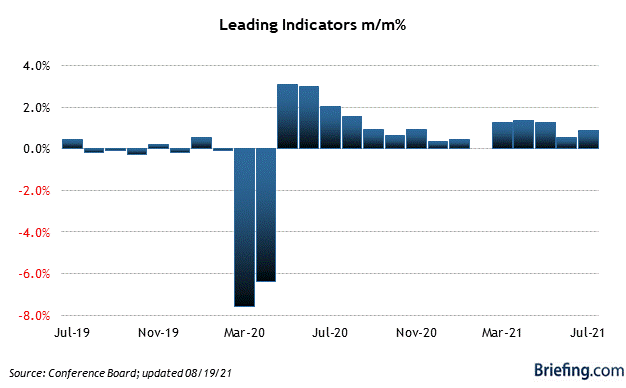 Highlights
The Conference Board's Leading Economic Index declined 0.3% in June (Briefing.com consensus 0.0%) following an unchanged reading for May.
The 0.3% decline is the first decline since December 2018 and the largest decline since January 2016.
Key Factors
The downturn in June was paced by weakness in new orders for manufacturing, building permits, and unemployment claims.
Strikingly, the yield spread made a small negative contribution, which the Conference Board said was the first time that has happened since late 2007.
The Coincident Economic index increased 0.1% after increasing 0.2% in May.
The Lagging Economic Index jumped 0.6% after declining 0.2% in May.
Big Picture
The key takeaway from the report is that it suggests growth is apt to remain slow in the second half of the year, according to the Conference Board.
| Category | JUN | MAY | APR | MAR | FEB |
| --- | --- | --- | --- | --- | --- |
| Total Index | -0.3% | 0.0% | 0.1% | 0.2% | 0.2% |
| Manufacturing Workweek | 0.07% | -0.07% | 0.00% | -0.07% | -0.13% |
| Initial Claims | -0.11% | -0.04% | 0.02% | 0.11% | 0.06% |
| Cons. Gds Orders | 0.01% | 0.03% | -0.06% | -0.05% | -0.01% |
| ISM New Orders | -0.12% | -0.06% | -0.08% | 0.04% | 0.00% |
| Nondef. Cap Gds Orders, exc. Aircraft | 0.01% | 0.02% | -0.05% | 0.02% | 0.01% |
| Building Permits | -0.18% | 0.02% | 0.00% | 0.00% | -0.06% |
| Stock Prices | 0.05% | -0.07% | 0.14% | 0.07% | 0.22% |
| Leading Credit Index | 0.12% | 0.09% | 0.11% | 0.08% | 0.08% |
| Interest Rate Spread | -0.04% | 0.00% | 0.01% | 0.02% | 0.03% |
| Consumer Expectations | 0.03% | 0.12% | 0.07% | 0.06% | 0.05% |