Economic
Last Update: 22-Aug-19 10:24 ET
Leading Indicators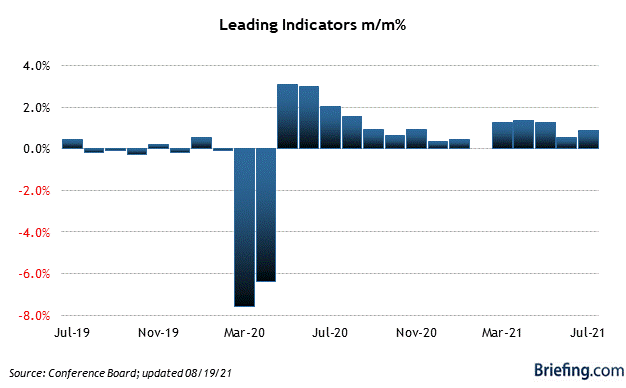 Highlights
The Conference Board's Leading Economic Index (LEI) increased 0.5% in July (Briefing.com consensus +0.2%) following an upwardly revised 0.1% decline (from -0.3%) in June.
Key Factors
The main contributors to the overall increase in the LEI were building permits (+0.23 percentage points), stock prices (+0.14 pp), and the leading credit index (+0.14 pp).
The biggest drags on the LEI were ISM new orders (-0.10 pp), the average manufacturing workweek (-0.07 pp), and the interest rate spread (-0.04 pp).
The Coincident Economic Index increased 0.2% for the second straight month.
The Lagging Economic Index increased 0.6% after increasing 0.5% in June.
Big Picture
The key takeaway from the report is that it reflected a slower growth environment, evidenced by five of the ten components failing to make a positive contribution to the overall increase.
According to the Conference Board, the LEI increased 0.8% for the six-month period ending in July (~1.6% annual rate), which was around the same rate of growth over the previous six months.
| Category | JUL | JUN | MAY | APR | MAR |
| --- | --- | --- | --- | --- | --- |
| Total Index | 0.5% | -0.1% | -0.1% | 0.1% | 0.2% |
| Manufacturing Workweek | -0.07% | 0.00% | -0.07% | 0.00% | -0.07% |
| Initial Claims | 0.16% | -0.11% | -0.04% | 0.02% | 0.11% |
| Cons. Gds Orders | 0.00% | 0.14% | 0.04% | -0.06% | -0.05% |
| ISM New Orders | -0.10% | -0.12% | -0.06% | -0.08% | 0.04% |
| Nondef. Cap Gds Orders, exc. Aircraft | -0.01% | 0.01% | 0.02% | -0.05% | 0.02% |
| Building Permits | 0.23% | -0.18% | 0.02% | 0.00% | 0.00% |
| Stock Prices | 0.14% | 0.05% | -0.07% | 0.14% | 0.07% |
| Leading Credit Index | 0.14% | 0.12% | 0.09% | 0.11% | 0.08% |
| Interest Rate Spread | -0.04% | -0.04% | 0.00% | 0.01% | 0.02% |
| Consumer Expectations | 0.12% | 0.04% | 0.12% | 0.07% | 0.06% |