Economic
Last Update: 17-Aug-18 11:14 ET
Leading Indicators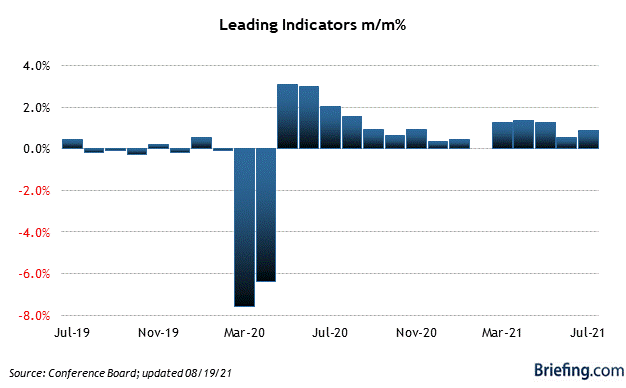 Highlights
The Conference Board's Leading Economic Index increased 0.6% in July (Briefing.com consensus 0.5%) after increasing 0.5% in June.
Key Factors
Average weekly initial claims (+0.15 pp), Leading Credit Index (+0.12 pp), and Interest rate spread (+0.11 pp) were the key drivers of growth.
The Coincident Economic Index increased 0.2% in July after increasing 0.3% in June.
The Lagging Economic Index declined 0.2% in July after increasing 0.2% in June.
Big Picture
The key takeaway from the report is that it points to a sustained pace of economic expansion for the foreseeable future.
| Category | JUL | JUN | MAY | APR | MAR |
| --- | --- | --- | --- | --- | --- |
| Total Index | 0.6% | 0.5% | 0.0% | 0.4% | 0.4% |
| Manufacturing Workweek | 0.00% | 0.07% | -0.20% | 0.07% | -0.07% |
| Initial Claims | 0.15% | 0.01% | -0.04% | 0.10% | -0.05% |
| Cons. Gds Orders | 0.01% | 0.05% | -0.07% | 0.02% | 0.07% |
| ISM New Orders | 0.10% | 0.16% | 0.17% | 0.12% | 0.13% |
| Nondef. Cap Gds Orders, exc. Aircraft | 0.01% | 0.00% | 0.02% | 0.08% | -0.05% |
| Building Permits | 0.04% | -0.02% | -0.14% | -0.03% | 0.12% |
| Stock Prices | 0.06% | 0.08% | 0.07% | -0.07% | 0.00% |
| Leading Credit Index | 0.12% | 0.08% | 0.08% | -0.01% | -0.03% |
| Interest Rate Spread | 0.11% | 0.12% | 0.14% | 0.13% | 0.15% |
| Consumer Expectations | 0.07% | 0.08% | 0.13% | 0.08% | 0.09% |