Economic
Last Update: 15-Jun-18 09:45 ET
Industrial Production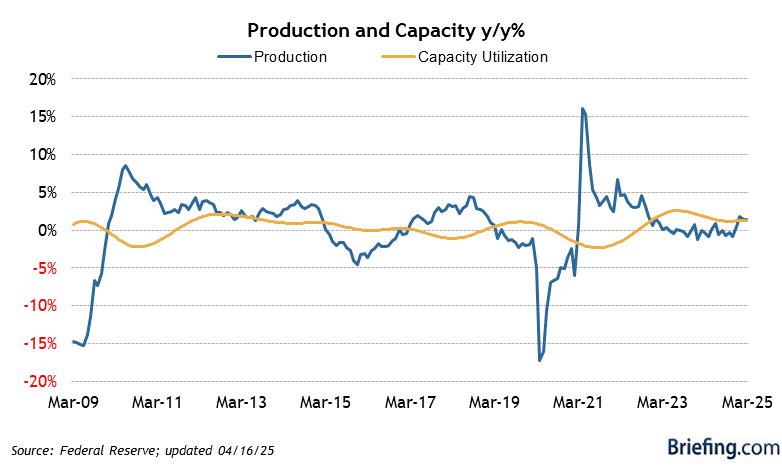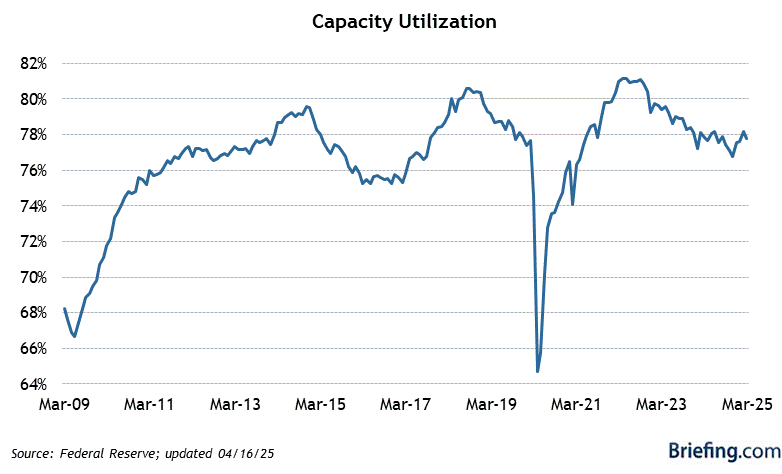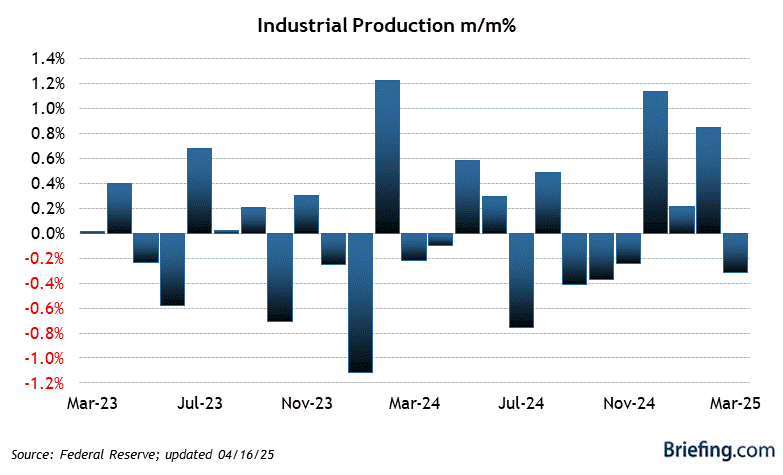 Highlights
Industrial production declined 0.1% in May (Briefing.com consensus +0.2%) after increasing an upwardly revised 0.9% (from 0.7%) in April.
The capacity utilization rate dipped to 77.9% (Briefing.com consensus 78.1%) from an upwardly revised 78.1% (from 78.0%) in April.
Key Factors
Manufacturing production declined 0.7%, due primarily to a sharp downturn in truck assemblies that was the result of a major fire at a Ford parts supplier. Excluding motor vehicles and parts, factory output was still down 0.2%.
The index for mining rose 1.8%, bolstered by continued gains in the oil and gas sector
The index for utilities increased 1.1%, with a gain for electric utilities outweighing a drop for gas utilities
Motor vehicle assemblies declined 10.0% to a seasonally adjusted annual rate of 10.45 million. Truck assemblies fell 9.9% to 7.75 million
Big Picture
The key takeaway from the report is that the decline in overall production was driven by weakness in manufacturing production.
| Category | MAY | APR | MAR | FEB | JAN |
| --- | --- | --- | --- | --- | --- |
| Industrial Production | | | | | |
| Total Index | -0.1% | 0.9% | 0.5% | 0.4% | -0.3% |
| Manufacturing | -0.7% | 0.6% | -0.1% | 1.4% | -0.5% |
| Utilities | 1.1% | 3.2% | 4.1% | -9.6% | 2.1% |
| Mining | 1.8% | 1.0% | 1.4% | 2.9% | -1.0% |
| Capacity Utilization | | | | | |
| Total Industry | 77.9% | 78.1% | 77.5% | 77.2% | 77.0% |
| Manufacturing | 75.3% | 75.9% | 75.5% | 75.7% | 74.7% |