Economic
Last Update: 15-Feb-19 09:55 ET
Industrial Production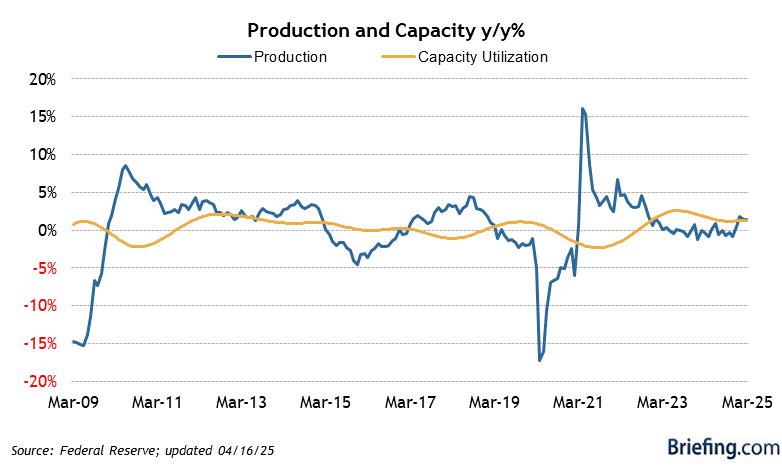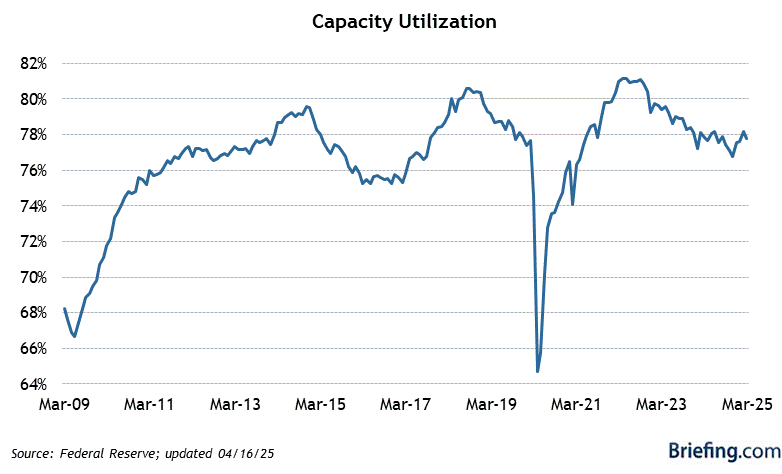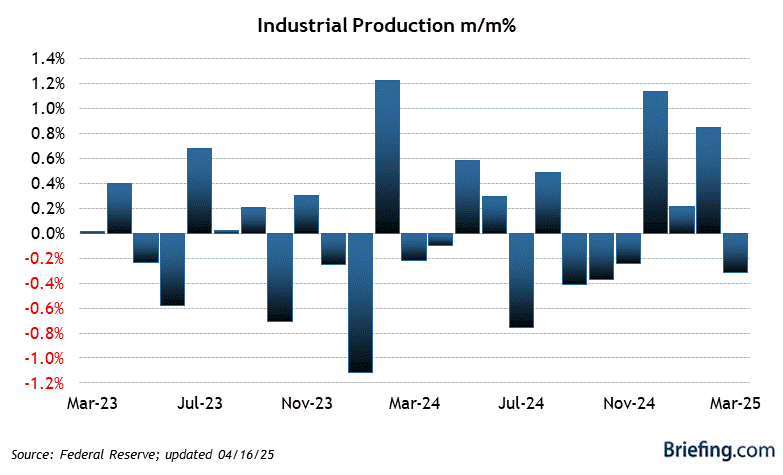 Highlights
Industrial production declined 0.6% in January (Briefing.com consensus +0.2%) following a downwardly revised 0.1% increase (from 0.3%) in December. The January downturn was driven by a large drop in motor vehicle assemblies.
The capacity utilization rate fell to 78.2% (Briefing.com consensus 78.8%) from an upwardly revised 78.8% (from 78.7%).
Key Factors
Motor vehicle assemblies dropped from 12.3 million units at an annual rate in December (the highest pace since June 2016) to 10.6 million units in January (the lowest pace since May 2018).
Mining out put edged up 0.1%.
The output of utilities increased 0.4%.
Big Picture
The key takeaway from the report is that it will feed into concerns about a slowing U.S. economy. Manufacturing production fell 0.9% due to the downturn in motor vehicle assemblies, but excluding that factor, manufacturing production was still down 0.2% with decreases logged for most other major durable goods industries.
| Category | JAN | DEC | NOV | OCT | SEP |
| --- | --- | --- | --- | --- | --- |
| Industrial Production | | | | | |
| Total Index | -0.6% | 0.1% | 0.6% | 0.3% | 0.2% |
| Manufacturing | -0.9% | 0.8% | 0.3% | -0.1% | 0.2% |
| Utilities | 0.4% | -6.9% | 2.2% | 3.4% | -1.3% |
| Mining | 0.1% | 1.5% | 1.0% | 0.2% | 0.9% |
| Capacity Utilization | | | | | |
| Total Industry | 78.2% | 78.8% | 78.9% | 78.6% | 78.5% |
| Manufacturing | 75.8% | 76.5% | 76.0% | 75.9% | 76.1% |