Economic
Last Update: 15-Mar-19 09:41 ET
Industrial Production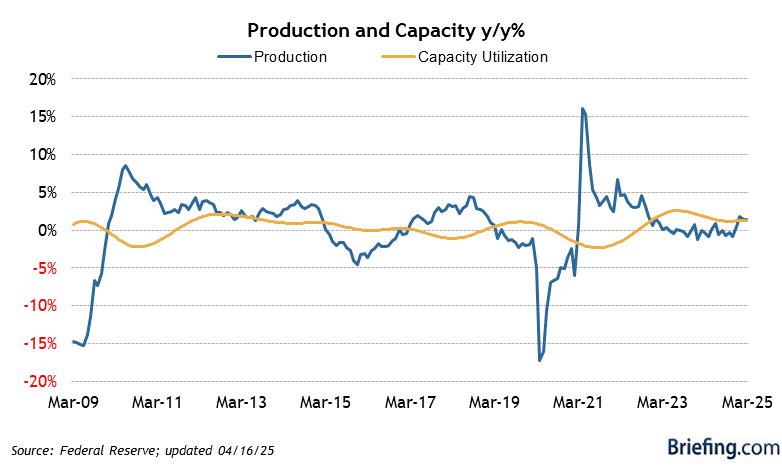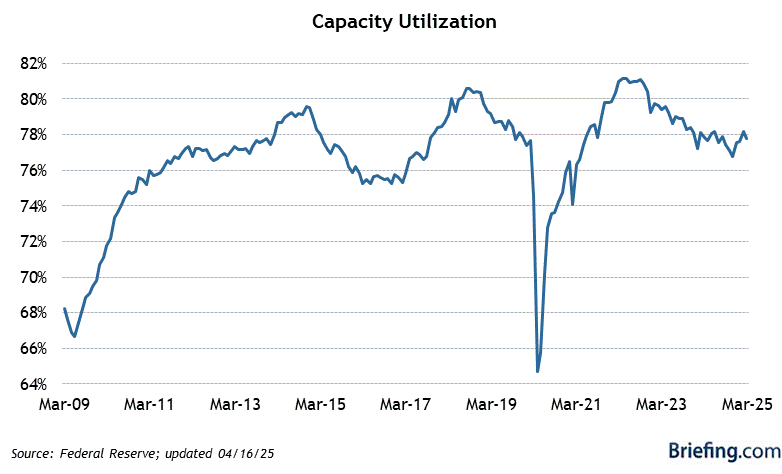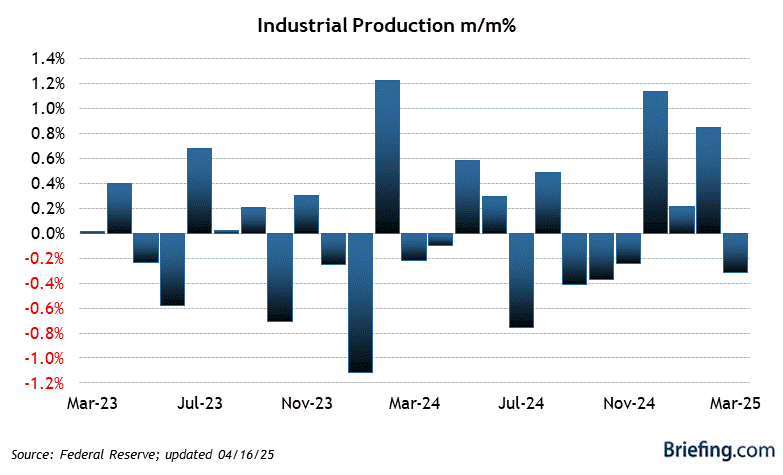 Highlights
Industrial production increased just 0.1% in February (Briefing.com consensus +0.4%) on the heels of an upwardly revised 0.4% decline (from -0.6%) in January.
The capacity utilization rate dipped to 78.2% (Briefing.com consensus 78.5%) from an upwardly revised 78.3% (from 78.2%) in January.
Key Factors
The drop in manufacturing output was led by a 0.1% decline in durable goods manufacturing, which included a 1.9% decline in machinery, and a 0.7% decline in nondurable goods manufacturing, which was led by a 5.2% decline in petroleum and coal products.
The output of utilities jumped 3.7% on the heels of a 0.9% decline in January.
Mining output rose 0.3% for the second straight month.
On a year-over-year basis, total industrial production was up 3.5%. The capacity utilization rate is 1.6 percentage points below its long-run (1972-2018) average.
Big Picture
The key takeaway from the report is that manufacturing output remained weak, declining 0.4%, which was the second consecutive monthly decline.
| Category | FEB | JAN | DEC | NOV | OCT |
| --- | --- | --- | --- | --- | --- |
| Industrial Production | | | | | |
| Total Index | 0.1% | -0.4% | 0.1% | 0.6% | 0.1% |
| Manufacturing | -0.4% | -0.5% | 0.6% | 0.2% | -0.3% |
| Utilities | 3.7% | -0.9% | -5.2% | 2.4% | 3.4% |
| Mining | 0.3% | 0.3% | 1.4% | 1.0% | 0.2% |
| Capacity Utilization | | | | | |
| Total Industry | 78.2% | 78.3% | 78.7% | 78.8% | 78.5% |
| Manufacturing | 75.4% | 75.8% | 76.2% | 75.9% | 75.8% |