Economic
Last Update: 29-Jan-18 09:22 ET
Personal Income and Spending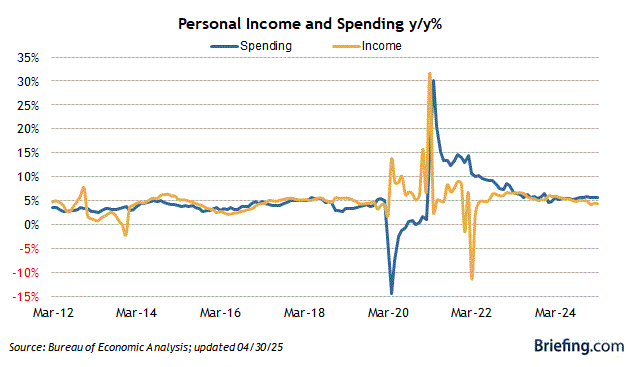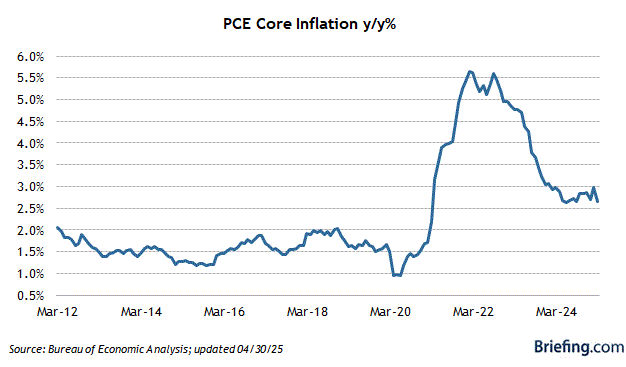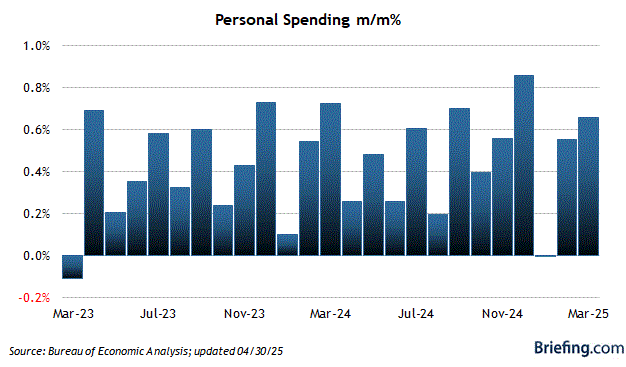 Highlights
Personal income increased 0.4%, as expected, while personal spending also increased 0.4%. The latter was a bit weaker than the Briefing.com consensus estimate of 0.5%, yet any disappointment there was tempered by the recognition that the personal spending increase for November was revised up to 0.8% from 0.6% and that this data was embedded in last Friday's advance estimate for Q4 GDP.
The PCE Price Index was up 0.1% (Briefing.com consensus +0.2%) and the core-PCE price Index, which excludes food and energy, was also up 0.2%, as expected. Those monthly increases left the PCE Price Index up 1.7% year-over-year, down from 1.8% in November, and the core PCE Price Index up 1.5% year-over-year, unchanged from November.
Key Factors
Wages and salaries increased 0.5% in December, which helped drive the increase in personal income along with a 1.2% gain in personal interest income.
Real disposable personal income increased 1.2% in 2017, versus 1.4% in 2016
Real personal spending increased 2.7% in 2017, which was the same increase as in 2016
Big Picture
The inflation data isn't going to alter the market's expectation that the Federal Reserve is likely to raise the fed funds rate again at its March meeting. That's one key takeaway from the report.
The other key takeaway is that the personal savings rate dropped from 2.5% to 2.4%, which is its lowest level since 2005, underscoring the notion that consumers might be saving less because they are feeling better about their job/income prospects.
| Category | DEC | NOV | OCT | SEP | AUG |
| --- | --- | --- | --- | --- | --- |
| Personal Income | | | | | |
| Total Income | 0.4% | 0.3% | 0.4% | 0.5% | 0.2% |
| Wage and Salary | 0.5% | 0.4% | 0.2% | 0.5% | 0.1% |
| Disposable Income | 0.3% | 0.3% | 0.3% | 0.4% | 0.1% |
| Savings Rate | 2.4% | 2.5% | 3.0% | 3.0% | 3.5% |
| Personal Consumption | | | | | |
| Total (Nominal) | 0.4% | 0.8% | 0.3% | 1.0% | 0.2% |
| Total (Real, Chain $) | 0.3% | 0.5% | 0.1% | 0.6% | 0.0% |
| Core PCE Deflator | | | | | |
| Month/Month | 0.2% | 0.1% | 0.2% | 0.2% | 0.1% |
| Year/Year | 1.5% | 1.5% | 1.4% | 1.4% | 1.3% |