Economic
Last Update: 01-Mar-19 09:29 ET
Personal Income and Spending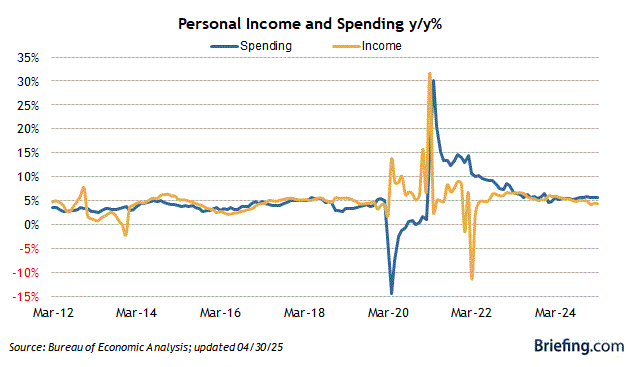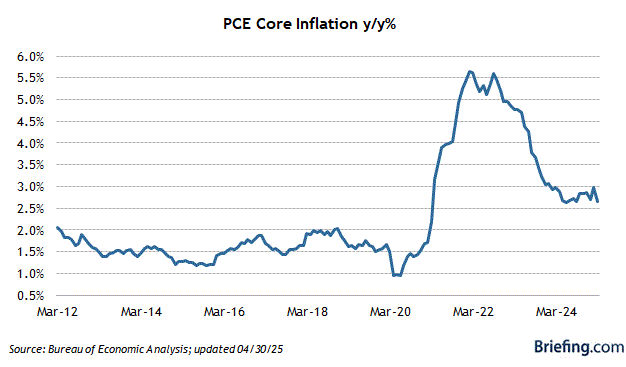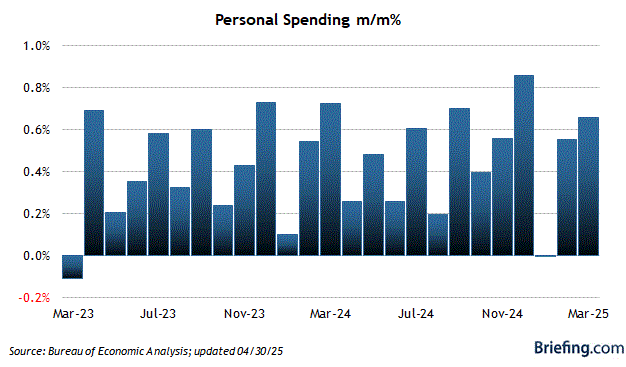 Highlights
Personal income increased 1.0% in December (Briefing.com consensus +0.3%) and declined 0.1% in January (Briefing.com consensus +0.3%). Personal spending declined 0.5% in December (Briefing.com consensus -0.2%).
The personal savings rate in December surged to 7.6% from 6.1% in November.
The PCE Price Index for December was up 0.1% while the core PCE Price Index, which excludes food and energy, increased 0.2% (Briefing.com consensus +0.1%). That left the those indexes up 1.7% and 1.9%, respectively, year-over-year and below the Fed's longer-run inflation target.
Key Factors
Frankly, this data is challenging to interpret. Personal income in December was up 1.0% while real personal spending declined 0.6% and the personal savings rate jumped to 7.6% from 6.1%. On the surface of things, one could argue that the stock market volatility and talk of recession in December drove consumers to save more and spend less, yet the Q4 GDP report out yesterday, which incorporates this data, seemingly refutes that notion.
The 0.1% decline in personal income in January was fueled by a 1.6% decline in proprietors' income and a 3.4% drop in personal income receipts on assets that was led by a 6.3% decline in personal dividend income. The drop in personal income in January will leave the Fed in its patient mindset, waiting to see if that is revised and/or bleeds through to weaker spending activity in the first quarter.
Big Picture
The key takeaway from the report is that there is a fair amount of signaling noise that will likely prompt the market to dismiss it and encourage the Fed to stick by a wait-and-see mindset, buying more time for the stock market to exist without fear of a Fed rate hike.
| Category | JAN | DEC | NOV | OCT | SEP |
| --- | --- | --- | --- | --- | --- |
| Personal Income | | | | | |
| Total Income | -0.1% | 1.0% | 0.3% | 0.5% | 0.2% |
| Wage and Salary | 0.3% | 0.5% | 0.2% | 0.4% | 0.3% |
| Disposable Income | -0.2% | 1.1% | 0.3% | 0.6% | 0.2% |
| Savings Rate | | 7.6% | 6.1% | 6.4% | 6.4% |
| Personal Consumption | | | | | |
| Total (Nominal) | | -0.5% | 0.6% | 0.7% | 0.1% |
| Total (Real, Chain $) | | -0.6% | 0.5% | 0.5% | 0.0% |
| Core PCE Deflator | | | | | |
| Month/Month | | 0.2% | 0.2% | 0.1% | 0.2% |
| Year/Year | | 1.9% | 1.9% | 1.8% | 2.0% |