Economic
Last Update: 29-May-20 09:26 ET
Personal Income and Spending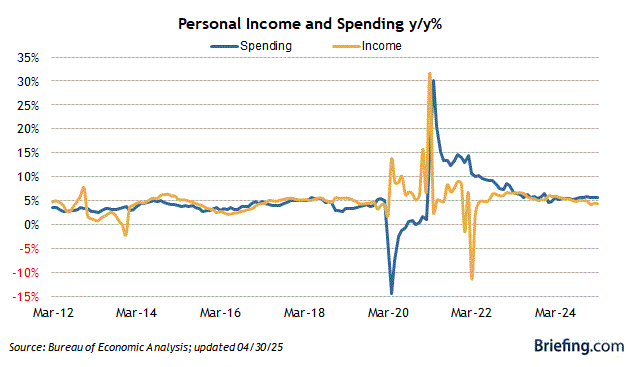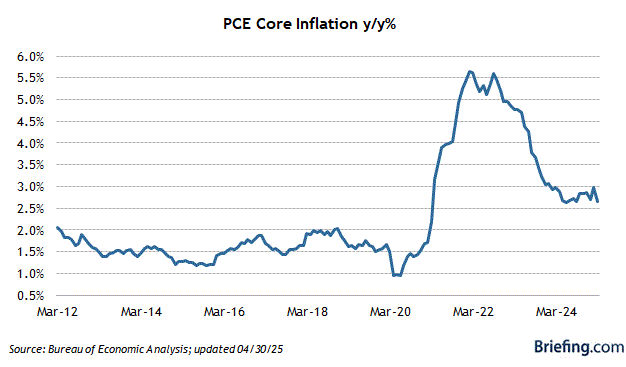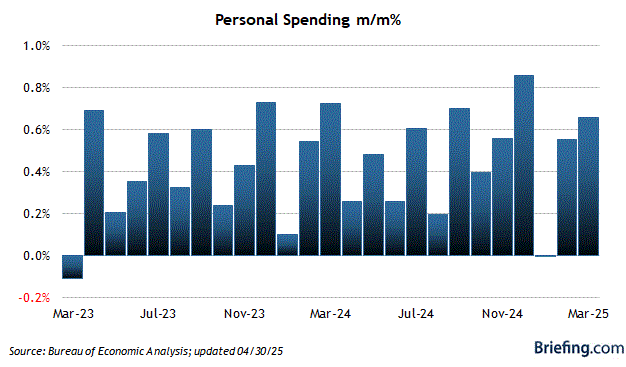 Highlights
Personal income in April surged 10.5% (Briefing.com consensus -6.5%) with a huge assist from the receipt of economic recovery payments authorized by Congress. Personal spending, however, plummeted 13.6% (Briefing.com consensus -15.0%) with real PCE declining 13.2%.
The PCE Price Index fell 0.5% (Briefing.com consensus -0.6%) while the core PCE Price Index, which excludes food and energy, dropped 0.4% (Briefing.com consensus -0.3%). That left the yr/yr changes at 0.5% and 1.0%, respectively, versus 1.3% and 1.7% for March.
Key Factors
Wages and salaries declined 8.0% on the heels of a 3.5% decline in March.
Proprietors' income declined 12.2% after falling 8.4% in March.
Personal current transfer receipts soared 89.6% on the back of a 2.1% increase in March.
Real disposable personal income was up 13.8% yr/yr while real personal consumption expenditures were down 17.3% yr/yr.
Big Picture
The key takeaway we think is that the personal savings rate, as a percentage of disposable income, skyrocketed to 33.0%! That's a lot of pent-up spending potential. Then again, it might also reflect an increased propensity to save money in preparation for a long recovery and extended period of high unemployment. What is done with those savings will be key to the recovery trajectory.
| Category | APR | MAR | FEB | JAN | DEC |
| --- | --- | --- | --- | --- | --- |
| Personal Income | | | | | |
| Total Income | 10.5% | -2.2% | 0.5% | 0.6% | 0.2% |
| Wage and Salary | -8.0% | -3.5% | 0.5% | 0.5% | 0.3% |
| Disposable Income | 12.9% | -2.1% | 0.5% | 0.6% | 0.2% |
| Savings Rate | 33.0% | 12.7% | 8.2% | 7.9% | 7.7% |
| Personal Consumption | | | | | |
| Total (Nominal) | -13.6% | -6.9% | 0.2% | 0.4% | 0.4% |
| Total (Real, Chain $) | -13.2% | -6.7% | 0.1% | 0.3% | 0.1% |
| Core PCE Deflator | | | | | |
| Month/Month | -0.4% | 0.0% | 0.1% | 0.2% | 0.2% |
| Year/Year | 1.0% | 1.7% | 1.8% | 1.7% | 1.6% |