Economic
Last Update: 29-Jun-18 09:22 ET
Personal Income and Spending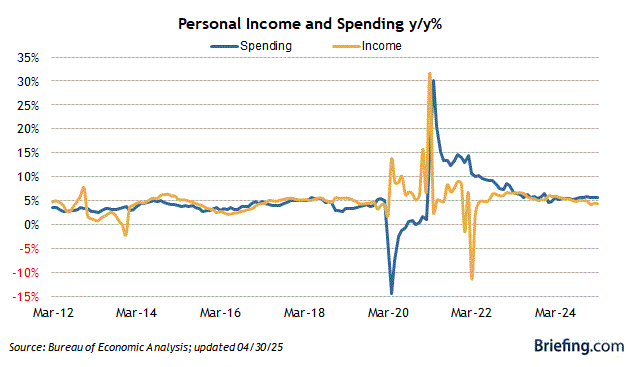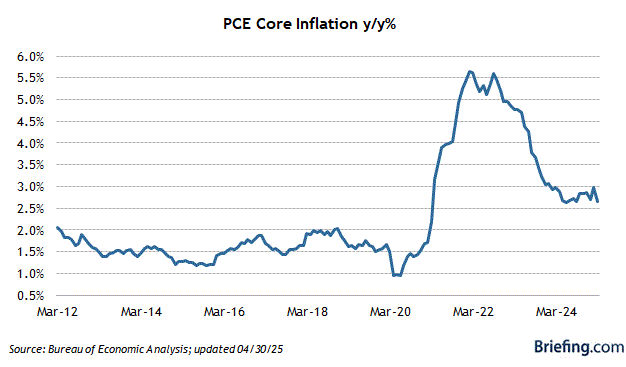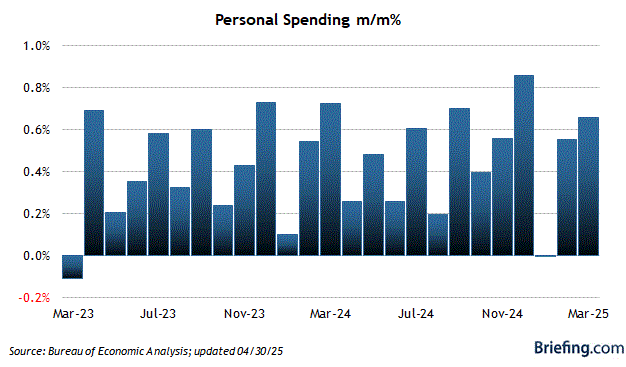 Highlights
Personal income jumped 0.4% in May, as expected, yet personal spending rose only 0.2% (Briefing.com consensus +0.4%), which was weaker than expected.
Key Factors
The PCE Price Index and core PCE Price Index, which excludes food and energy, were both up 0.2%, as expected. That left the year-over-year gains at 2.3% and 2.0%, respectively.
The increase in personal income was led by a 0.3% increase in wages and salaries and a 1.5% jump in personal dividend income.
Real PCE was flat, as a 0.3% increase in real goods spending was offset by a 0.2% decrease in real services spending.
The personal savings rate was 3.2% versus 3.0% in April.
Big Picture
The key takeaway from the report is twofold: (1) Real PCE was flat, which is likely to prompt some downward revisions to Q2 GDP forecasts and (2) the price indexes are moving in the direction anticipated by the Fed, which means the Fed is also likely to keep moving the fed funds rate higher as anticipated.
| Category | MAY | APR | MAR | FEB | JAN |
| --- | --- | --- | --- | --- | --- |
| Personal Income | | | | | |
| Total Income | 0.4% | 0.2% | 0.3% | 0.4% | 0.4% |
| Wage and Salary | 0.3% | 0.3% | 0.2% | 0.4% | 0.5% |
| Disposable Income | 0.4% | 0.3% | 0.3% | 0.3% | 0.8% |
| Savings Rate | 3.2% | 3.0% | 3.2% | 3.5% | 3.1% |
| Personal Consumption | | | | | |
| Total (Nominal) | 0.2% | 0.5% | 0.6% | -0.1% | 0.1% |
| Total (Real, Chain $) | 0.0% | 0.3% | 0.6% | -0.2% | -0.2% |
| Core PCE Deflator | | | | | |
| Month/Month | 0.2% | 0.2% | 0.2% | 0.2% | 0.3% |
| Year/Year | 2.0% | 1.8% | 1.8% | 1.5% | 1.5% |