Economic
Last Update: 30-Aug-19 09:24 ET
Personal Income and Spending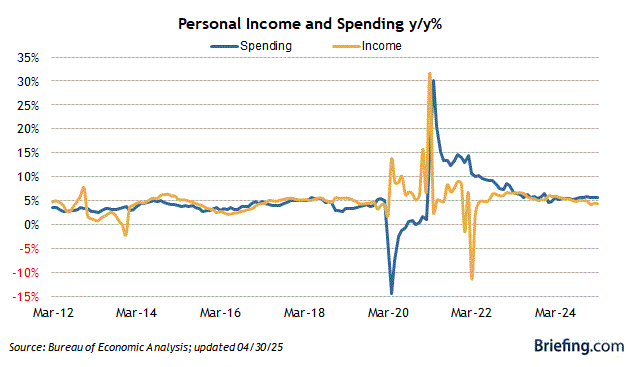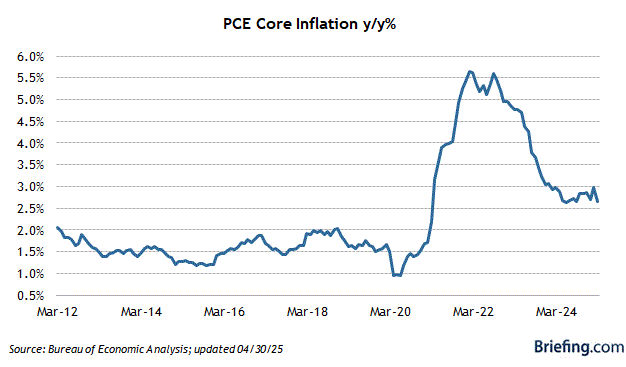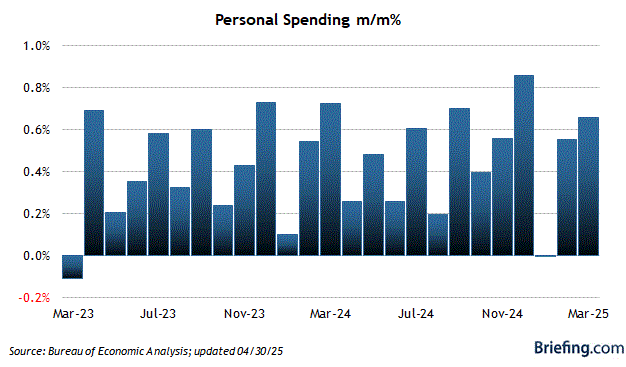 Highlights
Personal income increased 0.1% m/m in July (Briefing.com consensus +0.4%), which was weaker than expected thanks to a 1.8% decline in personal interest income, but personal spending increased a stronger-than-expected 0.6% (Briefing.com consensus +0.5%).
The PCE Price Index and core PCE Price Index, which excludes food and energy, were both up 0.2%, which was also expected.
Key Factors
The m/m changes in the price indexes left total PCE up 1.4% yr/yr, versus 1.3% in June, and the core PCE Price Index up 1.6%, which was unchanged from June. Both are running below the Fed's 2.0% longer-run target, yet both are trending in stable fashion.
Real personal spending increased 0.4% following a 0.2% increase in June.
Real disposable personal income was up 0.1% after increasing 0.3% in June.
The personal savings rate as a percentage of disposable personal income slipped to 7.7% from 8.0%.
A 0.2% increase in wages and salaries, and a 0.4% increase in personal transfer receipts, underpinned the modest gain in personal income.
Big Picture
The key takeaway from the report is that consumer spending is solid and inflation is stable, albeit at below-target levels. All in all, there isn't a lot of ammunition in the report for the Fed to fire off a 50-basis points rate cut at its September meeting.
| Category | JUL | JUN | MAY | APR | MAR |
| --- | --- | --- | --- | --- | --- |
| Personal Income | | | | | |
| Total Income | 0.1% | 0.5% | 0.4% | 0.4% | 0.4% |
| Wage and Salary | 0.2% | 0.5% | 0.1% | 0.1% | 0.8% |
| Disposable Income | 0.3% | 0.4% | 0.3% | 0.4% | 0.4% |
| Savings Rate | 7.7% | 8.0% | 8.0% | 8.1% | 8.4% |
| Personal Consumption | | | | | |
| Total (Nominal) | 0.6% | 0.3% | 0.5% | 0.7% | 1.0% |
| Total (Real, Chain $) | 0.4% | 0.2% | 0.4% | 0.4% | 0.8% |
| Core PCE Deflator | | | | | |
| Month/Month | 0.2% | 0.2% | 0.1% | 0.2% | 0.1% |
| Year/Year | 1.6% | 1.6% | 1.5% | 1.5% | 1.5% |