Economic
Last Update: 26-Jan-18 17:43 ET
GDP-Adv.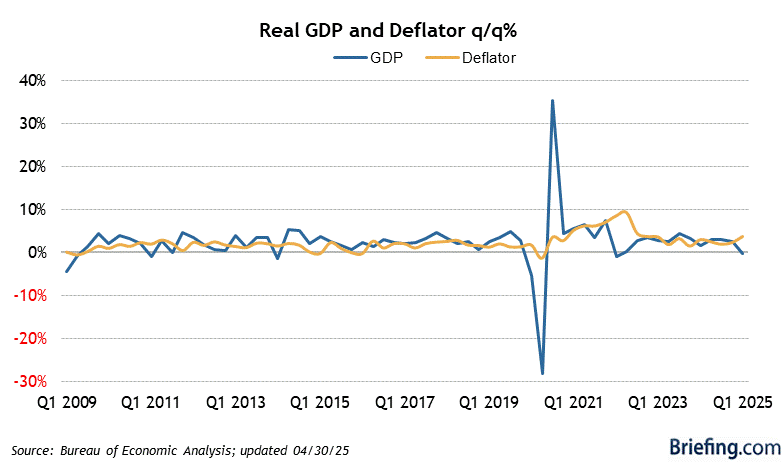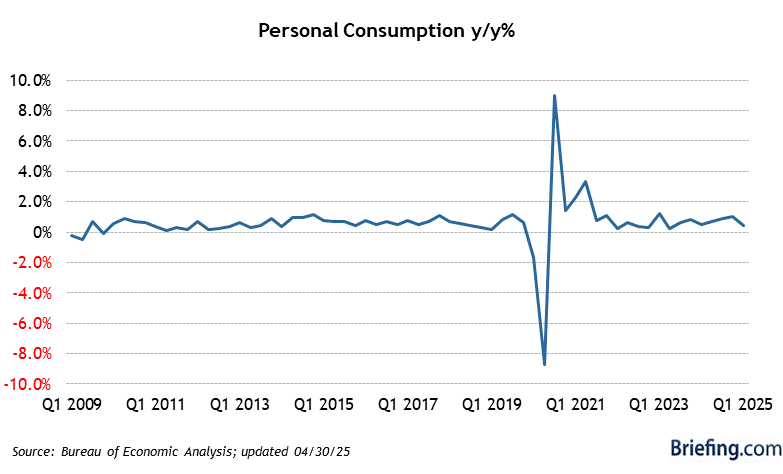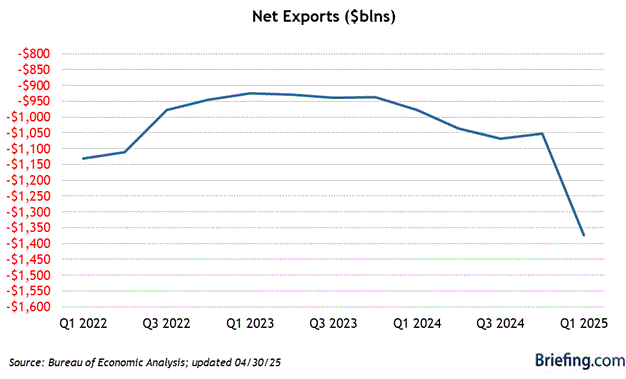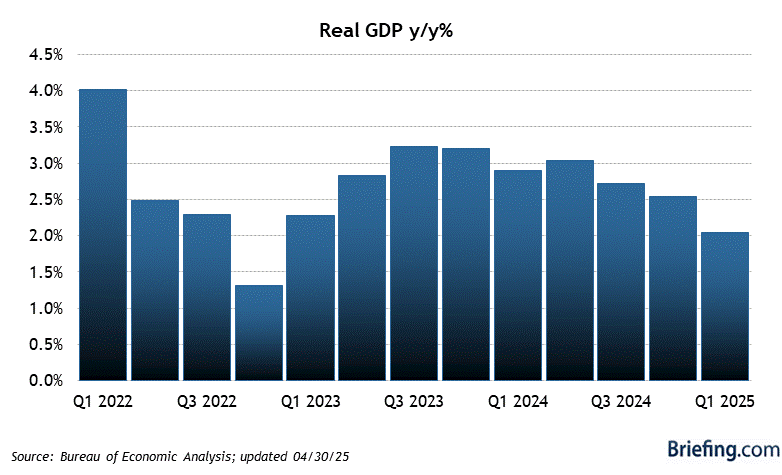 Highlights
Real GDP increased at an annual rate of 2.6% in the fourth quarter, according to the advance estimate (Briefing.com consensus +2.9%) while the GDP Price Deflator increased 2.4%, as expected.
Real GDP increased 2.3% in 2017 versus 1.5% in 2016.
Key Factors
The headline GDP number might have been weaker than expected, but it should be noted that real final sales, which excludes the change in inventories, increased 3.2%. That was the strongest growth rate since the second quarter of 2015.
Personal consumption expenditures contributed 2.58 percentage points to real GDP growth
Gross private domestic investment contributed 0.6 percentage points to real GDP growth, including a 0.67 percentage point subtraction for the change in private inventories
Government spending added 0.5 percentage points to real GDP growth
Net exports acted as the primary drag, subtracting 1.13 percentage points from real GDP growth
Big Picture
The key takeaway from the report is that consumer spending, which accounts for roughly 70% of GDP, was alive and well in the fourth quarter, increasing 3.8% -- the fastest growth rate since the first quarter of 2015. Moreover, business spending also increased, with spending on equipment increasing 11.4% -- the strongest since the third quarter of 2014.
| Category | Q4 | Q3 | Q2 | Q1 | Q4 |
| --- | --- | --- | --- | --- | --- |
| GDP | 2.6% | 3.2% | 3.1% | 1.2% | 1.8% |
| Inventories (change) | $9.2B | $38.5B | $5.5B | $1.2B | $63.1B |
| Final Sales | 3.2% | 2.4% | 2.9% | 2.7% | 0.7% |
| PCE | 3.8% | 2.2% | 3.3% | 1.9% | 2.9% |
| Nonresidential Inv. | 6.8% | 4.7% | 6.7% | 7.1% | 0.2% |
| Structures | 1.4% | -7.0% | 7.0% | 14.8% | -2.2% |
| Equipment | 11.4% | 10.8% | 8.8% | 4.4% | 1.8% |
| Intellectual Property | 4.5% | 5.2% | 3.7% | 5.8% | -0.4% |
| Residential Inv. | 11.6% | -4.7% | -7.3% | 11.1% | 7.1% |
| Net Exports | -$652.6B | -$597.5B | -$613.6B | -$622.2B | -$631.1B |
| Export | 6.9% | 2.1% | 3.5% | 7.3% | -3.8% |
| Imports | 13.9% | -0.7% | 1.5% | 4.3% | 8.1% |
| Government | 3.0% | 0.7% | -0.2% | -0.6% | 0.2% |
| GDP Price Index | 2.4% | 2.1% | 1.0% | 2.0% | 2.0% |