Economic
Last Update: 30-Oct-19 09:15 ET
GDP-Adv.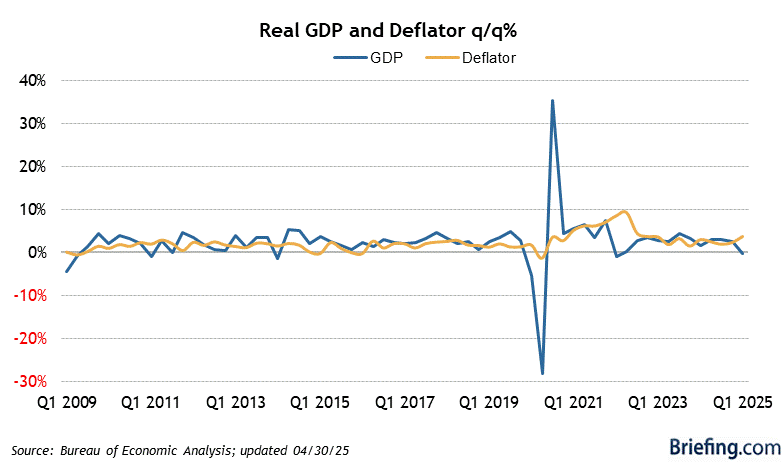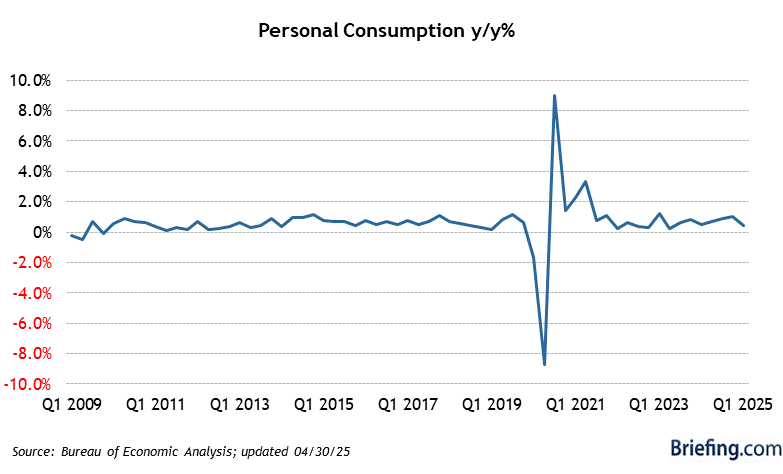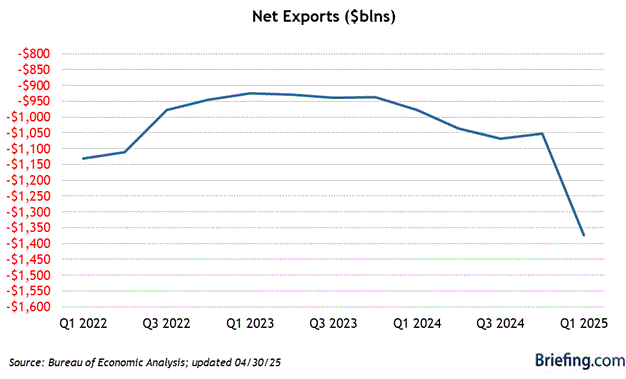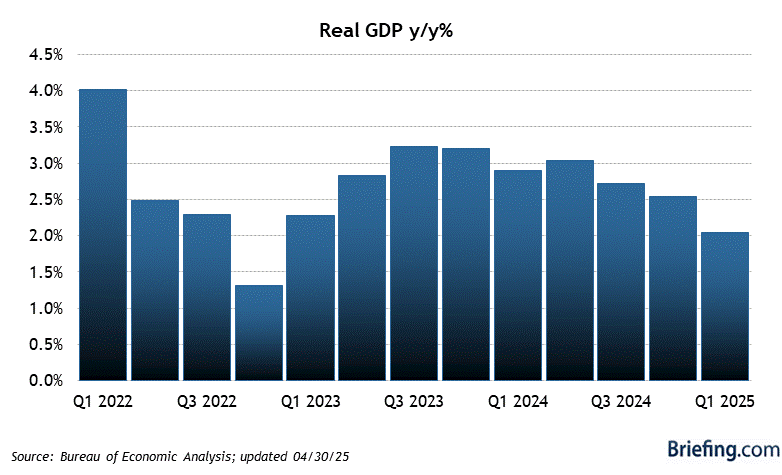 Highlights
The Advance Q3 GDP report showed output rising at an annual rate of 1.9% (Briefing.com consensus 1.5%) following the 2.0% growth rate seen for the second quarter.
The GDP Price Deflator was up 1.7% (Briefing.com consensus +2.0%) following a 2.4% increase in the second quarter.
Key Factors
Gross private domestic investment declined 1.5%, as a 5.1% increase in residential investment was offset by a 3.0% decline in nonresidential investment.
Personal consumption expenditures contributed 1.93 percentage points to Q3 growth.
Gross private domestic investment subtracted 0.27 percentage points. Nonresidential fixed investment subtracted 0.40 percentage points while residential fixed investment added 0.18 percentage points. The change in private inventories subtracted 0.05 percentage points.
Net exports subtracted 0.08 percentage points. Imports (-0.17 pp) were the main drag there.
Government spending added 0.35 percentage points, with federal spending accounting for 0.22 percentage points.
Big Picture
The key takeaway from the report is that the third quarter growth stemmed entirely from consumer spending, which slowed to 2.9% from 4.6% in the second quarter, and to government spending. Real final domestic sales, which exclude the change in inventories, were up 2.0% versus 3.0% in the third quarter.
| Category | Q3 | Q2 | Q1 | Q4 | Q3 |
| --- | --- | --- | --- | --- | --- |
| GDP | 1.9% | 2.0% | 3.1% | 1.1% | 2.9% |
| Inventories (change) | $69.0B | $69.4B | $116.0B | $93.0B | $87.2B |
| Final Sales | 2.0% | 3.0% | 2.6% | 1.0% | 0.8% |
| PCE | 2.9% | 4.6% | 1.1% | 1.4% | 3.5% |
| Nonresidential Inv. | -3.0% | -1.0% | 4.4% | 4.8% | 2.1% |
| Structures | -15.3% | -11.1% | 4.0% | -9.0% | -2.1% |
| Equipment | -3.8% | 0.8% | -0.1% | 7.4% | 2.9% |
| Intellectual Property | 6.6% | 3.6% | 10.8% | 11.7% | 4.1% |
| Residential Inv. | 5.1% | -3.0% | -1.0% | -4.7% | -4.0% |
| Net Exports | -$986.4B | -$980.7B | -$944.0B | -$983.0B | -$962.4B |
| Export | 0.7% | -5.7% | 4.1% | 1.5% | -6.2% |
| Imports | 1.2% | 0.0% | -1.5% | 3.5% | 8.6% |
| Government | 2.0% | 4.8% | 2.9% | -0.4% | 2.1% |
| GDP Price Index | 1.7% | 2.4% | 1.1% | 1.6% | 2.0% |