Economic
Last Update: 14-May-18 18:13 ET
GDP-Adv.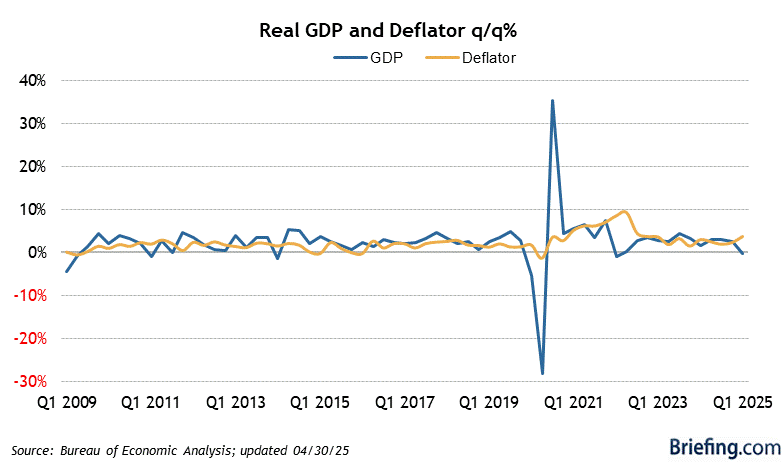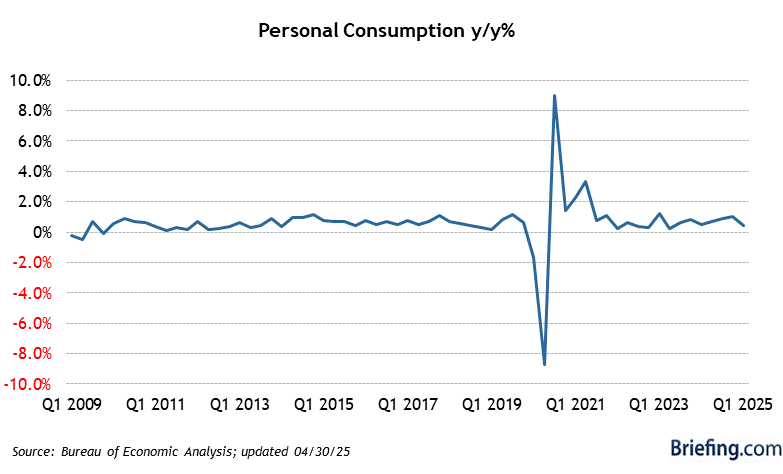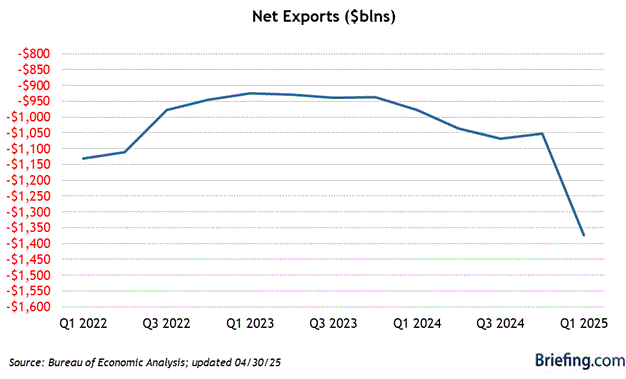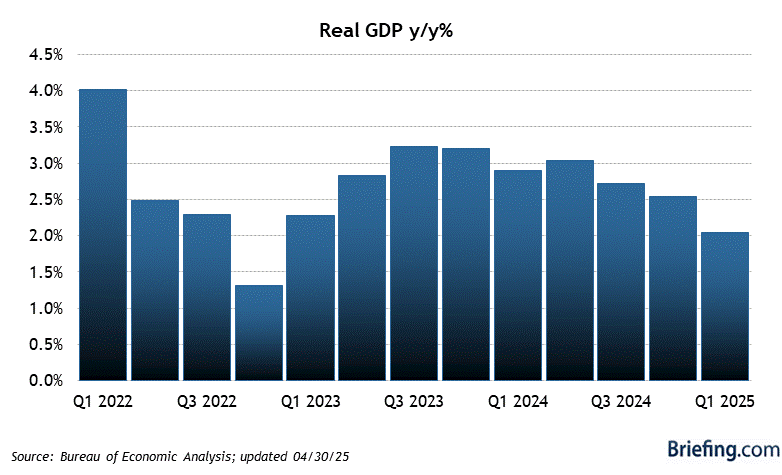 Highlights
First quarter GDP increased at an annualized rate of 2.3%. That was above the Briefing.com consensus estimate of 2.1%, yet it was a deceleration from the fourth quarter growth rate of 2.9%.
The GDP Price Deflator was up 2.0% (Briefing.com consensus +2.2%) after increasing 2.3% in the fourth quarter.
Key Factors
PCE contributed 0.73 percentage points
Gross private domestic investment contributed 1.19 percentage points, with fixed investment adding 0.76 percentage points and the change in private inventories adding 0.43 percentage points
Net exports of goods and services contributed 0.20 percentage points
Government spending contributed 0.20 percentage points
Big Picture
The key takeaway from the report is that consumer spending was weak in the first quarter, increasing just 1.1% after increasing 4.0% in the fourth quarter. Real final sales, which exclude the change in inventories and are often viewed as the better gauge of growth, were up only 1.9% versus the prior ten quarter average of 2.2%.
| Category | Q1 | Q4 | Q3 | Q2 | Q1 |
| --- | --- | --- | --- | --- | --- |
| GDP | 2.3% | 2.9% | 3.2% | 3.1% | 1.2% |
| Inventories (change) | $33.1B | $15.6B | $38.5B | $5.5B | $1.2B |
| Final Sales | 1.9% | 3.4% | 2.4% | 2.9% | 2.7% |
| PCE | 1.1% | 4.0% | 2.2% | 3.3% | 1.9% |
| Nonresidential Inv. | 6.1% | 6.8% | 4.7% | 6.7% | 7.1% |
| Structures | 12.3% | 6.3% | -7.0% | 7.0% | 14.8% |
| Equipment | 4.7% | 11.5% | 10.8% | 8.8% | 4.4% |
| Intellectual Property | 3.6% | 0.8% | 5.2% | 3.7% | 5.8% |
| Residential Inv. | 0.0% | 12.8% | -4.7% | -7.3% | 11.1% |
| Net Exports | -$645.9B | -$653.9B | -$597.5B | -$613.6B | -$622.2B |
| Export | 4.8% | 7.0% | 2.1% | 3.5% | 7.3% |
| Imports | 2.6% | 14.1% | -0.7% | 1.5% | 4.3% |
| Government | 1.2% | 3.0% | 0.7% | -0.2% | -0.6% |
| GDP Price Index | 2.0% | 2.3% | 2.1% | 1.0% | 2.0% |