Economic
Last Update: 28-Jun-18 09:29 ET
GDP-Adv.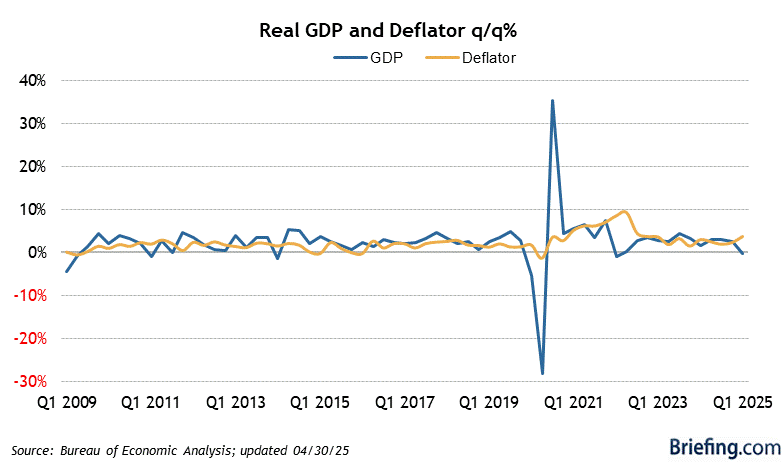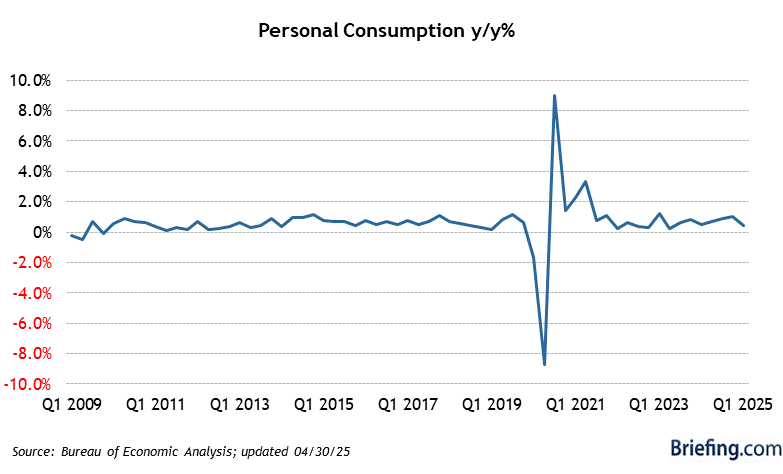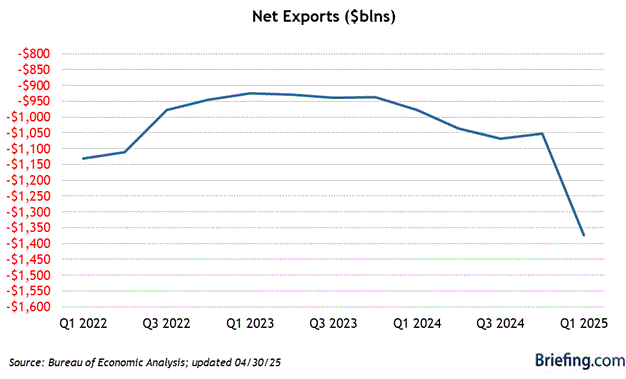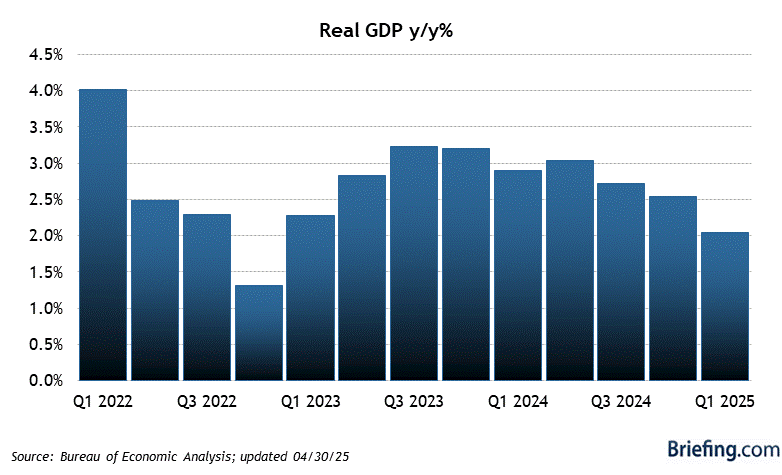 Highlights
The third estimate for Q1 GDP contained a downward revision to 2.0% (Briefing.com consensus 2.2%) from the second estimate of 2.2%, as downward revisions to private inventory investment and personal consumption expenditures weighed.
The GDP Deflator was revised up to 2.2% (Briefing.com consensus 1.9%) from 1.9%.
Key Factors
Personal consumption expenditures increased 0.9% versus the second estimate of 1.0%
The change in private inventories subtracted 0.01 percentage points from GDP growth, versus the second estimate, which showed it adding 0.13 percentage points
Real final sales of domestic product were up 2.0%, unchanged from the second estimate
Big Picture
The key takeaway from the report is that personal spending was weak in the first quarter, yet the relevant takeaway today is that this is a dated number and a pickup in personal spending is a key reason why many Q2 GDP forecasts have a four-handle on them.
| Category | Q1 | Q4 | Q3 | Q2 | Q1 |
| --- | --- | --- | --- | --- | --- |
| GDP | 2.0% | 2.9% | 3.2% | 3.1% | 1.2% |
| Inventories (change) | $13.9B | $15.6B | $38.5B | $5.5B | $1.2B |
| Final Sales | 2.0% | 3.4% | 2.4% | 2.9% | 2.7% |
| PCE | 0.9% | 4.0% | 2.2% | 3.3% | 1.9% |
| Nonresidential Inv. | 10.4% | 6.8% | 4.7% | 6.7% | 7.1% |
| Structures | 16.2% | 6.3% | -7.0% | 7.0% | 14.8% |
| Equipment | 5.8% | 11.5% | 10.8% | 8.8% | 4.4% |
| Intellectual Property | 13.2% | 0.8% | 5.2% | 3.7% | 5.8% |
| Residential Inv. | -1.1% | 12.8% | -4.7% | -7.3% | 11.1% |
| Net Exports | -$656.8B | -$653.9B | -$597.5B | -$613.6B | -$622.2B |
| Export | 3.6% | 7.0% | 2.1% | 3.5% | 7.3% |
| Imports | 3.2% | 14.1% | -0.7% | 1.5% | 4.3% |
| Government | 1.3% | 3.0% | 0.7% | -0.2% | -0.6% |
| GDP Price Index | 2.2% | 2.3% | 2.1% | 1.0% | 2.0% |