Economic
Last Update: 01-Feb-19 09:26 ET
Nonfarm Payrolls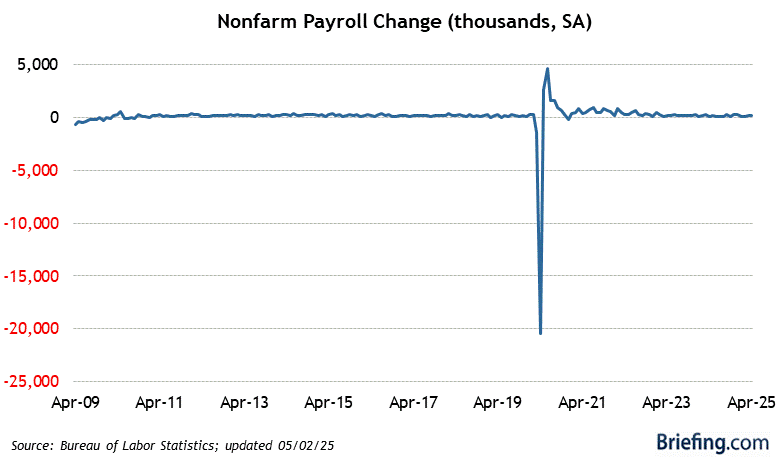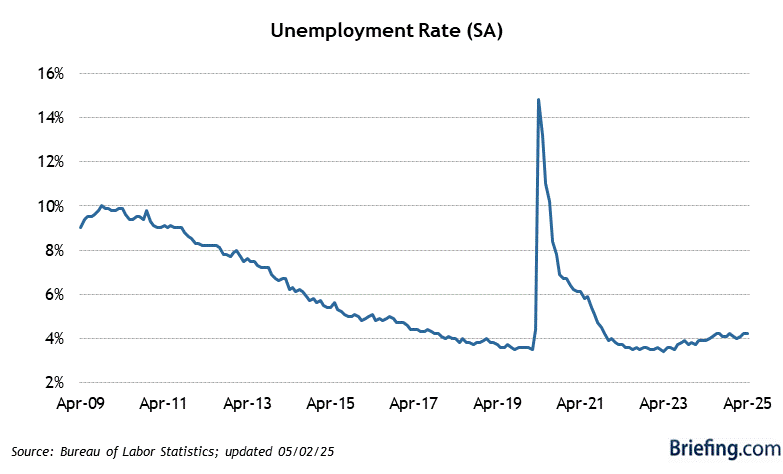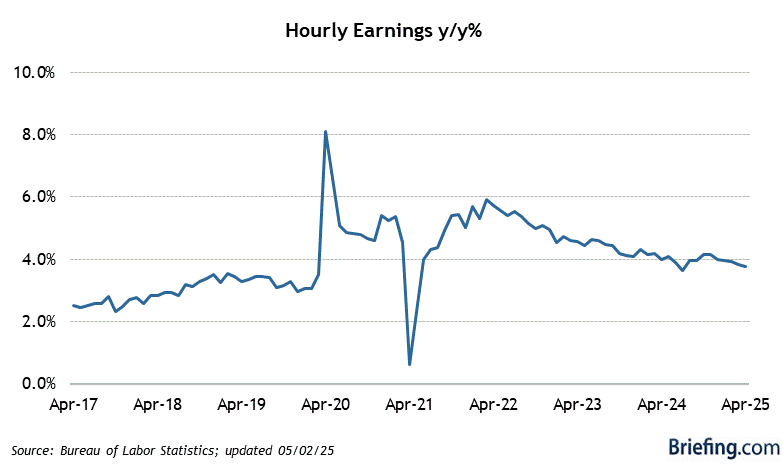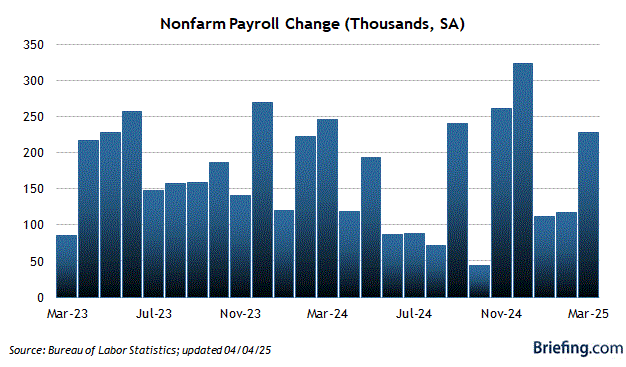 Highlights
There is a lot to take in with the January employment, including annual benchmark revisions, the effect of the partial government shutdown on the results for the Household Survey, and a rising labor force participation rate that speaks well of the growing confidence in finding a job.
Key Factors
January nonfarm payrolls increased by 304,000 (Briefing.com consensus 160,000). December nonfarm payrolls revised to 222,000 from 312,000. November nonfarm payrolls revised to 196,000 from 176,000.
January private sector payrolls increased by 296,000 (Briefing.com consensus 160,000). December private sector payrolls revised to 206,000 from 301,000. November private sector payrolls revised to 200,000 from 173,000.
January unemployment rate was 4.0% (Briefing.com consensus 3.9%) versus 3.9% in December. Persons unemployed for 27 weeks or more accounted for 19.3% of the unemployed versus 20.5% in December. The U6 unemployment rate, which accounts for unemployed and underemployed workers, was 8.1% versus 7.6% in December.
January average hourly earnings were up 0.1% (Briefing.com consensus +0.2%), after increasing 0.4% in December. Over the last 12 months, average hourly earnings have risen 3.2%, versus 3.3% for the 12 months ending in December.
The average workweek in January was 34.5 hours (Briefing.com consensus 34.4), unchanged from December. Manufacturing workweek decreased by 0.1 hour to 40.8 hours. Factory overtime decreased by 0.1 hour to 3.5 hours.
The labor force participation rate was 63.2% in January versus 63.1% in December.
Big Picture
The key takeaway from the January report is that, even with revisions that reduced total job gains in November and December by 70,000, job gains have averaged a solid 241,000 per month over the last three months, offering some data-based justification to think this economic expansion has more room to run with consumer spending providing support.
| Category | JAN | DEC | NOV | OCT | SEP |
| --- | --- | --- | --- | --- | --- |
| Establishment Survey | | | | | |
| Nonfarm Payrolls | 304K | 222K | 196K | 277K | 108K |
| Goods-Producing | 72K | 53K | 29K | 60K | 38K |
| Construction | 52K | 28K | 5K | 25K | 17K |
| Manufacturing | 13K | 20K | 27K | 29K | 18K |
| Service-Providing | 224K | 153K | 171K | 225K | 70K |
| Retail Trade | 21K | -12K | 33K | -10K | -26K |
| Financial | 13K | 4K | 3K | 14K | 14K |
| Business | 30K | 29K | 34K | 55K | 53K |
| Temporary help | 1K | 8K | 1K | 14K | 14K |
| Education/Health | 55K | 67K | 29K | 37K | 25K |
| Leisure/Hospitality | 74K | 55K | 39K | 79K | -24K |
| Government | 8K | 16K | -4K | -8K | 0K |
| Average Workweek | 34.5 | 34.5 | 34.4 | 34.5 | 34.5 |
| Production Workweek | 33.7 | 33.7 | 33.7 | 33.7 | 33.7 |
| Factory Overtime | 4.5 | 4.5 | 4.5 | 4.5 | 4.5 |
| Aggregate Hours Index | 0.3% | 0.5% | -0.2% | 0.3% | 0.0% |
| Avg Hourly Earnings | 0.1% | 0.4% | 0.3% | 0.2% | 0.3% |
| Household Survey | | | | | |
| Household Survey | | | | | |
| Civilian Unemp. Rate | 4.0% | 3.9% | 3.7% | 3.8% | 3.7% |
| Civilian Labor Force | -11K | 419K | 127K | 639K | 253K |
| Civilian Employed | -251K | 142K | 221K | 513K | 465K |
| Civilian Unemployed | 241K | 276K | -94K | 126K | -211K |