Economic
Last Update: 08-Mar-19 09:45 ET
Nonfarm Payrolls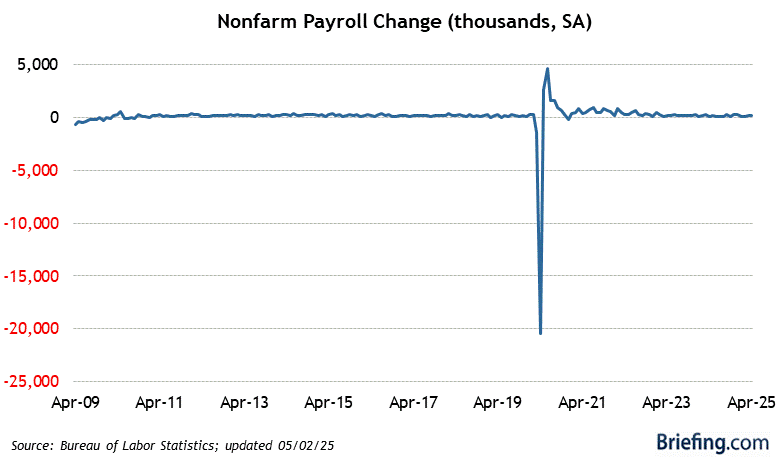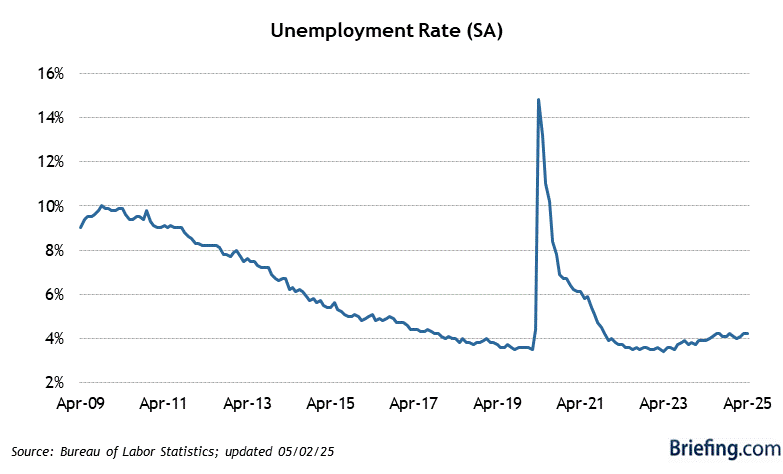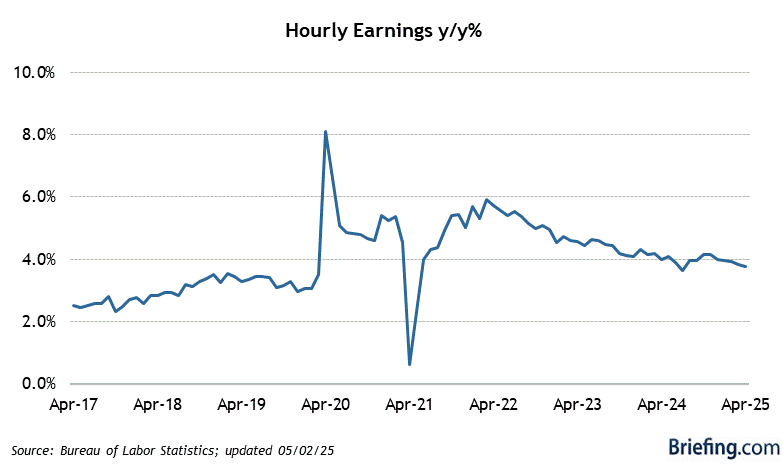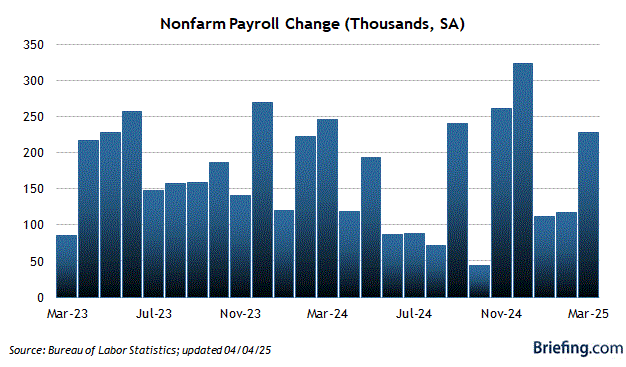 Highlights
The February Employment Situation Report muddied what had been a pretty clear labor market picture. The headline that will jump out at everyone is that nonfarm payrolls increased by only 20,000 in February, well below expectations and far off recent readings running above 200,000.
Average hourly earnings, meanwhile, increased 0.4%, which left the year-over-year wage figure up 3.4%. That's good news, as it is a positive underpinning for consumer spending.
Key Factors
February nonfarm payrolls increased by 20,000 (Briefing.com consensus 173,000). Over the past three months, job gains have averaged 186,000 per month. January nonfarm payrolls revised to 311,000 from 304,000. December nonfarm payrolls revised to 227,000 from 206,000.
February private sector payrolls increased by 25,000 (Briefing.com consensus 165,000). January private sector payrolls revised to 308,000 from 296,000. December private sector payrolls revised to 224,000 from 206,000.
February unemployment rate was 3.8% (Briefing.com consensus 3.8%) versus 4.0% in January. Persons unemployed for 27 weeks or more accounted for 20.4% of the unemployed versus 19.3% in January. The U6 unemployment rate, which accounts for unemployed and underemployed workers, was 7.3% versus 8.1% in January.
February average hourly earnings were up 0.4% (Briefing.com consensus +0.3%), after increasing 0.1% in January. Over the last 12 months, average hourly earnings have risen 3.4%, versus 3.2% for the 12 months ending in January.
The average workweek in February was 34.4 hours (Briefing.com consensus 34.5), versus 34.5 hours in January. Manufacturing workweek declined 0.1 hour to 40.7 hours. Factory overtime was unchanged at 3.5 hours.
The labor force participation rate held steady at 63.2% in February.
Big Picture
The key takeaway from the report is that the weak payrolls figure will drive thoughts of either there being a shortage of skilled labor that could drive up wages or that it is a sign of a softening job market. In other words, the key takeaway is that it is going to create uncertainty that is going to hang over the market.
| Category | FEB | JAN | DEC | NOV | OCT |
| --- | --- | --- | --- | --- | --- |
| Establishment Survey | | | | | |
| Nonfarm Payrolls | 20K | 311K | 227K | 196K | 277K |
| Goods-Producing | -32K | 81K | 40K | 29K | 60K |
| Construction | -31K | 53K | 16K | 5K | 25K |
| Manufacturing | 4K | 21K | 20K | 27K | 29K |
| Service-Providing | 57K | 227K | 184K | 171K | 225K |
| Retail Trade | -6K | 14K | -6K | 33K | -10K |
| Financial | 6K | 9K | 1K | 3K | 14K |
| Business | 42K | 15K | 37K | 34K | 55K |
| Temporary help | 6K | -12K | 14K | 1K | 14K |
| Education/Health | 4K | 64K | 67K | 29K | 37K |
| Leisure/Hospitality | 0K | 89K | 65K | 39K | 79K |
| Government | -5K | 3K | 3K | -4K | -8K |
| Average Workweek | 34.4 | 34.5 | 34.5 | 34.4 | 34.5 |
| Production Workweek | 33.6 | 33.8 | 33.7 | 33.7 | 33.7 |
| Factory Overtime | 4.4 | 4.5 | 4.5 | 4.5 | 4.5 |
| Aggregate Hours Index | -0.3% | 0.2% | 0.5% | -0.2% | 0.3% |
| Avg Hourly Earnings | 0.4% | 0.1% | 0.4% | 0.3% | 0.2% |
| Household Survey | | | | | |
| Household Survey | | | | | |
| Civilian Unemp. Rate | 3.8% | 4.0% | 3.9% | 3.7% | 3.8% |
| Civilian Labor Force | -45K | -11K | 419K | 127K | 639K |
| Civilian Employed | 255K | -251K | 142K | 221K | 513K |
| Civilian Unemployed | -300K | 241K | 276K | -94K | 126K |