Economic
Last Update: 05-Oct-18 09:43 ET
Nonfarm Payrolls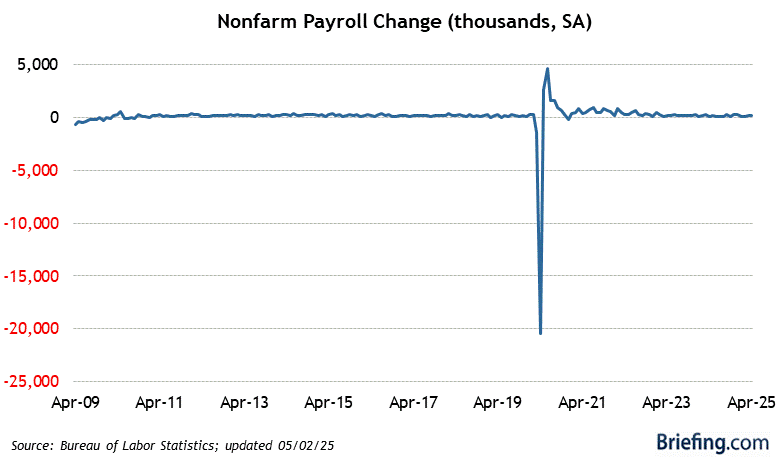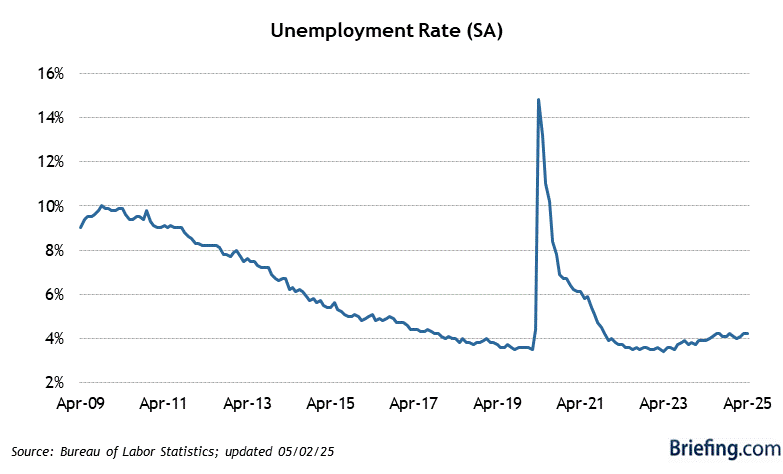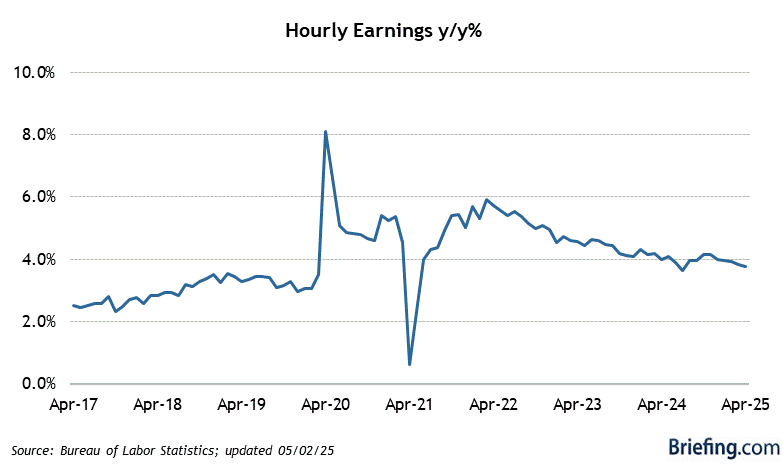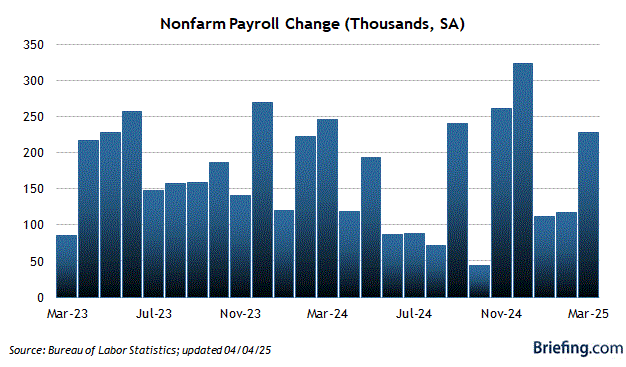 Highlights
September nonfarm and private sector payrolls were much weaker than expected. That will be attributed by some sources to the effects of Hurricane Florence, but the overriding point is that upward revisions to August nonfarm and private sector payrolls more than compensated for the headline misses for September.
Key Factors
September nonfarm payrolls increased by 134,000 (Briefing.com consensus 184,000). Over the past three months, job gains have averaged 190,000 per month. August nonfarm payrolls revised to 270,000 from 201,000. July nonfarm payrolls revised to 165,000 from 147,000.
September private sector payrolls increased by 121,000 (Briefing.com consensus 180,000). August private sector payrolls revised to 254,000 from 204,000. July private sector payrolls revised to 137,000 from 153,000.
September unemployment rate was 3.7% (Briefing.com consensus 3.8%) versus 3.9% in August. Persons unemployed for 27 weeks or more accounted for 22.9% of the unemployed versus 21.5% in August. The U6 unemployment rate, which accounts for unemployed and underemployed workers, was 7.5%, versus 7.4% in August.
September average hourly earnings were up 0.3% (Briefing.com consensus +0.3%), after increasing a downwardly revised 0.3% (from 0.4%) in August. Over the last 12 months, average hourly earnings have risen 2.8%, versus 2.9% for the 12 months ending in August.
The average workweek in September was 34.5 hours (Briefing.com consensus 34.5) versus 34.5 hours in August. September manufacturing workweek decreased 0.1 hours to 40.8 hours. Factory overtime dipped 0.1 hours to 3.4 hours. The labor force participation rate was 62.7% in September, unchanged from August.
Big Picture
The key takeaway from the report is that the labor market is solid and still simmering with the prospect of pent-up wage pressures being unleashed at any point as employers encounter difficulty in finding qualified workers.
| Category | SEP | AUG | JUL | JUN | MAY |
| --- | --- | --- | --- | --- | --- |
| Establishment Survey | | | | | |
| Nonfarm Payrolls | 134K | 270K | 165K | 208K | 268K |
| Goods-Producing | 46K | 37K | 41K | 36K | 56K |
| Construction | 23K | 26K | 19K | 8K | 30K |
| Manufacturing | 18K | 5K | 22K | 21K | 23K |
| Service-Providing | 75K | 217K | 96K | 156K | 204K |
| Retail Trade | -20K | 12K | 2K | -42K | 29K |
| Financial | 13K | 12K | 3K | 12K | 12K |
| Business | 54K | 65K | 39K | 47K | 49K |
| Temporary help | 11K | 12K | 10K | -7K | -1K |
| Education/Health | 18K | 58K | 36K | 67K | 42K |
| Leisure/Hospitality | -17K | 21K | 13K | 28K | 35K |
| Government | 13K | 16K | 28K | 16K | 8K |
| Average Workweek | 34.5 | 34.5 | 34.5 | 34.6 | 34.5 |
| Production Workweek | 33.7 | 33.7 | 33.8 | 33.8 | 33.8 |
| Factory Overtime | 4.4 | 4.5 | 4.5 | 4.5 | 4.5 |
| Aggregate Hours Index | 0.1% | 0.3% | -0.2% | 0.5% | 0.2% |
| Avg Hourly Earnings | 0.3% | 0.3% | 0.3% | 0.2% | 0.3% |
| Household Survey | | | | | |
| Household Survey | | | | | |
| Civilian Unemp. Rate | 3.7% | 3.9% | 3.9% | 4.0% | 3.8% |
| Civilian Labor Force | 150K | -469K | 105K | 601K | 12K |
| Civilian Employed | 420K | -423K | 389K | 102K | 293K |
| Civilian Unemployed | -270K | -46K | -284K | 499K | -281K |