Economic
Last Update: 08-May-20 09:32 ET
Nonfarm Payrolls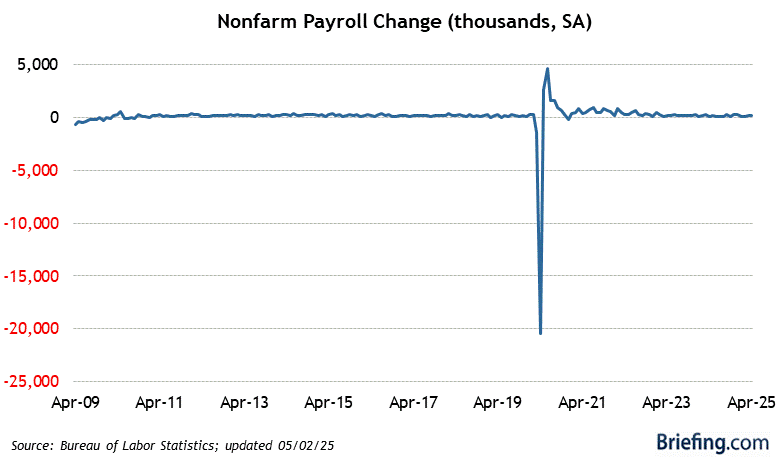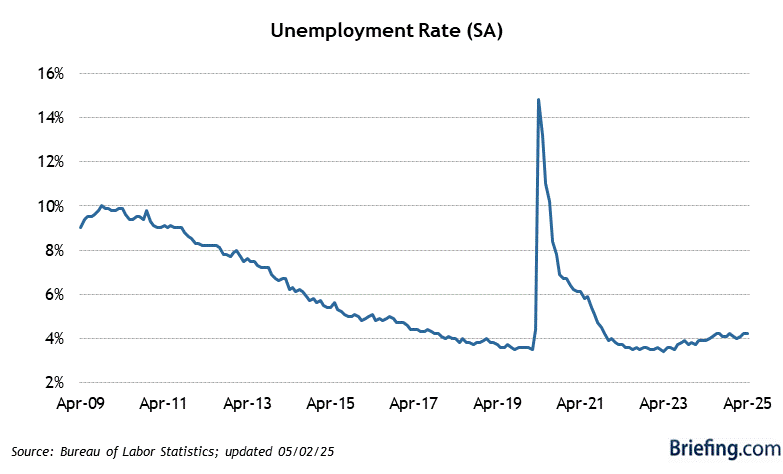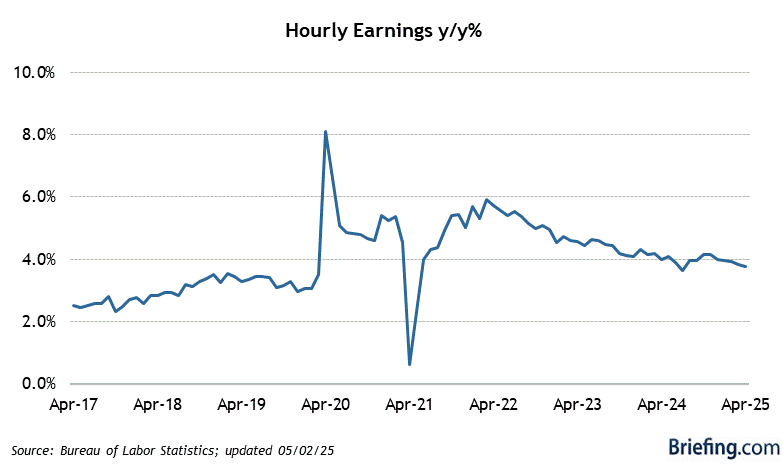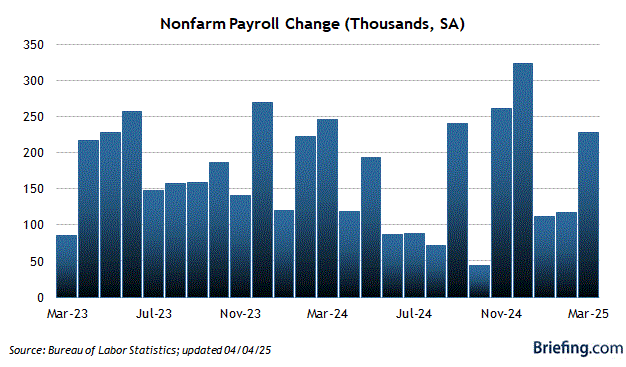 Highlights
The April Employment Situation Report was -- for lack of a better word -- dismal.
There are a lot of asterisks that can be connected to this report. For instance, the huge jump in average hourly earnings is really a reflection of how destructive the job losses have been to lower-paid workers.
The unemployment rate was lower than expected presumably because workers who are not working, but say they expect to go back to work, are not factored into the unemployment rate.
By the way, the number of persons said to be on "temporary layoff" increased to 18.063 million from 1.848 million. The U6 unemployment rate, which accounts for persons marginally attached to the labor force and employees working part time for economic reasons, surged to 22.8% from 8.7%.
Key Factors
April nonfarm payrolls declined by 20.5 million (Briefing.com consensus -21.00 million). March nonfarm payrolls revised to 870,000 from 701,000. February nonfarm payrolls revised to 230,000 from 275,000.
April private sector payrolls declined by 19.52 million (Briefing.com consensus -21.30 million). March private sector payrolls revised to 842,000 from 713,000. February private sector payrolls revised to 199,000 from 242,000.
April unemployment rate was 14.7% (Briefing.com consensus 16.2%), versus 4.4% in March. Persons unemployed for 27 weeks or more accounted for 4.1% of the unemployed versus 15.9% in March. The U6 unemployment rate, which accounts for unemployed and underemployed workers, was 22.8%, versus 8.7% in March.
April average hourly earnings were up 4.7% (Briefing.com consensus +0.4%) after increasing an upwardly revised 0.5% (from 0.4%) in March. Over the last 12 months, average hourly earnings have risen 7.9%, versus 3.3% for the 12 months ending in March.
The average workweek in April was 34.2 hours (Briefing.com consensus 33.8), versus 34.1 hours in March. Manufacturing workweek decreased 2.1 hours to 38.3 hours. Factory overtime decreased 0.9 hours to 2.1 hours.
The labor force participation rate fell to 60.2% from 62.7% in March.
The employment-population ratio fell to 51.3% from 60.0% in March.
Big Picture
The key takeaway from the report is that there is a lot more to it than meets the headline eye, most of which speaks to the depth of the country's economic problems and the challenges in bouncing back from them in rapid-fire fashion.
| Category | APR | MAR | FEB | JAN | DEC |
| --- | --- | --- | --- | --- | --- |
| Establishment Survey | | | | | |
| Nonfarm Payrolls | -20500K | -870K | 230K | 214K | 184K |
| Goods-Producing | -2355K | -74K | 56K | 13K | 5K |
| Construction | -975K | -33K | 46K | 38K | 16K |
| Manufacturing | -1330K | -34K | 8K | -22K | -2K |
| Service-Providing | -17165K | -768K | 143K | 166K | 159K |
| Retail Trade | -2107K | -45K | 3K | 3K | 41K |
| Financial | -262K | -3K | 22K | 9K | 10K |
| Business | -2128K | -69K | 6K | 20K | 22K |
| Temporary help | -842K | -58K | -6K | -4K | 5K |
| Education/Health | -2544K | -101K | 52K | 69K | 29K |
| Leisure/Hospitality | -7653K | -499K | 59K | 24K | 40K |
| Government | -980K | -28K | 31K | 35K | 20K |
| Average Workweek | 34.2 | 34.1 | 34.4 | 34.3 | 34.3 |
| Production Workweek | 33.5 | 33.4 | 33.7 | 33.6 | 33.6 |
| Factory Overtime | 2.7 | 3.9 | 4.0 | 4.0 | 4.1 |
| Aggregate Hours Index | -14.9% | -1.5% | 0.4% | 0.1% | 0.2% |
| Avg Hourly Earnings | 4.7% | 0.5% | 0.3% | 0.2% | 0.1% |
| Household Survey | | | | | |
| Household Survey | | | | | |
| Civilian Unemp. Rate | 14.7% | 4.4% | 3.5% | 3.6% | 3.5% |
| Civilian Labor Force | -6432K | -1633K | -60K | 50K | 209K |
| Civilian Employed | -22369K | -2987K | 45K | -89K | 267K |
| Civilian Unemployed | 15938K | 1353K | -105K | 139K | -58K |