Economic
Last Update: 21-May-19 13:09 ET
Export Prices ex-ag.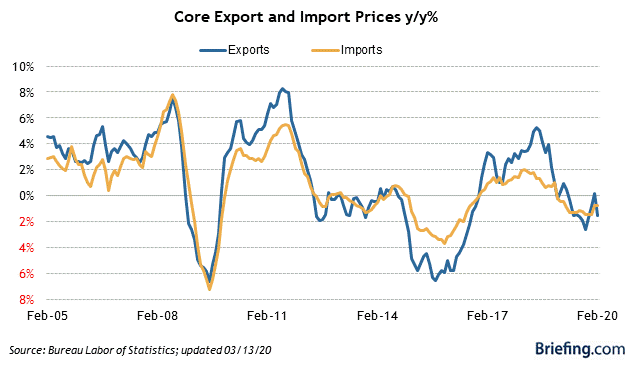 Highlights
Import prices increased 0.2% month-over-month and declined 0.1% excluding fuel. Export prices rose 0.2% and were up 0.4% excluding agricultural exports.
On a yr/yr basis, overall import prices declined 0.2%. Excluding fuel, they were down 0.9%. Export prices were up just 0.3%, versus 3.7% for the 12-months ending in April 2018, and up only 0.7% excluding agricultural products, versus 3.9% for the 12 months ending in April 2018.
Key Factors
The price index for fuel imports was up 2.5% in April, led by a 6.1% increase in petroleum prices. Natural gas prices declined 53.7% in April, which was the largest decrease since records for this index began in December 1994.
Falling prices for finished goods and nonfuel industrial supplies and materials were behind the 0.1% decline in the price index for nonfuel imports.
The 0.9% yr/yr decline in April was the largest 12-month drop since August 2016.
Big Picture
The key takeaway is that import prices declined, creating another data point that shows a lack of worrisome inflation pressure.
| Category | APR | MAR | FEB | JAN | DEC |
| --- | --- | --- | --- | --- | --- |
| Imports | 0.2% | 0.6% | 1.0% | 0.2% | -1.4% |
| Imports, ex-petrol | -0.1% | -0.2% | 0.1% | -0.3% | 0.0% |
| Imports, Petrol | 2.5% | 6.9% | 10.2% | 4.6% | -13.3% |
| Exports | 0.2% | 0.6% | 0.7% | -0.6% | -0.6% |
| Exports, ex-agricultural | 0.4% | 0.7% | 0.7% | -0.4% | -1.1% |