Economic
Last Update: 16-Jan-19 09:12 ET
Export Prices ex-ag.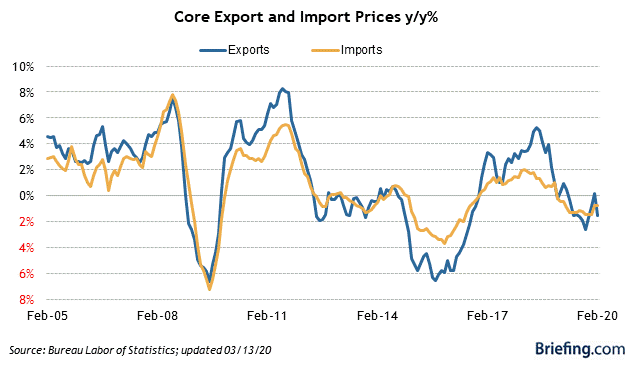 Highlights
Import prices declined 1.0% month-over-month and were down 0.6% year-over-year. Excluding fuel, they were unchanged in December and up just 0.5% year-over-year.
Export prices declined 0.6% and were up 1.1% year-over-year. Excluding agricultural products, they were down 1.1% in December and up 1.0% year-over-year.
Key Factors
Prices for import fuel declined 9.2% in December, led by an 11.6% drop in petroleum prices.
Prices for agricultural exports increased 3.9%, which was the largest jump since August 2012.
Big Picture
The key takeaway from the report is that it didn't ring any inflation alarm bells that would compel the Fed to be less patient with its monetary policy approach.
| Category | DEC | NOV | OCT | SEP | AUG |
| --- | --- | --- | --- | --- | --- |
| Imports | -1.0% | -1.9% | 0.5% | 0.1% | -0.4% |
| Imports, ex-petrol | 0.0% | -0.3% | 0.1% | 0.0% | -0.2% |
| Imports, Petrol | -9.2% | -13.3% | 3.2% | 0.0% | -2.1% |
| Exports | -0.6% | -0.8% | 0.5% | 0.0% | -0.1% |
| Exports, ex-agricultural | -1.1% | -1.0% | 0.5% | 0.2% | -0.2% |