Economic
Last Update: 21-Dec-18 09:40 ET
Durable Orders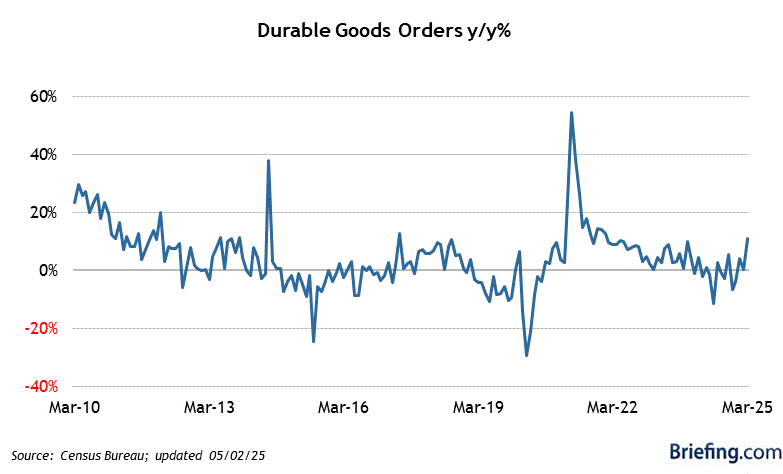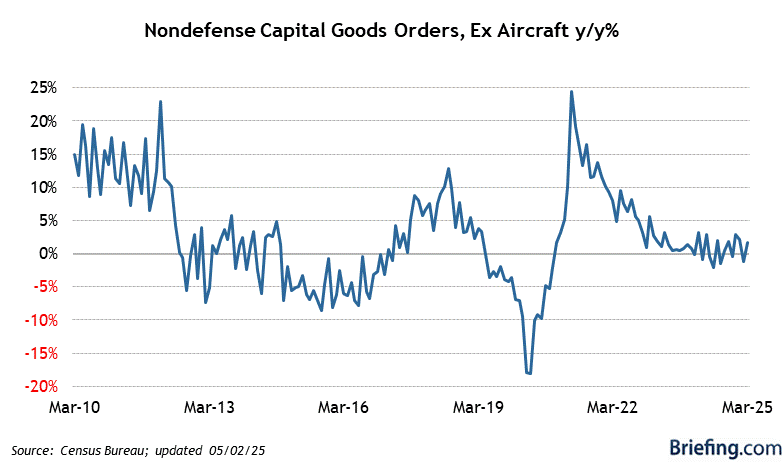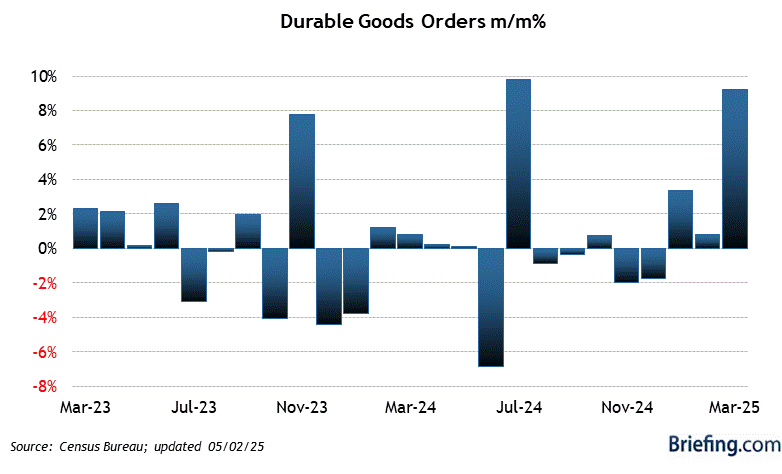 Highlights
Durable goods orders increased 0.8% in November (Briefing.com consensus 1.7%) after an upwardly revised 4.3% decline (from -4.4%) in October.
Excluding transportation, orders declined 0.3% (Briefing.com consensus +0.3%) after increasing an upwardly revised 0.4% (from 0.1%) in October.
Key Factors
New orders for machinery were down 1.7% in November after increasing 0.2% in October.
Transportation equipment orders jumped 2.9%, with a 0.2% decline in motor vehicles and parts orders acting as a modest offset.
New orders for primary metals increased 1.0% after declining 2.7% in October.
Big Picture
The key takeaway from the report is that business investment was weak, evidenced by the 0.6% decline in nondefense capital goods orders excluding aircraft. Moreover, a 0.1% decline in shipments of those same goods will be accounted for as a negative input in Q4 GDP forecasts.
| Category | NOV | OCT | SEP | AUG | JUL |
| --- | --- | --- | --- | --- | --- |
| Total Durable Orders | 0.8% | -4.3% | 0.0% | 4.7% | -1.2% |
| Less Defense | -0.1% | -1.4% | -1.3% | 2.6% | -0.6% |
| Less Transport | -0.3% | 0.4% | -0.5% | 0.3% | 0.2% |
| Transportation | 2.9% | -12.3% | 0.9% | 13.3% | -3.6% |
| Capital Goods | 2.7% | -5.9% | -5.4% | 12.7% | -4.0% |
| Nondefense | 0.7% | -4.7% | -3.2% | 7.4% | -3.7% |
| Nondefense/nonaircraft (core cap gds) | -0.6% | 0.5% | -0.6% | -0.2% | 1.5% |
| Defense Cap Goods | 15.4% | -13.0% | -16.2% | 48.8% | -6.1% |