Economic
Last Update: 25-Oct-18 09:21 ET
Durable Orders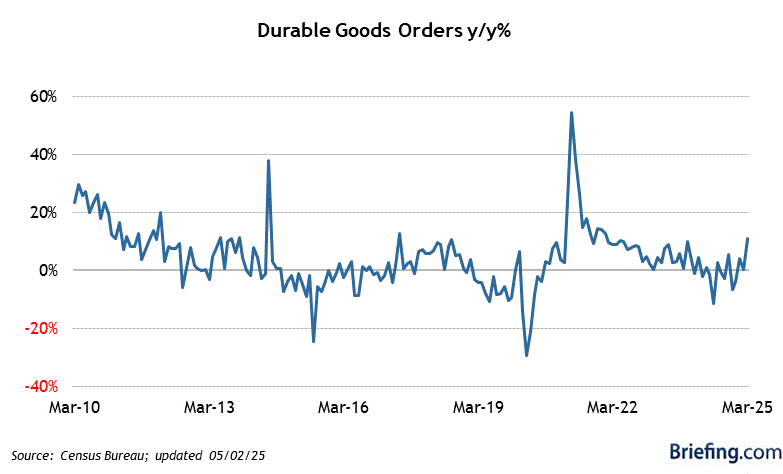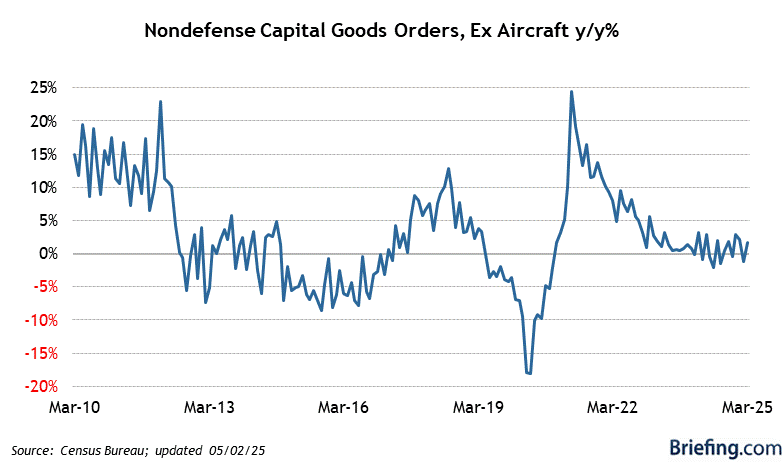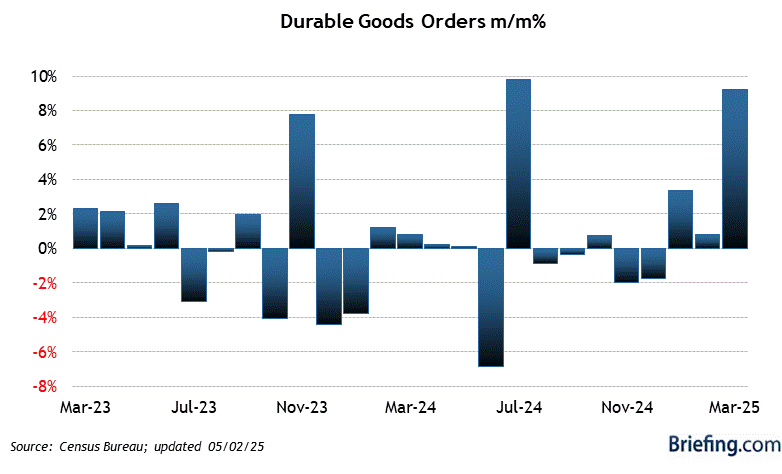 Highlights
Durable Goods orders for September increased 0.8% (Briefing.com consensus -1.8%) after a revised 4.6% increase (from 4.5%) in August.
Excluding transportation, durable goods orders increased 0.1% (Briefing.com consensus 0.3%) after a revised 0.3% increase (from 0.1%) in August.
Key Factors
Orders for primary metals increased 0.1% after increasing 1.3% (revised from 0.9%) in August
Orders for fabricated metal products declined 0.7% after increasing 0.6% (revised from unchanged) in August
Orders for machinery increased 0.8% after an unrevised 0.1% increase in August
Transportation equipment orders grew 1.9% on top of 13.2% growth in August (revised from 13.0%). Defense aircraft and parts orders surged 119.1% while motor vehicle and parts orders grew 1.3%. Nondefense aircraft and parts orders fell 17.5%
Big Picture
The key takeaway from the report is that the headline increase was driven by growth in transportation equipment orders and defense aircraft and parts orders while growth in other areas was more of a mixed bag.
| Category | SEP | AUG | JUL | JUN | MAY |
| --- | --- | --- | --- | --- | --- |
| Total Durable Orders | 0.8% | 4.6% | -1.2% | 0.9% | -0.3% |
| Less Defense | -0.6% | 2.5% | -0.6% | 1.4% | -1.4% |
| Less Transport | 0.1% | 0.3% | 0.2% | 0.3% | 0.3% |
| Transportation | 1.9% | 13.2% | -3.6% | 2.0% | -1.3% |
| Capital Goods | -4.4% | 12.6% | -4.0% | 0.0% | 0.2% |
| Nondefense | -2.4% | 7.3% | -3.7% | 2.2% | -2.3% |
| Nondefense/nonaircraft (core cap gds) | -0.1% | -0.2% | 1.5% | 0.8% | 0.7% |
| Defense Cap Goods | -14.3% | 48.9% | -6.1% | -12.6% | 16.7% |