Economic
Last Update: 12-May-20 09:30 ET
CPI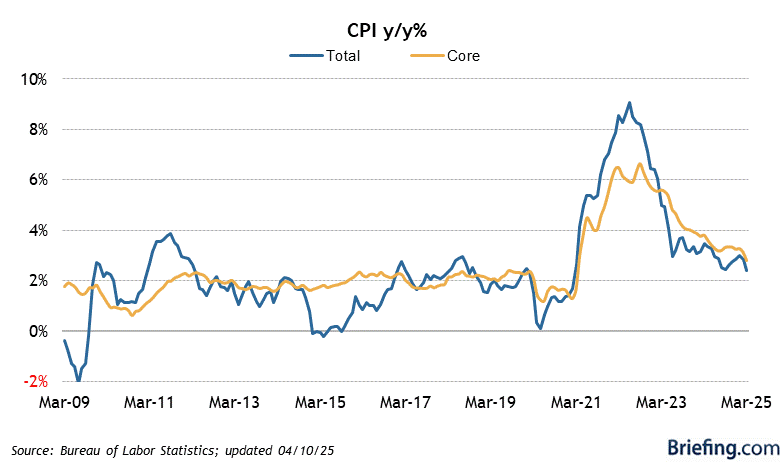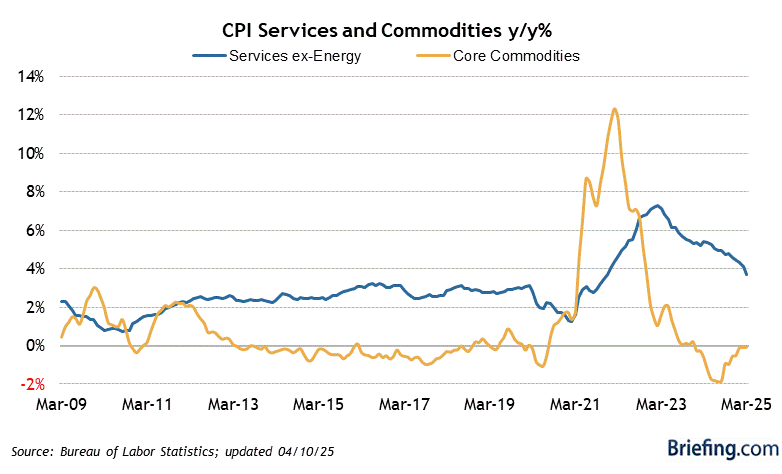 Highlights
The Consumer Price Index declined 0.8% m/m in April, as expected, while core CPI, which excludes food and energy, declined 0.4% (Briefing.com consensus -0.2%). That was the largest drop in total CPI since December 2008 and the largest drop on record going back to 1957 for core CPI.
On a yr/yr basis, total CPI increased 0.3% (the smallest increase since October 2015) while core CPI increased 1.4% (the smallest increase since April 2011).
Key Factors
There was some inflation to be seen, however. Led by a 2.6% jump in food at home prices, the food index increased 1.5%, which was its largest increase since February 1974.
The gasoline index plummeted 20.6% and was the biggest contributor to the monthly decrease in the all items index.
The shelter index was flat, as a 0.2% increase for both rent and owners' equivalent rent was offset by a 7.1% drop in the index for lodging away from home.
The index for used cars and trucks declined 0.4%.
The index for apparel declined 4.7%, which was the largest drop on record.
The medical care index rose 0.4%.
Big Picture
The key takeaway from the report is that it is a telltale reminder that the Federal Reserve isn't moving off the zero bound anytime soon.
| Category | APR | MAR | FEB | JAN | DEC |
| --- | --- | --- | --- | --- | --- |
| All Items | -0.8% | -0.4% | 0.1% | 0.1% | 0.2% |
| Food and Beverages | 1.4% | 0.3% | 0.4% | 0.2% | 0.2% |
| Housing | 0.0% | 0.0% | 0.2% | 0.3% | 0.1% |
| Equivalent Rent | 0.2% | 0.3% | 0.2% | 0.3% | 0.2% |
| Apparel | -4.7% | -2.0% | 0.4% | 0.7% | 0.1% |
| Transportation | -5.9% | -2.9% | -0.5% | -0.6% | 0.7% |
| Vehicles | -0.3% | -0.1% | 0.2% | -0.4% | -0.2% |
| Motor Fuel | -20.6% | -10.5% | -3.4% | -1.6% | 3.1% |
| Medical Care | 0.4% | 0.4% | 0.1% | 0.2% | 0.5% |
| Educ and Commun | 0.1% | 0.1% | 0.1% | 0.3% | 0.1% |
| Special Indices | | | | | |
| Core | -0.4% | -0.1% | 0.2% | 0.2% | 0.1% |
| Energy | -10.1% | -5.8% | -2.0% | -0.7% | 1.6% |
| Services | -0.3% | -0.1% | 0.2% | 0.4% | 0.2% |