Economic
Last Update: 11-Jul-19 09:39 ET
CPI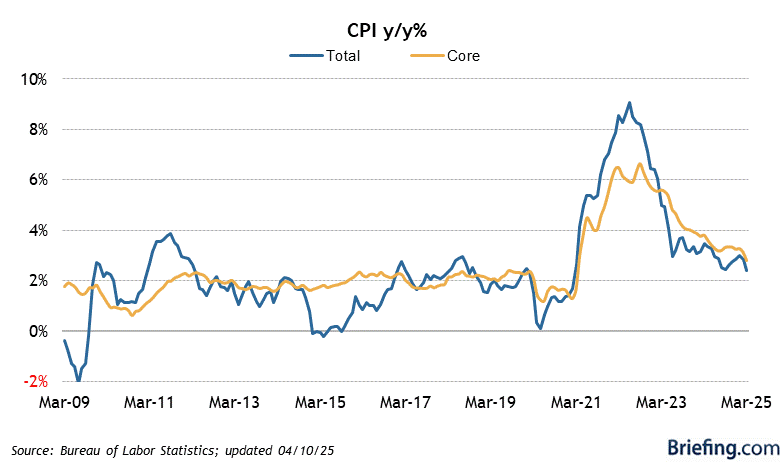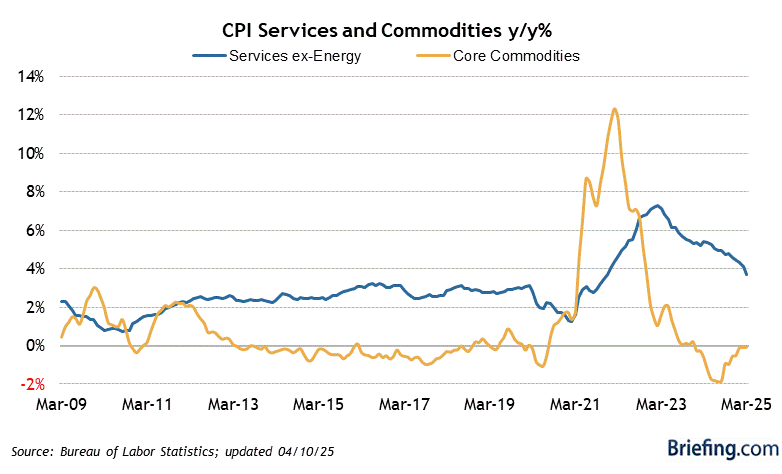 Highlights
Total CPI increased 0.1% m/m in June (Briefing.com consensus 0.0%) while core CPI, which excludes food and energy, rose 0.3% (Briefing.com consensus +0.2%).
On a yr/yr basis, total CPI was up 1.6%, versus 1.8% in May, while core CPI was up 2.1%, versus 2.0% in May.
Key Factors
The energy index declined 2.3% m/m and was the main weight on total CPI. The food index was unchanged in June.
A 0.3% increase in the shelter index was a big driver of the uptick in core CPI, along with the indexes for used cars and trucks (+1.6%), apparel (+1.1%), and medical care services (+0.4%).
The 0.3% m/m increase in core CPI was the largest increase since January 2018.
Big Picture
The key takeaway from the report was that the yr/yr uptick in core CPI should seemingly diminish the prospect of a 50-basis points rate cut at the July meeting.
| Category | JUN | MAY | APR | MAR | FEB |
| --- | --- | --- | --- | --- | --- |
| All Items | 0.1% | 0.1% | 0.3% | 0.4% | 0.2% |
| Food and Beverages | 0.1% | 0.3% | -0.1% | 0.2% | 0.4% |
| Housing | 0.3% | 0.1% | 0.3% | 0.3% | 0.2% |
| Equivalent Rent | 0.3% | 0.3% | 0.3% | 0.3% | 0.3% |
| Apparel | 1.1% | 0.0% | -0.8% | -1.9% | 0.3% |
| Transportation | -0.7% | -0.3% | 1.2% | 1.5% | 0.1% |
| Vehicles | 0.6% | -0.5% | -0.4% | 0.0% | -0.6% |
| Motor Fuel | -3.6% | -0.5% | 5.7% | 6.5% | 1.5% |
| Medical Care | 0.3% | 0.3% | 0.3% | 0.3% | -0.2% |
| Educ and Commun | 0.1% | 0.1% | 0.1% | 0.1% | 0.2% |
| Special Indices | | | | | |
| Core | 0.3% | 0.1% | 0.1% | 0.1% | 0.1% |
| Energy | -2.3% | -0.6% | 2.9% | 3.5% | 0.4% |
| Services | 0.2% | 0.1% | 0.3% | 0.3% | 0.1% |