Economic
Last Update: 21-May-19 13:09 ET
CPI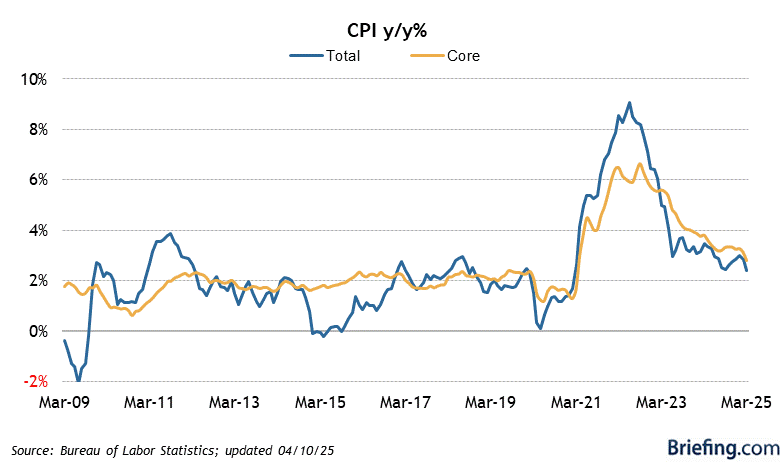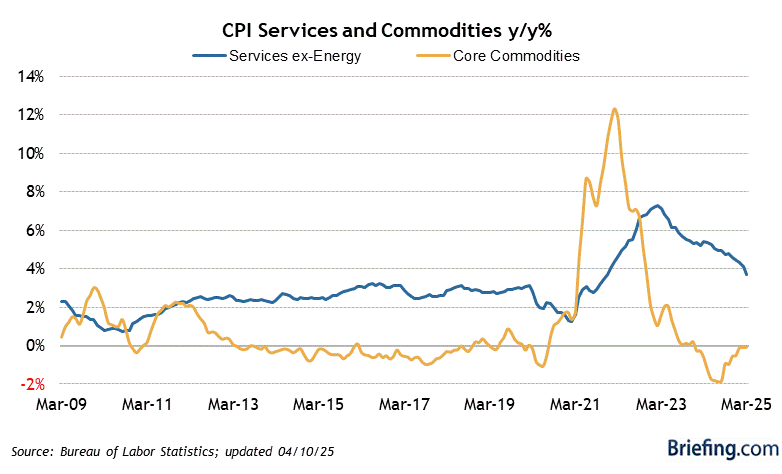 Highlights
Total CPI increased 0.3% m/m in April (Briefing.com consensus 0.4%) while core CPI, which excludes food and energy, rose just 0.1% (Briefing.com consensus 0.2%) for the third consecutive month. That left the yr/yr increases at 2.0% and 2.1%, respectively.
Key Factors
The gasoline index increased 5.7% and accounted for more than two-thirds of the increase in total CPI.
The food index declined 0.1%, which was the first decline since June 2017.
Gains in the indexes for shelter, medical care, education, and new vehicles helped underpin the modest increase in core CPI. Declines, though, were registered in the indexes for used cars and trucks, apparel, and household furnishings.
Big Picture
The key takeaway from the report is that it will keep the Fed in a neutral state of policy-setting mind and the market in an uncertain state over what the Fed's next move will be -- and when.
| Category | APR | MAR | FEB | JAN | DEC |
| --- | --- | --- | --- | --- | --- |
| All Items | 0.3% | 0.4% | 0.2% | 0.0% | 0.0% |
| Food and Beverages | -0.1% | 0.2% | 0.4% | 0.2% | 0.3% |
| Housing | 0.3% | 0.3% | 0.2% | 0.2% | 0.3% |
| Equivalent Rent | 0.3% | 0.3% | 0.3% | 0.3% | 0.2% |
| Apparel | -0.8% | -1.9% | 0.3% | 1.1% | 0.0% |
| Transportation | 1.2% | 1.5% | 0.1% | -1.3% | -1.5% |
| Vehicles | -0.4% | 0.0% | -0.6% | 0.1% | -0.1% |
| Motor Fuel | 5.7% | 6.5% | 1.5% | -5.5% | -5.8% |
| Medical Care | 0.3% | 0.3% | -0.2% | 0.2% | 0.3% |
| Educ and Commun | 0.1% | 0.1% | 0.2% | 0.2% | 0.1% |
| Special Indices | | | | | |
| Core | 0.1% | 0.1% | 0.1% | 0.2% | 0.2% |
| Energy | 2.9% | 3.5% | 0.4% | -3.1% | -2.6% |
| Services | 0.3% | 0.3% | 0.1% | 0.2% | 0.3% |