Economic
Last Update: 14-May-18 18:07 ET
CPI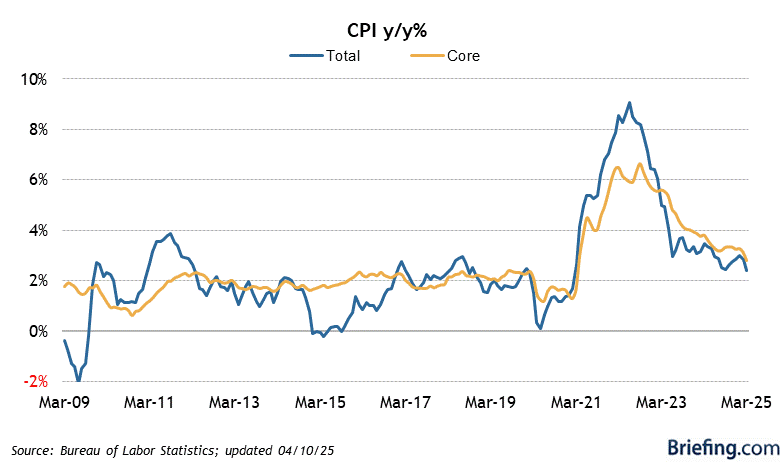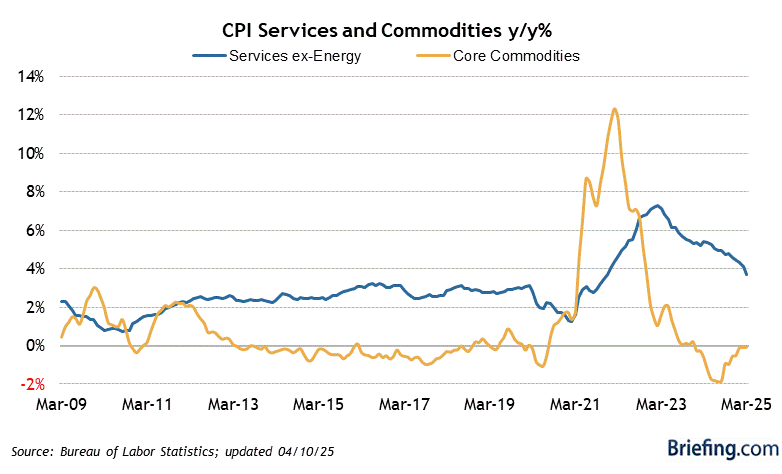 Highlights
Total CPI increased 0.2% in April (Briefing.com consensus +0.3%) while core CPI, which excludes food and energy, increased just 0.1% (Briefing.com consensus +0.2%).
Key Factors
The monthly readings left CPI up 2.5% year-over-year, versus 2.4% in March, and core CPI up 2.1%, which was unchanged from March. In other words, there wasn't a bothersome acceleration in the consumer inflation trend in April.
The month-over-month increase in total CPI was driven by a 1.4% increase in the energy index, a 0.3% jump in the shelter index, and a 0.3% uptick in the food index.
The 0.3% jump in the shelter index pushed up core CPI in the face of mixed readings for other indexes
Notably, the index for used cars and trucks declined 1.6%, which was the largest decline since March 2009
Big Picture
The key takeaway from the report is that the CPI and core CPI headlines were weaker than expected, which helped temper concerns about the potential for the Fed to be more aggressive than expected.
| Category | APR | MAR | FEB | JAN | DEC |
| --- | --- | --- | --- | --- | --- |
| All Items | 0.2% | -0.1% | 0.2% | 0.5% | 0.2% |
| Food and Beverages | 0.3% | 0.1% | 0.0% | 0.2% | 0.2% |
| Housing | 0.3% | 0.3% | 0.3% | 0.2% | 0.3% |
| Equivalent Rent | 0.3% | 0.3% | 0.2% | 0.3% | 0.3% |
| Apparel | 0.3% | -0.6% | 1.5% | 1.7% | -0.3% |
| Transportation | 0.2% | -1.2% | 0.0% | 1.8% | 0.2% |
| Vehicles | -0.9% | -0.1% | -0.2% | 0.2% | 0.6% |
| Motor Fuel | 3.0% | -4.9% | -0.9% | 5.7% | -0.8% |
| Medical Care | 0.1% | 0.4% | -0.1% | 0.4% | 0.3% |
| Educ and Commun | 0.0% | -0.2% | -0.2% | 0.1% | 0.1% |
| Special Indices | | | | | |
| Core | 0.1% | 0.2% | 0.2% | 0.3% | 0.2% |
| Energy | 1.4% | -2.8% | 0.1% | 3.0% | -0.2% |
| Services | 0.1% | 0.2% | 0.3% | 0.3% | 0.3% |