Economic
Last Update: 11-Oct-18 09:39 ET
CPI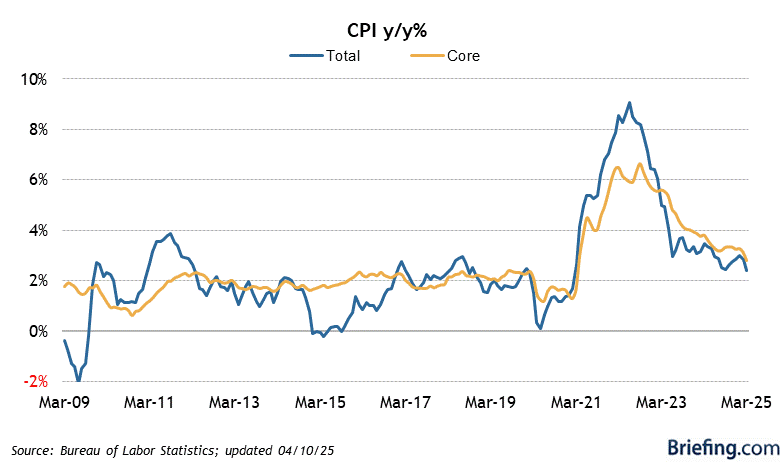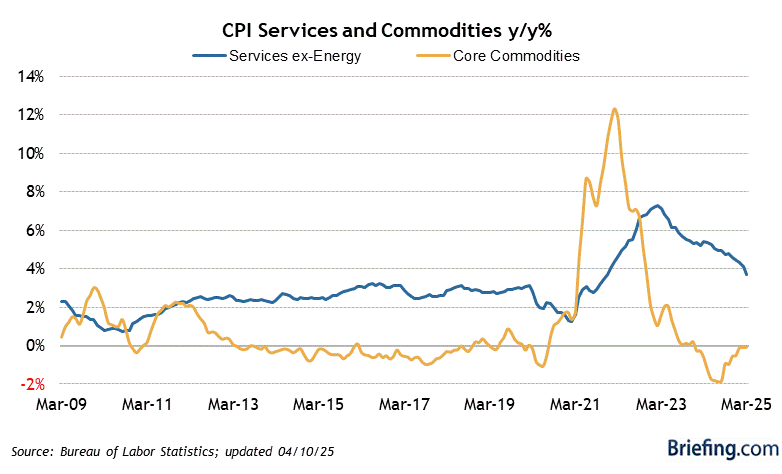 Highlights
Total CPI and core CPI, which excludes food and energy, increased 0.1%. Both were expected to increase 0.2%, according to the Briefing.com consensus estimate.
Key Factors
The monthly increases left total CPI up 2.3% year-over-year, versus 2.7% in August, and core CPI up 2.2%, unchanged from August.
The shelter index increased 0.2% and accounted for over half of the monthly increase in total CPI.
The energy index was down 0.5% in September.
The food index was unchanged in September.
The index for used cars and trucks dropped 3.0% in September while the index for new vehicles declined 0.1%.
Big Picture
The key takeaway from the report is that it helped temper concerns about rising inflation for the time being, yet with total CPI and core CPI running above the Fed's longer-run inflation target of 2.0%, it still left little reason to think the Fed is going to back away from a rate hike in December.
| Category | SEP | AUG | JUL | JUN | MAY |
| --- | --- | --- | --- | --- | --- |
| All Items | 0.1% | 0.2% | 0.2% | 0.1% | 0.2% |
| Food and Beverages | 0.1% | 0.1% | 0.1% | 0.2% | 0.0% |
| Housing | 0.1% | 0.3% | 0.2% | 0.0% | 0.2% |
| Equivalent Rent | 0.2% | 0.3% | 0.3% | 0.3% | 0.2% |
| Apparel | 0.9% | -1.6% | -0.3% | -0.9% | 0.0% |
| Transportation | -0.3% | 0.9% | 0.3% | 0.4% | 0.4% |
| Vehicles | -1.1% | 0.1% | 0.7% | 0.6% | -0.1% |
| Motor Fuel | -0.2% | 3.0% | -0.6% | 0.5% | 1.7% |
| Medical Care | 0.2% | -0.2% | -0.2% | 0.4% | 0.2% |
| Educ and Commun | 0.1% | 0.2% | 0.2% | 0.2% | 0.4% |
| Special Indices | | | | | |
| Core | 0.1% | 0.1% | 0.2% | 0.2% | 0.2% |
| Energy | -0.5% | 1.9% | -0.5% | -0.3% | 0.9% |
| Services | 0.2% | 0.2% | 0.3% | 0.1% | 0.2% |