Economic
Last Update: 14-Feb-18 10:08 ET
CPI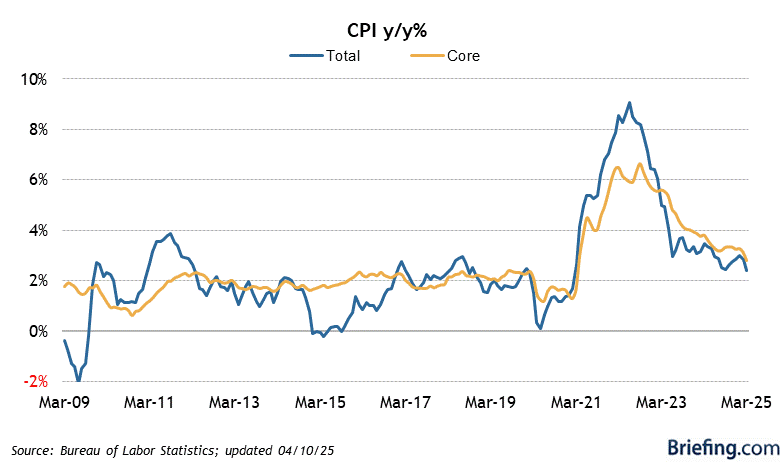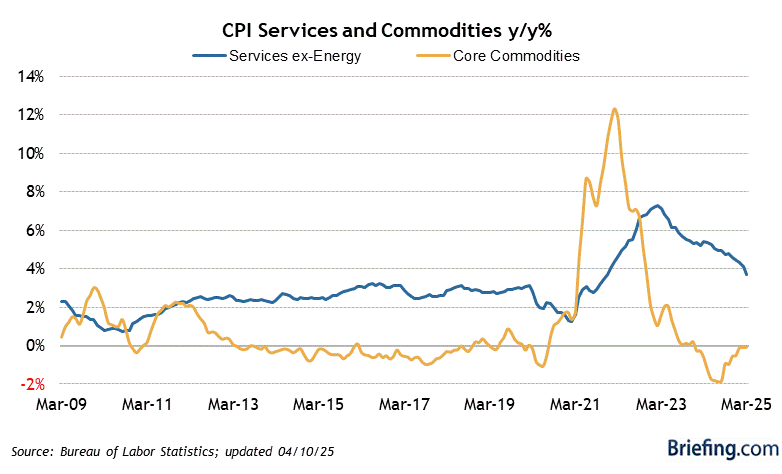 Highlights
Total CPI increased 0.5% in January (Briefing.com consensus +0.4%) while core CPI, which excludes food and energy, jumped 0.3% (Briefing.com consensus +0.2%), which was its largest month-over-month change since January 2017.
Key Factors
Taking the monthly changes into account, total CPI was up 2.1% for the 12-month period ending in January, versus 2.2% for the 12-month period ending in December. On the same basis, core CPI was up 1.8% and has now been up 1.7% or 1.8% for eight consecutive months.
The shelter index increased 0.2% with the indexes for rent and owners' equivalent rent both increasing 0.3%
The energy index increased 3.0%. The food index was up 0.2%.
Big Picture
Consumer inflation isn't taking off per se based on this data, yet the key takeaway from the CPI report is that this data will continue to stoke rate-hike fears that will contribute to increased volatility in the capital markets.
| Category | JAN | DEC | NOV | OCT | SEP |
| --- | --- | --- | --- | --- | --- |
| All Items | 0.5% | 0.2% | 0.3% | 0.1% | 0.5% |
| Food and Beverages | 0.2% | 0.2% | 0.0% | 0.1% | 0.1% |
| Housing | 0.2% | 0.3% | 0.2% | 0.3% | 0.2% |
| Equivalent Rent | 0.3% | 0.3% | 0.2% | 0.3% | 0.2% |
| Apparel | 1.7% | -0.3% | -0.9% | -0.2% | 0.1% |
| Transportation | 1.8% | 0.2% | 1.5% | -0.6% | 2.2% |
| Vehicles | 0.2% | 0.6% | 0.4% | 0.1% | -0.3% |
| Motor Fuel | 5.7% | -0.8% | 6.0% | -3.2% | 10.0% |
| Medical Care | 0.4% | 0.3% | 0.0% | 0.2% | 0.0% |
| Educ and Commun | 0.1% | 0.1% | 0.2% | 0.2% | 0.1% |
| Special Indices | | | | | |
| Core | 0.3% | 0.2% | 0.1% | 0.2% | 0.1% |
| Energy | 3.0% | -0.2% | 3.2% | -1.4% | 4.7% |
| Services | 0.3% | 0.3% | 0.2% | 0.3% | 0.2% |