Economic
Last Update: 01-Mar-17 10:52 ET
Construction Spending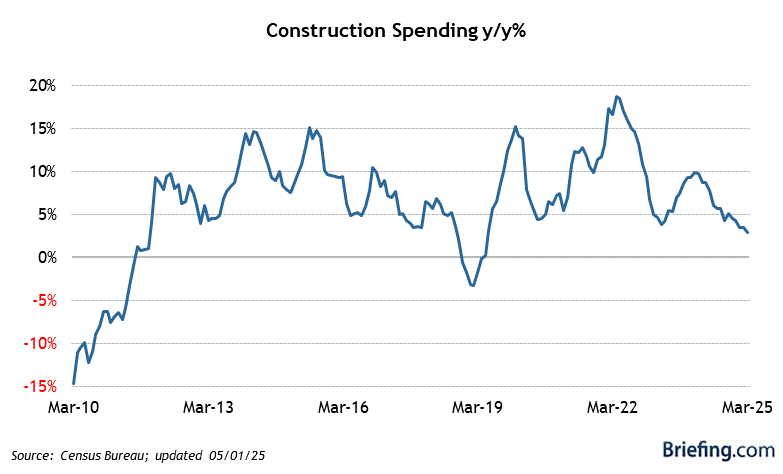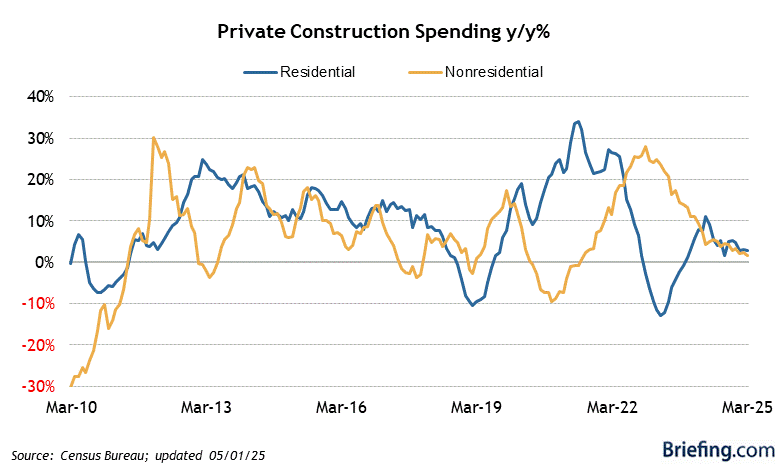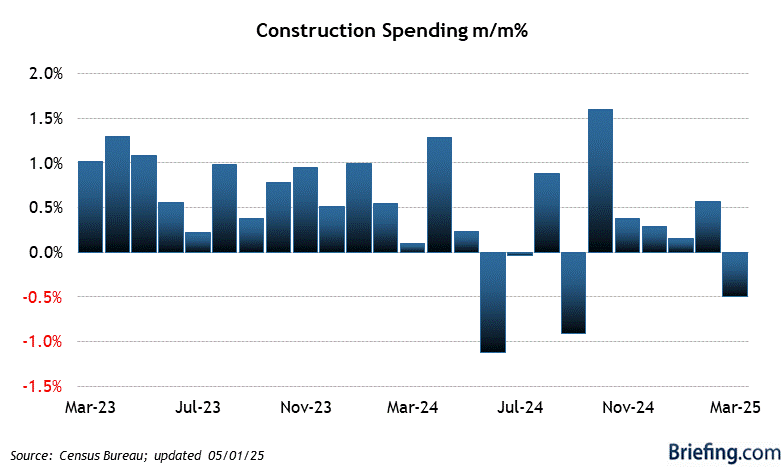 Highlights
Total construction spending declined 1.0% in January on top of an upwardly revised 0.1% increase (from -0.2%) in December. The January number was much weaker than the Briefing.com consensus estimate, which called for 0.6% growth.
Key Factors
Total private construction spending increased 0.2% in January, paced by a 0.5% increase in residential spending. Nonresidential spending was flat, pressured by a 0.5% decline in both commercial and office spending.
Total public construction spending declined 5.0%, driven by a 4.7% decline in nonresidential spending. The latter was paced by a 3.3% decline in highway and street spending, as well as spending declines in most categories. The only areas where spending was up were power (+3.9%) and amusement and recreation (+1.1%).
On a year-over-year basis, total construction spending is up 3.1%. That is owed entirely to private construction spending, which is up 7.3% year-over-year. Total public construction spending is down 9.0% year-over-year.
Big Picture
The key takeaway from the report is that the decline in January was driven by public construction spending.
| Category | JAN | DEC | NOV | OCT | SEP |
| --- | --- | --- | --- | --- | --- |
| Nominal (Current) Dollars | | | | | |
| Total Construction | -1.0% | 0.1% | 1.5% | 0.8% | -0.2% |
| Private | 0.2% | 0.5% | 2.1% | 0.3% | -0.5% |
| Residential | 0.5% | 0.7% | 2.5% | 1.9% | -1.1% |
| Nonresidential | 0.0% | 0.3% | 1.7% | -1.4% | 0.1% |
| Public | -5.0% | -1.4% | -0.3% | 2.4% | 1.0% |