Economic
Last Update: 31-Jan-19 10:46 ET
Chicago PMI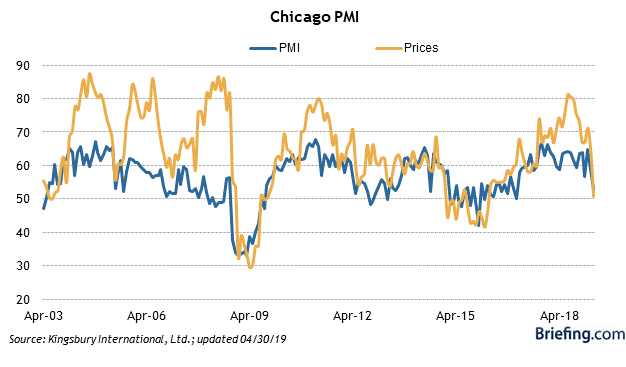 Highlights
The MNI Chicago Business Barometer, also known as the Chicago PMI, dropped to 56.7 in January (Briefing.com consensus 58.0) from a downwardly revised 63.8 (from 65.4) in December.
The dividing line between expansion and contraction is 50.0, so the January reading is to be interpreted as a deceleration in growth and not an actual decline in growth.
Key Factors
The New Orders Index fell to 53.2 from 67.9.
The Prices Paid index rose to 67.0 from 65.6.
The Production Index dropped to 58.8 from 71.0, which is a 10-month low.
Big Picture
The key takeaway from the report was the indication that the New Orders Index fell to a two-year low of 53.2 and that manufacturers' inability to absorb cost pressures was a reason customers were deterred from placing orders in January.
| Category | JAN | DEC | NOV | OCT | SEP |
| --- | --- | --- | --- | --- | --- |
| Chicago PMI | 56.7 | 63.8 | 66.4 | 58.4 | 60.4 |
| New Orders | 53.2 | 67.9 | 72.5 | 57.9 | 61.4 |
| Production | 58.8 | 71.0 | 65.2 | 59.8 | 58.8 |
| Employment | 53.2 | 52.1 | 55.4 | 52.5 | 51.1 |
| Prices Paid | 67.0 | 65.6 | 73.2 | 75.1 | 79.9 |