Economic
Last Update: 16-Jul-19 10:23 ET
Business Inventories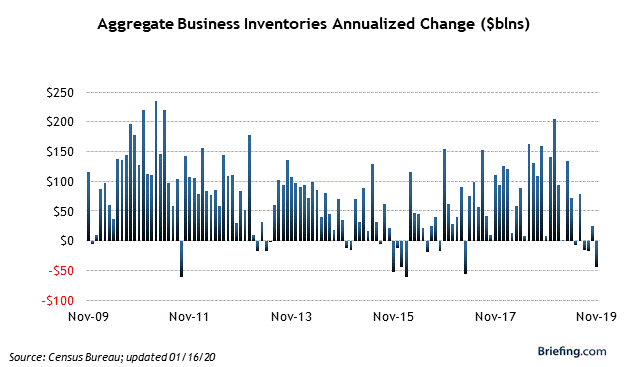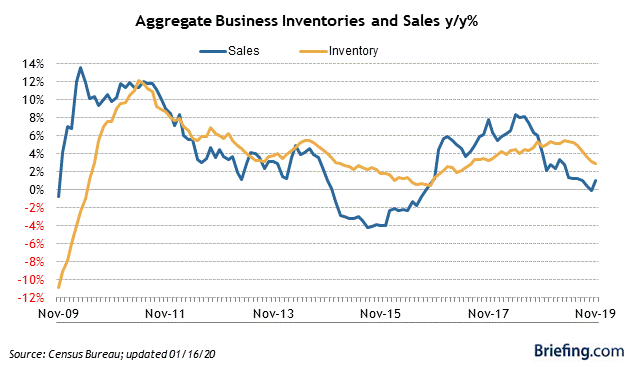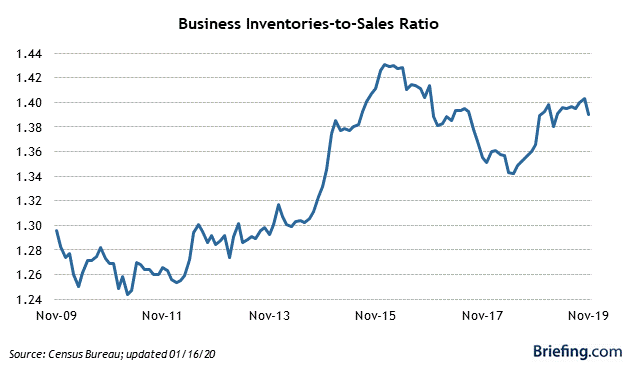 Highlights
Business inventories increased 0.3% in May (Briefing.com consensus 0.4%) following an unrevised 0.5% increase in April.
Business sales increased 0.2% after declining an unrevised 0.2% in April.
Key Factors
Manufacturers' and wholesalers' inventories were known ahead of time, so the missing variable was the report on retailers' inventories, which increased 0.4% after increasing 0.6% in April.
The increase in retailers' inventories was led by a 0.7% increase in motor vehicle and parts inventories.
The inventories-to-sales ratio held steady from April at 1.39, but was up from 1.34 one year ago.
Big Picture
The key takeaway from the report is that the gap between inventory growth on a yr/yr basis (+5.3%) and sales growth (+1.5%) has widened, which should keep prices in check.
| Category | MAY | APR | MAR | FEB | JAN |
| --- | --- | --- | --- | --- | --- |
| Inventories | 0.3% | 0.5% | 0.0% | 0.4% | 0.9% |
| Manufacturers | 0.2% | 0.2% | 0.4% | 0.3% | 0.5% |
| Retailers | 0.4% | 0.6% | -0.4% | 0.4% | 0.9% |
| Wholesalers | 0.4% | 0.8% | 0.0% | 0.4% | 1.2% |
| Sales | 0.2% | -0.2% | 1.3% | 0.0% | 0.6% |
| Manufacturers | 0.1% | -0.6% | 0.2% | 0.3% | -0.2% |
| Retailers | 0.3% | 0.3% | 2.0% | -0.7% | 1.7% |
| Wholesalers | 0.1% | -0.4% | 1.8% | 0.3% | 0.5% |
| Inventory/Sales | 1.39 | 1.39 | 1.38 | 1.40 | 1.39 |
| Manufacturers | 1.38 | 1.37 | 1.36 | 1.36 | 1.36 |
| Retailers | 1.46 | 1.46 | 1.46 | 1.49 | 1.48 |
| Wholesalers | 1.35 | 1.34 | 1.33 | 1.35 | 1.35 |