Economic
Last Update: 14-Feb-19 10:20 ET
Business Inventories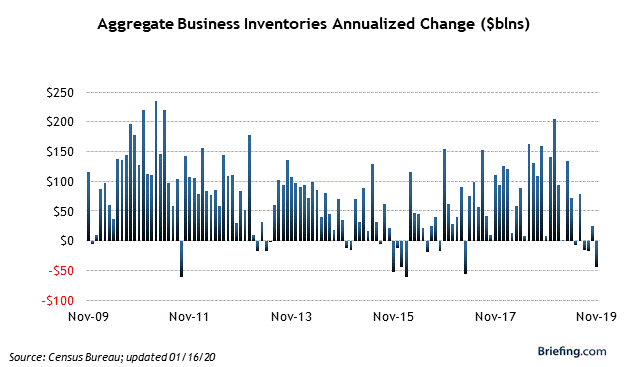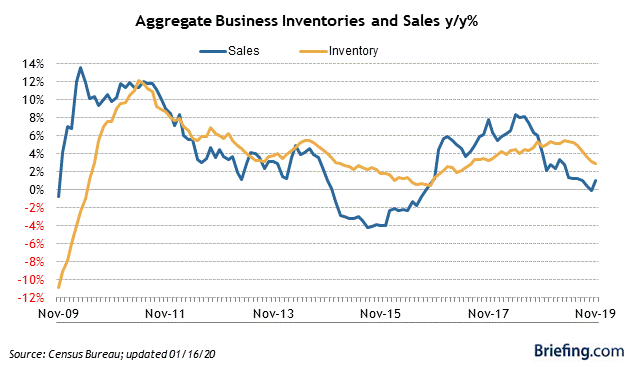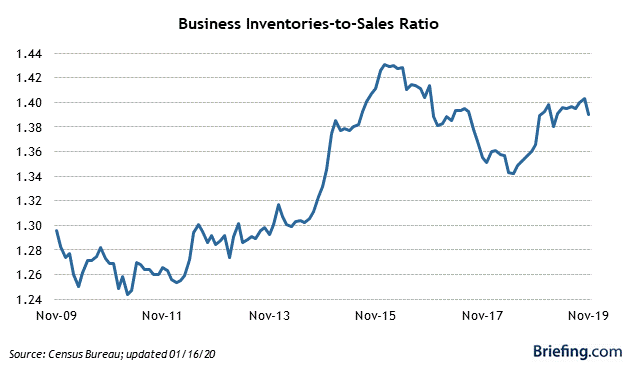 Highlights
Total business inventories declined 0.1% in November (Briefing.com consensus +0.2%) after increasing an unrevised 0.6% in October.
Total business sales fell 0.3% after increasing a downwardly revised 0.1% (from 0.3%) in October.
Key Factors
On a year-over-year basis, total business inventories were up 4.6% while total business sales were up 4.2%.
Manufacturers' and wholesalers' inventories were known ahead of time, so the missing variable was the report on retailers' inventories, which declined 0.4% after increasing 0.8% in October.
Retailers' inventories declined, led by a 1.7% decline in inventories for general merchandise stores and a 4.8% decline in inventories for furniture, home furnishings, electronics and appliance stores.
The inventories-to-sales ratio held steady versus October at 1.35 and was unchanged from the same period a year ago.
Big Picture
The key takeaway from the report is that business sales rose at a slower pace than inventories. That distinction, if it persists, will diminish pricing power.
| Category | NOV | OCT | SEP | AUG | JUL |
| --- | --- | --- | --- | --- | --- |
| Inventories | -0.1% | 0.6% | 0.5% | 0.5% | 0.7% |
| Manufacturers | -0.1% | 0.2% | 0.6% | 0.1% | 0.9% |
| Retailers | -0.4% | 0.8% | 0.1% | 0.6% | 0.6% |
| Wholesalers | 0.3% | 0.9% | 0.7% | 0.9% | 0.6% |
| Sales | -0.3% | 0.1% | 0.3% | 0.5% | 0.2% |
| Manufacturers | -0.6% | -0.1% | 0.7% | 0.7% | 0.0% |
| Retailers | 0.2% | 1.1% | 0.0% | -0.1% | 0.5% |
| Wholesalers | -0.6% | -0.6% | 0.1% | 0.7% | 0.2% |
| Inventory/Sales | 1.35 | 1.35 | 1.34 | 1.34 | 1.34 |
| Manufacturers | 1.35 | 1.34 | 1.34 | 1.34 | 1.35 |
| Retailers | 1.43 | 1.44 | 1.44 | 1.44 | 1.43 |
| Wholesalers | 1.29 | 1.28 | 1.27 | 1.26 | 1.26 |