Economic
Last Update: 18-Apr-19 10:46 ET
Business Inventories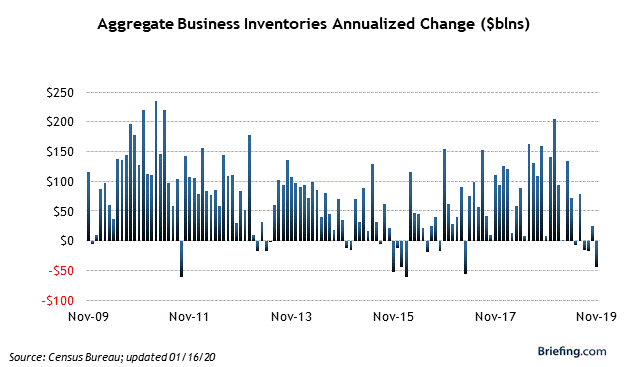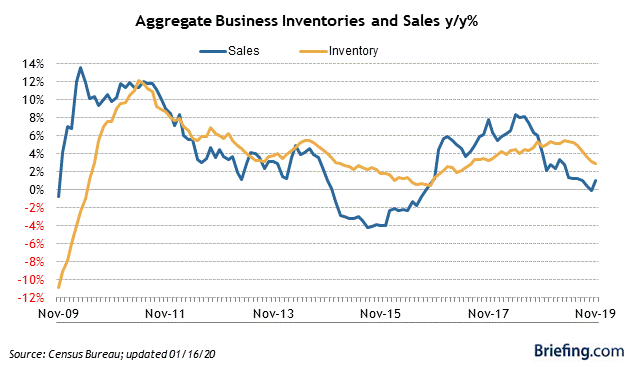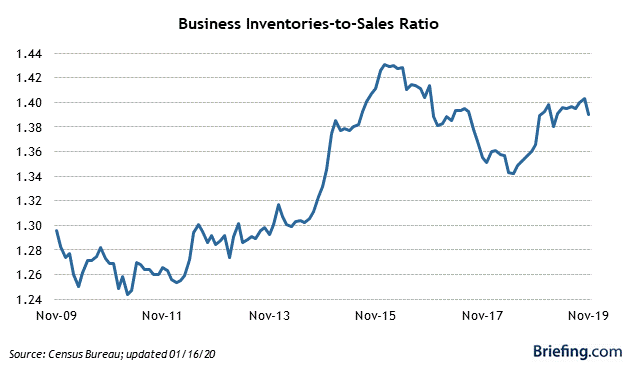 Highlights
Business inventories increased 0.3% in February (Briefing.com consensus +0.4%) following an upwardly revised 0.9% increase (from +0.8%) in January.
Business sales increased 0.1% on the heels of an unrevised 0.3% increase in January.
Key Factors
Manufacturers' and wholesalers' inventories were known ahead of time, so the missing variable was the report on retailers' inventories, which increased 0.3% after increasing 0.8% in January.
The increase in retailers' inventories was led by increases across all core retailer categories. The only core category registering a decline in inventories was general merchandise stores (-0.2%).
The inventories-to-sales ratio held steady at 1.39, but was up from 1.36 in the same period a year ago.
Big Picture
The key takeaway from the report is that the inventory boost will be a positive input for Q1 GDP forecasts.
| Category | FEB | JAN | DEC | NOV | OCT |
| --- | --- | --- | --- | --- | --- |
| Inventories | 0.3% | 0.9% | 0.8% | 0.0% | 0.6% |
| Manufacturers | 0.3% | 0.5% | 0.1% | -0.1% | 0.2% |
| Retailers | 0.3% | 0.8% | 1.1% | -0.4% | 0.8% |
| Wholesalers | 0.2% | 1.2% | 1.1% | 0.4% | 0.9% |
| Sales | 0.1% | 0.3% | -0.9% | -0.6% | 0.1% |
| Manufacturers | 0.4% | -0.3% | -0.2% | -0.5% | -0.1% |
| Retailers | -0.3% | 0.8% | -1.8% | 0.0% | 1.1% |
| Wholesalers | 0.3% | 0.5% | -0.7% | -0.8% | -0.3% |
| Inventory/Sales | 1.39 | 1.39 | 1.39 | 1.36 | 1.36 |
| Manufacturers | 1.36 | 1.36 | 1.35 | 1.35 | 1.34 |
| Retailers | 1.48 | 1.47 | 1.47 | 1.43 | 1.44 |
| Wholesalers | 1.35 | 1.35 | 1.34 | 1.32 | 1.30 |