Economic
Last Update: 13-Sep-18 14:22 ET
Treasury Budget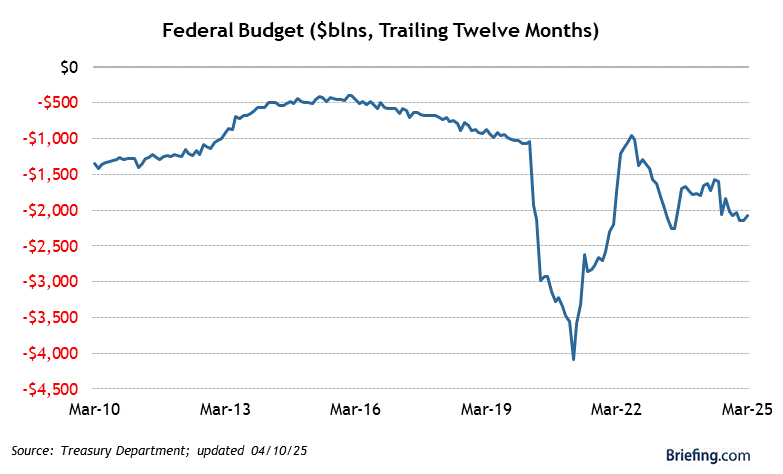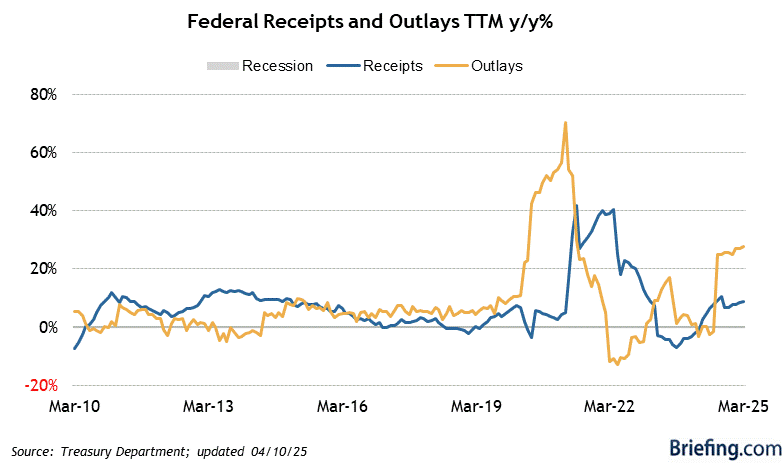 Highlights
The Treasury Budget for August showed a deficit of $214.1 billion versus a deficit of $107.7 billion for the same period a year ago. The Treasury Budget data is not seasonally adjusted, so the August deficit cannot be compared to the $76.9 billion deficit for July.
Key Factors
Total receipts of $219.1 billion for August were $7.2 billion less than the year-ago period. Individual Income Taxes accounted for $106 billion of receipts while Social Security and Other Payroll Taxes provided $93 billion. Corporate Income Tax receipts were -$3 billion while Other Taxes and Duties receipts provided $24 billion.
Total outlays in August were $433.3 billion, $99.3 billion more than the year-ago period. Outlays were led by Other expenses, which were $146 billion. The remainder of the outlays included $108 billion for Social Security, $83 billion for Medicare, $65 billion for Defense, and $32 billion for Interest on Debt.
The fiscal year-to-date deficit is $898.1 billion versus $673.7 billion at the same point in fiscal 2017.
Big Picture
The large, year-over-year uptick stemmed mainly from outlays for military active duty and retirement, Veterans' benefits, supplemental Social Security Income, Medicare payments to HMOs, and Social Security benefits that got pushed into August because September 1 was a non-business day and September 3 was a holiday.
| Category | AUG | JUL | JUN | MAY | APR |
| --- | --- | --- | --- | --- | --- |
| Deficit (-)/Surplus | -$214.1B | -$76.9B | -$74.8B | -$146.8B | $214.3B |
| Deficit (-)/Surplus Fiscal YTD | -$898.1B | -$684.0B | -$607.1B | -$532.2B | -$385.4B |
| Deficit (-)/Surplus over last 12 months | -$890.2B | -$783.8B | -$749.8B | -$765.2B | -$706.9B |