Economic
Last Update: 10-Aug-18 14:18 ET
Treasury Budget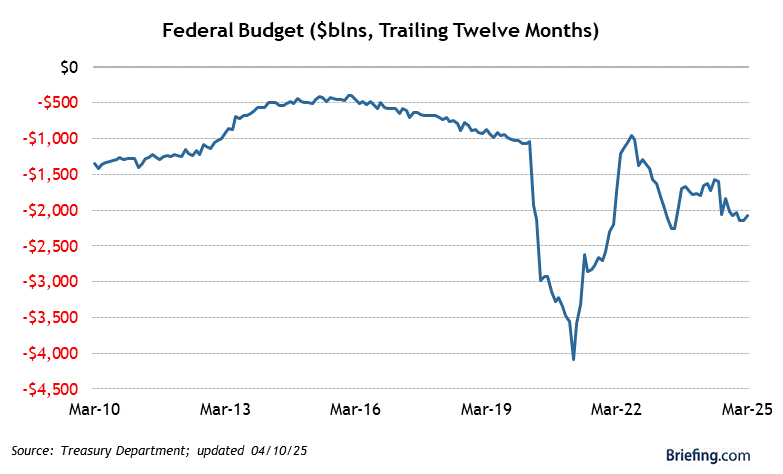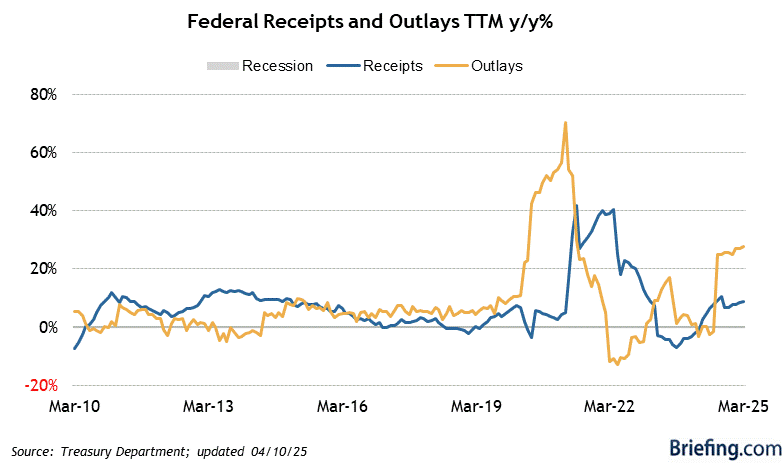 Highlights
The Treasury Budget for July showed a deficit of $76.9 billion versus a deficit of $42.9 billion for the same period a year ago.
Key Factors
Total receipts of $225.3 billion for July were $6.8 billion less than the year-ago period. Individual Income Taxes accounted for $110 billion of receipts while Social Security and Other Payroll Taxes provided $91 billion. Corporate Income Tax receipts were $4 billion while Other Taxes and Duties receipts were $20 billion.
Total outlays in July were $302.1 billion, $27.2 billion more than the year-ago period. Outlays were led by Other expenses, which were $111 billion. The remainder of the outlays included $83 billion for Social Security, $24 billion for Medicare, $49 billion for Defense, and $35 billion for Interest on Debt.
The fiscal year-to-date deficit is $684.0 billion versus $566.0 billion at the same point in fiscal 2017.
Big Picture
The Treasury Budget data is not seasonally adjusted, so the July deficit cannot be compared to the $74.9 billion deficit for June.
| Category | JUL | JUN | MAY | APR | MAR |
| --- | --- | --- | --- | --- | --- |
| Deficit (-)/Surplus | -$76.9B | -$74.8B | -$146.8B | $214.3B | -$208.7B |
| Deficit (-)/Surplus Fiscal YTD | -$684.0B | -$607.1B | -$532.2B | -$385.4B | -$599.7B |
| Deficit (-)/Surplus over last 12 months | -$783.8B | -$749.8B | -$765.2B | -$706.9B | -$738.7B |