Economic
Last Update: 12-Feb-18 14:21 ET
Treasury Budget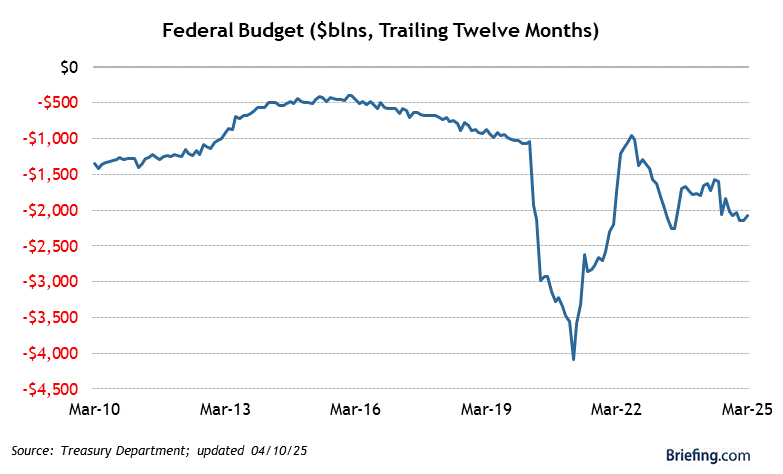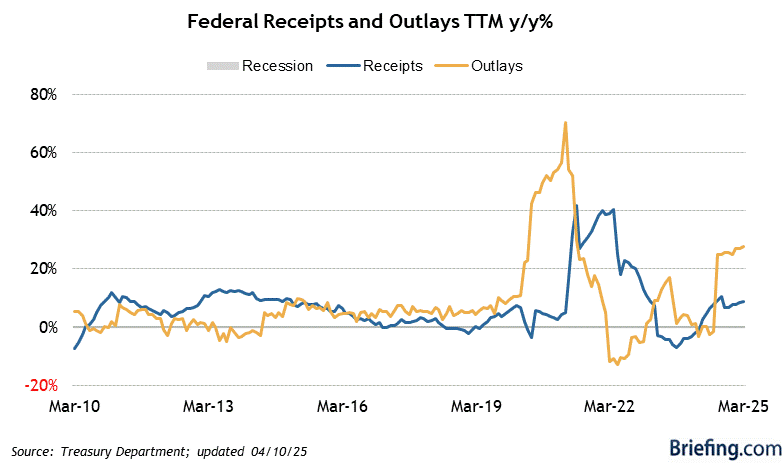 Highlights
The Treasury Budget for January showed a surplus of $49.2 billion (Briefing.com consensus $51.0 billion) versus a surplus of $51.3 billion for the same period a year ago.
Key Factors
Total receipts of $361.0 billion in January were $17.0 billion more than the year-ago period. Individual Income Taxes accounted for $212 billion of receipts while Social Security and Other Payroll Taxes provided $113 billion. Corporate Income Taxes contributed $13 billion while Other Taxes and Duties added $23 billion.
Total outlays in January were $311.8 billion, $19.0 billion more than the year-ago period. Outlays were led by Other expenses, which were $116 billion. The remainder of the outlays included $82 billion for Social Security, $49 billion for Medicare, $40 billion for Defense, and $25 billion for Interest on Debt.
The fiscal year-to-date deficit is $175.7 billion versus $158.6 billion at the same point in fiscal 2017
Big Picture
The Treasury Budget data is not seasonally adjusted, so the January surplus cannot be compared to the $23.2 billion deficit for December.
| Category | JAN | DEC | NOV | OCT | SEP |
| --- | --- | --- | --- | --- | --- |
| Deficit (-)/Surplus | $49.2B | -$23.2B | -$138.5B | -$63.2B | $8.0B |
| Deficit (-)/Surplus Fiscal YTD | -$175.7B | -$225.0B | -$201.8B | -$63.2B | -$665.7B |
| Deficit (-)/Surplus over last 12 months | -$682.8B | -$680.8B | -$684.9B | -$683.1B | -$664.1B |