Economic
Last Update: 14-May-18 18:20 ET
Treasury Budget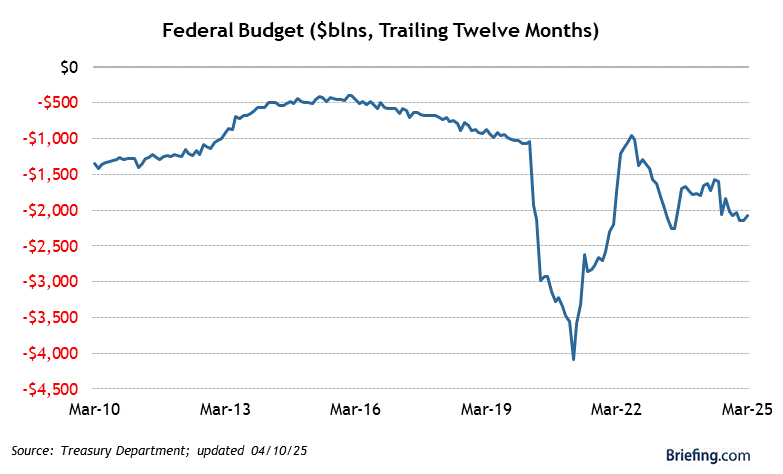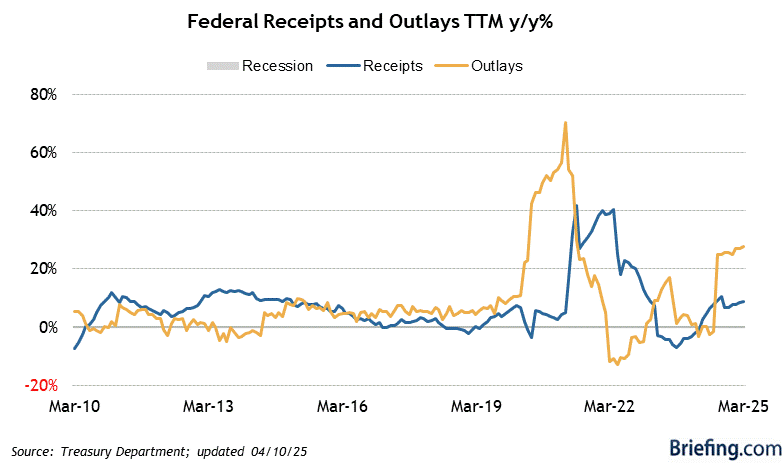 Highlights
The Treasury Budget for April showed a surplus of $214.3 billion versus a surplus of $182.4 billion for the same period a year ago.
That is the largest April surplus on record and it was driven by the impact of large individual tax deposits.
Key Factors
Total receipts of $510.4 billion for April were $54.9 billion more than the year-ago period. Individual Income Taxes accounted for $314 billion of receipts while Social Security and Other Payroll Taxes provided $129 billion. Corporate Income Tax receipts were $42 billion while Other Taxes and Duties receipts were $25 billion.
Receipts were increased by approximately $19 billion over last April because there was an additional day of collections in April 2018
Total outlays in April were $296.2 billion, $23.0 billion more than the year-ago period. Outlays were led by Other expenses, which were $108 billion. The remainder of the outlays included $82 billion for Social Security, $47 billion for Defense, $35 billion for Interest on Debt, and $24 billion for Medicare.
Approximately $45 billion in outlays had shifted into March because April 1, 2018, fell on a non-business day
The fiscal year-to-date deficit is $385.4 billion versus $344.4 billion at the same point in fiscal 2017.
Big Picture
The Treasury Budget data is not seasonally adjusted, so the April surplus cannot be compared to the $208.7 billion deficit for March.
| Category | APR | MAR | FEB | JAN | DEC |
| --- | --- | --- | --- | --- | --- |
| Deficit (-)/Surplus | $214.3B | -$208.7B | -$215.2B | $49.2B | -$23.2B |
| Deficit (-)/Surplus Fiscal YTD | -$385.4B | -$599.7B | -$391.0B | -$175.7B | -$225.0B |
| Deficit (-)/Surplus over last 12 months | -$706.9B | -$738.7B | -$706.0B | -$682.8B | -$680.8B |