Economic
Last Update: 12-May-20 14:35 ET
Treasury Budget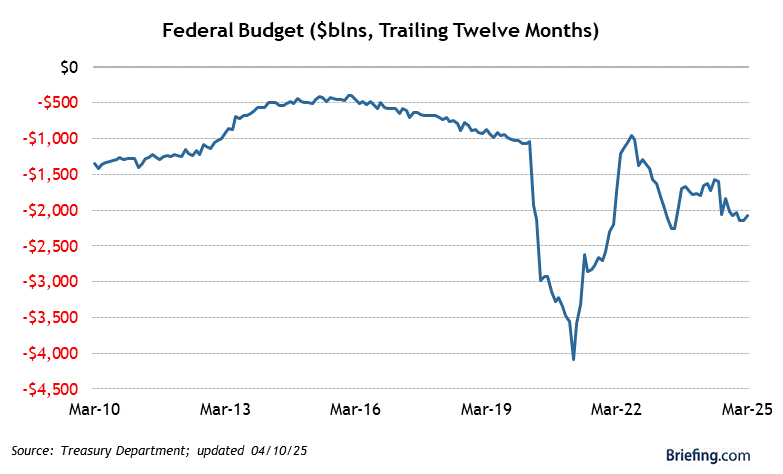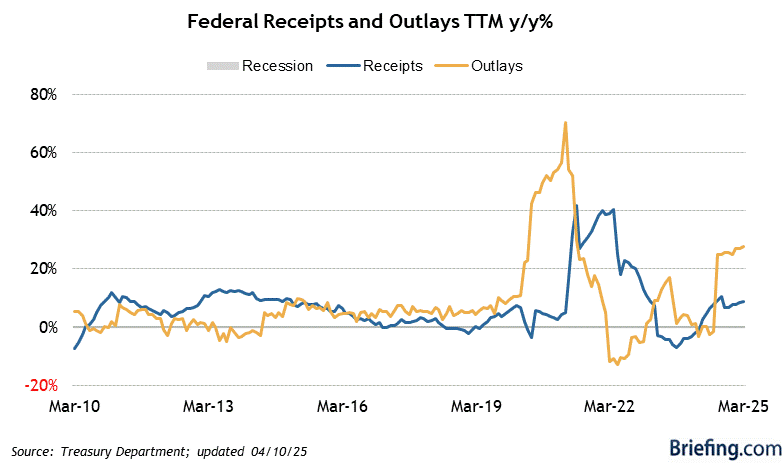 Highlights
The Treasury Budget for April showed a deficit of $737.85 billion versus a surplus of $160.3 billion in the same period a year ago.
This budget data is not seasonally adjusted, so the April deficit cannot be compared to the deficit of $118.99 billion for March.
Key Factors
Total receipts of $241.9 billion for April were $293.7 billion less than the year-ago period. Total outlays of $979.7 billion were $604.5 billion more than the year-ago period.
Social Insurance & Retirement ($139 billion), Individual Income Taxes ($75 billion), and Miscellaneous ($19 billion) accounted for the bulk of the April receipts.
The largest outlays by function were Income Security ($307 billion), medicare ($152 billion), General Government ($145 billion), Health ($100 billion), and Social Security ($92 billion).
The budget deficit over the last 12 months is $1.934 trillion versus $1.037 trillion in March.
The fiscal year-to-date deficit is $1.481 trillion versus $530.9 billion for the same period a year ago.
Big Picture
The key takeaway from the report is that the huge swing in the budget was a function of the tax filing deadline being extended, and government spending surging, due to stimulus measures employed in response to the COVID-19 impact.
| Category | APR | MAR | FEB | JAN | DEC |
| --- | --- | --- | --- | --- | --- |
| Deficit (-)/Surplus | -$737.9B | -$146.9B | -$233.9B | $8.7B | -$13.5B |
| Deficit (-)/Surplus Fiscal YTD | -$1.481T | -$691.1B | -$544.2B | -$310.3B | -$318.9B |
| Deficit (-)/Surplus over last 12 months | -$1.935T | -$1.037T | -$1.065T | -$1.063T | -$1.022T |