Economic
Last Update: 11-Jul-19 14:22 ET
Treasury Budget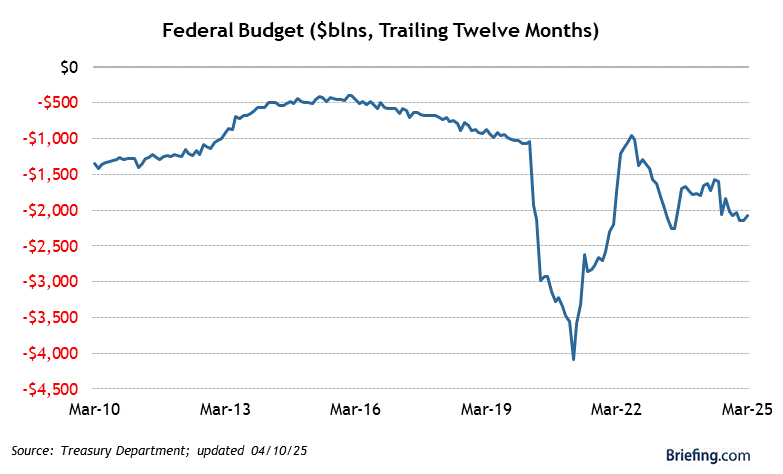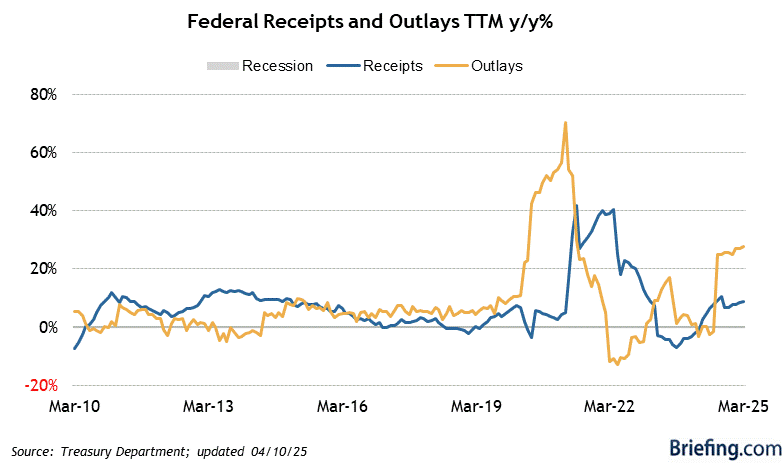 Highlights
The Treasury Budget for June showed a deficit of $8.5 billion versus a deficit of $74.8 billion for the same period one year ago. The Treasury Budget is not seasonally adjusted, so the June deficit cannot be compared to the $207.7 billion deficit for May.
Key Factors
Total receipts of $333.9 billion for June were $17.7 billion more than the year-ago period. Individual Income Taxes accounted for $141 billion of receipts. Social Insurance and Retirement provided $121 billion. Corporate Income Tax receipts were $51 billion. Excise Taxes, Miscellaneous Taxes Custom Duties Taxes, and Estate and Gift Taxes made up the remaining $21 billion of receipts.
Total outlays in June were $342.4 billion, $48.7 billion less than the year-ago period. The largest outlay was $93 billion for Social Security, followed by $51 billion for National Defense, $48 billion for Health and $40 billion for Net Interest. Other large outlays included $36 billion for Education, $24 billion for Income Security, and $22 billion for Medicare.
Big Picture
The fiscal year-to-date deficit is $747.1 billion versus a deficit of $607.1 billion for the same period ago. The budget deficit over the last 12 months is $919 billion, versus $985.4 billion for the 12 months ending in May.
| Category | JUN | MAY | APR | MAR | FEB |
| --- | --- | --- | --- | --- | --- |
| Deficit (-)/Surplus | -$8.5B | -$207.8B | $160.3B | -$146.9B | -$234.0B |
| Deficit (-)/Surplus Fiscal YTD | -$747.1B | -$738.6B | -$530.9B | -$691.2B | -$544.2B |
| Deficit (-)/Surplus over last 12 months | -$919.0B | -$985.4B | -$924.4B | -$870.5B | -$932.3B |