Economic
Last Update: 01-Aug-18 17:31 ET
Auto Sales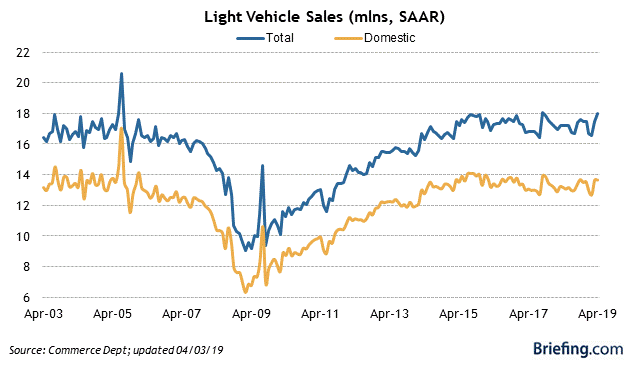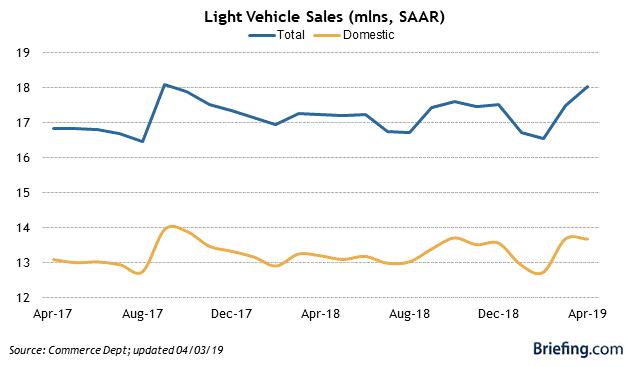 Highlights
U.S. light vehicle sales were at a seasonally adjusted annual rate (SAAR) of 16.77 million units in July versus a SAAR of 17.24 million units in June. The July run rate was down less than 0.1% from the SAAR of 16.78 million units for July 2017.
Total domestic sales decreased to 13.06 million SAAR from 13.42 million SAAR in June.
On a seasonally adjusted basis, domestic auto sales for July decreased to a SAAR of 3.93 million from a SAAR of 3.95 million in June. The sales rate was 12.7% below the year-ago period.
On a seasonally adjusted basis, domestic truck sales decreased 3.5% to 9.14 million SAAR in July from 9.47 million SAAR in June. The sales rate was 4.8% above the year-ago period.
Key Factors
BMW -0.3% yr/yr
Fiat Chrysler +5.8% yr/yr
Ford -3.3% yr/yr
GM estimated -3.0% yr/yr
Honda -8.2% yr/yr
Hyundai-Kia -5.1% yr/yr
Mercedez-Benz USA -20.1% yr/yr
Nissan North America -15.2% yr/yr
Subaru +6.7% yr/yr
Toyota Motor -6.0% yr/yr
VW Group of America +7.9% yr/yr
Big Picture
The SAAR of 16.77 million was the slowest sales pace since August 2017 when Hurricane Harvey disrupted sales activity.
July 2018 had one less selling day and one less weekend versus the same period a year ago.
Demand for SUVs, pickups, and crossovers continued to drive overall sales activity while car demand was weak.
According to ALG data cited by Automotive News, estimated new-vehicle incentive spending for the industry increased 3.2% year-over-year in July to $3,754. It was down 0.9% sequentially, however, which was the first month-over-month drop in almost five years.
| Category | JUL | JUN | MAY | APR | MAR |
| --- | --- | --- | --- | --- | --- |
| Domestic Light Vehicles | 13.06M | 13.42M | 13.24M | 13.25M | 13.57M |
| Autos | 3.93M | 3.95M | 3.99M | 3.96M | 4.05M |
| Light Trucks | 9.14M | 9.47M | 9.25M | 9.29M | 9.52M |
| Total Light Vehicles (incl imports) | 16.77M | 17.24M | 17.19M | 17.13M | 17.28M |