Q1 GDP-Adv.
Updated 26-May-11 09:10 ET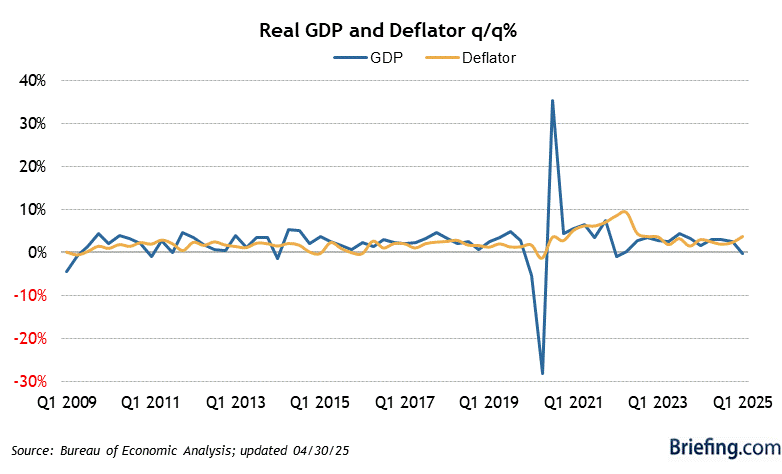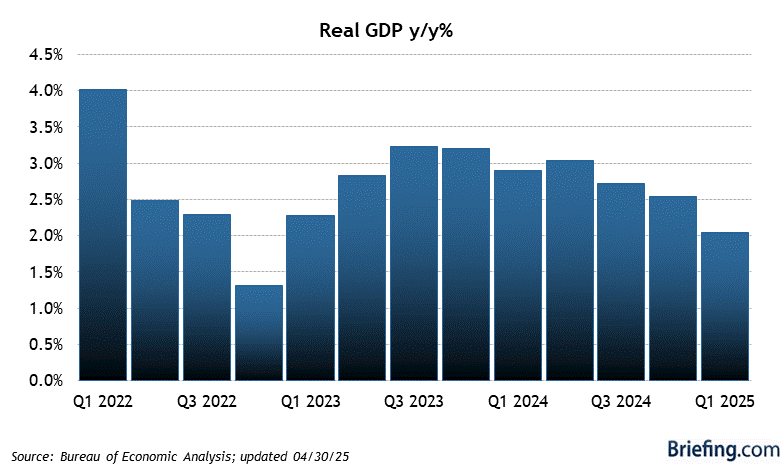 Highlights
Real GDP growth in Q1 2011 was unchanged in the second estimate.
GDP increased 1.8% during the quarter after increasing 3.1% in Q4 2010.
The Briefing.com consensus expected GDP to increase 2.0%..
Key Factors
Increases in exports, nonresidential fixed investment, and inventories were completely offset by an increase in imports and a downward revision to personal consumption expenditures.
The downward revision in consumption was unexpected as the latest retail sales report suggested stronger sales numbers. The consensus expected an upward revision to PCE would push GDP growth higher in the second estimate.
Even though overall GDP growth remained the same, real final sales weakened in the second estimate. Real final sales increased only 0.6%, down from 0.8% in the advance estimate and from 6.7% in the fourth quarter.
Real final sales are at their lowest point since Q3 2009, which was the first quarter after the recession ended. On this measure, economic activities were definitely depressed during the quarter as inventory changes represented the bulkof GDP growth. This is not sustainable and the volatile nature of the inventory data suggests inventories will reverse direction next quarter.
The GDP deflator was also unchanged, remaining at 1.9%.
Big Picture
First quarter GDP slowed considerably compared to Q4 2010. However, the slowdown is most likely transitory and the economy should return to potential growth next quarter.
| Category | Q1 | 2010 Q4 | 2010 Q3 | 2010 Q2 | 2010 Q1 |
| --- | --- | --- | --- | --- | --- |
| GDP | 1.8% | 3.1% | 2.6% | 1.7% | 3.7% |
| Inventories (change) | $52.2B | $16.2B | $121.4B | $68.8B | $44.1B |
| Final Sales | 0.6% | 6.7% | 0.9% | 0.9% | 1.1% |
| PCE | 2.2% | 4.0% | 2.4% | 2.2% | 1.9% |
| Nonresidential Inv. | 3.4% | 7.7% | 10.0% | 17.2% | 7.8% |
| Structures | -16.8% | 7.7% | -3.6% | -0.5% | -17.76% |
| Equipment & Software | 11.6% | 7.7% | 15.4% | 24.8% | 20.5% |
| Residential Inv. | -3.3% | 3.3% | -27.3% | 25.6% | -12.3% |
| Net Exports | -$398.5B | -$397.7B | -$505.0B | -$449.0B | -$338.4B |
| Export | 9.2% | 8.6% | 6.8% | 9.1% | 11.4% |
| Imports | 7.6% | -12.4% | 16.8% | 33.5% | 11.2% |
| Government | -5.1% | -1.7% | 3.9% | 3.9% | -1.6% |
| GDP Price Index | 1.9% | 0.4% | 2.1% | 1.9% | 1.0% |