March Consumer Credit
Updated 25-May-11 21:09 ET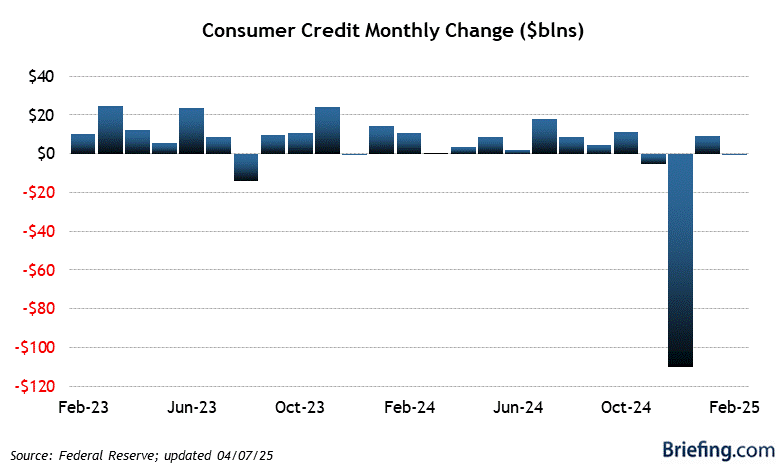 Highlights
Consumer credit increased $6.016 bln in March after adding $7.553 bln in February. This was the sixth consecutive expansion in consumer credit after 20 consecutive months of contraction.
The Briefing.com consensus expected credit to increase by $4.9 bln.
Key Factors
The consumer credit report suffers from some extremely large revisions, making it difficult to get a grasp of the credit situation until three months after the data are released. Typically, the data have overstated the actual credit situation in the original release, which was exactly what happened in February when credit was revised down from $7.616 bln to $7.553 bln.
While a sixth month growth spurt suggests that credit growth is now on a stable and secure path, it is best not to get too excited about the expansion until all of the revisions are accounted for.
For just the second time in 31 months, revolving credit was positive and increased $1.949 bln in March.
Nonrevolving credit increased $4.067 bln in March after increasing $10.153 bln in February. This was the eighth consecutive monthly gain in nonrevolving credit.
Big Picture
Consumers and lenders have been intertwined in a vicious negative feedback loop regarding consumer credit. First, lenders became extremely worried about overleveraged consumers, and they pulled back available funds to even the most credit worthy borrower. Next, the consumer became aware of the tightened lending restrictions and increased their savings rate in an effort to pay off their debts. Lenders noticed a drop in demand for loans and became even wearier of the type of consumer looking for credit in today's market. The loop continues as consumers push the savings rate even higher. Until lenders relax restrictions on lending, consumers will continue to demand less credit in the future.
| Category | MAR | FEB | JAN | DEC | NOV |
| --- | --- | --- | --- | --- | --- |
| Total Credit | $6.0B | $7.6B | $4.4B | $4.7B | $1.3B |
| Revolving | $1.9B | -$2.6B | -$3.9B | $2.0B | -$3.6B |
| Nonrevolving | $4.1B | $10.2B | $8.3B | $2.7B | $4.8B |