April Treasury Budget
Updated 25-May-11 21:13 ET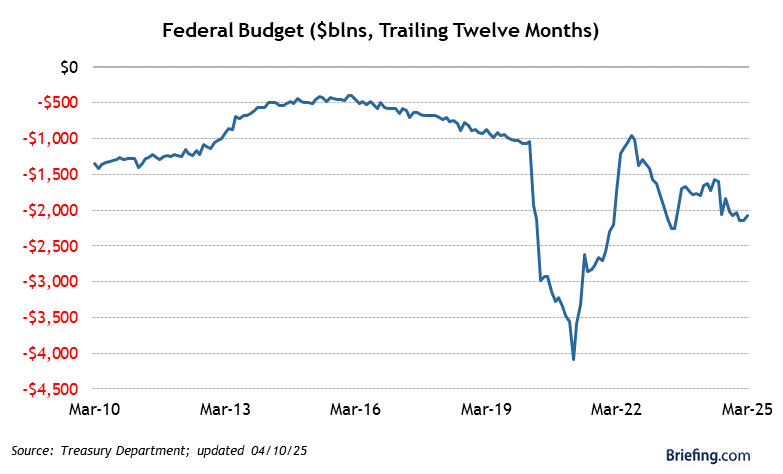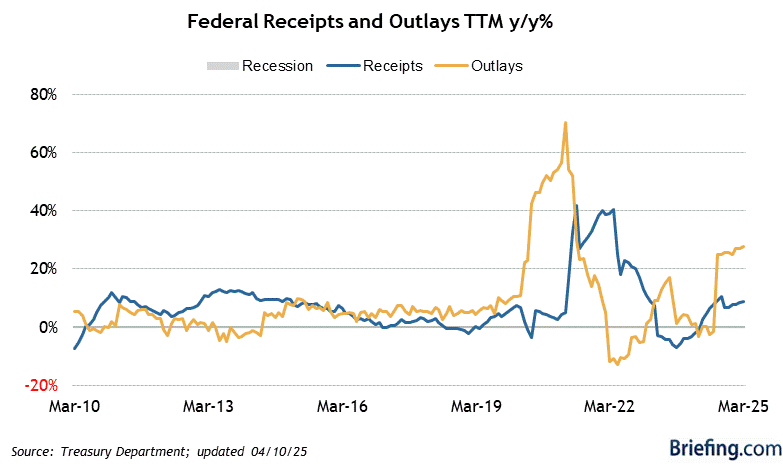 Highlights
The federal budget deficit contracted from $82.7 bln in April 2010 to $40.5 bln in March 2011. Since the Treasury budget data are not seasonally adjusted, the results cannot be compared with the levels from February.
The Briefing.com consensus expected the deficit to narrow to $41.0 bln.
Key Factors
The Congressional Budget Office released its deficit preview earlier in the week and forecasted a budget shortfall of $41.0 bln. The market is well aware of the CBO's forecast, and since discrepancy between the CBO and actual data was minor, there should be limited market reaction.
Total outlays increased $2.1 bln from April 2010 to April 2011. Revenues increased $44.3 bln during the same time frame.
Fiscal year-to-date, the deficit is $869.9 bln, $70.2 bln more than FY10.
Big Picture
Raw Data Available At: http://www.fms.treas.gov/mts/index.html
| Category | APR | MAR | FEB | JAN | DEC |
| --- | --- | --- | --- | --- | --- |
| Deficit (-)/Surplus | -$40.5B | -$188.2B | -$222.5B | -$49.8B | -$80.0B |
| Deficit (-)/Surplus Fiscal YTD | -$869.9B | -$829.4B | -$641.3 | -$418.8B | -$370.8B |
| Deficit (-)/Surplus over last 12 months | -$1364.4B | -$1406.6B | -$1283.9B | -$1282.3B | -$1275.1B |