April Auto Sales
Updated 25-May-11 21:08 ET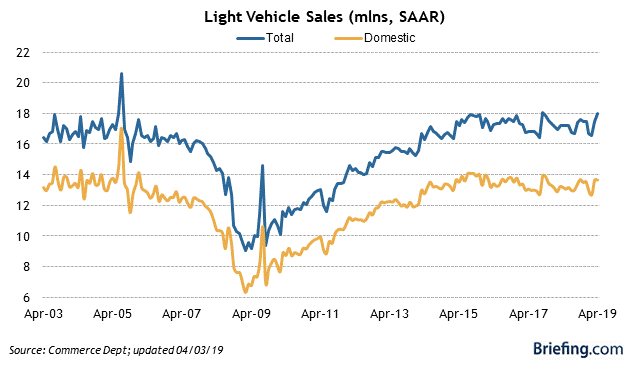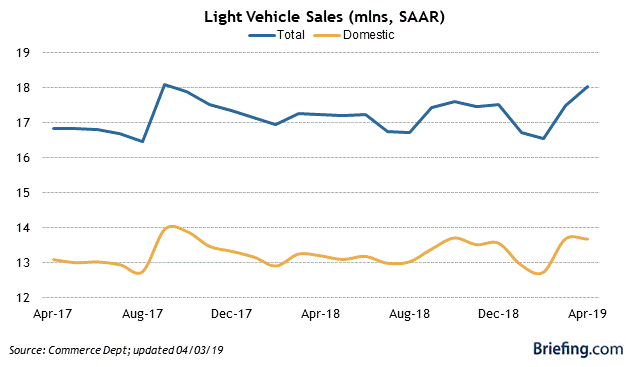 Highlights
Total domestic motor vehicle sales increased from 9.87 mln SAAR in March to 10.11 mln SAAR in April.  Low inventory levels of many Japanese, fuel efficient cars and high fuel prices led the shift in consumer sales from imported motor vehicles to domestically produced vehicles.
Demand for imports fell from 3.24 mln SAAR to 3.06 mln SAAR.
Strangely, the seasonal adjustment factors negated much of the shift in automobile demand. Domestic car sales actually declined from 4.77 mln SAAR to 4.73 mln SAAR. After a rough March, where domestic truck sales fell from 5.51 mln
SAAR in February to 5.10 mln SAAR in March, sales increased to 5.38 mln SAAR in April.
Total motor vehicle sales extended a 13 mln SAAR plus sales streak for a third consecutive month as sales increased from 13.11 in March to 13.17 mln in April.
Key Factors
The year-over-year sales numbers were in-line with last month's levels. Sales increased 18% y/y from April 2010 after increasing 17% y/y in March. For the year, sales are up 20% from the same point in 2010.
Supply problems following the earthquake and tsunami cost Japanese companies significant market share to U.S. domestic and Korean auto companies in April. Collectively, the Japanese automakers lost 3.4% of market share as the Big Three claimed 1.5% and Korean automakers grabbed 1.9%.
Even with the lost market share, sales growth at the main Japanese automakers remained in the black. Sales at Nissan, Honda (HMC), and Toyota (TM) increased 12%, 10%, and 1% respectively.
After one month as the top motor vehicle seller in the country, Ford (F) relinquished its spot to General Motors (GM), which saw sales jump 27% in April to 232,538. Even more impressive, sales of just Chevrolet vehicles topped the entire performance of all brands under the Toyota name plate. Ford sales increased 13% and Chrysler Group sales increased 23%.
Hyundai-Kia sales increased 47%. Year-to-date, Hyundai-Kai sales account for 8.4% of total market share, up from 7.4% during the same time period in 2010.
Big Picture
According to Automotive News, Ford (F) is now projecting sales between 12.3 and 13.3 mln units in 2011 while General Motors (GM) expects sales in the range of 12.8 mln units to 13.3 mln units. To put this in perspective, total sales in 2009 and 2010 were only 10.4 mln units and 11.6 mln units respectively.
| Category | APR | MAR | FEB | JAN | DEC |
| --- | --- | --- | --- | --- | --- |
| Domestic Light Vehicles | 10.1M | 9.9M | 10.2M | 9.6M | 9.5M |
| Autos | 4.7M | 4.8M | 4.6M | 4.0M | 3.9M |
| Light Trucks | 5.4M | 5.1M | 5.6M | 5.6M | 5.6M |
| Total Light Vehicles (incl imports) | 13.2M | 13.1M | 13.4M | 12.5M | 12.5M |