Economic
Last Update: 03-Jul-14 09:25 ET
Trade Balance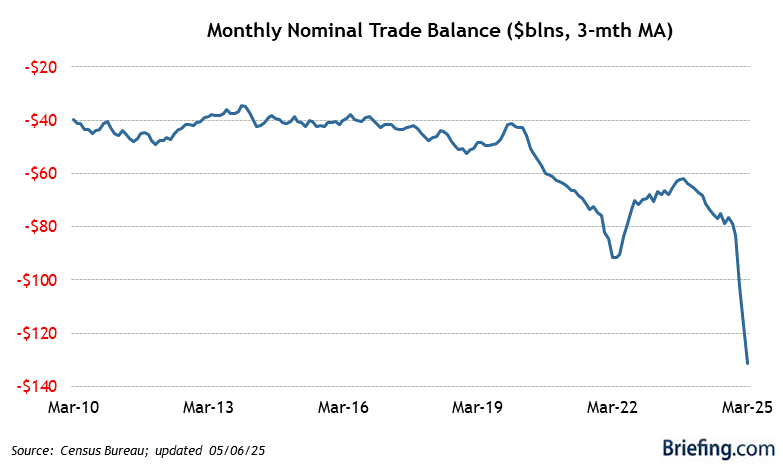 Highlights
The U.S. trade deficit narrowed in May to $44.4 bln from a downwardly revised $47.0 bln (from $47.2 bln) in April. The Briefing.com consensus expected the trade deficit to fall to $45.2 bln.
Key Factors
Total goods deficit fell to $63.3 bln in May from $65.7 bln in April. The services surplus increased to $18.9 bln from $18.6 bln.
Exports increased 1% to $195.5 bln in May from $193.5 bln in April. Much of that gain, however, came from a $0.4 bln unsustainable gain in exports of gem diamonds. Capital goods exports fell $1.7 bln, in large part due to $0.5 bln decline in civilian aircraft shipments. Exports of automotive vehicles and parts increased by $0.8 bln and shipments of industrial supplies and products were up $0.2 bln.
Imports fell 0.3% to $239.8 bln from $240.5 bln. Shipments of imported cellphones, which boosted imports over the past few months, fell by $0.5 bln. These will likely remain low until Apple (AAPL) releases their next generation iPhone in September. A $2.1 bln decline in crude oil imports led an overall $1.7 bln decline in imports of industrial supplies and materials. Imports growth of both capital goods ($1.0 bln) and automotive vehicles and parts ($1.3 bln) exceeded the $1.0 bln mark.
The petroleum net export deficit fell to $15.2 bln in May. That was the lowest deficit since December 2013.
Big Picture
The narrowing of petroleum trade deficit was instrumental in the drop in the overall trade balance.
| Category | MAY | APR | MAR | FEB | JAN |
| --- | --- | --- | --- | --- | --- |
| Trade Deficit | $44.4B | $47.0B | $44.2B | $42.6B | $40.1B |
| Exports | $195.5B | $193.5B | $193.7B | $188.1B | $192.2B |
| Imports | $239.8B | $240.5B | $237.8B | $230.7B | $232.2B |