Economic
Last Update: 23-Nov-15 17:58 ET
Trade Balance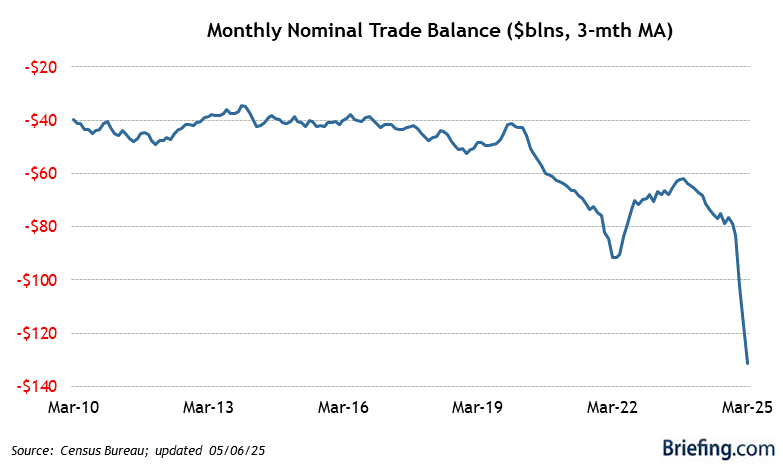 Highlights
The U.S. trade deficit narrowed in September to $40.8 billion from an upwardly revised $48.0 billion (from -$48.3 bln) in August. That was better than the $43.0 billion deficit projected by the Briefing.com consensus.
Key Factors
The September trade deficit was not that far off from the BEA's estimate of -$40.6 billion that was embedded in the advance Q3 GDP report. Accordingly, revisions to net exports shouldn't have much bearing on the second estimate for Q3 GDP.
The improvement in September was owed to imports being $4.2 billion less than August imports and exports being $3.0 billion more than August exports.
The decrease in the goods and services deficit was paced by a $7.3 billion decrease in the goods deficit and a $0.1 billion decrease in the services surplus.
The bump in exports came primarily from consumer goods (+$1.28 bln), which was led by increases in artwork, jewelry, and cell phones, and a $0.89 billion increase in capital goods, excluding autos.
Imports of industrial supplies and materials fell by $1.58 billion, the bulk of which was related to crude oil (-$1.28 bln), capital goods dropped by $1.04 billion, auto imports decreased by $0.84 billion, consumer goods declined by $0.44 billion, and imports of other goods were down $0.49 billion.
Big Picture
The drop in imports was surprisingly broad-based given the dollar's strength and didn't exactly connote an element of strong demand in the US.
| Category | SEP | AUG | JUL | JUN | MAY |
| --- | --- | --- | --- | --- | --- |
| Trade Deficit | -$40.8B | -$48.0B | -$41.8B | -$45.2B | -$42.5B |
| Exports | $187.9B | $184.9B | $188.8B | $187.7B | $187.9B |
| Imports | $228.7B | $233.0B | $230.6B | $232.9B | $230.4B |