Economic
Last Update: 07-Mar-14 09:20 ET
Trade Balance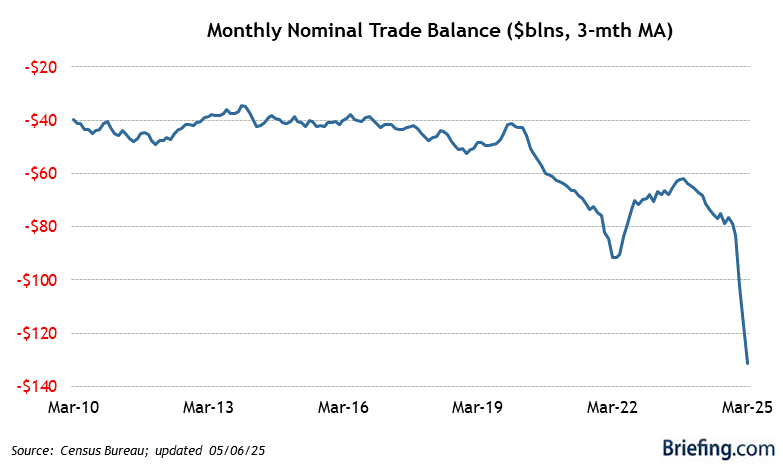 Highlights
The U.S. trade deficit widened in January to $39.1 bln from an upwardly revised $39.0 bln (from $38.7 bln) in December. The Briefing.com consensus expected the trade deficit to fall to $37.3 bln.
Key Factors
The goods deficit rose to $59.3 bln from $58.7 bln, a gain of $0.7 bln. The services surplus increased by $0.5 bln in January to $20.2 bln.
The increase in the trade deficit could have been much worse.
Exports increased 0.6% in January to $192.5 bln. Almost all of the increase can be attributed to a $1.8 bln increase in exports of nonmonetary gold and a $0.2 bln increase in artwork sales. Neither of those components are sustainable, and if they were at normal levels exports would have fallen in January. Normal areas of growth, such as foodstuffs (-$0.8 bln) and autos (-$0.2), were significantly weaker in January.
Imports also increased by 0.6% in January, from $230.3 bln in December to $231.6 bln. Much of the gain was due to stronger demand for petroleum products. Crude oil imports rose by $2.8 bln and fuel oil rose by $0.4 bln. Imports of consumer goods dropped by $1.0 bln, led by a $1.5 bln decline in demand for cell phones. Imported autos declined by $1.4 bln.
The petroleum product deficit increased to $19.3 bln in January from $15.5 bln in December. That is the largest petroleum deficit since October. The increase in the deficit was a little strange considering the EIA reported a net decline in petroleum imports in January.
Big Picture
If not for a likely one-time spike in gold and artwork exports, the trade deficit would have topped $40.0 bln fro the first time since September.
| Category | JAN | DEC | NOV | OCT | SEP |
| --- | --- | --- | --- | --- | --- |
| Trade Deficit | $39.1B | $39.0B | $35.2B | $39.8B | -$43.4B |
| Exports | $192.5B | $191.3B | $194.6B | $193.1B | $189.3B |
| Imports | $231.6B | $230.3B | $229.8B | $232.9B | $232.7B |