Economic
Last Update: 06-Mar-15 09:16 ET
Trade Balance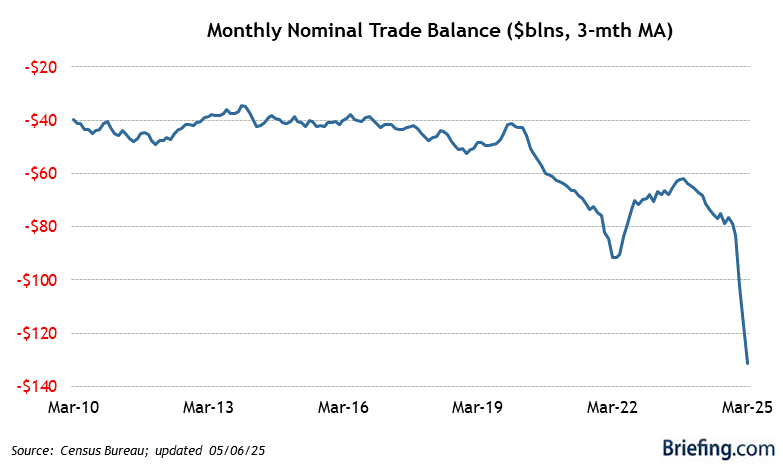 Highlights
The U.S. trade deficit declined to $41.8 bln in January from a downwardly revised $45.6 bln (from $46.6 bln) in December. The Briefing.com Consensus expected the trade deficit to decline to $42.0 bln.
Key Factors
The goods deficit declined by $3.4 bln to $61.6 bln from $65.0 bln. The services surplus increased to $19.9 bln from $19.4 bln, a gain of $0.5 bln.
Lower petroleum prices had a sizable impact on the change in the goods deficit in January. Even though U.S. exports of petroleum-based products have steadily increased over the past several year, the effect of lower prices was felt much more strongly on import levels. Overall, the petroleum-based net export deficit fell by $3.9 bln to $10.7 bln in January from $14.6 bln in December.
The impact of lower prices was also noticed in the real numbers. The real goods deficit declined by only $0.4 bln in January, which was a far cry from the nominal decline.
Looking at the details, export levels declined 2.9% in January from $195.0 bln to $189.4 bln in December, a difference of $5.6 bln. That was the smallest number of exports since February 2014. Large declines were registered in industrial supplies ($-2.2 bln), food (-$1.1 bln), and autos (-$1.0 bln).
Import levels fell by $9.4 bln, from $240.6 bln in December to $231.2 bln in January. Lower petroleum imports were reflected in a $6.0 bln decline in industrial supplies and materials imports. The rest of the decline in imports was the result $2.1 bln decline in consumer goods, of which half of the decline came from lower cell phone and other household goods imports.
Big Picture
The trade deficit narrowed as a result of lower prices, not necessarily a shift in demand for imports or exports.
| Category | JAN | DEC | NOV | OCT | SEP |
| --- | --- | --- | --- | --- | --- |
| Trade Deficit | -$41.8B | -$45.6B | -$39.5B | -$41.9B | -$43.4B |
| Exports | $189.4B | $195.0B | $196.8B | $198.7B | $195.2B |
| Imports | $231.2B | $240.6B | $236.3B | $240.6B | $238.8B |