Economic
Last Update: 06-Oct-15 08:58 ET
Trade Balance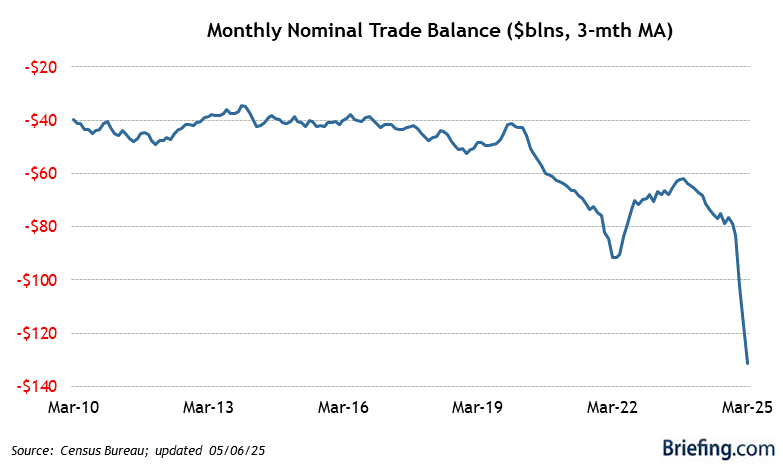 Highlights
The U.S. trade deficit widened to $48.3 bln in August from a slightly downwardly revised $41.8 bln (from $41.9 bln) in July. The Briefing.com Consensus expected the trade deficit to increase to $44.5 bln.
While the big increase in the trade deficit looks like a clear miss when compared to the consensus forecast, it was actually very much in-line with the $48.0 bln estimate provided in the advance trade of goods report.
Key Factors
As usual, a big increase in the trade deficit can be directly tied to a release of the latest version of the Apple iPhone or Samsung Galaxy cellphone. That held true in August as cell phone imports skyrocketed by $2.1 bln.
Overall, the goods deficit increased to $67.9 bln in August from $61.3 bln in July. The services surplus increased slightly to $19.6 bln from $19.5 bln.
Total exports declined by $3.7 bln to $185.1 bln in August from $188.8 bln in July. Most of the decline came from a $2.2 bln fall in industrial supplies and materials exports of which $0.8 bln was a result of a decline in fuel and crude oil. Other large declines were reported in food and feedstuffs (-$0.3 bln), automotive (-$0.5 bln) and consumer goods (-$0.6 bln). Capital goods exports managed to post a small increase in exports ($0.1 bln), but that was because of a surge in civilian aircraft exports ($1.4 bln).
Total imports increased to $233.4 bln in August from $230.6 bln in July, a gain of $2.8 bln. Big declines in crude and fuel oil imports (-$1.5 bln) led to a $2.2 bln decline in industrial supplies and materials imports. However, that loss was easily offset by a $4.0 bln increase in consumer goods, which was mostly due to the aforementioned cell phone gains. Capital goods imports increased by $1.1 bln in August.
The petroleum-based trade deficit declined to $6.9 bln in August from $8.1 bln in July.
Big Picture
A stronger dollar and the release of the latest cell phone caused the U.S. trade deficit to widen to its largest level since the West Coast port strike in March.
| Category | AUG | JUL | JUN | MAY | APR |
| --- | --- | --- | --- | --- | --- |
| Trade Deficit | -$48.3B | -$41.8B | -$45.2B | -$42.5B | -$42.3B |
| Exports | $185.1B | $188.8B | $187.7B | $187.9B | $189.1B |
| Imports | $233.4B | $230.6B | $232.9B | $230.4B | $231.4B |