Economic
Last Update: 21-May-15 17:41 ET
Trade Balance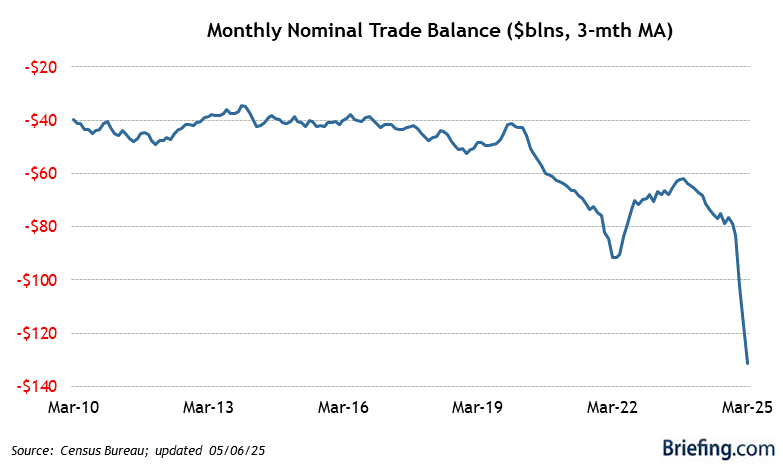 Highlights
The U.S. trade deficit widened to $51.4 bln in March from an upwardly revised $35.9 bln (from $35.4 bln) in February. The Briefing.com Consensus expected the trade deficit to increase to $40.0 bln.
The BEA assumed a March trade deficit of roughly $48.5 bln in the advance Q1 2015 GDP report. The actual trade deficit was much larger than expected and will likely lead to a downward revision to GDP growth.
Key Factors
The goods deficit increased to $70.6 bln in March from $55.7 bln, a gain of $14.9 bln. The services surplus declined by $0.6 bln to $19.2 bln in March from $19.8 bln in February.
The trade deficit jumped from its lowest point in February since November 2009 to its largest deficit since October 2008.
The spike in the trade deficit, however, shouldn't be too concerning. A port strike on the West Coast caused a pileup of containerships that needed to be unloaded. As dockworkers returned, imports that normally would have come in February were unloaded in March. That helped drive up imports 7.7% in March. Overall import levels are now back to where they were before the strike in Q4 2014.
Export levels increased by $1.6 bln in March, from $186.2 bln in February to $187.8 bln. A large chunk of the increase in exports came from a $0.5 bln increase nonmonetary gold. Gold is not included in the official GDP trade data, which means the overall trade deficit was much higher than the headline suggests. Other gains came from capital goods including autos ($2.3 bln) and foodstuffs ($0.3 bln). Consumer good exports fell by $1.7 bln with most of the decline coming from pharmaceuticals (-$0.8 bln) and artwork (-$0.3 bln).
Imports increased by $17.1 bln in March to $239.2 bln from $222.1 bln in February. Most of the import gain came from consumer goods ($9.0 bln), capital goods ($4.0 bln), and autos ($2.7 bln). Imports from these sectors come primarily from Asia, which would confirm that the port strike influenced the trade numbers.
Despite higher crude prices, the petroleum-based trade deficit declined to $7.7 bln in March from $8.2 bln in February.
Big Picture
The big down-and-up movement in the trade deficit over the past two months was the result of the delays caused by the West coast port strike. Volatility should level out over the next month or two.
| Category | MAR | FEB | JAN | DEC | NOV |
| --- | --- | --- | --- | --- | --- |
| Trade Deficit | -$51.4B | -$35.9B | -$42.7B | -$45.6B | -$39.5B |
| Exports | $187.8B | $186.2B | $189.2B | $195.0B | $196.8B |
| Imports | $239.2B | $221.1B | $231.9B | $240.6B | $236.3B |