Economic
Last Update: 04-Nov-14 08:58 ET
Trade Balance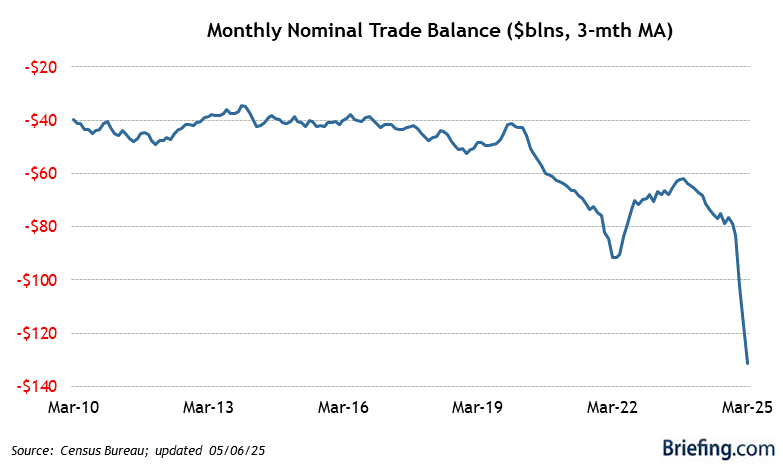 Highlights
The U.S. trade deficit widened to $43.0 bln in September from a downwardly revised $40.0 bln (from $40.1 bln) in August. The Briefing.com consensus expected the deficit to increase slightly to $40.2 bln.
Key Factors
According to the advance estimate of Q3 2014 GDP, the BEA assumed that the trade deficit narrowed to roughly $38 bln in September. The upward surprise should result in a downward revision to third quarter GDP in the second estimate.
The goods deficit increased by $2.4 bln in September to $62.7 bln from $60.2 bln. The services surplus fell to $19.6 bln from $20.2 bln, a drop of $0.6 bln.
Exports fell 1.5% in September to $195.6 bln, a drop of $3.0 bln. A significant portion of the decline in exports was the result of lower oil prices impacting petroleum sales. Exports of petroleum-based products fell by $1.8 bln in September. After factoring out the price change, the drop in petroleum-based products was only $1.0 bln.
Weaker aircraft sales helped reduce exports of capital goods by $1.2 bln. Auto sales declined by $0.1 bln and consumer goods exports fell by $0.7 bln. A $1.7 bln increase in soybean exports led to an overall $1.2 bln increase in food and feed exports.
Imports were virtually flat at $238.6 bln. Weaker oil prices drove petroleum-based imports down 3.2% to $26.4 bln. That decline, however, was offset by the release of the Apple (AAPL) iPhone 6 which boosted cell phone and household good imports by $1.9 bln.
Capital good imports fell by $0.9 bln, mostly as a result of a $0.8 bln decline in civilian aircraft. Auto imports declined by $0.5 bln.
Overall, the petroleum trade deficit increased to $14.0 bln in September from $13.1 bln in August.
Big Picture
A sharp increase in cell phone imports offset weaker oil prices and boosted the trade deficit in September.
| Category | SEP | AUG | JUL | JUN | MAY |
| --- | --- | --- | --- | --- | --- |
| Trade Deficit | -$43.0B | $40.0B | $40.3B | $40.8B | $43.5B |
| Exports | $195.6 | $198.6B | $198.0B | $196.2B | $196.2B |
| Imports | $238.6 | $238.6B | $238.3B | $237.0B | $239.6B |