Economic
Last Update: 05-Dec-14 09:14 ET
Trade Balance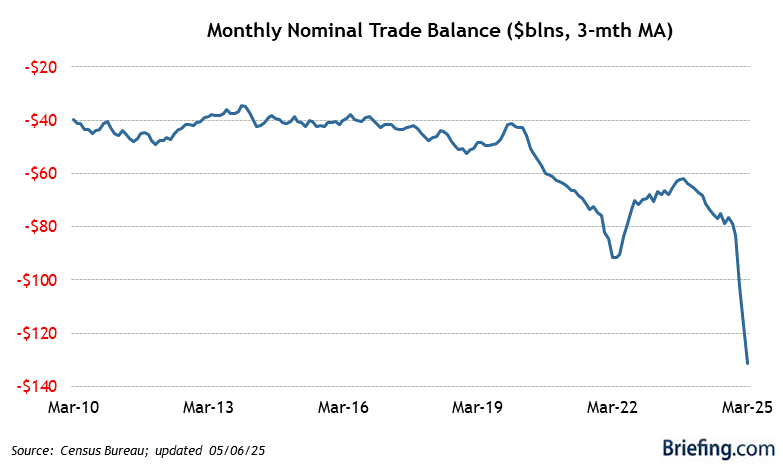 Highlights
The U.S. trade deficit narrowed slightly in October, falling from an upwardly revised $43.6 bln (from $43.0 bln) in September to $43.4 bln. The Briefing.com consensus expected the trade deficit to fall to $42.0 bln.
Key Factors
The goods deficit was virtually unchanged at $62.7 bln while the services surplus increased to $19.2 bln from $19.1 bln.
Total exports increased by $2.3 bn in November, from $195.2 bln in October to $197.5 bln. Most of the gain was the result of a $1.7 bln increase in capital goods exports, of which $1.0 came from civilian aircraft sales. Consumer goods exports increased by $0.4 bln.
Imports increased by $2.1 bln in November to $241.0 bln from $238.8 bln. Strong gains in capital goods imports ($1.1 bln) offset a large drop in consumer goods demand ($0.8 bln). Cell phones, which boosted imports significantly in September, fell by $1.1 bln in October as demand for the new Apple (AAPL) iPhone 6 slowed. Automotive imports increased by $1.3 bln.
The sharp drop in petroleum prices did not impact the overall petroleum trade deficit. That deficit increased to $15.2 bln in November from $14.0 bln in October. Both exports of petroleum-based products (-$1.4 bln) and imports (-$0.1 bln) declined during the month.
The real goods deficit was nearly unchanged, falling to $50.8 bln from $50.9 bln.
Big Picture
Large declines in oil prices had no impact on the trade deficit.
| Category | OCT | SEP | AUG | JUL | JUN |
| --- | --- | --- | --- | --- | --- |
| Trade Deficit | -$43.4B | -$43.6B | $40.0B | $40.7B | $41.7B |
| Exports | $197.5B | $195.2B | $198.4B | $198.0B | $195.7B |
| Imports | $241.0B | $238.8B | $238.8B | $238.7B | $237.4B |