Economic
Last Update: 05-Feb-15 09:14 ET
Trade Balance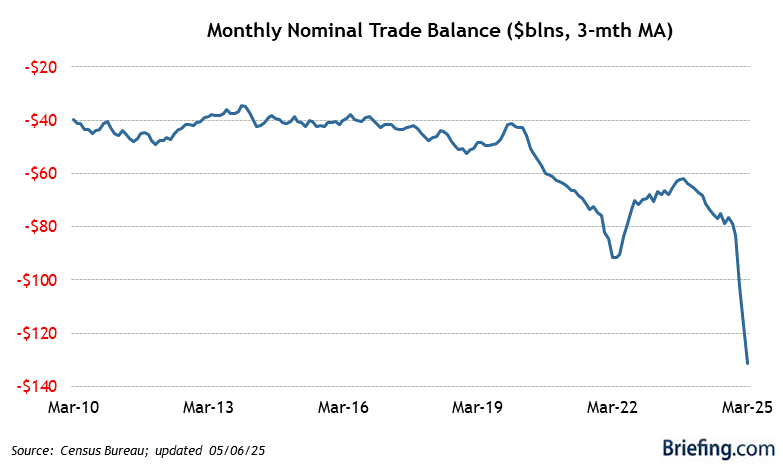 Highlights
The U.S. trade deficit widened to $46.6 bln in December from a downwardly revised $39.8 bln ($39.0 bln) in November. The Briefing.com Consensus expected the trade deficit to decrease to $38.0 bln.
Key Factors
According to the advance fourth quarter GDP report, the BEA assumed that the trade deficit would widen in December to roughly $45 bln. Not only did the December deficit exceed those expectations but inclusion of the downside November revisions means that the trade deficit will subtract more from GDP growth in the second estimate than it did in the advance release.
Fortunately, the negative revision won't be as large as the headline suggests. For GDP purposes, trade in nonmonetary gold is excluded and a large portion of the increase in the deficit ($1.7 bln) came from that sector.
The widening of the trade deficit was clearly unexpected by the consensus. Low oil prices were expected to reduce demand for petroleum imports and recent volatility in the aircraft sector was expected to end. While aircraft shipments were nearly flat, petroleum-based imports increased by $1.8 bln in December. The overall petroleum-based trade deficit increased by $3.1 bln.
Overall, the goods deficit increased by $6.9 bln in December to $66.0 bln from $59.1 bln. The services surplus increased by $0.1 bln to $19.5 bln.
Total exports fell 0.8% to $194.8 bln in December from $196.4 bln in November. Big reductions in exports were seen in industrial supplies and materials (-$3.1 bln), which mostly came from the aforementioned decline in nonmonetary gold exports, and food and feeds (-$0.3 bln). Capital goods (+$0.9 bln) and autos (+$0.4 bln) offset some of the losses.
Imports increased by 2.2%, from $236.2 bln in November to $241.4 bln in December. All major sectors posted increases in imports in December and the largest gains came from industrial supplies and materials ($2.7 bln) and autos ($0.9 bln).
Big Picture
The larger-than-expected trade deficit will reduce fourth quarter GDP in the next revision.
| Category | DEC | NOV | OCT | SEP | AUG |
| --- | --- | --- | --- | --- | --- |
| Trade Deficit | -$46.6B | -$39.8B | -$41.9B | -$43.2B | $39.7B |
| Exports | $194.9B | $196.4B | $198.6B | $195.5B | $199.0B |
| Imports | $241.4B | $236.2B | $240.5B | $238.8B | $238.7B |