Economic
Last Update: 04-Sep-14 09:11 ET
Trade Balance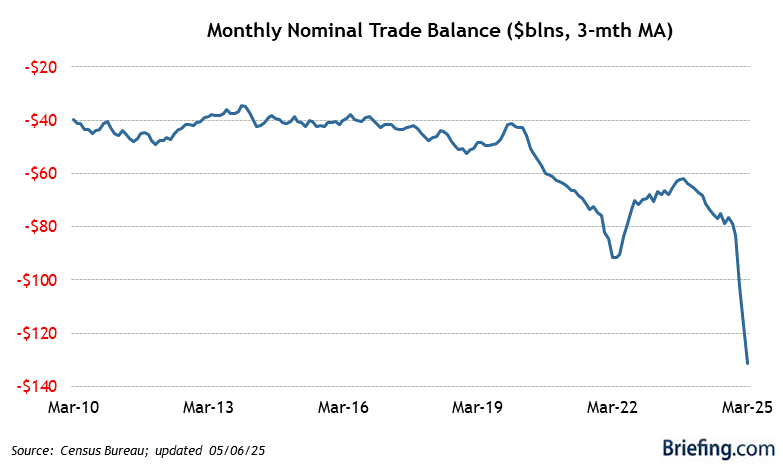 Highlights
The U.S. trade deficit narrowed slightly in July to $40.5 bln, which was the smallest trade deficit since January, from a downwardly revised $40.8 bln (from $41.5 bln) in June. The Briefing.com consensus expected the trade deficit to increase to $42.0 bln.
Key Factors
The goods deficit fell $0.2 bln to $60.2 bln in July from $60.4 bln in June. The services surplus was unchanged at $19.6 bln.
Total exports increased by $1.8 bln in July to $198.0 bln from $196.2 bln. Sales of industrial supplies and materials increased by $1.3 bln, with much of that coming from a $0.6 bln increase in other petroleum products and a $0.3 bln increase in fuel oil sales. Automotive exports increased by $1.7 bln in July. Sales of food and feed (-$0.6 bln) and consumer goods (-$0.7 bln) both declined. The drop in consumer goods exports came from a reversal in diamonds (-$0.3 bln) and jewelry (-$0.1 bln).
Total imports increased to $238.6 bln in July from $237.0 bln in June, a gain of $1.6 bln. Demand for industrial supplies increased by $0.5 bln in July, with much of the gain coming from crude oil ($0.7 bln) and nonmonetary gold ($0.4 bln). Automotive imports increased $1.3 bln. Consumer goods imports fell $0.5 bln as cell phone import demand (-0.3 bln) continued to wane. The introduction of Apple's (AAPL) new iPhone next month will greatly improve cell phone imports in the very near future.
The petroleum deficit fell to $14.5 bln in July from $14.7 bln in June.
Big Picture
The real petroleum trade deficit is at its lowest level on record.
| Category | JUL | JUN | MAY | APR | MAR |
| --- | --- | --- | --- | --- | --- |
| Trade Deficit | $40.5B | $40.8B | $43.5B | $46.0B | $43.1B |
| Exports | $198.0B | $196.2B | $196.2B | $193.9B | $193.9B |
| Imports | $238.6B | $237.0B | $239.6B | $239.9B | $237.1B |