Economic
Last Update: 06-Aug-14 09:23 ET
Trade Balance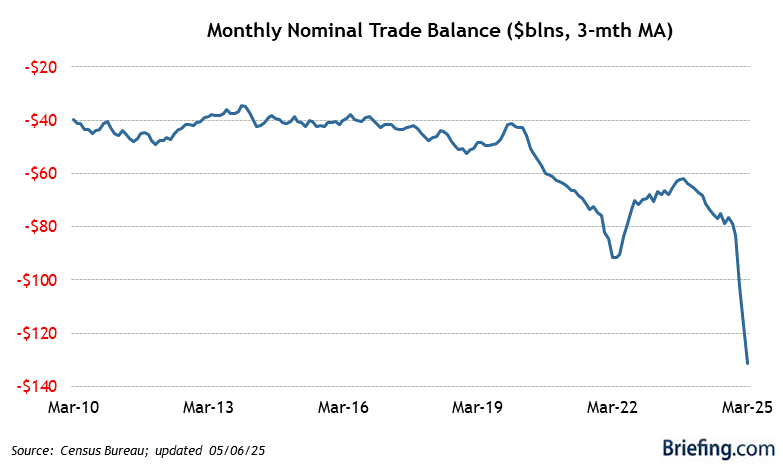 Highlights
The U.S. trade deficit narrowed to $41.5 bln in June from an upwardly revised $44.7 bln (from $44.4 bln) in May. The Briefing.com consensus expected the trade deficit to increase to $45.2 bln.
Key Factors
According to the advance estimate for Q2 2014 GDP, the BEA assumed the trade deficit widened to roughly $45.1 bln in June. The fact that the deficit was much smaller than the BEA expected suggests that the new trade balance will contribute positively in the second estimate.
The goods deficit fell to $60.3 bln in June from $63.3 bln in May. The services surplus remained at $18.7 bln.
Exports increased by 0.1% in June to $195.9 bln from $195.6 bln in May. The small gain came primarily from a $0.4 bln increase in pharmaceutical preparations which offset a $0.3 bln decline in food exports.
Imports declined by 1.2%, from $240.3 bln in May to $237.4 bln in June. A large pullback in cell phone imports (-$1.1 bln) and automotive vehicles, parts, and engines (-$1.1 bln) were the primary catalysts for the overall decline in imports.
The petroleum deficit dropped to $14.7 bln in June from $15.2 bln in May. That is the smallest deficit since May 2009. In real terms, that is the lowest petroleum trade deficit since the Census Bureau began collecting this data in 1994.
Big Picture
The real petroleum trade deficit is at its lowest level on record.
| Category | JUN | MAY | APR | MAR | FEB |
| --- | --- | --- | --- | --- | --- |
| Trade Deficit | $41.5B | $44.7B | $47.0B | $44.2B | $42.6B |
| Exports | $195.9B | $195.6B | $193.5B | $193.7B | $188.1B |
| Imports | $237.4B | $240.3B | $240.5B | $237.8B | $230.7B |