Economic
Last Update: 02-Apr-15 09:09 ET
Trade Balance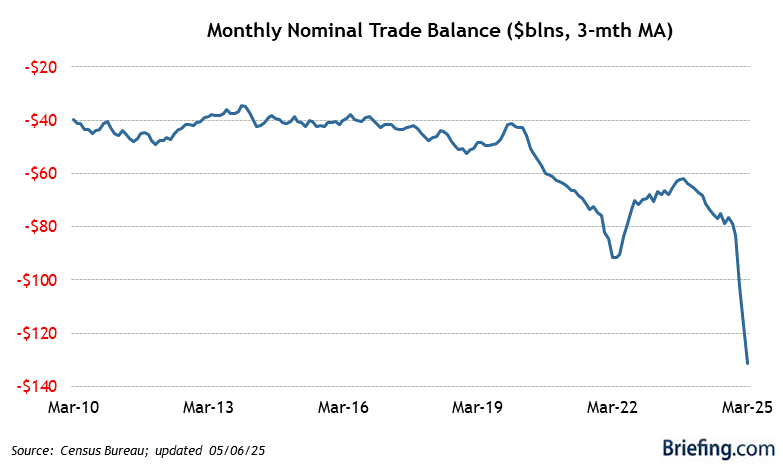 Highlights
The U.S. trade deficit declined to $35.4 bln in February from an upwardly revised $42.7 bln (from $41.8 bln) in January. The Briefing.com Consensus pegged the trade deficit at $42.0 bln.
Key Factors
The February trade deficit was the lowest deficit since November 2009.
The goods deficit fell by $7.4 bln in March to $55.2 bln and the services surplus decreased by $0.1 bln to $19.7 bln.
A steep decline in the petroleum-based trade deficit was the main catalyst for the steep decline. Currently, the U.S. is experiencing a significant glut of excess supply. As a result, demand for crude imports was severely curtailed, which caused the petroleum-based deficit to shrink by $2.6 bln.
It is unknown how much of an impact the West coast port strikes had the trade deficit. Looking at the data, it seemed that import and exports may have been affected equally. That would mean that there wouldn't be a large increase in the trade deficit next month on the basis of dock workers returning to a normal work schedule.
Total exports declined 1.6% (-$3.0 bln) to $186.2 bln in March. With the exception of a $1.3 bln increase in consumer goods exports -- which came primarily from gains in gem diamonds ($0.4 bln), jewelry ($0.4 bln), and pharmaceuticals ($0.4 bln), all of the export sectors showed significant declines. That included a $1.4 bln decline in industrial supplies and materials and a $2.8 bln decline in capital goods including autos.
Total imports declined 4.4% (-$10.2 bln) to $221.7 bln in March. Every import sector posted declines and most were more than $1 bln. Industrial supplies and materials imports were hit the hardest, down $4.352 mln, with most of the drop coming from crude oil (-$2.3 bln) and other petroleum products (-$0.4 bln). Imports of capital goods excluding autos declined by $2.5 bln with industrial machines (-0.6 bln) and computers (-0.6 bln) being the hardest hit. Consumer goods imports declined by $1.4 bln as cell phone demand declined by $0.8 bln.
Big Picture
Significant weaknesses are developing in the trade sector.
| Category | FEB | JAN | DEC | NOV | OCT |
| --- | --- | --- | --- | --- | --- |
| Trade Deficit | -$35.4B | -$42.7B | -$45.6B | -$39.5B | -$41.9B |
| Exports | $186.2B | $189.2B | $195.0B | $196.8B | $198.7B |
| Imports | $221.7B | $231.9B | $240.6B | $236.3B | $240.6B |