Economic
Last Update: 07-Jan-15 09:00 ET
Trade Balance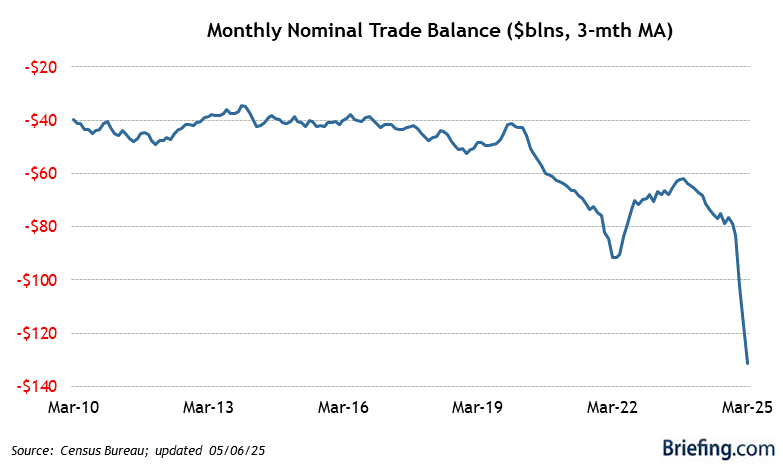 Highlights
The U.S. trade deficit declined to $39.0 bln in November from a downwardly revised $42.2 bln (from $43.4 bln) in October. The Briefing.com consensus expected the trade deficit to fall to $41.8 bln.
Key Factors
That was the smallest trade deficit since December 2013 (-$37.4 bln).
As expected, the weakness in oil prices had a contractionary effect on the trade deficit. Even though U.S. petroleum producers have increased their exports of petroleum-based products over the last few years, the U.S. is still a net importer of crude products. The fall in oil prices had a larger impact in lowering total imports than reducing exports, which led to the smaller trade deficit in November.
The goods deficit fell by $3.3 bln to $58.3 in November from $61.6 bln in October. The services surplus declined to $19.3 bln from $19.4 bln.
Export levels slid by $2.0 bln in November to $196.4 bln. Half of the decline in exports was a result of a reversal in civilian aircraft sales (-$1.1 bln). Declines in autos (-$0.5 bln) and consumer goods (-$0.5 bln) rounded out the rest of the pullback.
Imports declined by $5.2 bln in November to $235.4 bln. Imports of industrial supplies fell by $4.6 bln, which included a $2.9 drop in crude and fuel oil. Capital goods imports declined by $0.8 bln. Consumer goods imports increased by $1.6 bln in November. Most of the gain came from a $1.8 bln increase in cell phone sale, likely the result of the latest Apple (AAPL) iPad release.
The petroleum-based net export deficit fell to $11.4 bln in November from $15.2 bln in October.
Big Picture
Lower oil prices played a large role in reducing import demand in November.
| Category | NOV | OCT | SEP | AUG | JUL |
| --- | --- | --- | --- | --- | --- |
| Trade Deficit | -$39.0B | -$42.2B | -$43.6B | $40.0B | $40.7B |
| Exports | $196.4B | $198.3B | $195.2B | $198.4B | $198.0B |
| Imports | $235.4B | $240.6B | $238.8B | $238.8B | $238.7B |