Economic
Last Update: 18-Sep-15 21:33 ET
Trade Balance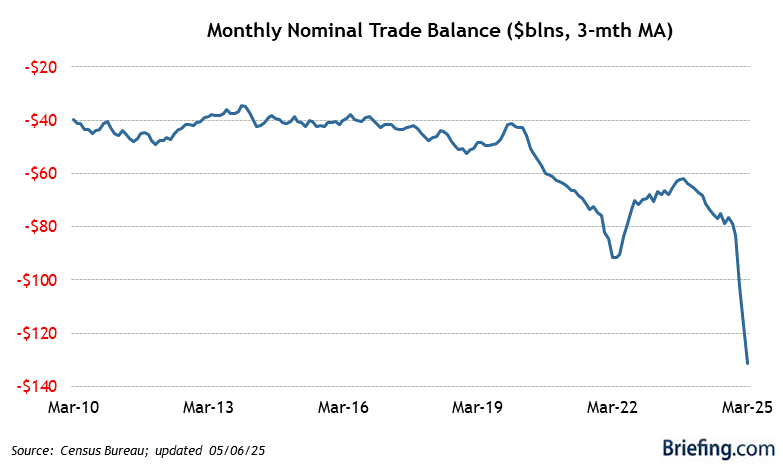 Highlights
The U.S. trade deficit narrowed to $41.9 bln in July from an upwardly revised $45.2 bln ($43.8 bln) in June. The Briefing.com Consensus expected the trade deficit to decline to $42.7B.
Key Factors
The goods deficit decreased to $61.4 bln in July from $64.8 bln in June.The services surplus was virtually unchanged at $19.6 bln.
Total exports increased by $0.8 bln to $188.5 bln in July. Small gains in industrial supplies exports ($0.3 bln), capital goods ($0.2 bln), and automotive ($0.5 bln) were partially offset by a $0.4 bln decline in consumer goods exports.
Total imports fell by $2.5 bln to $230.4 bln in July. There were large declines in imports of consumer goods ($2.6) – specifically from pharmaceuticals ($1.4 bln) and cell phones ($1.2 bln) – and foods stuffs ($0.6 bln). Industrial supplies imports increased by $0.4 bln.
Despite a sharp decline in crude prices, the petroleum-based trade deficit increased to $8.1 bln in July from $7.3 bln in June.
Big Picture
Despite a weaker dollar, imports fell to their lowest level since the West coast port strike delayed imports in February.
| Category | JUL | JUN | MAY | APR | MAR |
| --- | --- | --- | --- | --- | --- |
| Trade Deficit | -$41.9B | -$45.2B | -$42.5B | -$42.3B | -$52.2B |
| Exports | $188.5B | $187.7B | $187.9B | $189.1B | $186.8B |
| Imports | $230.4B | $232.9B | $230.4B | $231.4B | $238.9B |