Economic
Last Update: 23-Jun-15 19:54 ET
Trade Balance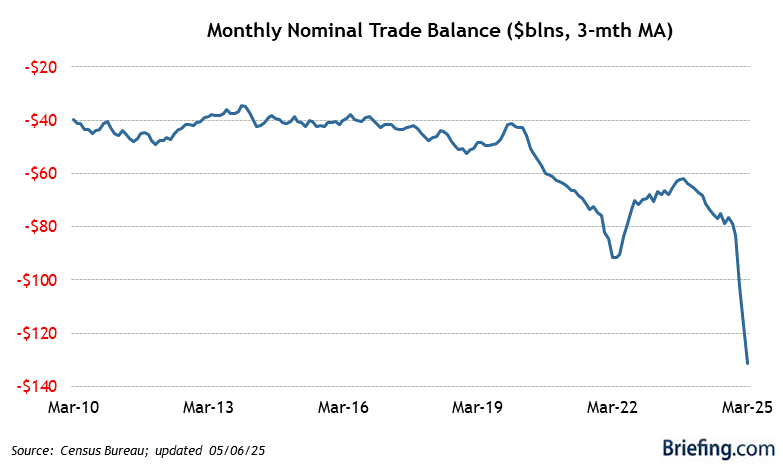 Highlights
The trade deficit fell to $40.9 bln in April from a downwardly revised $50.6 bln (from $51.4 bln) in March. The Briefing.com Consensus expected the trade deficit to decline to $44.0 bln.
Key Factors
The large March trade deficit was primarily the result of the end of the port strike on the west coast. As dockworkers returned, they were able to offload the containerships that were waiting off the coast.
It seems that the temporary problems on the docks are gone as the trade deficit returned to its pre-strike trends.
Now the focus on trade volatility will shift to the effects from the vast appreciation of the dollar that began in September 2014.
The impact on exports is clearly being felt. Total exports increased $1.9 bln in April to $189.9 bln from $188.0 bln in March. Yet, that is still $5.4 bln below the 2014 monthly average.
Export gains came primarily from industrial supplies ($0.6 bln) and capital goods ($2.1 bln), of which nearly half came from civilian aircraft exports ($1.0 bln), and automotive vehicles and parts ($0.2 bln).Total imports declined by $7.8 bln in April to $230.8 bln from $238.6 bln in March.
Surprisingly, the stronger dollar has not played much of a role in boosting import demand. Total imports in April were well below the 2014 monthly average of $237.7 bln.
Most of the decline in April imports came from a $4.9 bln decline in consumer goods imports. That can be attributed to the surge in containerships that were unloaded in March following the port strike. Declines were also registered in capital goods (-$0.6 bln), automotive (-$0.4 bln), and industrial supplies (-$0.6 bln).
The petroleum-based trade deficit continued to decline. It dropped to $6.8 bln in April from $7.5 bln in March. That is almost a third of what the deficit was in April (-$17.9 bln) 2014.
Big Picture
So far the stronger dollar does not seem to have played a major role in boosting import demand.
| Category | APR | MAR | FEB | JAN | DEC |
| --- | --- | --- | --- | --- | --- |
| Trade Deficit | -$40.9B | -$50.6B | -$37.2B | -$42.4B | -$45.5B |
| Exports | $189.9B | $188.0B | $186.2B | $189.5B | $195.0B |
| Imports | $230.8B | $238.6B | $224.0b | $231.9B | $240.5B |