Economic
Last Update: 08-Jul-15 19:09 ET
Trade Balance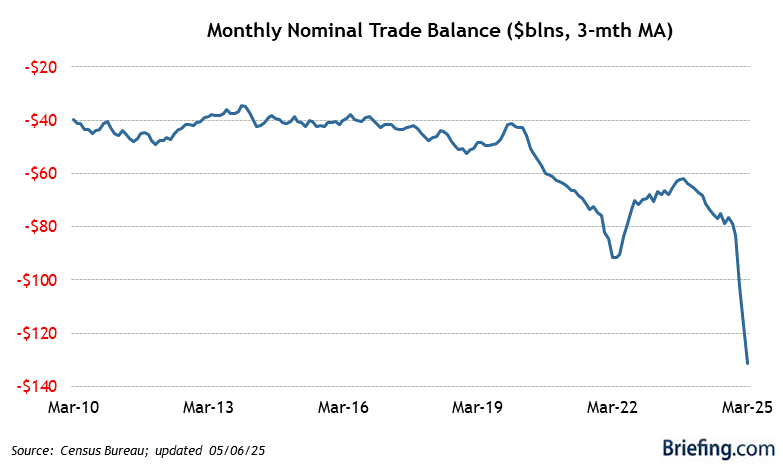 Highlights
The U.S. trade deficit increased by $1.2 bln in May, from a downwardly revised $40.7 bln (from $40.9 bln) in April to $41.9 bln. The Briefing.com Consensus expected the trade deficit to increase to $42.5 bln.
Key Factors
There wasn't anything unusual in the data. A port strike on the west coast temporarily caused a large bout of volatility, and the trade deficit swung up from $37.2 bln in February to $50.6 bln in March and then came back down to $40.7 bln in the April. The trade deficit in May was more in-line with trends prior to the strike, when the deficit averaged a little more than $42.0 bln during the 12 months ending in January.
The goods deficit increased $1.2 bln in May, from $60.3 bln in April to $61.5 bln. The services surplus was virtually unchanged at $19.6 bln.
Exports declined by $1.5 bln to $188.6 bln in May from $190.1 bln in April. Strong sales of fuel oil ($0.5 bln) and other petroleum products ($0.5 bln) helped drive a $0.8 bln increase in industrial supplies and materials exports. Those gains, however, were more than offset by a $2.4 bln decline in capital goods excluding autos. Big drops in civilian aircraft (-$1.2 bln), industrial machines (-$0.4 bln), and industrial engines (-$0.4 bln) led the decline.
Imports declined by $0.3 bln, from $230.8 bln in April to $230.5 bln in May. A large portion of the decline was the result of reduced fracking activities as drilling and oilfield equipment imports fell by $0.8 bln. Declines were also reported in industrial supplies and materials (-$0.6 bln) and foodstuffs (-$0.4 bln). Motor vehicle imports increased by $0.9 bln.
The net petroleum trade deficit continued to decline. It fell from $6.8 bln in April to $5.8 bln in May. That deficit was more than two-and-a-half times its current level ($15.2 bln) just one year ago.
Big Picture
So far the stronger dollar does not seem to have played a major role in boosting import demand.
| Category | MAY | APR | MAR | FEB | JAN |
| --- | --- | --- | --- | --- | --- |
| Trade Deficit | -$41.9B | -$40.7B | -$50.6B | -$37.2B | -$42.4B |
| Exports | $188.6B | $190.1B | $188.0B | $186.2B | $189.5B |
| Imports | $230.5B | $230.8B | $238.6B | $224.0b | $231.9B |