Economic
Last Update: 17-Apr-14 18:15 ET
Trade Balance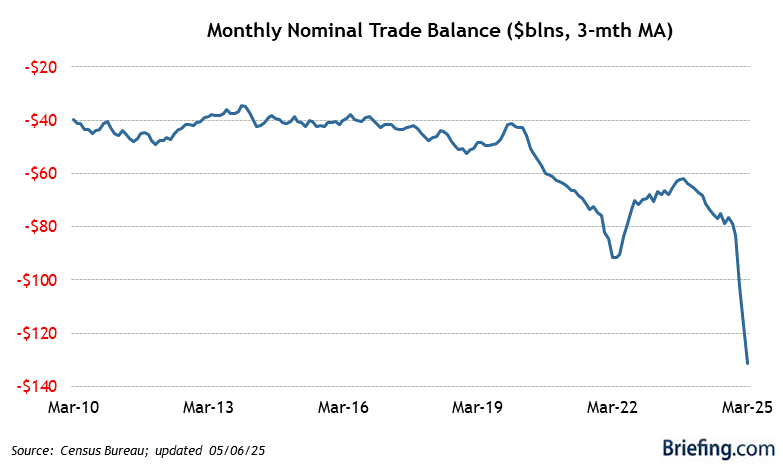 Highlights
The U.S. trade deficit increased to $42.3 bln in February from a slightly upwardly revised $39.3 bln (from $39.1 bln) in January. That was the largest deficit since reaching $43.4 bln in September 2013. The Briefing.com consensus pegged the trade deficit at $39.3 bln.
Key Factors
The goods deficit rose to $61.7 bln in February from $59.5 in January, an increase of $2.2 bln. The services surplus fell $0.8 bln to $19.4 bln in February from $20.2 bln.
The increase in the trade deficit should not have been that big of a surprise. Exports in January were highly reliant upon a large increase in sales of nonmonetary gold. Gold typically trades in an up-and-down pattern, and a large increase in one month is normally followed by a similarly large decrease the next. That was exactly what happened in February. Nonmonetary gold exports fell by $1.2 bln in February after it boosted exports by $1.8 bln in January.
Overall, exports fell by $2.0 bln in February to $190.4 bln. Petroleum-based exports declined by $1.2 bln. These were offset by a $1.2 bln increase in consumer goods, namely from gems and jewelry ($0.8 bln) and pharmaceutical products ($0.5 bln).
Total imports increased to $232.7 bln in February from $231.7 bln in January, a gain of $1.0 bln. Goods imports were relatively flat, up just $0.2 bln. A big increase in automotive imports ($1.0 bln) was offset by a $1.2 bln decline in capital goods imports.
The petroleum deficit increased to $19.9 bln in February from $19.3 bln in January, which is the largest deficit since May 2013.
Big Picture
The underlying trends in February looked a lot like the report from January with the exception of the reversal in nonmonetary gold exports.
| Category | FEB | JAN | DEC | NOV | OCT |
| --- | --- | --- | --- | --- | --- |
| Trade Deficit | $42.3B | $39.3B | $39.0B | $35.2B | $39.8B |
| Exports | $190.4B | $192.5B | $191.3B | $194.6B | $193.1B |
| Imports | $232.7B | $231.7B | $230.3B | $229.8B | $232.9B |