Economic
Last Update: 10-Oct-14 16:58 ET
Trade Balance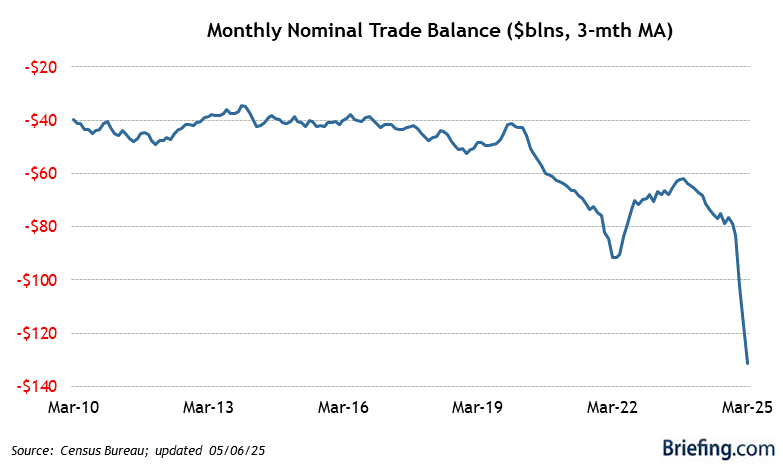 Highlights
The U.S. trade deficit fell to $40.1 bln in August from a downwardly revised $40.3 bln (from $40.5 bln) in July. The Briefing.com consensus expected the trade deficit to increase to $40.9 bln.
Key Factors
The goods deficit increased to $59.9 bln in August from $59.8 bln in July and the services surplus increased to $19.8 bln from $19.5 bln.
Much of the decline in the trade deficit was a result of lower oil prices. The net petroleum trade deficit fell to $13.1 bln from $14.5 bln, but the real petroleum balance was nearly flat at -$7.7 bln.
Exports increased by $0.4 bln, from $198.0 bln in July to $198.5 bln in August. Led by a $0.3 bln increase in nonmonetary gold, exports of industrial supplies and materials increased by $0.7 bln. Other gains were found in capital goods ($1.0 bln) and consumer goods ($0.8 bln). Automotive exports declined by $1.7 bln.Import levels increased by $0.2 bln, from $238.3 bln in July to $238.6 bln in August.
Imports of industrial supplies and materials fell by $0.2 bln from lower crude oil purchases. This was offset by a $1.8 bln increase in capital goods, mainly from a $1.1 bln increase in civilian aircraft imports. Consumer goods imports increased by $0.7 bln.
We anticipated the release of the Apple (AAPL) iPhone 6 and its variations would drive up imports of cell phones, but that did not happen. Cell phone imports fell by $0.1 bln in August. Since we know that sales and deliveries for the phone were strong, it seems most, if not all, of the imports for this phone started in September. That will likely drive up the trade deficit next month.
Big Picture
We expect the trade deficit to jump next month on imports of the Apple iPhone 6.
| Category | AUG | JUL | JUN | MAY | APR |
| --- | --- | --- | --- | --- | --- |
| Trade Deficit | $40.1B | $40.3B | $40.8B | $43.5B | $46.0B |
| Exports | $198.5B | $198.0B | $196.2B | $196.2B | $193.9B |
| Imports | $238.6B | $238.3B | $237.0B | $239.6B | $239.9B |