Economic
Last Update: 11-Dec-14 09:04 ET
Retail Sales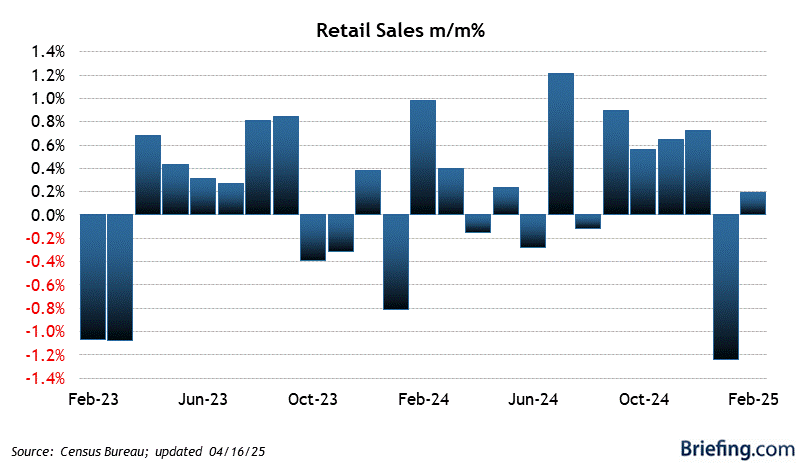 Highlights
Retail sales increased 0.7% in November after increasing an upwardly revised 0.5% (from 0.3%) in October. The Briefing.com consensus expected retail sales to increase 0.4%.
Excluding motor vehicles, retail sales increased 0.5% in November after increasing an upwardly revised 0.4% (from 0.3%) in October. The consensus expected these sales to increase 0.2%.
Key Factors
This month's retail sales report was set up for a positive surprise from the start. According to the November employment report, aggregate wages accelerated and increased 0.9% after increasing just 0.3% in October. With the savings rate already at elevated levels relative to current debt payment needs, there was no reason why households would hold on to a large portion of the income gain instead of spending it.
That was exactly what happened and sales easily exceeded expectations.
Some of the gain was the result of a bump in motor vehicle sales. The motor vehicle manufacturers already reported a sizable increase in the number of vehicles sold in November. That translated into a 1.7% increase in sales at motor vehicles and parts dealers.
Aside from a 0.8% decline at gasoline stations – which was the result of lower gas prices – and a 1.6% decline at miscellaneous retailers, all retail sectors saw positive growth in November.
Core sales, which exclude motor vehicle dealers, gasoline stations, and building material and supplies dealers, increased 0.6% in November after increasing 0.7% in October. These components follow closely with the goods consumption component of GDP and bode well for fourth quarter growth.
Big Picture
Large income gains helped spark an acceleration in consumption growth.
| Category | NOV | OCT | SEP | AUG | JUL |
| --- | --- | --- | --- | --- | --- |
| Retail Sales | 0.7% | 0.5% | -0.1% | 0.6% | 0.3% |
| Excluding Autos | 0.5% | 0.4% | 0.1% | 0.3% | 0.2% |
| Durable goods | | | | | |
| Building Materials | 1.4% | 0.4% | -0.2% | 0.7% | -1.0% |
| Autos/parts | 1.7% | 0.8% | -0.7% | 1.8% | 0.7% |
| Furniture | 0.5% | 0.7% | -0.5% | 1.6% | -0.5% |
| Nondurable goods | | | | | |
| General Merchandise | 0.5% | 0.1% | -0.2% | 0.2% | 0.6% |
| Food | 0.3% | 0.2% | 0.4% | 0.5% | -0.2% |
| Gasoline stations | -0.8% | -1.3% | -0.8% | -1.5% | 0.0% |
| Clothing | 1.2% | 0.6% | -1.3% | 0.4% | 0.6% |
| e*retailing/non-store | 1.0% | 1.6% | 0.0% | 0.7% | 0.1% |