Economic
Last Update: 17-Apr-14 18:14 ET
Retail Sales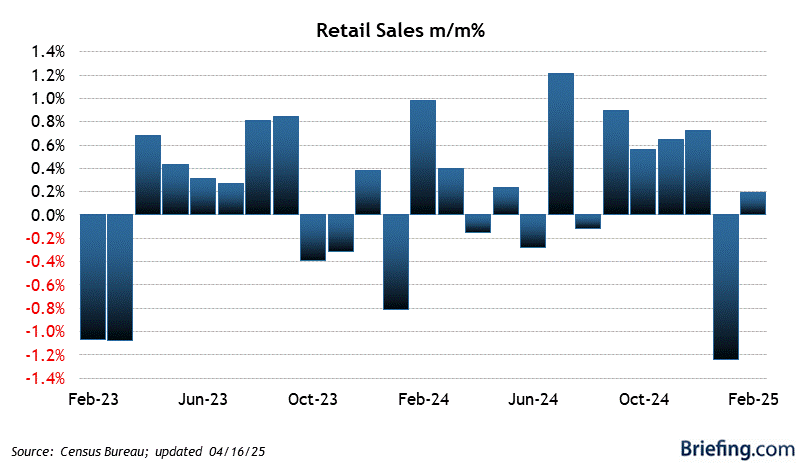 Highlights
Retail sales increased 1.1% in March after increasing an upwardly revised 0.7% (from 0.3%) in February. The Briefing.com consensus expected retail sales to increase 1.0%.
Excluding autos, retail sales still increased a solid 0.7% in March, up from a 0.3% gain in February. The consensus expected these sales to increase 0.5%.
Core retail sales - which exclude auto dealers, building materials and supply dealers, and gasoline stations – rose 0.9% in March, up from a 0.5% gain in February. These sectors follow closely with the consumption component in the GDP report.
Key Factors
As expected from the motor vehicle sales data, auto sales contributed significantly to overall sales growth. Sales at motor vehicle and parts dealers increased 3.1% in March after increasing 2.5% in February.
Sales were strong all around, but there wasn't much to suggest that the acceleration in spending was the result of pent-up demand from delayed winter spending. The March employment report showed a 0.7% increase in aggregate wages, which exactly matched spending after stripping out autos.
Looking at the details, sales at furniture and clothing stores both increased 1.0% in March. General merchandise (1.9%), nonstore/internet retailers (1.7%) and restaurants (1.1%) all showed significant gains.
Spending at electronics and appliances stores (-1.6%) and gasoline stations (-1.3%) declined.
Big Picture
There was no release of pent-up demand as a result of winter-delayed purchases.
| Category | MAR | FEB | JAN | DEC | NOV |
| --- | --- | --- | --- | --- | --- |
| Retail Sales | 1.1% | 0.7% | -0.7% | -0.3% | 0.3% |
| Excluding Autos | 0.7% | 0.3% | -0.3% | 0.1% | -0.2% |
| Durable goods | | | | | |
| Building Materials | 1.8% | -0.6% | 1.2% | -0.1% | 0.9% |
| Autos/parts | 3.1% | 2.5% | -2.2% | -2.1% | 2.0% |
| Furniture | 1.0% | 0.9% | -0.7% | -3.1% | -1.5% |
| Nondurable goods | | | | | |
| General Merchandise | 1.9% | -0.1% | 0.0% | -0.7% | -0.1% |
| Food | 0.2% | -0.2% | 0.1% | 1.7% | -0.2% |
| Gasoline stations | -1.3% | 0.1% | 0.8% | 1.4% | -1.7% |
| Clothing | 1.0% | 0.4% | -1.9% | 0.8% | -1.2% |
| e*retailing/non-store | 1.7% | 1.6% | -1.3% | 1.0% | 1.0% |