Economic
Last Update: 02-Jul-15 16:53 ET
Retail Sales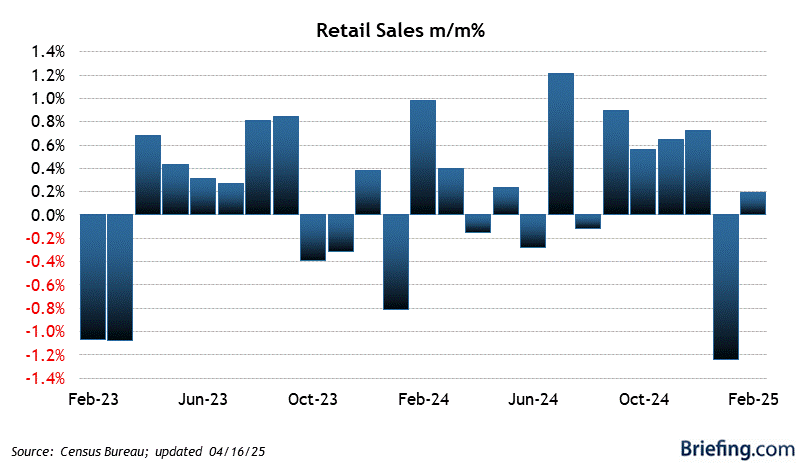 Highlights
Retail sales increased 1.2% in May after increasing an upwardly revised 0.2% (from 0.0%) in April. The Briefing.com Consensus expected retail sales to increase 1.1%.
Excluding autos, retail sales increased 1.0% in May after increasing an unrevised 0.1% in April. The consensus expected these sales to increase 0.7%.
Key Factors
As expected from the auto manufacturer reports, auto sales were strong in May. Sales at motor vehicles and parts dealers increased 2.0% in April after increasing 0.7% in May.
Core sales, which strip out the volatile auto dealers, building materials and supply stores, and gasoline stations, increased 0.6% in May after increasing 0.3% in April. These sales more closely reflect goods consumption growth in the GDP report than the headline.
According to the May employment report, aggregate earnings increased 0.5% in May. With sales outpacing income growth, the personal savings rate likely declined in May. That would go against a trend of higher savings that began several months ago.
If economic growth trends are going to return to pre-recession potential instead of the "New Normal" outlook, the personal savings rate will need to come down from its currently elevated level.
The details in the retail sales report were impressive. With the exception of a minor decline in health and personal care stores (-0.3%), every retail sector showed positive sales growth. That included a 1.5% increase in clothing stores, a 2.1% increase in building materials and supply stores, and a 0.8% increase in general merchandise stores.
Sales at nonstore retailers, where on-line sales reside, increased 1.4% in May.
Big Picture
Consumers opted to spend rather than save, at least during the month of May.
| Category | MAY | APR | MAR | FEB | JAN |
| --- | --- | --- | --- | --- | --- |
| Retail Sales | 1.2% | 0.2% | 1.5% | -0.5% | -0.8% |
| Excluding Autos | 1.0% | 0.1% | 1.0% | -0.1% | -1.1% |
| Durable goods | | | | | |
| Building Materials | 2.1% | -0.4% | 2.8% | -2.0% | 1.3% |
| Autos/parts | 2.0% | 0.7% | 3.5% | -2.2% | 0.6% |
| Furniture | 0.8% | 1.3% | 2.4% | -1.4% | -0.3% |
| Nondurable goods | | | | | |
| General Merchandise | 0.8% | -0.7% | 1.4% | -2.4% | 0.4% |
| Food | 0.2% | -0.2% | 0.7% | 0.0% | -0.2% |
| Gasoline stations | 3.7% | -0.6% | 1.1% | 2.5% | -9.9% |
| Clothing | 1.5% | 0.0% | 1.1% | 0.3% | -1.0% |
| e*retailing/non-store | 1.4% | 0.8% | 0.6% | 1.8% | -0.1% |