Economic
Last Update: 15-Oct-14 09:14 ET
Retail Sales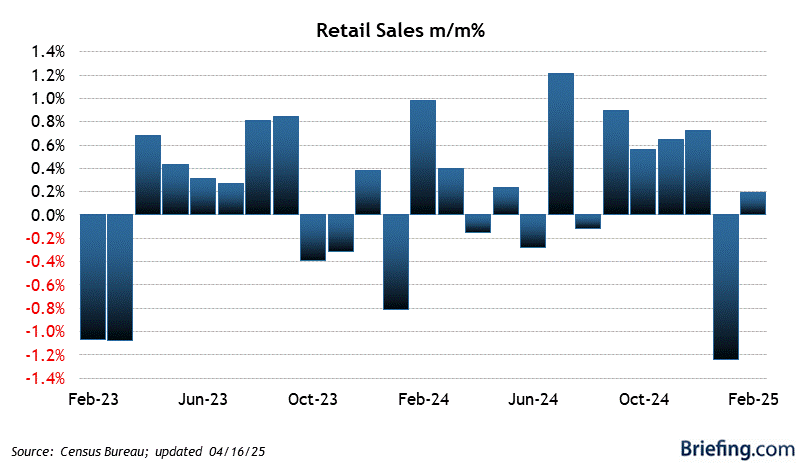 Highlights
Retail sales declined 0.3% in September following an unrevised 0.6% gain in August. The Briefing.com consensus expected retail sales to fall 0.2%.
Excluding autos, retail sales declined 0.2% in September after increasing an unrevised 0.3% in August. The consensus expected these sales to increase 0.3%.
Key Factors
Motor vehicle sales declined 0.8% after increasing 1.9% in July. The drop was in-line with the decline in per unit sales reported by the motor vehicle manufacturers.
The drop in retail sales outside of autos was clearly disappointing. The September employment report showed a solid 0.5% increase in aggregate earnings. That income gain was expected to drive up consumer demand.
Instead, sales contracted in September as consumers decided they were better off saving the added income rather than spending it.
To add further disappointment, the recent decline in gasoline prices did not provide a boost in spending at other retailers. Core sales, which exclude gasoline stations, motor vehicle dealers, and building material and supply stores, were flat in September after increasing 0.5% in August. Essentially, the extra savings came from consumers needing to spend less to fill up their car.
The only real strong performer in September came from a 3.4% increase in electronic and appliances stores. Unfortunately, that gain was likely the result of a one-time surge in cell phone purchases after the release of the latest Apple (AAPL) iPhone 6.
Big Picture
Strong income growth in September did not translate into an acceleration in consumption growth. Consumers opted to save their extra income rather than spend it.
| Category | SEP | AUG | JUL | JUN | MAY |
| --- | --- | --- | --- | --- | --- |
| Retail Sales | -0.3% | 0.6% | 0.3% | 0.4% | 0.4% |
| Excluding Autos | -0.2% | 0.3% | 0.2% | 0.5% | 0.4% |
| Durable goods | | | | | |
| Building Materials | -1.1% | 0.5% | -1.0% | 1.2% | 1.2% |
| Autos/parts | -0.8% | 1.9% | 0.7% | 0.0% | 0.7% |
| Furniture | -0.8% | 0.3% | -0.5% | 0.0% | -0.4% |
| Nondurable goods | | | | | |
| General Merchandise | 0.2% | 0.3% | 0.6% | 0.3% | -0.5% |
| Food | 0.0% | 0.4% | -0.2% | 1.1% | 0.3% |
| Gasoline stations | -0.8% | -1.1% | 0.0% | -0.8% | 0.5% |
| Clothing | -1.2% | 0.8% | 0.6% | 0.2% | -0.6% |
| e*retailing/non-store | -1.1% | 0.2% | 0.1% | 0.8% | 0.5% |