Economic
Last Update: 14-Jan-15 09:00 ET
Retail Sales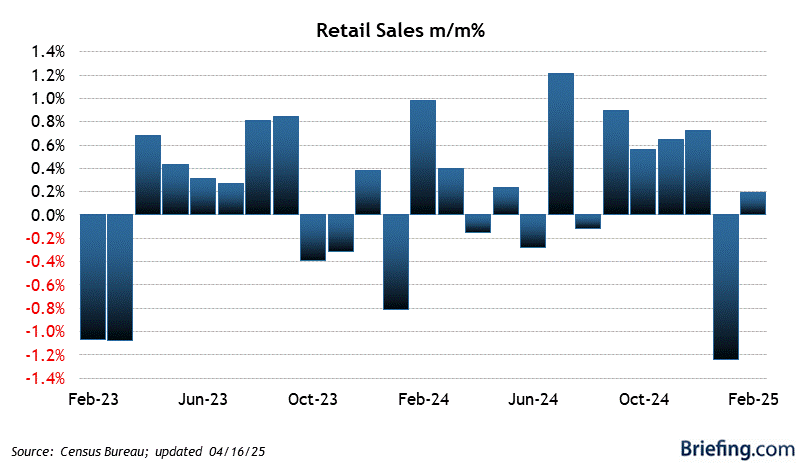 Highlights
Retail sales fell 0.9% in December after increasing a downwardly revised 0.4% (from 0.7%) in November. The Briefing.com Consensus expected retail sales to increase 0.1%.
Excluding motor vehicles, sales declined 1.0% after increasing a downward revised 0.1% (from 0.5%) in November. The consensus expected these sales to increase 0.1%.
Key Factors
The sharp pullback in sales was a direct result of poor income growth. The December employment report showed a contraction in the average hourly wage, which - after accounting for payroll gains - resulted in flat aggregate income growth.
Without income growth, the only way for sales to improve was for consumers to dip into their savings. Households have been very reluctant to do so, which meant retail sales were poised for a pullback in December.
Motor vehicle sales declined 0.7% in December after increasing 1.6% in November. That drop was in-line with the pullback in unit sales reported by the motor vehicle manufacturers last week.
A large portion of the decline in retail demand was due to lower gasoline prices. Sales at gasoline stations declined 6.5% in December after declining 3.0% in November.
Core sales - which exclude motor vehicle dealers, building materials and supply stores, and gasoline stations - declined 0.2% in December after increasing 0.5% in November.
Big Picture
Consumption growth requires income growth. Flat income growth in December resulted in a sharp pullback in retail sales.
| Category | DEC | NOV | OCT | SEP | AUG |
| --- | --- | --- | --- | --- | --- |
| Retail Sales | -0.9% | 0.4% | 0.3% | -0.1% | 0.6% |
| Excluding Autos | -1.0% | 0.1% | 0.2% | 0.1% | 0.3% |
| Durable goods | | | | | |
| Building Materials | -1.9% | 1.6% | 0.1% | -0.2% | 0.7% |
| Autos/parts | -0.7% | 1.6% | 0.7% | -0.7% | 1.8% |
| Furniture | 0.8% | 0.2% | 1.3% | -0.5% | 1.6% |
| Nondurable goods | | | | | |
| General Merchandise | -0.9% | 0.3% | -0.1% | -0.2% | 0.2% |
| Food | 0.3% | 0.3% | 0.2% | 0.4% | 0.5% |
| Gasoline stations | -6.5% | -3.0% | -2.2% | -0.8% | -1.5% |
| Clothing | -0.3% | 2.2% | 0.9% | -1.3% | 0.4% |
| e*retailing/non-store | -0.3% | 0.7% | 1.5% | 0.0% | 0.7% |