Economic
Last Update: 12-Dec-13 08:57 ET
Retail Sales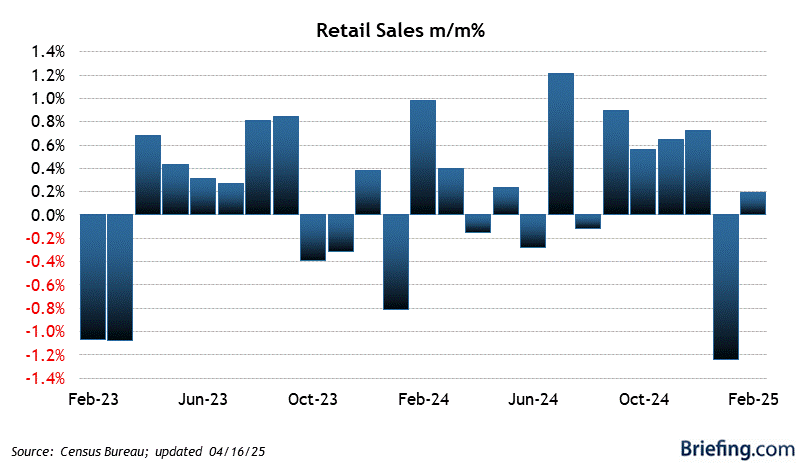 Highlights
Retail sales increased 0.7% in November from an upwardly revised 0.6% increase (from 0.4%) in October. The Briefing.com consensus expected sales to increase 0.6%.
Excluding motor vehicle sales, retail sales rose a solid 0.4%. That was slightly softer than the upwardly revised 0.5% (from 0.3%) increase in October but above the consensus expectation of a 0.3% gain.
Key Factors
Overall, the report was very solid. The only real "loser" of the month was gasoline station sales (-1.1%), which was likely caused by lower gasoline prices and not from weaker demand.
A large portion of the increase in sales was a result of a strong month for the auto sector. Motor vehicle manufacturers previously reported their best sales period since February 2007. That gain translated into a 1.8% increase in sales at motor vehicle and parts dealers.
A strong employment report that showed aggregate wages up 0.6% in November gave consumers the wiggle room to continue buying at an increased pace.
Core retail sales, which exclude sales from motor vehicle dealers, building materials and supply dealers, and gasoline stations, increased 0.6% in November. Core sales increased 0.8% in October and continue to show strong goods consumption for the fourth quarter.
Big Picture
Improvements in labor conditions have allowed for consumption to surge over the last couple of months.
| Category | NOV | OCT | SEP | AUG | JUL |
| --- | --- | --- | --- | --- | --- |
| Retail Sales | 0.7% | 0.6% | 0.1% | 0.2% | 0.4% |
| Excluding Autos | 0.4% | 0.5% | 0.4% | 0.0% | 0.6% |
| Durable goods | | | | | |
| Building Materials | 1.8% | -1.5% | 0.0% | -0.6% | 1.8% |
| Autos/parts | 1.8% | 1.1% | -1.1% | 1.0% | -0.7% |
| Furniture | 1.2% | 1.8% | 1.2% | 1.2% | -0.9% |
| Nondurable goods | | | | | |
| General Merchandise | 0.1% | 0.3% | 0.1% | 0.1% | 0.5% |
| Food | -0.1% | -0.1% | 0.7% | -0.1% | 0.4% |
| Gasoline stations | -1.1% | -0.4% | 0.2% | -0.5% | 0.6% |
| Clothing | -0.2% | 2.6% | -1.2% | -0.4% | 0.5% |
| e*retailing/non-store | 2.2% | 0.8% | 0.7% | -0.2% | 1.2% |