Economic
Last Update: 15-Jul-14 08:57 ET
Retail Sales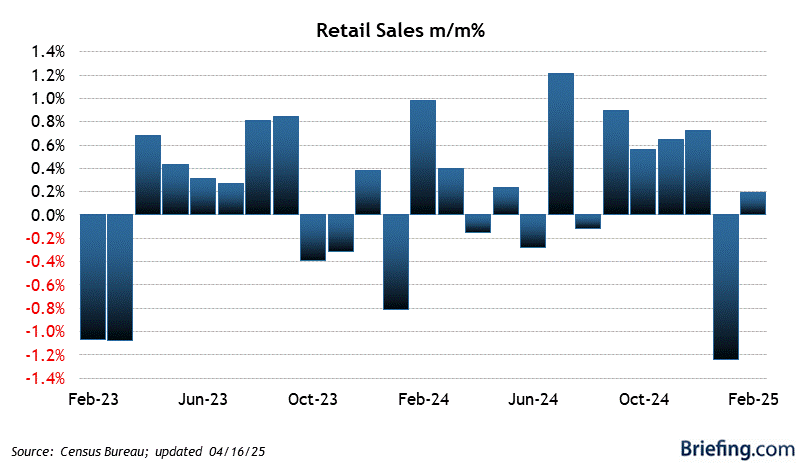 Highlights
Retail sales increased 0.2% in June following an upwardly revised 0.5% (from 0.3%) increase in May. The Briefing.com consensus expected retail sales to increase 0.7%.
Excluding motor vehicles, retail sales increased a 0.4% in June, which was the same growth rate following an upward revision (from 0.1%) in May. The consensus expected these sales to increase 0.6%.
Core retail sales, which exclude auto dealers, gasoline stations, and building material and supply stores, increased 0.5% after increasing 0.3% in May. Sales of those goods correlate more closely with overall consumption trends and suggest demand is moving slightly higher.
Key Factors
The June employment report signaled a strong increase in aggregate earnings and motor vehicle sales for the same month exceeded 17 mln SAAR for the first time since July 2006. Both of those factors were expected to drive retail sales growth in June, yet failed to provide the oomph needed to accelerate consumer demand.
It seems likely that consumers pocketed some of the extra earnings in June and increased their savings rate.
The motor vehicle data were the most frustrating. Sales at motor vehicle and parts dealers fell 0.3% in June following a 0.8% increase in May. According to the per unit sales data, motor vehicle sales should have increased closer to 1.8%.
Trends in June were not much different than May, with the exception of the clothing sector, which rebounded from a 0.5% decline in May and increased 0.8% in June, and restaurants, which fell 0.3% in June after increasing 0.9% in May.
Big Picture
A possible uptick in savings likely prevented a strong increase in retail sales.
| Category | JUN | MAY | APR | MAR | FEB |
| --- | --- | --- | --- | --- | --- |
| Retail Sales | 0.2% | 0.5% | 0.6% | 1.5% | 0.9% |
| Excluding Autos | 0.4% | 0.4% | 0.6% | 0.9% | 0.4% |
| Durable goods | | | | | |
| Building Materials | -1.0% | 0.6% | 1.4% | 2.3% | -0.3% |
| Autos/parts | -0.3% | 0.8% | 0.8% | 3.9% | 2.6% |
| Furniture | -0.1% | -0.1% | 0.8% | 2.3% | 1.0% |
| Nondurable goods | | | | | |
| General Merchandise | 1.1% | -0.1% | 1.3% | 0.9% | 0.1% |
| Food | 0.4% | 0.3% | 0.2% | -0.1% | -0.2% |
| Gasoline stations | 0.3% | 0.7% | 1.3% | -1.0% | -0.2% |
| Clothing | 0.8% | -0.5% | 1.5% | 1.5% | -0.2% |
| e*retailing/non-store | 0.9% | 0.6% | -0.4% | 2.2% | 1.2% |