Economic
Last Update: 12-Sep-14 08:51 ET
Retail Sales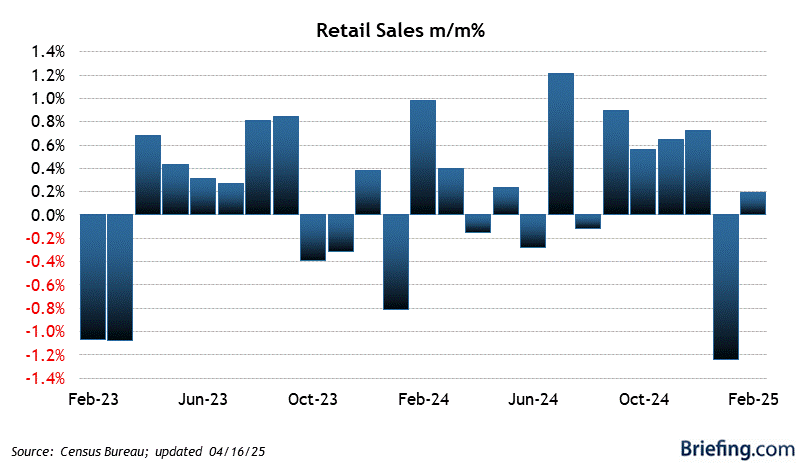 Highlights
Retail sales increased 0.6% in August following an upwardly revised 0.3% (from 0.0%) in July. The Briefing.com consensus expected retail sales to increase 0.6%.
Excluding motor vehicles, retail sales increased a respectable 0.3% for a second consecutive month and met the consensus expectations.
Key Factors
Overall, the retail sales data were strong. After missing expectations last month, sales rebounded in August and upward revisions were reported for the prior month. Concerns that consumption could weigh down GDP growth were somewhat alleviated.
Strong sales reports from the motor vehicle manufacturers translated into a 1.5% increase in sales at motor vehicle and parts dealers.
Core sales, which exclude motor vehicle dealers, building material and supply stores, and gasoline stations, increased 0.4% for a second consecutive month.
Looking through the data, relatively strong gains were reported at furniture stores (0.7%), electronics and appliances stores (0.7%), and sporting goods and hobby stores (0.9%). Two sectors declined in August, gasoline stations (-0.8%) – which suffered from lower oil and gasoline prices – and general merchandise stores (-0.1%).
Big Picture
The rebound in retail sales should help accelerate economic growth in the third quarter.
| Category | AUG | JUL | JUN | MAY | APR |
| --- | --- | --- | --- | --- | --- |
| Retail Sales | 0.6% | 0.3% | 0.4% | 0.4% | 0.6% |
| Excluding Autos | 0.3% | 0.3% | 0.5% | 0.4% | 0.6% |
| Durable goods | | | | | |
| Building Materials | 1.4% | -0.5% | 1.2% | 1.2% | 1.4% |
| Autos/parts | 1.5% | 0.6% | 0.0% | 0.7% | 0.8% |
| Furniture | 0.7% | -0.1% | 0.0% | -0.4% | 0.8% |
| Nondurable goods | | | | | |
| General Merchandise | -0.1% | 0.4% | 0.3% | -0.5% | 1.3% |
| Food | 0.3% | 0.2% | 1.1% | 0.3% | 0.2% |
| Gasoline stations | -0.8% | 0.0% | -0.8% | 0.5% | 1.3% |
| Clothing | 0.3% | 0.9% | 0.2% | -0.6% | 1.5% |
| e*retailing/non-store | 0.1% | 0.5% | 0.8% | 0.5% | -0.4% |