Economic
Last Update: 18-Nov-14 09:16 ET
PPI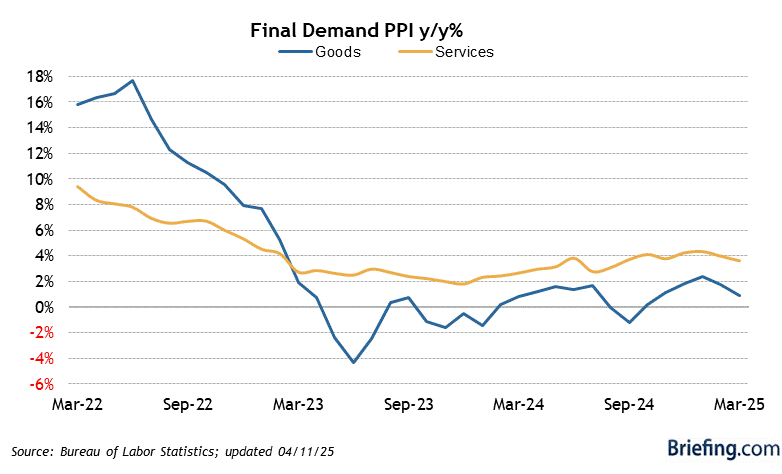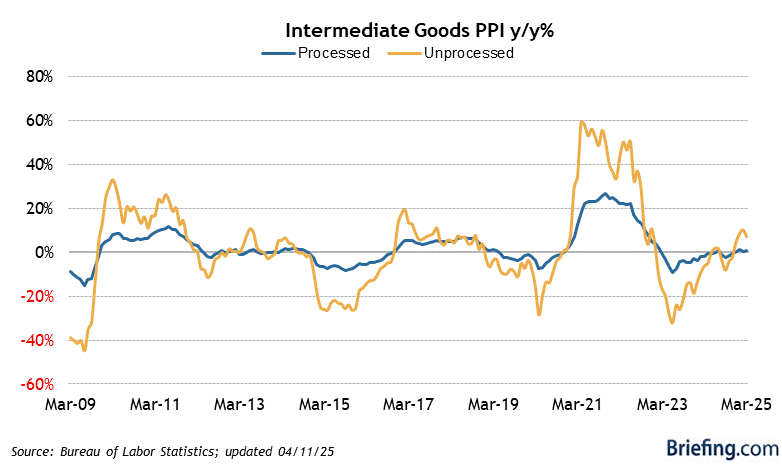 Highlights
Producer prices edged up 0.2% in October after declining 0.1% in September. The Briefing.com consensus expected the PPI to decline 0.2%.
Excluding food and energy, core prices rose 0.4% in October after being unchanged in September. The consensus expected these prices to increase 0.1%.
Key Factors
The upside surprise in producer price growth was a result of a sharp 0.5% increase in prices of final demand for services. That was the largest increase since a similar 0.5% gain was recorded in July 2013. The services component was added to the PPI when the new methodology was introduced last year and is difficult to estimate.
Final demand of finished goods, which was the headline PPI index under the previous methodology, fell 0.3% in October and was much closer to expectation.
As expected, the decline in crude and gasoline prices led to a 3.0% decline in the energy price index. That was the fourth consecutive monthly decline and the biggest one-month drop since falling 3.8% in March 2013.
A 5.3% increase in meat prices led to a 1.0% overall increase in food in October. That ended two consecutive months of declines.
As with the headline figure, the increase in core prices was impacted by the surge in services costs. Specifically, the surprise came from a 1.5% increase trade services, which measures the margins for wholesalers and retailers.
Excluding food, energy, and trade services, prices increased 0.1% in October after falling 0.1% in September and matched expectations.
Pipeline pressures remain tame. Intermediate core processed goods prices declined 0.2% in October and core unprocessed goods declined 2.9%. Intermediate services demand increased 0.1% after being unchanged in September.
Big Picture
A sharp increase in wholesale and retail margins caused an upward surprise in overall producer prices. Pipeline pressure remain muted and overall price growth should soften.
| Category | OCT | SEP | AUG | JUL | JUN |
| --- | --- | --- | --- | --- | --- |
| Final Demand | 0.2% | -0.1% | 0.0% | 0.2% | 0.2% |
| Core (excluding ...) | | | | | |
| Food and Energy | 0.4% | 0.0% | 0.1% | 0.3% | 0.0% |
| Food, Energy, and Trade | 0.1% | -0.1% | 0.2% | 0.2% | 0.2% |
| Final Demand Goods | | | | | |
| Total | -0.4% | -0.2% | -0.3% | -0.1% | 0.5% |
| Energy | -3.0% | -0.7% | -1.5% | -0.8% | 2.0% |
| Finished Goods | -0.3% | -0.2% | -0.4% | 0.0% | 0.7% |
| Final Demand Services | | | | | |
| Total | 0.5% | -0.1% | 0.3% | 0.3% | 0.0% |
| Trade | 1.5% | 0.0% | 0.0% | 0.6% | -0.5% |
| Intermediate Demand | | | | | |
| Processed | -0.9% | 0.1% | -0.3% | 0.1% | 0.3% |
| Unprocessed | -2.4% | 0.6% | -3.3% | -2.5% | -0.9% |
| Services | 0.1% | 0.0% | 0.2% | 0.5% | 0.2% |