Economic
Last Update: 12-Dec-14 09:01 ET
PPI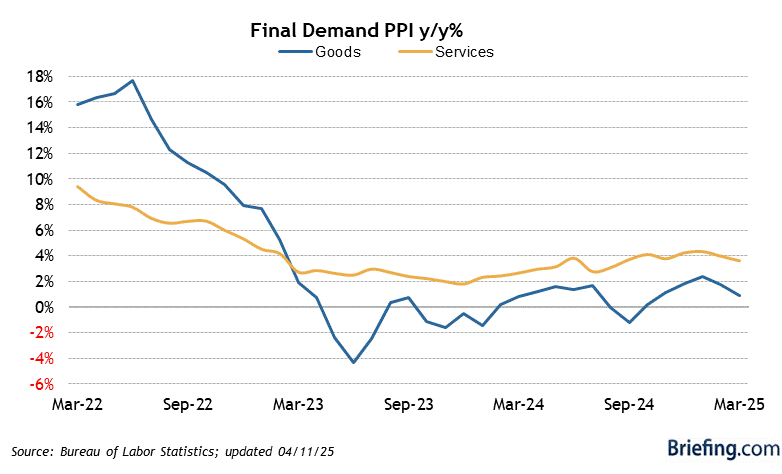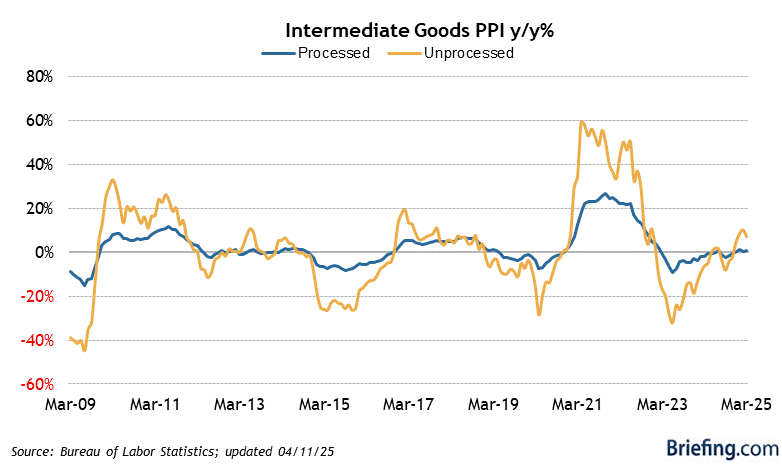 Highlights
Producer prices declined 0.2% in November after increasing by 0.2% in October. The Briefing.com consensus expected the PPI to decline 0.1%.
Excluding food and energy, core PPI was unchanged in November after increasing 0.4% in October. The consensus expected these prices to increase 0.1%.
Key Factors
As expected, energy prices fell for a fifth consecutive month. Total energy costs declined 3.1% in November, which followed a 3.0% decline in October. The majority of the energy decline can be attributed to a 6.3% drop in gasoline prices.
After increasing 1.0% in October, food prices declined 0.2%.
Overall, prices of total final demand for goods declined 0.7% (60% of that decline was a result of the aforementioned drop in gasoline costs).
As with last month, an increase in the prices of services staved off a bigger decline in overall prices. Services prices rose 0.1% in November after increasing 0.5% in October.
Using the old PPI methodology, which does not include the services price component, finished goods prices fell 0.7% in November after declining 0.3% in October. That was the largest decline since July 2009.
Pipeline pressures continue to be muted. Prices of intermediate processed goods declined 1.0% in November and prices of unfinished goods declined 1.3%.
Big Picture
Continued weakness in energy costs is weighing down overall producer price growth.
| Category | NOV | OCT | SEP | AUG | JUL |
| --- | --- | --- | --- | --- | --- |
| Final Demand | -0.2% | 0.2% | -0.1% | 0.0% | 0.2% |
| Core (excluding ...) | | | | | |
| Food and Energy | 0.0% | 0.4% | 0.0% | 0.1% | 0.3% |
| Food, Energy, and Trade | 0.0% | 0.1% | -0.1% | 0.2% | 0.2% |
| Final Demand Goods | | | | | |
| Total | -0.7% | -0.4% | -0.2% | -0.3% | -0.1% |
| Energy | -3.1% | -3.0% | -0.7% | -1.5% | -0.8% |
| Finished Goods | -0.6% | -0.3% | -0.2% | -0.4% | 0.0% |
| Final Demand Services | | | | | |
| Total | 0.1% | 0.5% | -0.1% | 0.3% | 0.3% |
| Trade | 0.1% | 1.5% | 0.0% | 0.0% | 0.6% |
| Intermediate Demand | | | | | |
| Processed | -1.0% | -0.9% | 0.1% | -0.3% | 0.1% |
| Unprocessed | -1.3% | -2.4% | 0.6% | -3.3% | -2.5% |
| Services | 0.3% | 0.1% | 0.0% | 0.2% | 0.5% |