Economic
Last Update: 15-Jul-15 08:53 ET
PPI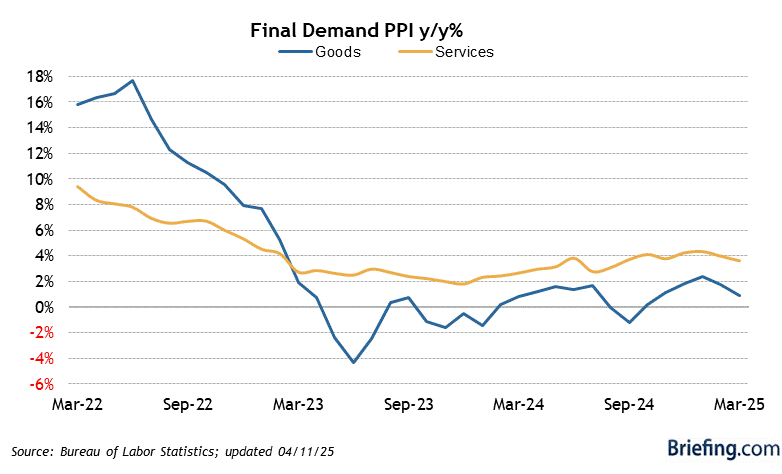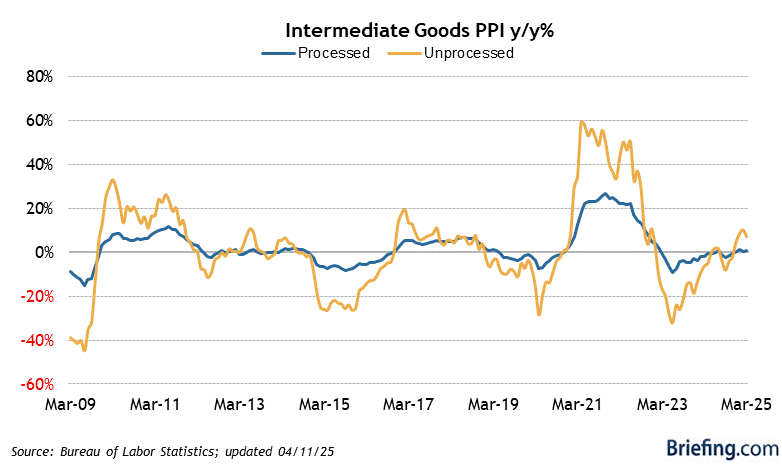 Highlights
Producer prices increased 0.4% in June after increasing 0.5% in May. The Briefing.com Consensus expected the PPI index to increase 0.3%.
Excluding food and energy, core PPI increased 0.3% in June after increasing 0.1% in May. The consensus expected these prices to increase 0.1% for a second consecutive month.
Key Factors
Gasoline prices increased 4.3% in June after a 17.0% gain in May. That increase helped drive total energy prices up 2.4% in June.
Food prices rose 0.6% in June, down from a 0.8% increase in May.
That was the largest monthly increase in core PPI since a 0.5% increase in October 2014.
The acceleration in core prices was very unusual. Typically a big move in services prices would be a main contributing factor to a large move in core prices. In this case, however, services price growth was relatively mild at 0.3%.
Instead, the increase in core prices came from a general upward price trend that developed across a wide spectrum of different sectors.
The underlying trends do not point to further core price growth.
Pipeline pressures remain weak. Core intermediate processed goods prices increased only 0.2% in June after declining 0.2% in May. Core unprocessed intermediate goods prices increased 0.3% after a 0.1% decline.
Intermediate services prices rose 0.4% in June after a 0.5% decline in May.
Big Picture
There are no pricing pressures down the producer pipeline. This should keep both consumer and producer price growth in check.
| Category | JUN | MAY | APR | MAR | FEB |
| --- | --- | --- | --- | --- | --- |
| Final Demand | 0.4% | 0.5% | -0.4% | 0.2% | -0.5% |
| Core (excluding ...) | | | | | |
| Food and Energy | 0.3% | 0.1% | -0.2% | 0.2% | -0.5% |
| Food, Energy, and Trade | 0.3% | -0.1% | 0.1% | 0.2% | 0.0% |
| Final Demand Goods | | | | | |
| Total | 0.7% | 1.3% | -0.7% | 0.3% | -0.4% |
| Energy | 2.4% | 5.9% | -2.9% | 1.5% | 0.0% |
| Finished Goods | 0.9% | 1.5% | -0.6% | 0.5% | -0.1% |
| Final Demand Services | | | | | |
| Total | 0.3% | 0.0% | -0.1% | 0.1% | -0.5% |
| Trade | 0.2% | 0.6% | -0.8% | -0.2% | -1.5% |
| Intermediate Demand | | | | | |
| Processed | 0.7% | 1.0% | -1.1% | -0.1% | -0.6% |
| Unprocessed | 1.2% | 3.3% | 0.9% | -1.7% | -3.9% |
| Services | 0.4% | -0.5% | 0.5% | 0.2% | 0.1% |