Economic
Last Update: 15-Aug-14 08:50 ET
PPI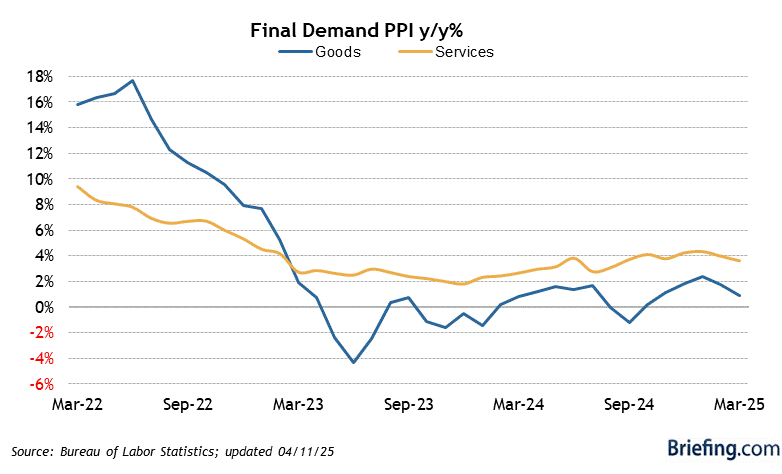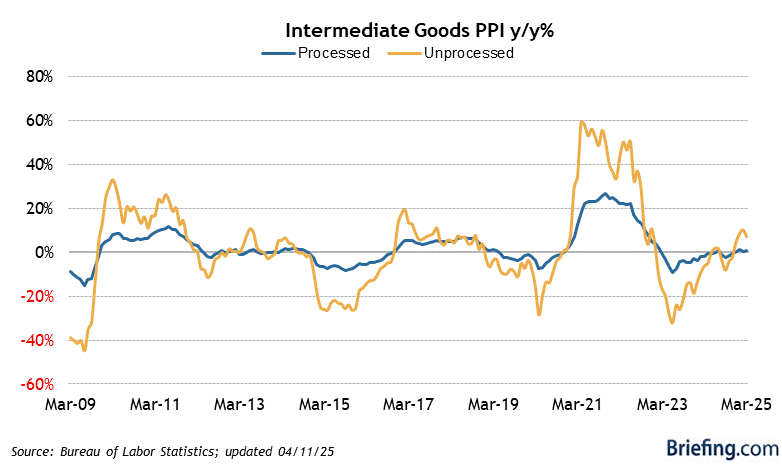 Highlights
Producer prices increased 0.1% in July after increasing 0.4% in June. The Briefing.com consensus expected the PPI to increase 0.2%.
Excluding food and energy, core PPI rose 0.2% for a second consecutive month. The consensus expected these prices to increase 0.2%.
Key Factors
As expected, energy prices declined in July, falling 0.6%. Gasoline prices fell 2.1% and led the decline.
After two months of 0.2% declines, food prices edged up 0.4% in July. Much of the gain was the result of higher meat (5.5%) and poultry (4.4%) prices.
Prices of final goods demand were flat after increasing 0.5% in June. A 1.0% in pharmaceutical preparations costs were instrumental in keeping overall goods prices from declining.
Producer services prices increased 0.1% in July, down from a 0.3% gain in June. Transportation and warehousing prices increased 0.5% as prices on freight trucking increased 0.7%.
Pipeline pressures remain weak. Processed intermediate goods prices increased 0.1% in July, down from a 0.4% increase in June. Unprocessed intermediate prices fell 2.7% after declining 0.9% in June. Much of that decline was the result of a 6.4% drop in unprocessed energy materials prices.
Big Picture
Pipeline pressures have not intensified, and headline producer price growth are likely to remain weak.
| Category | JUL | JUN | MAY | APR | MAR |
| --- | --- | --- | --- | --- | --- |
| Final Demand | 0.1% | 0.4% | -0.2% | 0.6% | 0.5% |
| Core (excluding ...) | | | | | |
| Food and Energy | 0.2% | 0.2% | -0.1% | 0.5% | 0.6% |
| Food, Energy, and Trade | 0.2% | 0.1% | 0.0% | 0.3% | 0.1% |
| Final Demand Goods | | | | | |
| Total | 0.0% | 0.5% | -0.2% | 0.6% | 0.0% |
| Energy | -0.6% | 2.1% | -0.2% | 0.1% | -1.2% |
| Finished Goods | 0.1% | 0.7% | 0.0% | 0.7% | -0.1% |
| Final Demand Services | | | | | |
| Total | 0.1% | 0.3% | -0.2% | 0.6% | 0.7% |
| Trade | 0.2% | 0.2% | -0.5% | 1.4% | 1.4% |
| Intermediate Demand | | | | | |
| Processed | 0.1% | 0.4% | -0.1% | 0.0% | -0.2% |
| Unprocessed | -2.7% | -0.9% | 0.0% | 0.4% | -0.1% |
| Services | 0.3% | 0.6% | -0.4% | 0.1% | 0.4% |