Economic
Last Update: 16-Sep-14 09:23 ET
PPI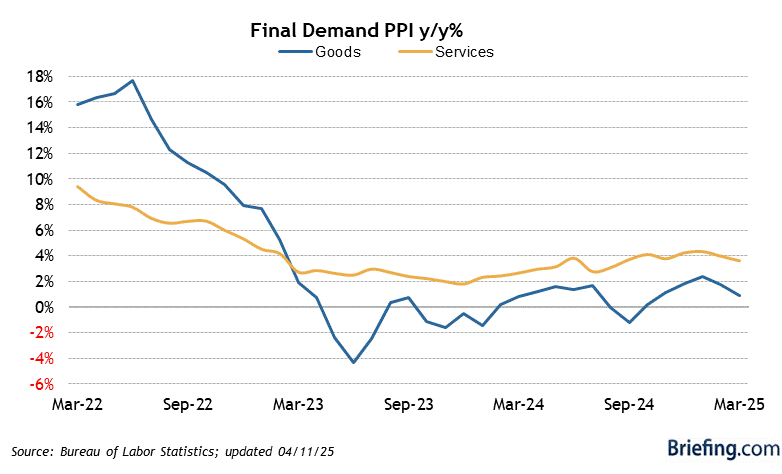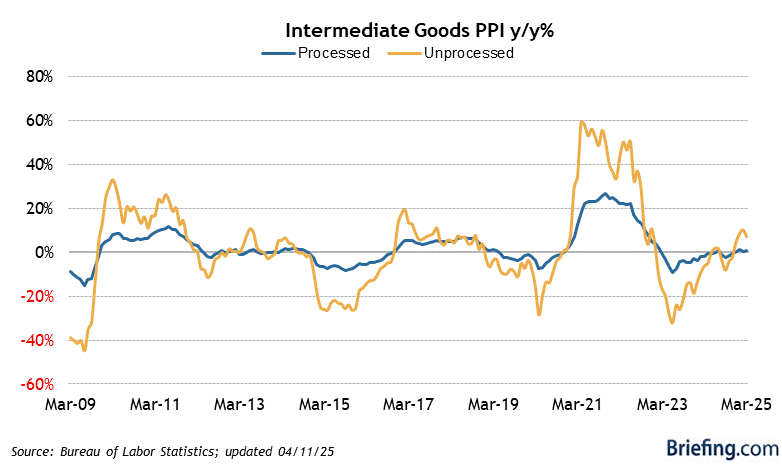 Highlights
The PPI report showed producer prices were unchanged in August while prices, excluding food and energy, were up 0.1%. Both results were in-line with the Briefing.com consensus estimates.
Key Factors
On an unadjusted basis, the index for final demand increased 1.8% over the last 12 months.
Prices for finished goods declined 0.3% in August. The bulk of that retreat can be attributed to a 1.4% drop in the index for finished consumer energy goods.
Prices for finished consumer foods, meanwhile, moved down 0.3%.
There isn't much pipeline pressure to speak of either. Within intermediate demand, prices for processed goods fell 0.3% (the largest drop since November 2013) while prices for unprocessed goods declined 3.3%.
Big Picture
Pipeline pressures have not intensified, and headline producer price growth is likely to remain weak as energy prices soften.
| Category | AUG | JUL | JUN | MAY | APR |
| --- | --- | --- | --- | --- | --- |
| Final Demand | 0.0% | 0.1% | 0.4% | 0.1% | 0.2% |
| Core (excluding ...) | | | | | |
| Food and Energy | 0.1% | 0.2% | 0.2% | 0.2% | 0.1% |
| Food, Energy, and Trade | 0.0% | 0.2% | 0.1% | 0.1% | 0.2% |
| Final Demand Goods | | | | | |
| Total | -0.3% | 0.0% | 0.5% | -0.1% | 0.4% |
| Energy | -1.5% | -0.6% | 2.1% | -0.2% | -0.2% |
| Finished Goods | -0.4% | 0.1% | 0.7% | 0.0% | 0.6% |
| Final Demand Services | | | | | |
| Total | 0.3% | 0.1% | 0.3% | 0.2% | 0.0% |
| Trade | 0.0% | 0.2% | 0.2% | 0.5% | -0.3% |
| Intermediate Demand | | | | | |
| Processed | -0.3% | 0.1% | 0.4% | -0.1% | 0.0% |
| Unprocessed | -3.3% | -2.7% | -0.9% | 0.0% | 0.8% |
| Services | 0.2% | 0.3% | 0.6% | -0.3% | -0.2%% |