Economic
Last Update: 21-Nov-13 09:11 ET
PPI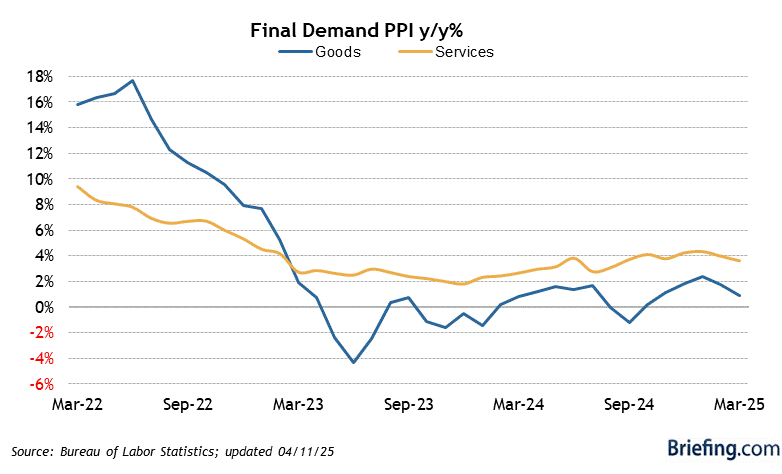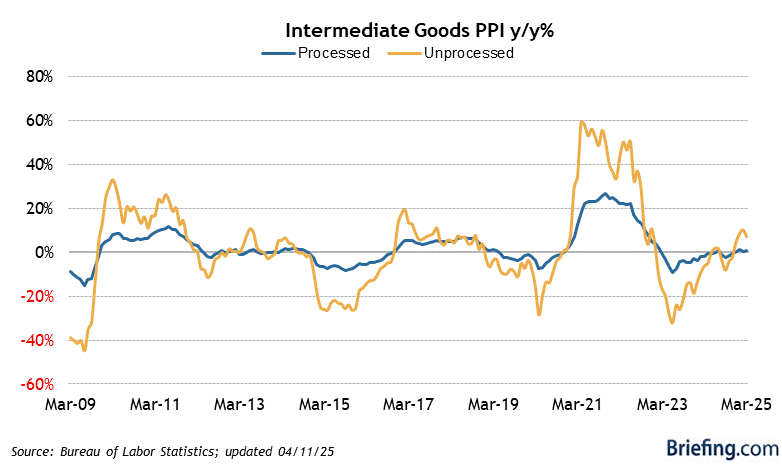 Highlights
Producer prices fell 0.2% in October after falling 0.1% in September. That was exactly what the Briefing.com consensus expected.
Excluding food and energy, core prices inched up 0.2% after increasing 0.1% in September. That was the biggest increase since June. The consensus expected core prices to increase 0.1%.
Key Factors
The drop in prices was completely due to a 1.5% decline in energy costs. Like the October CPI, a sizable drop in gasoline prices -- in this case 3.8% -- caused overall energy prices to fall 1.5%. That was the first decline in energy prices since April.
Food prices, which fell 1.0% in September, increased 0.8% in October. That was the largest increase since March. Most of the gain was the result of a 7.5% increase in beef and veal prices.
Year-over-year, core prices increased a very modest 1.4%.
Trends in core prices remain tame. The boost to core prices was mostly the result of the addition of 2014 model year vehicles into the PPI data. That shock is temporary and will smooth out in the coming months.
Pipeline pressures also remain weak. Core intermediate prices fell 0.1%, which was the first decline since July. Meanwhile, core crude goods prices declined 0.5%. That was the third consecutive monthly decline.
Big Picture
Producer prices remain on a weak path.
| Category | OCT | SEP | AUG | JUL | JUN |
| --- | --- | --- | --- | --- | --- |
| Finished Goods | -0.2% | -0.1% | 0.3% | 0.0% | 0.8% |
| Core | 0.2% | 0.1% | 0.0% | 0.1% | 0.2% |
| Capital Equipment | 0.1% | 0.3% | -0.1% | 0.0% | 0.1% |
| Consumer Foods | 0.8% | -1.0% | 0.6% | 0.0% | 0.2% |
| Energy | -1.5% | 0.5% | 0.8% | -0.2% | 2.9% |
| Intermediate Materials | -0.4% | 0.1% | 0.0% | 0.0% | 0.5% |
| Core | -0.1% | 0.1% | 0.2% | -0.3% | 0.1% |
| Crude Materials | -0.9% | 0.5% | -2.7% | 1.2% | 0.0% |
| Core | -0.5% | -1.0% | -0.4% | -0.3% | -0.1% |