Economic
Last Update: 15-Oct-14 09:08 ET
PPI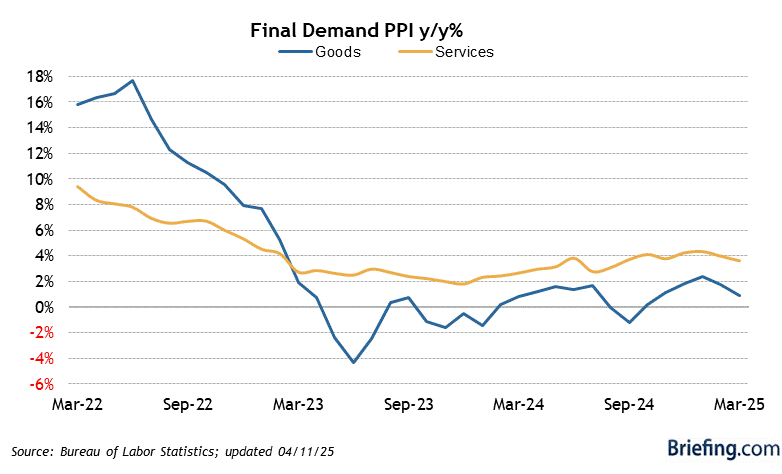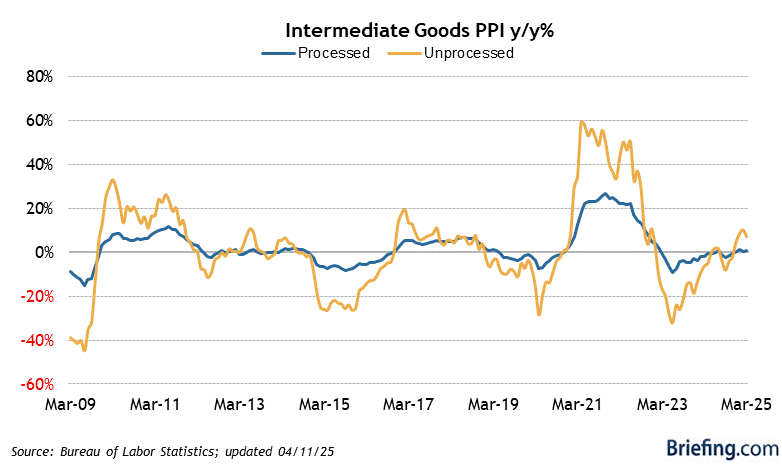 Highlights
Producer prices fell 0.1% in September after reporting no change in August. The Briefing.com consensus expected producer prices to increase 0.1%.
Excluding food and energy, core PPI was flat after increasing 0.1% in August. The consensus expected these prices to increase 0.1%.
Key Factors
As expected, energy prices fell 0.7% in September, which was the third consecutive monthly decline. The pullback in energy costs was largely the result of a 2.6% drop in gasoline costs.
Food prices fell for the second consecutive month and the fourth time in the last five months. Prices dropped 0.7% after falling 0.5% in August.
Final demand prices for both goods (-0.2%) and services (-0.1%) declined.
Pipeline pressures remain muted. Prices of processed goods for intermediate demand edged up only 0.1% while unprocessed goods prices increased 0.6%.
Big Picture
Pipeline pressures have not intensified, and headline producer price growth is likely to remain weak as energy prices continue to soften.
| Category | SEP | AUG | JUL | JUN | MAY |
| --- | --- | --- | --- | --- | --- |
| Final Demand | -0.1% | 0.0% | 0.1% | 0.4% | 0.1% |
| Core (excluding ...) | | | | | |
| Food and Energy | 0.0% | 0.1% | 0.2% | 0.2% | 0.2% |
| Food, Energy, and Trade | 0.2% | 0.0% | 0.2% | 0.1% | 0.1% |
| Final Demand Goods | | | | | |
| Total | -0.2% | -0.3% | 0.0% | 0.5% | -0.1% |
| Energy | -0.7% | -1.5% | -0.6% | 2.1% | -0.2% |
| Finished Goods | -0.2% | -0.4% | 0.1% | 0.7% | 0.0% |
| Final Demand Services | | | | | |
| Total | -0.1% | 0.3% | 0.1% | 0.3% | 0.2% |
| Trade | 0.0% | 0.0% | 0.2% | 0.2% | 0.5% |
| Intermediate Demand | | | | | |
| Processed | 0.1% | -0.3% | 0.1% | 0.4% | -0.1% |
| Unprocessed | 0.6% | -3.3% | -2.7% | -0.9% | 0.0% |
| Services | 0.0% | 0.2% | 0.3% | 0.6% | -0.3% |