Economic
Last Update: 16-Jul-14 08:46 ET
PPI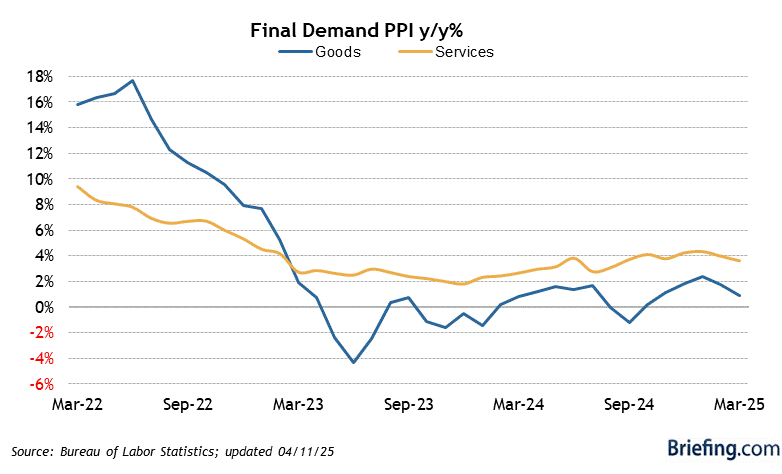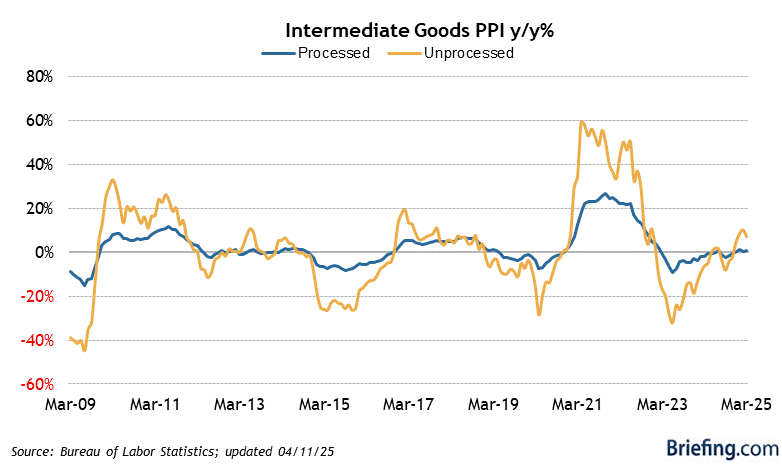 Highlights
Producer prices increased 0.4% in June after declining 0.2% in May. The Briefing.com consensus expected the PPI to increase 0.2%.
Excluding food and energy, core prices were up 0.2% after declining 0.1% in May. The consensus expected these prices to increase 0.2%.
Key Factors
A 2.1% surge in energy prices was the main catalyst for the strong increase in producer prices. That was the largest monthly increase in energy costs since February 2013. Gasoline prices increased 6.4% in June.
Food prices declined 0.2% for a second consecutive month.
Final demand for services increased 0.3%, reversing a 0.2% decline in May. Most of the gain was the result of a 0.3% increase in services less trade, transportation, and warehousing.
Prices of finished goods, which was the headline PPI index under the previous methodology, increased 0.7% in June.
Pipeline pressures were muted in June. Prices of intermediate processed goods increased 0.4% in June after declining 0.1% in May while prices of unprocessed intermediate goods fell 0.9%.
Big Picture
With the BLS changing its methodology for calculating the PPI Index, economists have found it difficult to get a handle on their forecasts. That, in part, helps explain the decent-sized discrepancy between the headline numbers and the consensus estimates.
| Category | JUN | MAY | APR | MAR | FEB |
| --- | --- | --- | --- | --- | --- |
| Final Demand | 0.4% | -0.2% | 0.6% | 0.5% | -0.2% |
| Core (excluding ...) | | | | | |
| Food and Energy | 0.2% | -0.1% | 0.5% | 0.6% | -0.2% |
| Food, Energy, and Trade | 0.1% | 0.0% | 0.3% | 0.1% | 0.0% |
| Final Demand Goods | | | | | |
| Total | 0.5% | -0.2% | 0.6% | 0.0% | 0.2% |
| Energy | 2.1% | -0.2% | 0.1% | -1.2% | 0.3% |
| Finished Goods | 0.7% | 0.0% | 0.7% | -0.1% | 0.2% |
| Final Demand Services | | | | | |
| Total | 0.3% | -0.2% | 0.6% | 0.7% | -0.3% |
| Trade | 0.2% | -0.5% | 1.4% | 1.4% | -0.6% |
| Intermediate Demand | | | | | |
| Processed | 0.4% | -0.1% | 0.0% | -0.2% | 0.5% |
| Unprocessed | -0.9% | 0.0% | 0.4% | -0.1% | 5.4% |
| Services | 0.6% | -0.4% | 0.1% | 0.4% | 0.0% |