Economic
Last Update: 17-Apr-14 18:14 ET
New Home Sales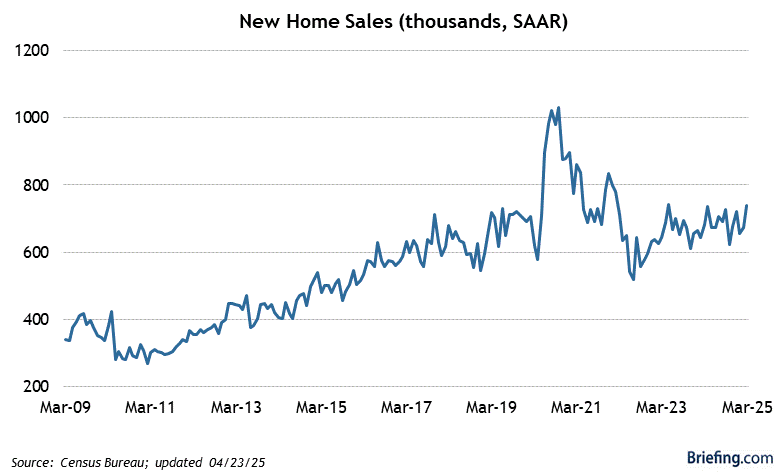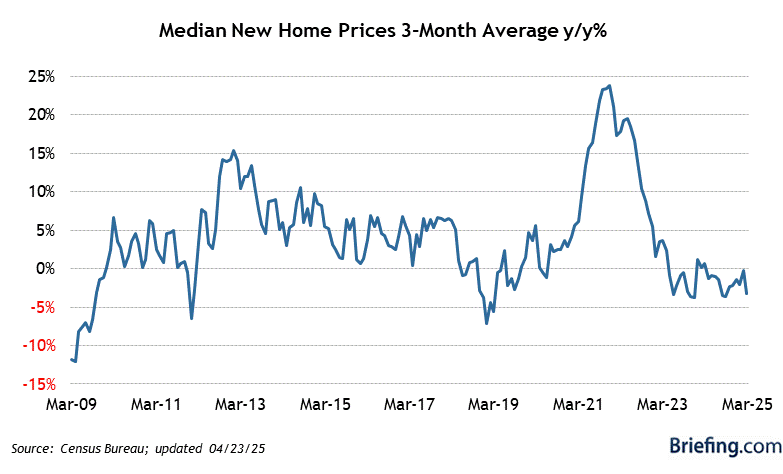 Highlights
New home sales declined 3.3% in February to 440,000 from a downwardly revised 455,000 (from 468,000) in January. The Briefing.com consensus expected the new home sales to fall to 445,000.
Key Factors
Commentators will likely point out that the drop in sales was a result of extreme winter conditions. Yet, sales actually increased 36.7% in the frigid Midwest and fell 15.9% in the West.
In actuality, sales are running a little ahead of the 12-month average. The drop in February was nothing more than normal volatility.
Supply increased slightly to 5.2 months in February from 5.0 months in January.
New home prices fell 1.2% y/y in February to $261,800. That was the first year-over-year decline since June 2012.
Big Picture
Affordability concerns from higher mortgage rates and new home prices could stall further sales.
| Category | FEB | JAN | DEC | NOV | OCT |
| --- | --- | --- | --- | --- | --- |
| Total Sales | 440K | 455K | 441K | 448K | 452K |
| Inventory (months) | 5.2 | 5.0 | 5.1 | 4.9 | 4.9 |
| Median Price Y/Y | -1.2% | 3.7% | 4.4% | 13.1% | 6.9% |