Economic
Last Update: 24-Mar-15 10:18 ET
New Home Sales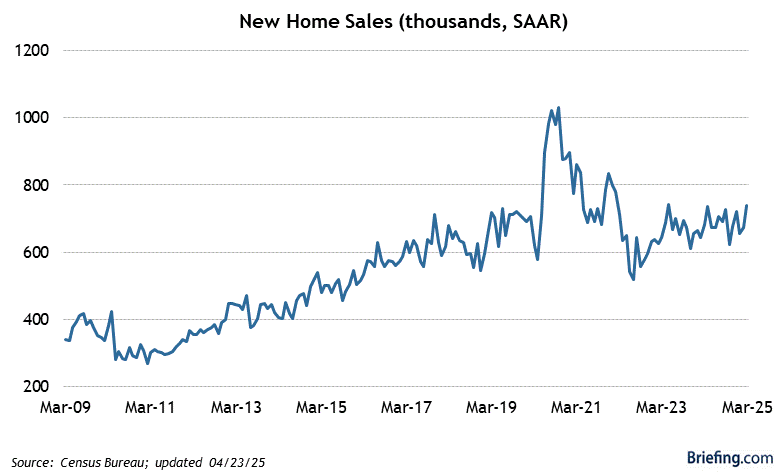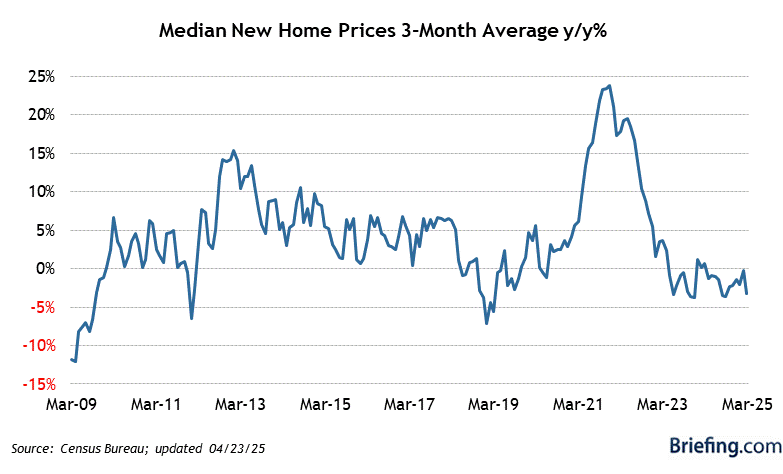 Highlights
New home sales increased 7.8% in February to 539,000 from an upwardly revised 500,000 (from 481,000) in January. The Briefing.com Consensus expected new home sales to decline to 465,000.
Key Factors
All of the conditions in February were geared to cause a big decline in demand. Inclement weather conditions in the Northeast and Midwest were expected to keep potential buyers away from meeting with builders, and rising mortgage rates were expected make new homes unaffordable.
Neither underlying factor seemed to play a role in new home demand.
The weather factor was debunked as sales in the Northeast increased 152.9% in February to 43,000 from 17,000 in January.
Higher mortgage rates didn't seem to harm sales in February. Overall, it was the strongest selling month since 593,000 new home were sold in February 2008.
Like the existing home sector, supply constraints may be keeping sales growth from accelerating even further. At the current sales pace, there are only 4.7 months' supply available. That is down from 5.1 months' in January and well below the 6.0 months' supply kept during normal periods of buying and selling activities.
The median new home price increased 2.6% y/y to $275,500.
Big Picture
After a pretty flat 2014, new home sales are showing signs of acceleration.
| Category | FEB | JAN | DEC | NOV | OCT |
| --- | --- | --- | --- | --- | --- |
| Total Sales | 539K | 500K | 479K | 448K | 469K |
| Inventory (months) | 4.7 | 5.1 | 5.3 | 5.7 | 5.4 |
| Median Price Y/Y | 2.6% | 7.3% | 7.3% | 9.2% | 13.3% |