Economic
Last Update: 26-Feb-14 10:17 ET
New Home Sales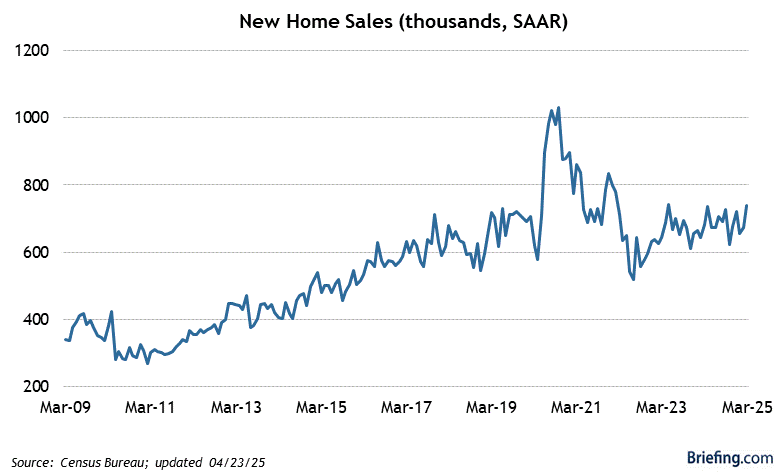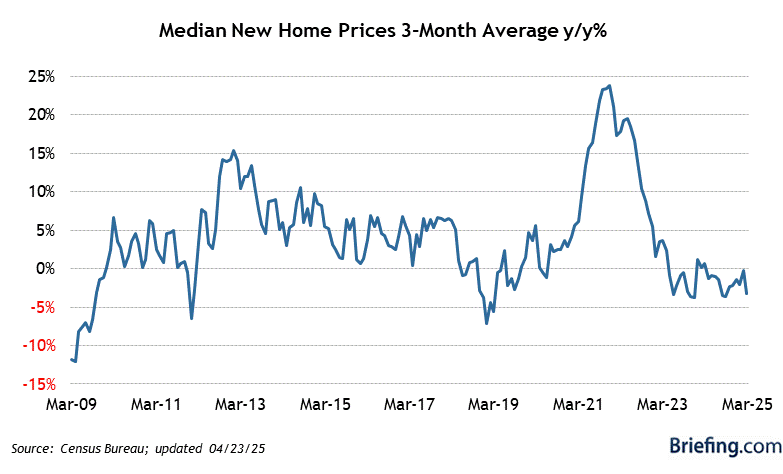 Highlights
New home sales jumped 9.6% to 468,000 in January from an upwardly revised 427,000 (from 414,000) in December. The Briefing.com consensus expected new home sales to fall to 400,000.
Key Factors
Weather-related problems were blamed for a wide variety of poor economic data throughout January. That included a sizable drop in existing home sales and a contraction in the NAHB home builders survey. Yet, weather was evidently not a problem in the new home sector as sales reached their highest level since July 2008.
The more we look at the overall economic picture, the less we believe weather was a large factor in the recent downturn.
With the exception of the Midwest, where sales fell a plausible weather-related 17.2%, sales were strong throughout the country. That included a 72.7% increase in sales in the Northeast, which more than recovered after a downward shock in December, even though adverse weather conditions affected most of that area.
Median home prices increased 3.4% y/y to $260,100. Prices edged up only 2.9% y/y in December.
New home inventory levels fell to a 4.7 months' supply in January from a 5.2 months' supply in December. The decline in supply was a result of stronger sales. The actual inventory count remained at 184,000.
Big Picture
Affordability concerns from higher mortgage rates and new home prices could stall further sales.
| Category | JAN | DEC | NOV | OCT | SEP |
| --- | --- | --- | --- | --- | --- |
| Total Sales | 468K | 427K | 444K | 452K | 403K |
| Inventory (months) | 4.7 | 5.2 | 4.9 | 4.9 | 5.4 |
| Median Price Y/Y | 3.4% | 2.9% | 9.9% | 6.9% | 6.0% |