Economic
Last Update: 24-Jul-14 10:14 ET
New Home Sales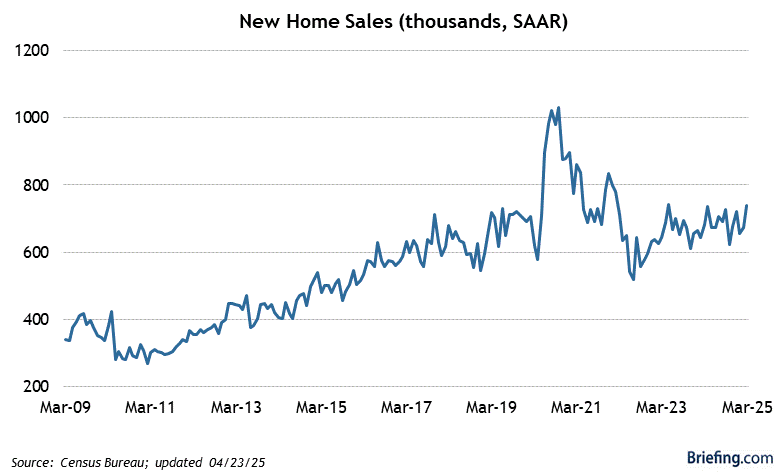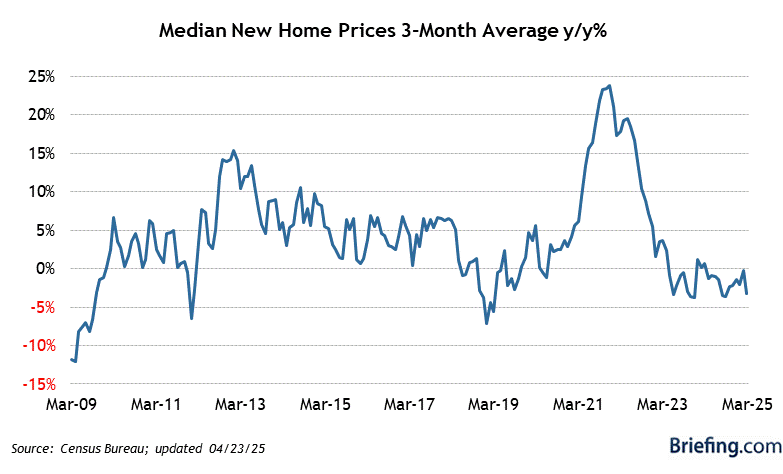 Highlights
New home sales fell 8.1% in June to 406,000 from a downwardly revised 442,000 (from 504,000) in May. The Briefing.com consensus pegged new home sales at 475,000.
Key Factors
Sales were also revised lower for April (408,000 from 425,000) and March (403,000 from 410,000).
Median new home prices increased 5.3% y/y in June to $273,500.
The drop in demand was not totally unexpected. Price gains in the new home sector have vastly outpaced price increases for existing homes. That has led to an upward move in the new home price premium and lower affordability conditions.
Inventory levels increased 3.1% in June to 197,000, which represented 5.8 months' supply. A majority of the increase in inventory levels was the result of builders listing homes that were not yet started. Thus, higher inventories won't put added pressure on builders to lower prices or to liquidate holdings.
Big Picture
Affordability concerns as a result of elevated new home price premiums have led to relatively stronger growth in the existing home sector.
| Category | JUN | MAY | APR | MAR | FEB |
| --- | --- | --- | --- | --- | --- |
| Total Sales | 406K | 442K | 408K | 403K | 432K |
| Inventory (months) | 5.8 | 5.2 | 5.6 | 5.7 | 5.2 |
| Median Price Y/Y | 5.3% | 7.2% | -2.4% | 9.6% | 1.2% |