Economic
Last Update: 25-Feb-15 10:14 ET
New Home Sales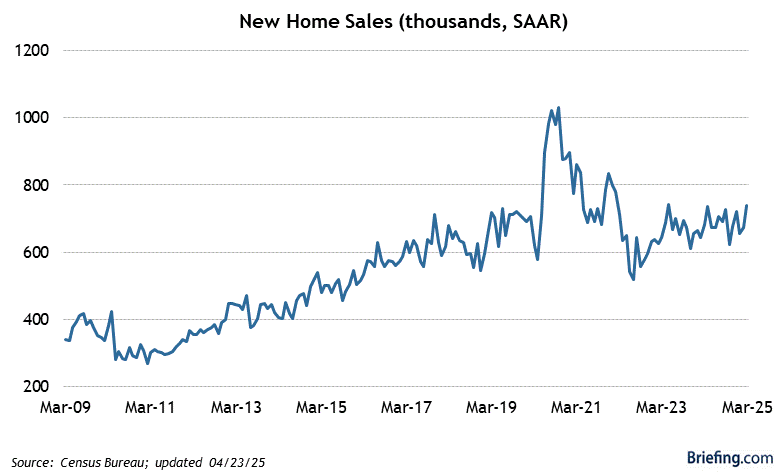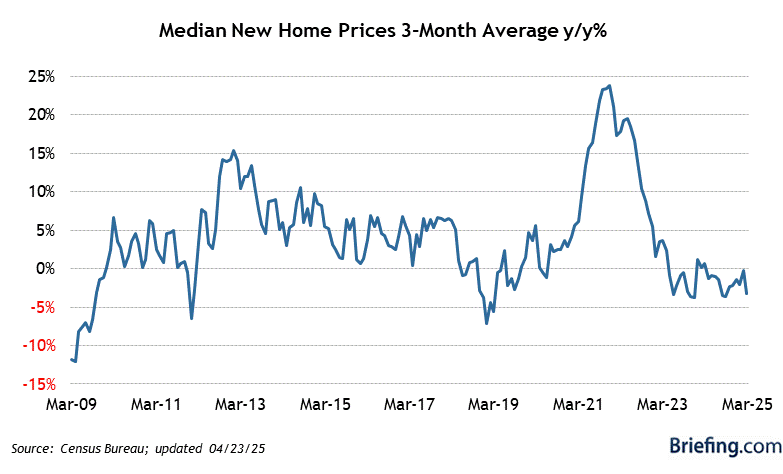 Highlights
New home sales fell 0.2% in January to 481,000 from an upwardly revised 482,000 (from 481,000) in December. The Briefing.com Consensus expected home sales to fall to 470,000.
Key Factors
For most of 2014, home sales showed hovered around 430,000 and showed little volatility. Over the last two months, however, sales have broken out of their doldrums.
The move correlates with the improvements in the NAHB Home Builders Index, which showed increasing strength in both current and expected sales. It also comes during a time when the average conventional mortgage rate fell below 4.00%.
The question going forward is whether sales growth can continue at this rates even if mortgage rates inch higher. The February data should provide some clues when it is released next month.
There are some problems concerning the underlying fundamentals. At a 5.4 months' supply at current sales rates, inventory levels are constrained. Normally builders try to keep inventories at roughly a 6 months' supply.
Prices are also a potential problem. The median home price increased 9.1% y/y to $294,300. The built in price premium of a new home versus the median existing home remains at historical highs.
Big Picture
After a pretty flat 2014, new home sales are showing signs of acceleration.
| Category | JAN | DEC | NOV | OCT | SEP |
| --- | --- | --- | --- | --- | --- |
| Total Sales | 481K | 482K | 446K | 469K | 456K |
| Inventory (months) | 5.4 | 5.4 | 5.7 | 5.4 | 5.5 |
| Median Price Y/Y | 9.1% | 9.7% | 7.7% | 13.3% | -3.1% |