Economic
Last Update: 24-Jul-15 10:18 ET
New Home Sales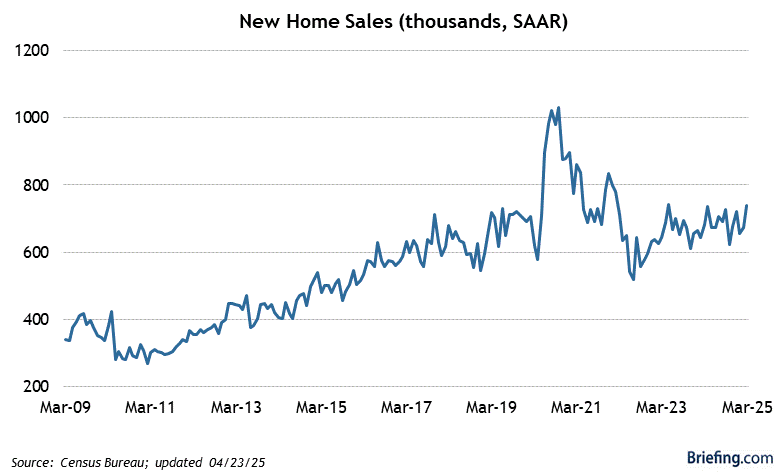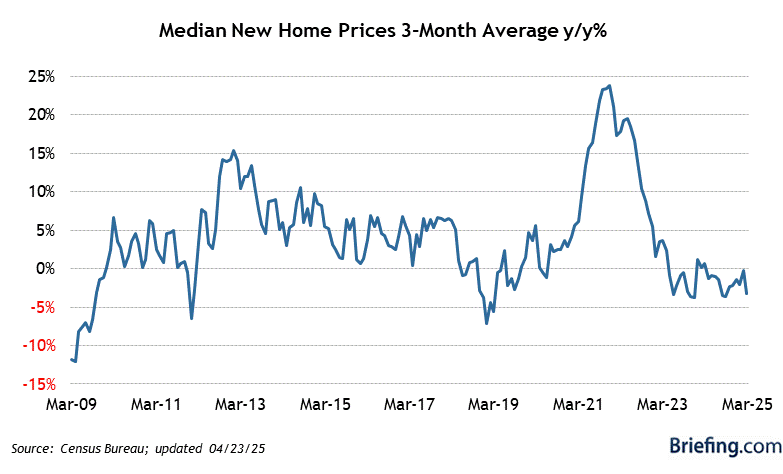 Highlights
New home sales declined 6.8% in June to 482,000 from a downwardly revised 517,000 (from 546,000) in May. The Briefing.com Consensus expected new home sales to increase to 550,000.
Key Factors
Sales in June were the lowest since 449,000 were sold in November 2014.
The report was clearly disappointing. Demand, which was thought to have been moving on an upward trend, pulled back strongly in June, and downward revisions to May's data showcase an uneasy growth pattern.
While sales remain above 2014 levels, we are not seeing the leg up we were expecting in 2015.
Unfortunately, future sales growth also looks uneven as rising mortgage rates will reduce affordability conditions and cut into potential sales.
Demand was strong in the Northeast (28.0%) but fell sharply in the West (-17.0%), Midwest (-11.1%), and South (-4.1%).
The median home price fell 1.8% to $281,800.
Inventories are still constrained, but are more in-line with the weak June sales. There is currently a 5.4 months' supply of inventories at the current sales rate, which is the largest supply since November 2014. A 6 months' supply is considered normal.
Big Picture
While sales are still trending above 2013 and 2014 levels, we haven't seen the clear move higher that would indicate a normalizing market.
| Category | JUN | MAY | APR | MAR | FEB |
| --- | --- | --- | --- | --- | --- |
| Total Sales | 482K | 517K | 523K | 485K | 545K |
| Inventory (months) | 5.4 | 4.8 | 4.7 | 5.1 | 4.5 |
| Median Price Y/Y | -1.8% | -1.8% | 6.4% | 3.9% | 9.5% |