Economic
Last Update: 23-Nov-15 17:57 ET
ISM Services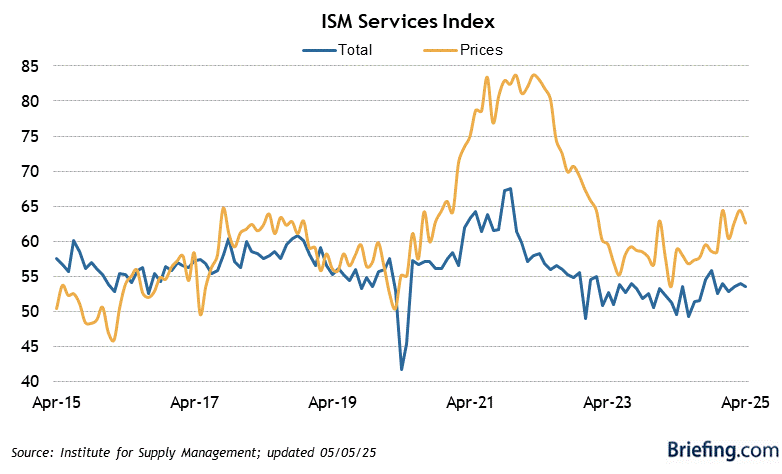 Highlights
The ISM Services index jumped to 59.1 in October from 56.9 in September. That was above the Briefing.com consensus estimate, which was pegged at 56.6.
Key Factors
There were upticks for all indexes, with the exception of supplier deliveries (to 52.0 from 52.5), inventory sentiment (to 63.0 from 65.0), and backlog of orders (unchanged at 54.5), all of which still rwmaind in an expansion mode with a reading above 50.0.
The new orders index jumped 5.3 points to 62.0; the employment index edged up 0.9 points to 59.2; inventories increased 1.5 points to 52.5; prices were up 0.7 points to 49.1 (revealing a slowdown in the pace of price declines); new export orders increased 2.0 points to 54.5; and imports added 1.5 points to 54.5.
Big Picture
The October reading is the second-highest reading this year, preceded only by the 60.3 reading in July, which was the highest reading since August 2005. Translation: purchasing and supply executives in the non-manufacturing sector are feeling pretty darn good about business conditions.
October marked the 69th straight month of growth for the non-manufacturing sector. A reading above 50.0, therefore, wasn't a surprise; however, a reading close to 60.0 was; and it created a nice distraction from the budding concern about the slowdown in the pace of growth for the manufacturing sector.
| Category | OCT | SEP | AUG | JUL | JUN |
| --- | --- | --- | --- | --- | --- |
| Non-Manufacturing ISM index | 59.1 | 56.9 | 59.0 | 60.3 | 56.0 |
| Business Activity | 63.0 | 60.2 | 63.9 | 64.9 | 61.5 |
| New Orders | 62.0 | 56.7 | 63.4 | 63.8 | 58.3 |
| Employment | 59.2 | 58.3 | 56.0 | 59.6 | 52.7 |
| Deliveries (nsa) | 52.0 | 52.5 | 52.5 | 53.0 | 51.5 |
| Inventories (nsa) | 52.5 | 51.0 | 54.5 | 57.0 | 55.0 |
| Exports (nsa) | 54.5 | 52.5 | 52.0 | 56.5 | 52.0 |
| Imports (nsa) | 54.5 | 53.0 | 51.5 | 50.5 | 48.0 |
| Prices Paid | 49.1 | 48.4 | 51.5 | 53.7 | 53.0 |