Economic
Last Update: 04-Mar-15 10:09 ET
ISM Services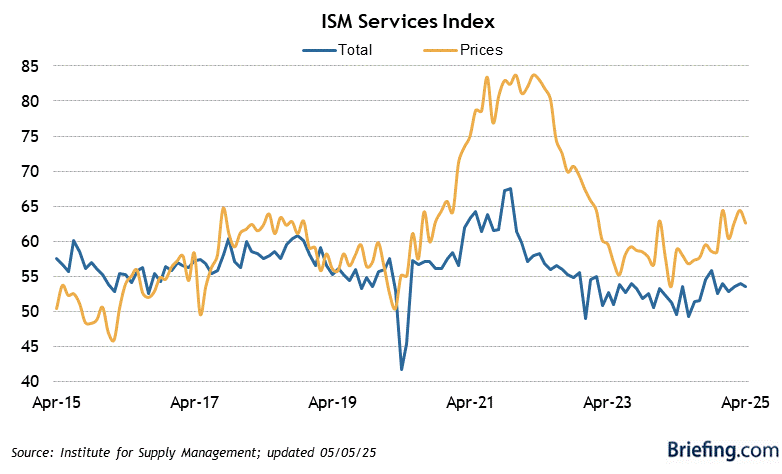 Highlights
The ISM Non-Manufacturing Index increased to 56.9 in February from 56.7 in January. The Briefing.com Consensus expected the index to fall to 56.5.
Key Factors
The improvement in the headline index comes despite weakness in production and orders. The Business Activities/Production Index fell to 59.4 in February from 61.5 in January. The New Orders Index declined to 56.7 in February from 59.5 in January.
Order backlogs improved (53.0 from 49.0), which should help production growth over time.
The Employment Index increased to 56.4 in February from 51.6 in January.
Big Picture
The market generally doesn't pay much attention to the services index because the services sector is less cyclical than the manufacturing sector. To that end, February marked the 61st consecutive month in which economic activity in the non-manufacturing sector has expanded.
| Category | FEB | JAN | DEC | NOV | OCT |
| --- | --- | --- | --- | --- | --- |
| Non-Manufacturing ISM index | 56.9 | 56.7 | 56.5 | 58.8 | 56.9 |
| Business Activity | 59.4 | 61.5 | 58.6 | 63.4 | 60.5 |
| New Orders | 56.7 | 59.5 | 59.2 | 61.0 | 59.3 |
| Employment | 56.4 | 51.6 | 55.7 | 56.3 | 58.3 |
| Deliveries (nsa) | 55.0 | 54.0 | 52.5 | 54.5 | 49.5 |
| Inventories (nsa) | 54.5 | 52.5 | 50.0 | 55.5 | 49.5 |
| Exports (nsa) | 53.0 | 52.5 | 53.5 | 57.0 | 53.5 |
| Imports (nsa) | 51.0 | 46.5 | 50.0 | 53.5 | 56.0 |
| Prices Paid | 49.7 | 45.5 | 49.8 | 55.0 | 52.8 |