Economic
Last Update: 17-Apr-14 18:14 ET
ISM Services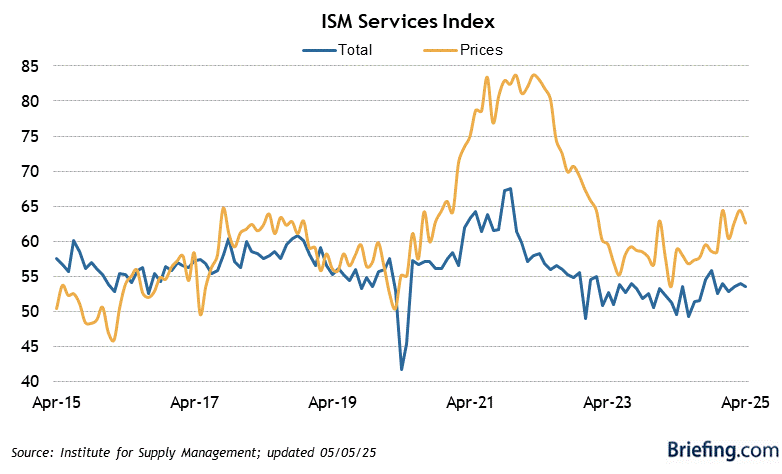 Highlights
The ISM Non-Manufacturing Index increased to 53.1 in March from 51.6 in February. The Briefing.com consensus expected the index to increase to 53.5.
Key Factors
The increase in headline index was mostly the result of a recovery in employment. The Employment Index, which contracted in February, increased to 53.6 in March from 47.5.
Business activities/production levels softened a bit as the related index fell from 54.6 in February to 53.4 in March. The drop in production was strange considering new orders firmed (53.4 in March from 51.3 in February) and backlogs softened (51.5 from 52.0). Normally, a decrease in production combined with an increase in orders would result in an increase in order backlogs
Big Picture
The market generally doesn't pay much attention to the services index because the services sector is less cyclical than the manufacturing sector. To that end, March marked the 50th consecutive month in which economic activity in the non-manufacturing sector has expanded.
| Category | MAR | FEB | JAN | DEC | NOV |
| --- | --- | --- | --- | --- | --- |
| Non-Manufacturing ISM index | 53.1 | 51.6 | 54.0 | 53.0 | 54.1 |
| Business Activity | 53.4 | 54.6 | 56.3 | 54.3 | 55.3 |
| New Orders | 53.4 | 51.3 | 50.9 | 50.4 | 55.7 |
| Employment | 53.6 | 47.5 | 56.4 | 55.6 | 54.5 |
| Deliveries (nsa) | 52.0 | 53.0 | 52.5 | 51.5 | 51.0 |
| Inventories (nsa) | 60.5 | 50.5 | 50.5 | 48.0 | 54.0 |
| Exports (nsa) | 49.5 | 47.5 | 49.0 | 51.5 | 58.0 |
| Imports (nsa) | 50.5 | 47.0 | 48.0 | 50.5 | 55.0 |
| Prices Paid | 58.3 | 53.7 | 57.1 | 54.7 | 52.7 |