Economic
Last Update: 28-Aug-15 18:15 ET
ISM Services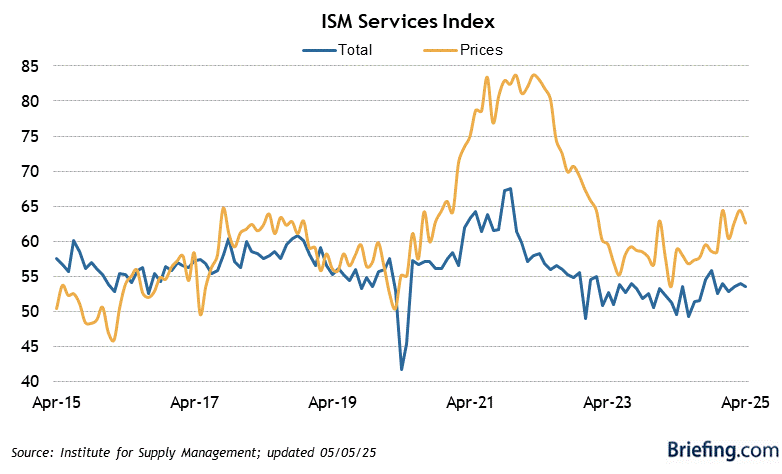 Highlights
The ISM Non-manufacturing Index increased to 60.3 in July from 56.0 in June. The Briefing.com Consensus expected the index to increase to 56.3.
Key Factors
That was the strongest reading in the ISM Non-manufacturing Index since it reached 61.4 in August 2005.
Normally, the services sector is fairly stable and the non-manufacturing index moves up-and-down very slowly. That made the 4.3 point move in the index a very unusual event. In fact, the index has only moved by more than 4.3 points, up-or-down, nine times since the index was created in 1997. The last time that happened was in November 2008, when the effects of the Great Recession drove the index down 7.1 points.
All of the sub-indices increased in July. The Business Activities/Production Index increased 3.4 points to 64.9 in July from 61.5 in June. New orders growth accelerated as the related index rose to 63.8 in July from 58.3. The gains in production didn't come at the expense of backlogs. That index, which increased to 54.0 in July from 50.5 in June, showed that businesses were able to replenish their unfilled orders.
The Employment Index increased to 59.6 from 52.7.
Big Picture
The market generally doesn't pay much attention to the services index because the services sector is less cyclical than the manufacturing sector. To that end, June marked the 65th consecutive month in which economic activity in the non-manufacturing sector has expanded.
| Category | JUL | JUN | MAY | APR | MAR |
| --- | --- | --- | --- | --- | --- |
| Non-Manufacturing ISM index | 60.3 | 56.0 | 55.7 | 57.8 | 56.5 |
| Business Activity | 64.9 | 61.5 | 59.5 | 61.6 | 57.5 |
| New Orders | 63.8 | 58.3 | 57.9 | 59.2 | 57.8 |
| Employment | 59.6 | 52.7 | 55.3 | 56.7 | 56.6 |
| Deliveries (nsa) | 53.0 | 51.5 | 50.0 | 53.5 | 54.0 |
| Inventories (nsa) | 57.0 | 55.0 | 51.0 | 51.0 | 49.5 |
| Exports (nsa) | 56.5 | 52.0 | 55.0 | 48.5 | 59.0 |
| Imports (nsa) | 50.5 | 48.0 | 53.5 | 51.5 | 55.5 |
| Prices Paid | 53.7 | 53.0 | 55.9 | 50.1 | 52.4 |