Economic
Last Update: 03-Dec-14 10:12 ET
ISM Services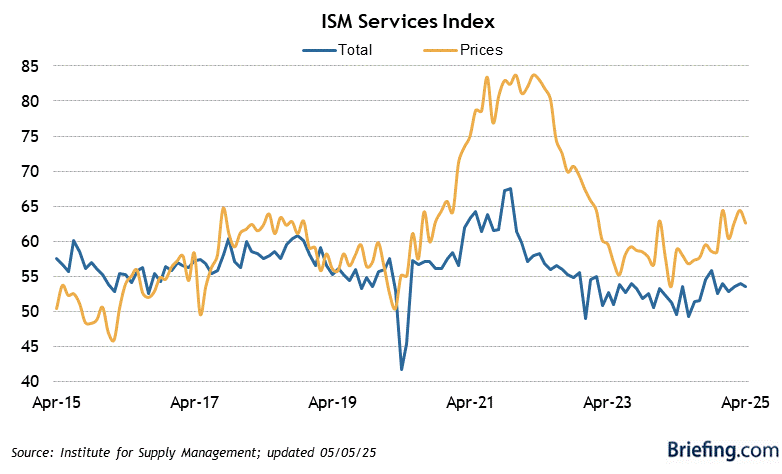 Highlights
The ISM Non-manufacturing Index increased to 59.3 in November from 57.1 in October. The Briefing.com consensus expected the index to increase to 57.5.
Key Factors
While the index is below the 59.6 mark from August, it was the second strongest reading since December 2005.
Business production accelerated in November as the related index increased to 64.4 from 60.0 in October. The underlying conditions are ripe for further production gains over the next few months as strong new orders growth were delegated to backlogs instead of immediate fulfillment. The New Orders Index increased to 61.4 in November from 59.1 in October. Backlogs increased to 55.5 from 51.5 in Octobers.
The Employment Index dipped to 56.7 in November from 59.6 in October. The slowdown could foreshadow a weaker-than-expected payroll gain on Friday.
Big Picture
The market generally doesn't pay much attention to the services index because the services sector is less cyclical than the manufacturing sector. To that end, October marked the 57th consecutive month in which economic activity in the non-manufacturing sector has expanded.
| Category | NOV | OCT | SEP | AUG | JUL |
| --- | --- | --- | --- | --- | --- |
| Non-Manufacturing ISM index | 59.3 | 57.1 | 58.6 | 59.6 | 58.7 |
| Business Activity | 64.4 | 60.0 | 62.9 | 65.0 | 62.4 |
| New Orders | 61.4 | 59.1 | 61.0 | 63.8 | 64.9 |
| Employment | 56.7 | 59.6 | 58.5 | 57.1 | 56.0 |
| Deliveries (nsa) | 54.5 | 49.5 | 52.0 | 52.5 | 51.5 |
| Inventories (nsa) | 55.5 | 49.5 | 52.0 | 51.0 | 51.0 |
| Exports (nsa) | 57.0 | 53.5 | 57.5 | 52.5 | 53.0 |
| Imports (nsa) | 53.5 | 56.0 | 52.5 | 51.0 | 54.5 |
| Prices Paid | 54.4 | 52.1 | 55.2 | 57.7 | 60.9 |