Economic
Last Update: 05-Mar-14 10:16 ET
ISM Services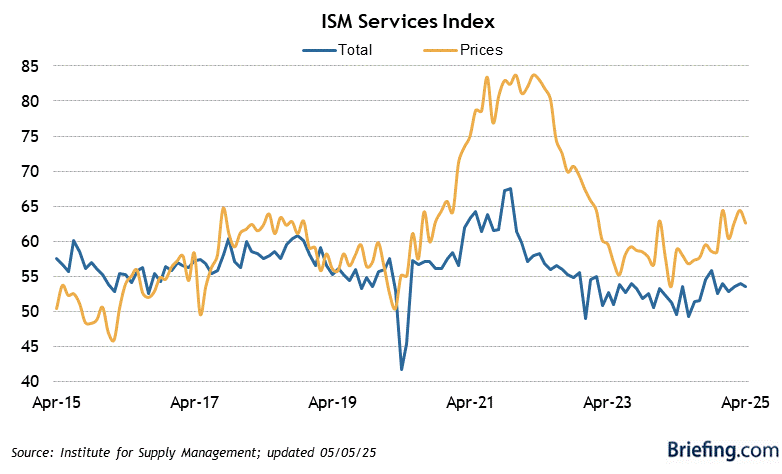 Highlights
The ISM Non-Manufacturing Index fell to 51.6 in February from 54.0 in January. That was the weakest print since February 2010. The Briefing.com consensus expected the index to fall to 53.5.
Key Factors
Not surprisingly, many sectors reported that extreme winter weather conditions wreaked havoc on business activity in February. The evidence in the hard data, however, suggests a cyclical slowdown is more likely taking place.
Business activity weakened in February as the related index fell to 54.6 from 56.3 in January. The drop was unusual as both new orders (51.3 from 50.9) and unfilled orders (52.0 from 49.0) accelerated in February. Typically, a drop in business activity would be the result of weaker demand.
The Employment Index fell a whopping 8.9 points to 47.5 in February from 56.4 in January. That ended a 25-month expansion cycle.
Big Picture
The market generally doesn't pay much attention to the services index because the services sector is less cyclical than the manufacturing sector. To that end, February marked the 49th consecutive month in which economic activity in the non-manufacturing sector has expanded.
| Category | FEB | JAN | DEC | NOV | OCT |
| --- | --- | --- | --- | --- | --- |
| Non-Manufacturing ISM index | 51.6 | 54.0 | 53.0 | 54.1 | 55.5 |
| Business Activity | 54.6 | 56.3 | 54.3 | 55.3 | 58.9 |
| New Orders | 51.3 | 50.9 | 50.4 | 55.7 | 56.4 |
| Employment | 47.5 | 56.4 | 55.6 | 54.5 | 56.0 |
| Deliveries (nsa) | 53.0 | 52.5 | 51.5 | 51.0 | 49.0 |
| Inventories (nsa) | 50.5 | 50.5 | 48.0 | 54.0 | 54.5 |
| Exports (nsa) | 47.5 | 49.0 | 51.5 | 58.0 | 53.0 |
| Imports (nsa) | 47.0 | 48.0 | 50.5 | 55.0 | 55.0 |
| Prices Paid | 53.7 | 57.1 | 54.7 | 52.7 | 56.2 |