Economic
Last Update: 04-Feb-15 10:17 ET
ISM Services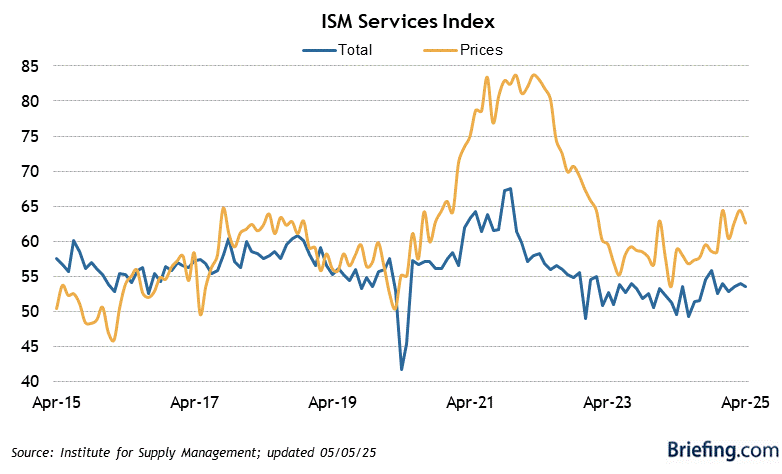 Highlights
The ISM Non-Manufacturing Index increased to 56.7 in January from a previously revised 56.5 (from 56.2) in December. The Briefing.com Consensus expected the index to remain at 56.5.
Key Factors
Overall, the non-manufacturing sector remained strong in January, but future gains may be difficult.
Business activities in the non-manufacturing sector strengthened in January as the related index increased to 61.5 from 58.6 in December.
Unfortunately, most of the gain in production was likely the result of firms paring down their backlog. Even though new demand firmed from gains in the New Orders Index (59.5 from 59.2), the increase was negligible. Instead, the focus was on the second consecutive monthly contraction in backlogs. That index fell to 49.0 in January from 49.5 in December. Unless new orders growth accelerates in February, a lack of solid back order level may make it difficult for continued production growth.
Employment conditions weakened as the Employment Index fell to 51.6 in January from 55.7 in December.
Big Picture
The market generally doesn't pay much attention to the services index because the services sector is less cyclical than the manufacturing sector. To that end, October marked the 57th consecutive month in which economic activity in the non-manufacturing sector has expanded.
| Category | JAN | DEC | NOV | OCT | SEP |
| --- | --- | --- | --- | --- | --- |
| Non-Manufacturing ISM index | 56.7 | 56.5 | 58.8 | 56.9 | 58.1 |
| Business Activity | 61.5 | 58.6 | 63.4 | 60.5 | 62.0 |
| New Orders | 59.5 | 59.2 | 61.0 | 59.3 | 60.5 |
| Employment | 51.6 | 55.7 | 56.3 | 58.3 | 57.8 |
| Deliveries (nsa) | 54.0 | 52.5 | 54.5 | 49.5 | 52.0 |
| Inventories (nsa) | 52.5 | 50.0 | 55.5 | 49.5 | 52.0 |
| Exports (nsa) | 52.5 | 53.5 | 57.0 | 53.5 | 57.5 |
| Imports (nsa) | 46.5 | 50.0 | 53.5 | 56.0 | 52.5 |
| Prices Paid | 45.5 | 49.8 | 55.0 | 52.8 | 55.2 |