Economic
Last Update: 02-Feb-15 10:24 ET
ISM Index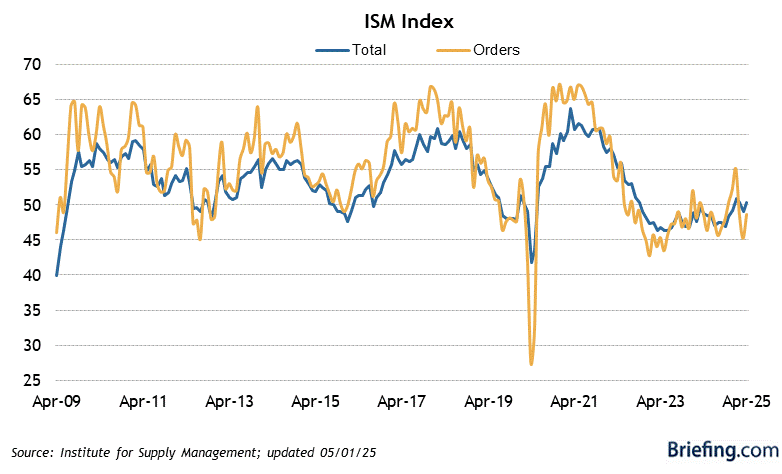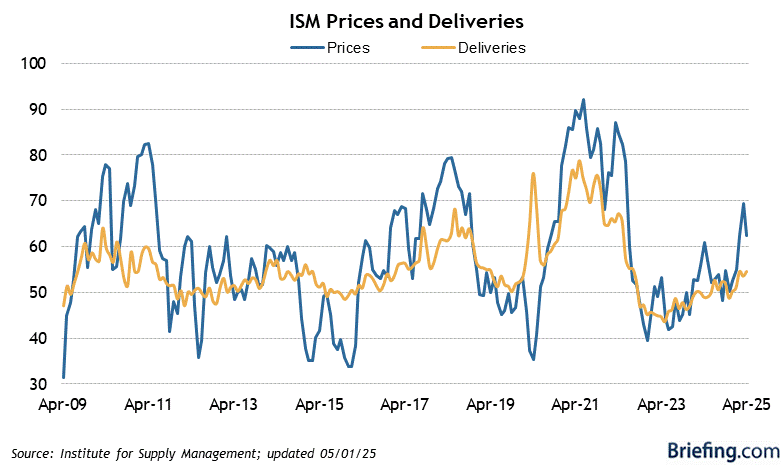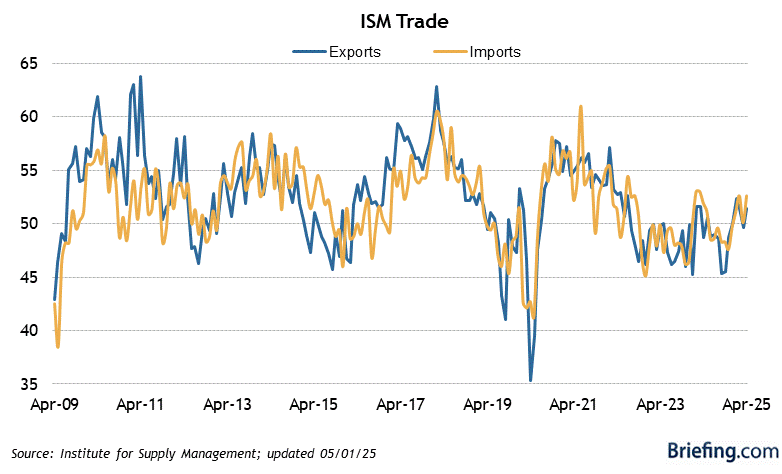 Highlights
The ISM Manufacturing Index dropped to 53.5 in January from 55.1 in December. The Briefing.com Consensus expected the index to fall to 54.7.
Key Factors
Production growth decelerated as the related index fell to 56.5 in January from 57.7 in December. The drop coincided with a decline in new orders (52.9 from 57.8) and a large contraction (46.0 from 52.5) in unfilled orders.
A lack of steady new orders growth and shrinking backlogs could put further downward pressure on production growth.
The Employment Index declined to 54.1 in January from 56.0 in December.
Big Picture
This is a highly overrated index. It is merely a survey of purchasing managers. It is a diffusion index, which means that it reflects the number of people saying conditions are better compared to the number saying conditions are worse. It does not weight for size of the firm, or for the degree of better/worse. It can therefore underestimate conditions if there is a great deal of strength in a few firms. The data have thus not been either a good forecasting tool or a good read on current conditions during this business cycle. It must be recognized that the index is not hard data of any kind, but simply a survey that provides broad indications of trends.
| Category | JAN | DEC | NOV | OCT | SEP |
| --- | --- | --- | --- | --- | --- |
| Total Index | 53.5 | 55.1 | 57.6 | 57.9 | 56.1 |
| Orders | 52.9 | 57.8 | 62.1 | 63.0 | 59.4 |
| Production | 56.5 | 57.7 | 62.6 | 62.8 | 62.4 |
| Employment | 54.1 | 56.0 | 54.6 | 55.2 | 54.6 |
| Deliveries | 52.9 | 58.6 | 57.0 | 56.1 | 52.6 |
| Inventories | 51.0 | 45.5 | 51.5 | 52.5 | 51.5 |
| Export Orders | 49.5 | 52.0 | 55.0 | 51.5 | 53.5 |
| Prices paid (not seas adj) | 35.0 | 38.5 | 44.5 | 53.5 | 59.5 |